12 Facebook business Page banner ideas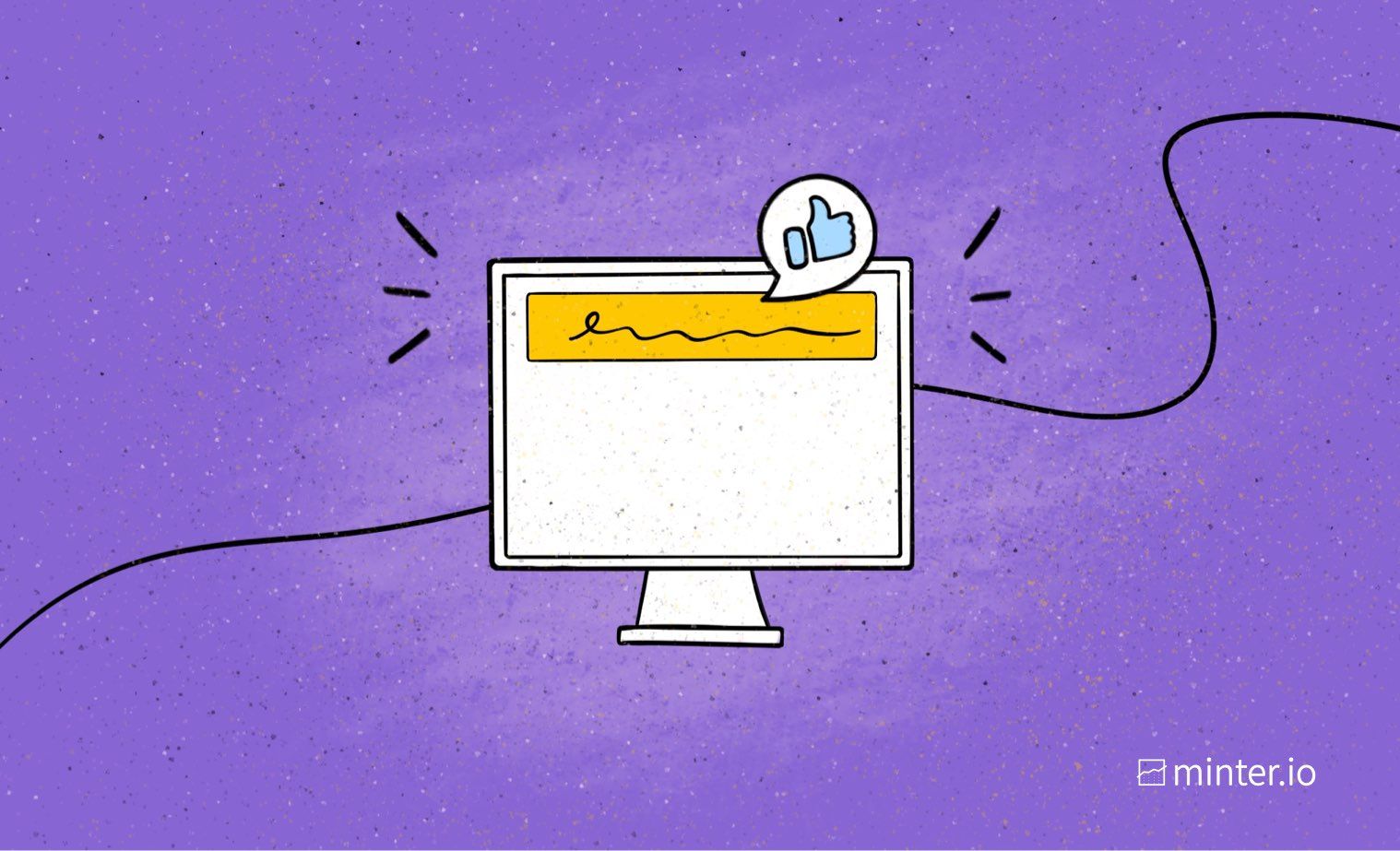 Your Facebook banner is one of the very first visuals someone sees on your business Facebook Page. Make sure it's a great first impression by checking out these 12 examples. They're sure to help you best utilise this important visual element of your online branding, no matter your current business focus.
If you sell one specific type of product, you'll want to take note of how The Flat Lay Co. uses this space. Here they've opted to showcase the product, the size and the functionality. The text solidifies the unique selling point, setting this product apart from its rivals. Furthermore, the target audience is made super clear with this image, so viewers know they're in the right place.
Whether you have a signature product, a new release or a special sale item, use your Facebook banner image to show what the product is and why it's great.
You can answer a lot of potential questions such as:
What do you sell?
How do you use the product?
What does the product look like?
What makes your brand unique?
Who is this product intended for?
This cover image by Dead Man's Fingers is visually appetising. It captures attention and draws the eye with simple, bold, clear, colourful product imagery. What does this imagery say about the product? My guess is it's an exciting explosion for the senses.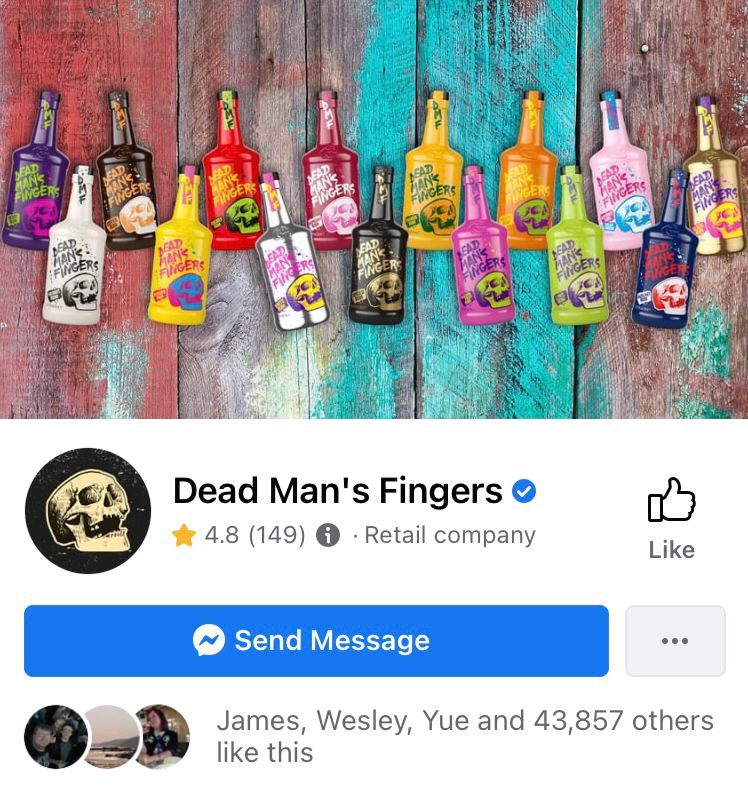 What do you want your banner to say about your business? How can your imagery reflect your products?
Think about:
Colours, hue and saturation
Layout and imagery
Graphics used
Background
Place the viewer inside your world by using the banner to show your product in use. This way potential customers can visualise themselves as the subject. Fender Play chose a clear, candid-style action shot with warm colours, cosy surroundings and a pleasant, calm expression on the person's face. This displays how a customer will be able to use the product and their emotional state while using the product. Do you want your customers to feel calm, happy, relaxed or excited? Show that visually in your Facebook banner image.
Invite potential customers into your universe by choosing an image that encourages the viewer to see themselves using your product.
Think about:
The setting your product is used in
The colours and tone of the image
How casual or professional you want your brand to come across
The expression and positioning of people in the image
This banner by MADE.COM features aesthetic imagery which encompasses the product style and feel of the company. Interesting, this banner sparks a similar response as the Fender Play banner, in which potential customers can visualise themselves in the scene. Can you imagine yourself snuggling up on that sofa, reading that book and reaching for that mug filled with your favourite hot beverage? MADE.COM invites you into its world, allowing you to step right into the image and imagine yourself engaging with all the featured products.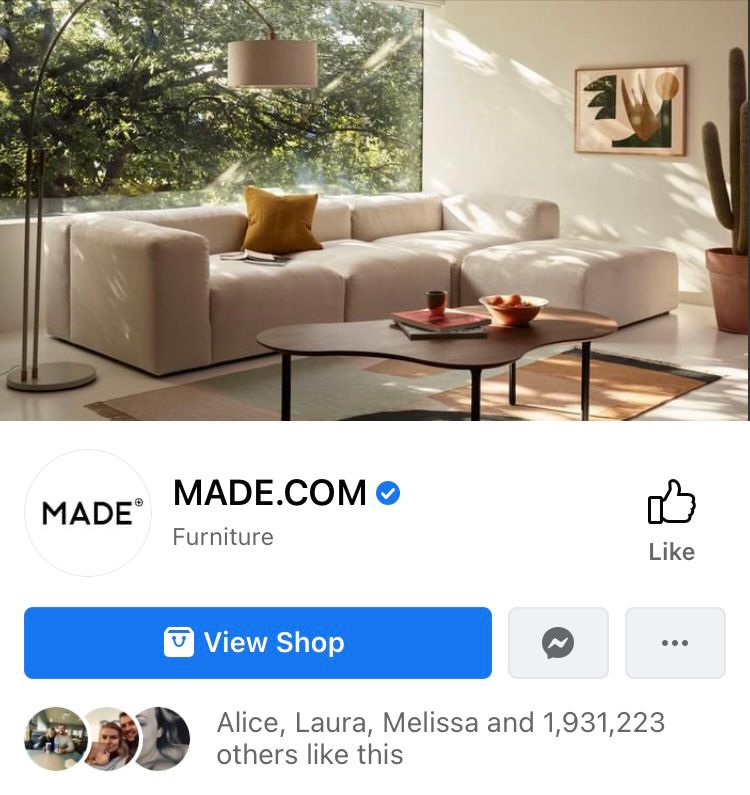 Can you create a scene which features your products and/or services? How can you show them off at their best and invite your customers to envision themselves surrounded by your goods?
Think about:
The environment your target customer will relate to
Setting the tone with colours and objects
Adding multiple products in an aesthetic or engaging way
If you're currently showcasing a release or pushing a new product, use your banner to supercharge this effort. Sky chose a banner clearly sharing a new product logo with a sneaky sliver of product imagery. This is a great way to create intrigue as it invites questions such as, "What is that?" and 'What does it look like?'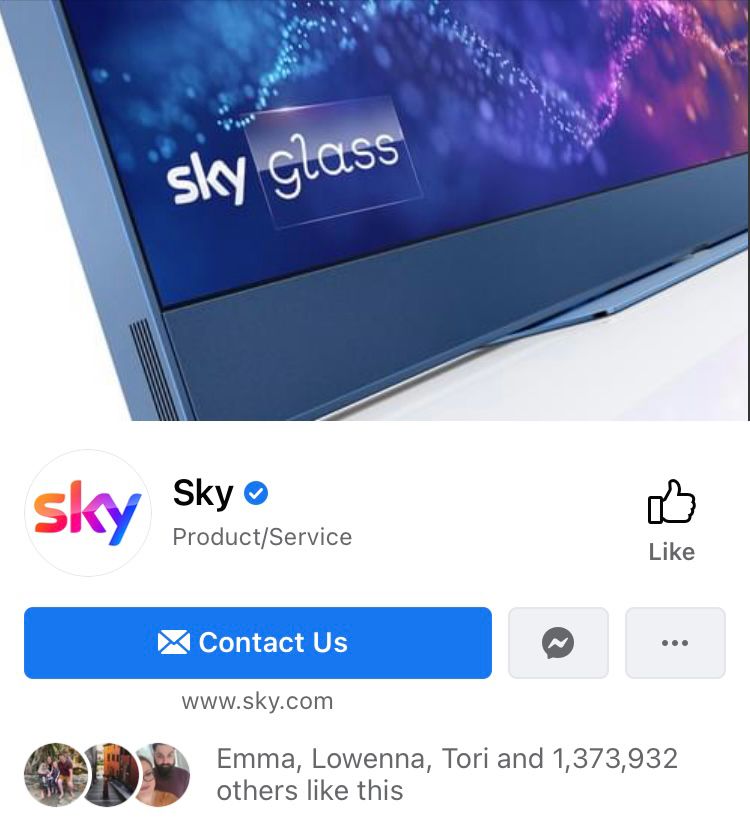 Think about:
How much you share on your banner
Imagery that sparks questions from the viewer
How and where you answer these questions to drive sales
Let's think about incorporating your Facebook banner image as part of your current business focus. Aldi UK pushes a seasonal 'back to school' event with a banner featuring relevant products and bold, clear text.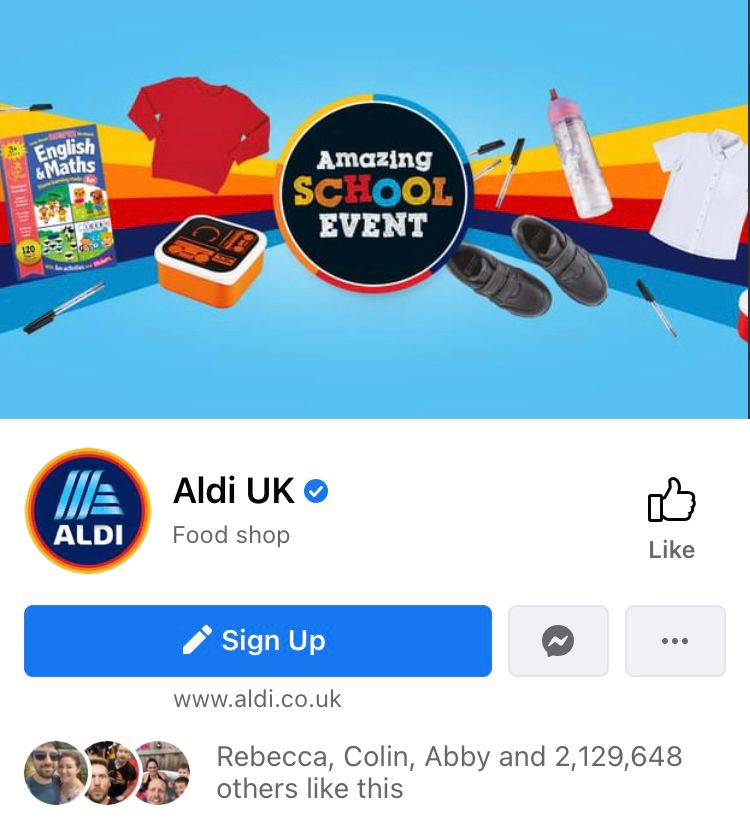 What are your current focuses? Perhaps you could use your Facebook banner to shout about seasonal content, events and releases in a similar way?
Think about:
Using your Facebook banner as part of a wider business goal
Showcasing multiple relevant products
Adding bold, clear, simple text
Using the colour palette of your brand or the specific event
Similarly to events, sales are also great to showcase on your Facebook banner. This banner by Play Music Today features bright, bold colours which grabs the eye to boost the message. The imagery and text almost looks like it belongs on a poster. This example uses much more text than we've seen so far, all of which is really informative; it shares the price cut percentage, where you can find the sale (in-store and online) and massive incentives. This aims to drive sales and boost business.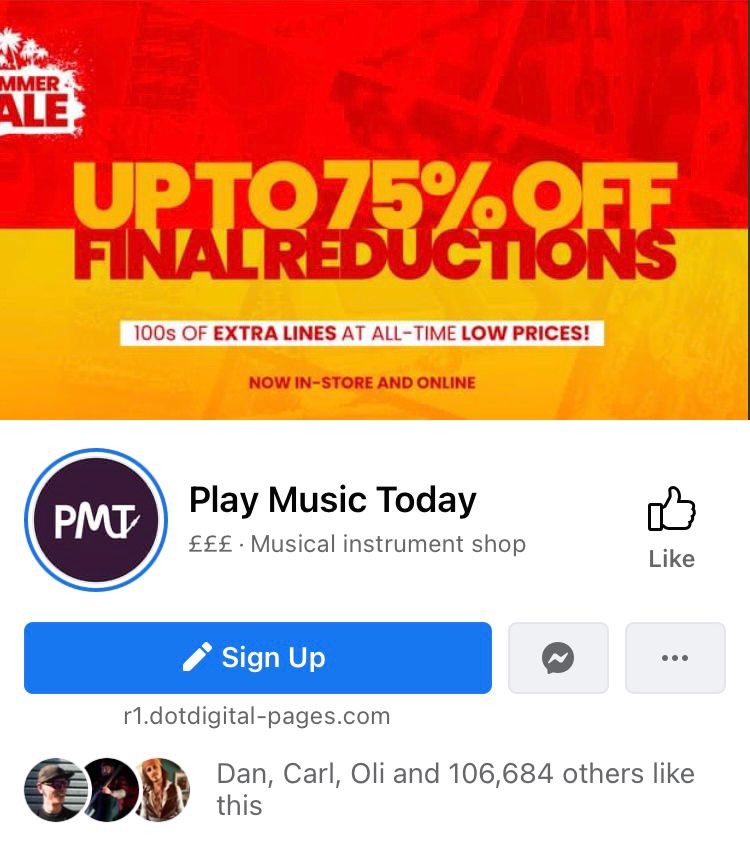 If you've got a sale on the horizon, you might want to change your Facebook banner in line with your current business focus.
Think about:
How you can draw the eye and grab attention
Text that can incentivise your audience
Information you can add to drive more sales
If you want to know what great marketing is, look no further than Trainline. I absolutely love this example because it is exceptionally bold, moving and tangible. In this banner image, Trainline has focused on the feeling. This is a form of emotional marketing. The product isn't the subject - the emotion of the customer is. It's all about connection, with Trainline's products and services reuniting loved ones. In today's climate, this banner is extremely relevant and powerful.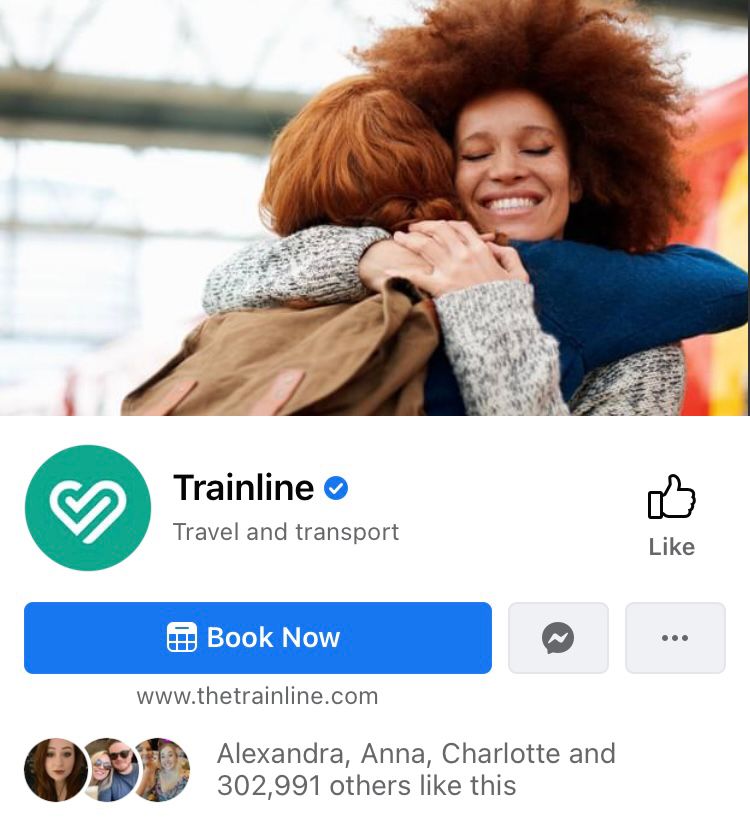 Whatever your business, you'll want your customers to feel certain emotions when they think of your brand, business or products. This is something you could portray in your Facebook banner image.
Think about:
What your products or services do for your customer
How you want your customers to feel
How you can portray the relevant emotion with an image
Oh, we do love user-generated content. Not only does it make your customers feel valued - it makes more people want to be involved! This Facebook banner by The Conqueror Challenges shows a collage of customers with various products, which cultivates an atmosphere of community and inclusivity. The image even snuck in someone's pet dog (as if we needed a reason to love it more!).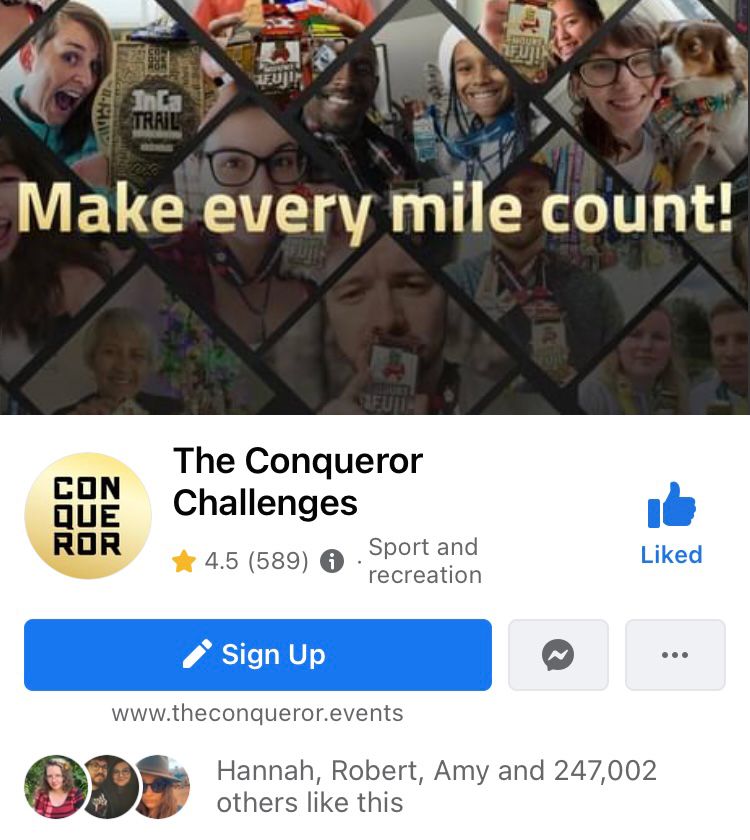 If you want to supercharge community-building on your social media, consider adding user-generated content to your Facebook banner image.
Think about:
Encouraging user-generated content with your social media
The amount of images you want to use to make the image exciting but visually appealing
Showcasing your products in the process
I know, I know - not everyone can show off a dinosaur or something of similar epic proportions on their Facebook banners. However, if your business does have something unique, interesting or spectacular which it can show off, why not make it one of the first things potential customers see?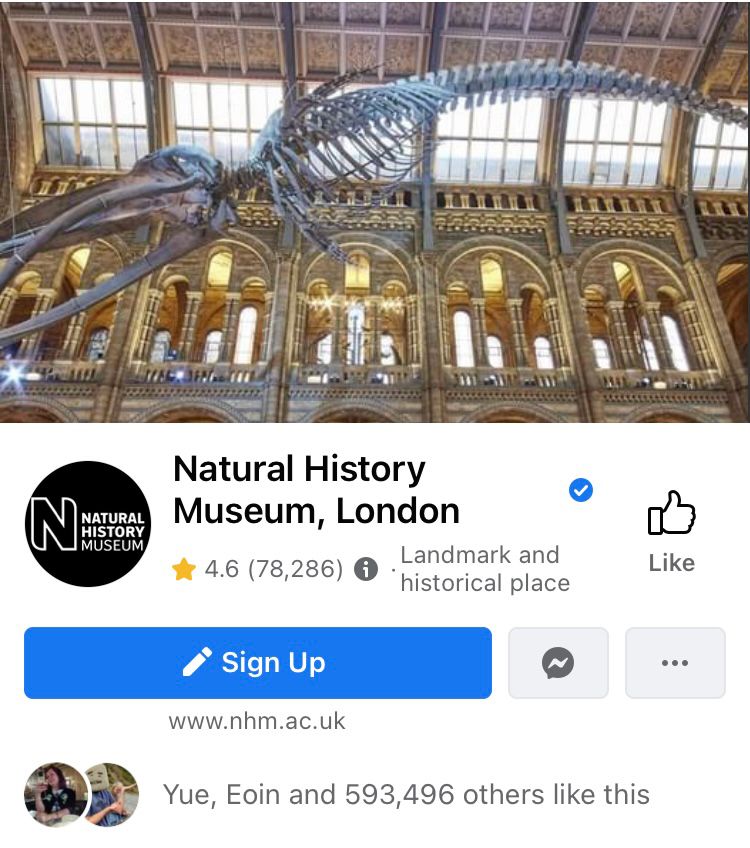 Whether your business is large or small, global or local, replicable or totally unique… there might be something you've overlooked that would work wonderfully as a Facebook banner.
It could be:
Beautiful aesthetics or scenery surrounding your business
A tool, device or product that's unique, rare or specific to your business
Something out of the ordinary that people don't see every day
If your business has a physical location, adding the outside of your shop, venue or office is a great way to make sure your customers know they are in the right place. This works particularly well if you have a local business or shop front you want to encourage people to visit. However, this might also be an idea to explore if you have a magnificent building you want to show off for clout to encourage big business deals and partnerships. Nook Houseplants uses the Facebook banner to showcase both products and the physical shop.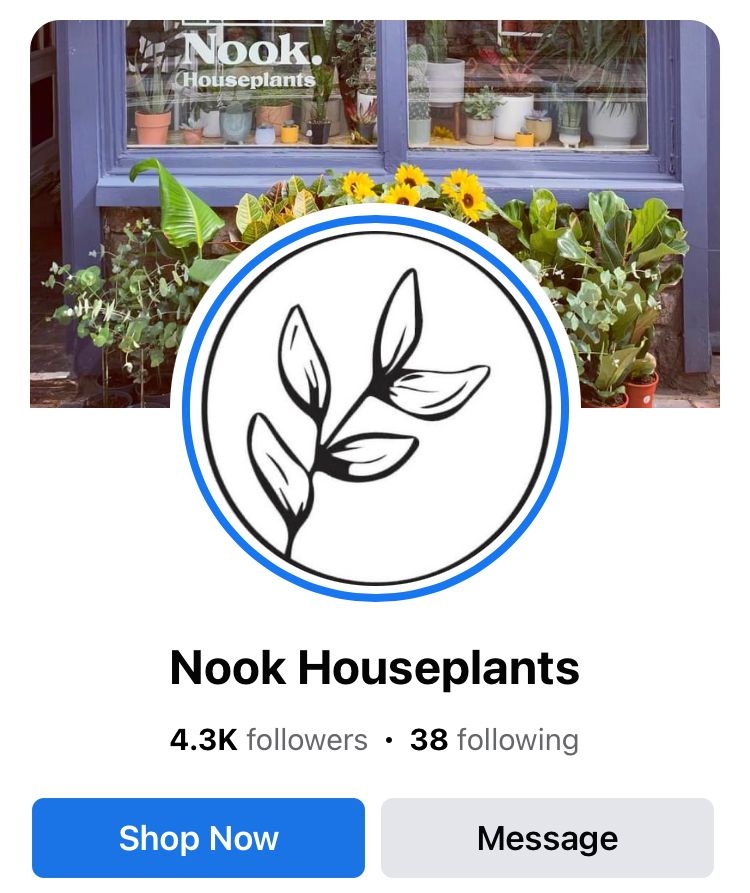 If your business has a physical location, showing this in your banner might be something your want to consider.
Think about:
Whether you have one or several locations
What your business building(s) and surroundings look like
If your business aims to encourage customers to visit the location
Whether showing your business location would drive sales or other business goals
Your Facebook banner doesn't have to be a single image. You can create a slideshow of multiple images displayed in this area, allowing you to showcase multiple messages to your audience. Masala Masters has taken advantage of this feature to showcase multiple aspects of the business.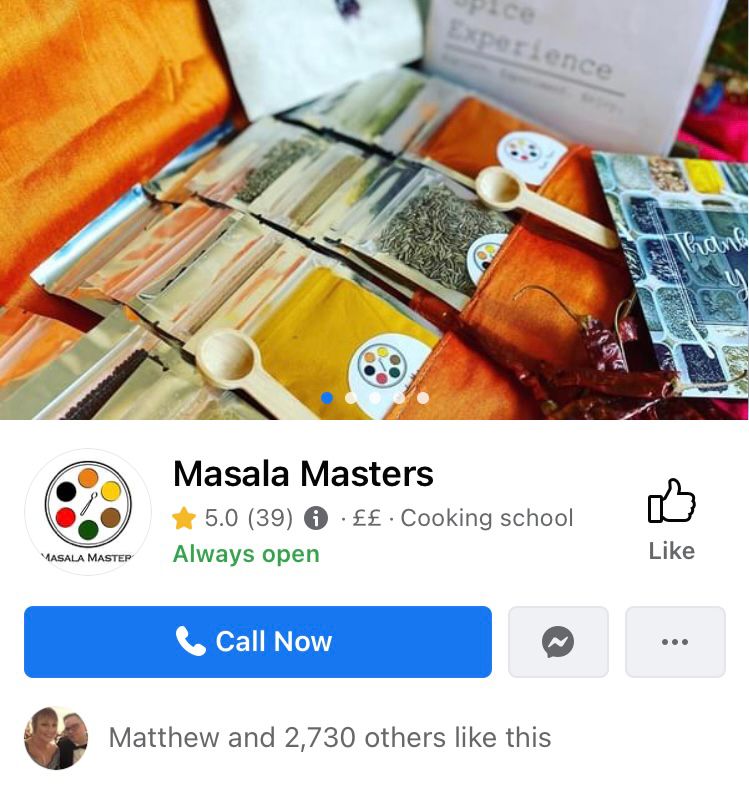 If you have multiple images you want to share with your audience, a slideshow could be the answer.
Think about:
How best to showcase your business
If your business has multiple elements you wish to display
Whether multiple images would help you reach your business goals
How your customer is going to interact with the slideshow
What order the slideshow images should be displayed
Inspired to take your social media presence to the next level? Don't stop with aesthetics. Dive into all the data you need to create a solid social media strategy with Minter.io - your social media analytics tool for business. Try it today!

---
Take your Facebook marketing to the next level with Minter.io analytics.
Start your 14-day free trial →