3 Foodie Businesses Cooking Up A Treat On Instagram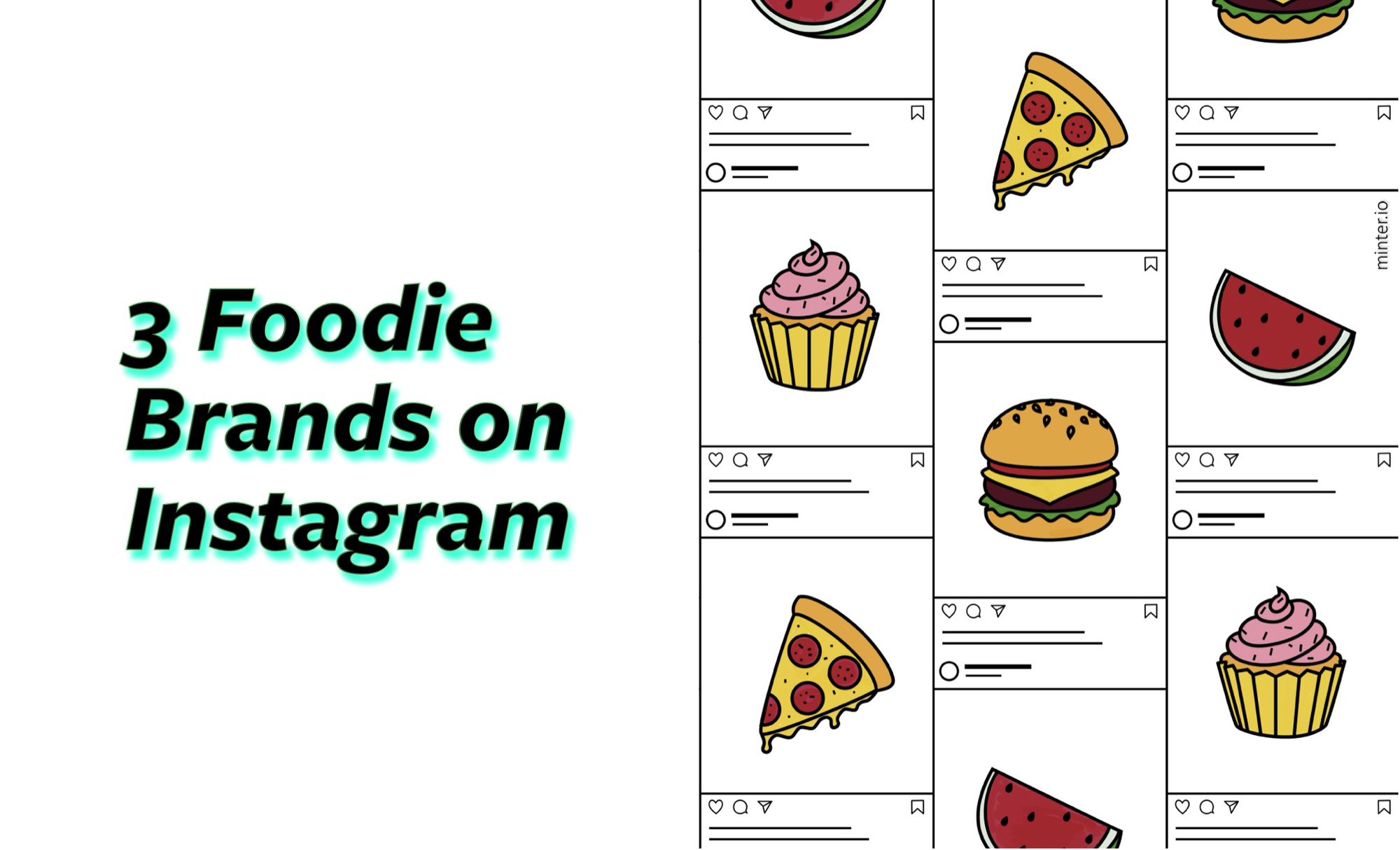 Looking for some new Instagram accounts with brilliant social media practices to get your teeth into? These Instagram accounts will tickle your tastebuds as well as flex your marketing muscles. We've been tucking into these food-based Instagram accounts to draw out the goodness that you can apply to your business account.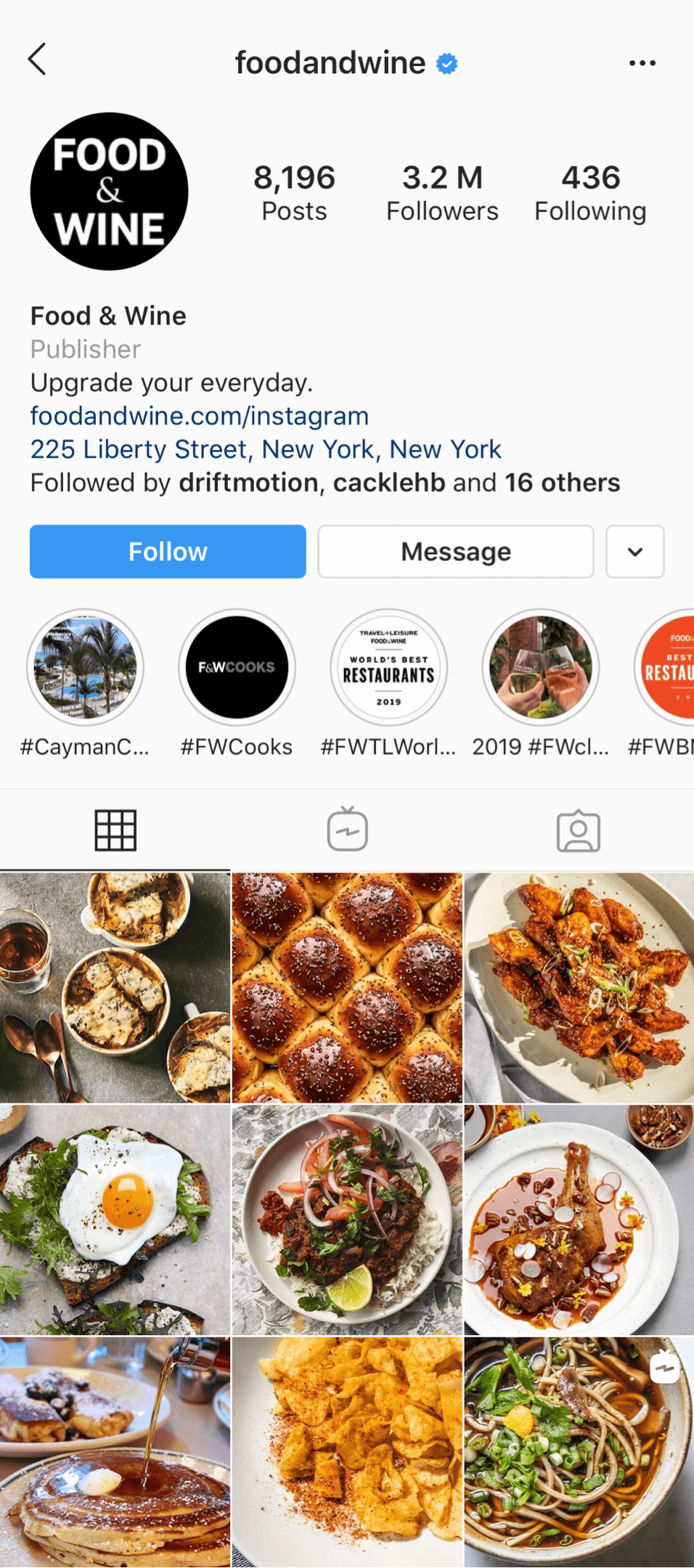 Food & Wine market themselves as a publisher. With 3.2 million followers, they must be doing something right on Instagram. Let's dive right into this delicious delight.
Use Of IGTV
Food & Wine share recipes and foodie tips through their IGTV, and they have plenty of videos for you to tuck into. Uploading consistently makes this IGTV channel not only super informative, but worth tuning into regularly.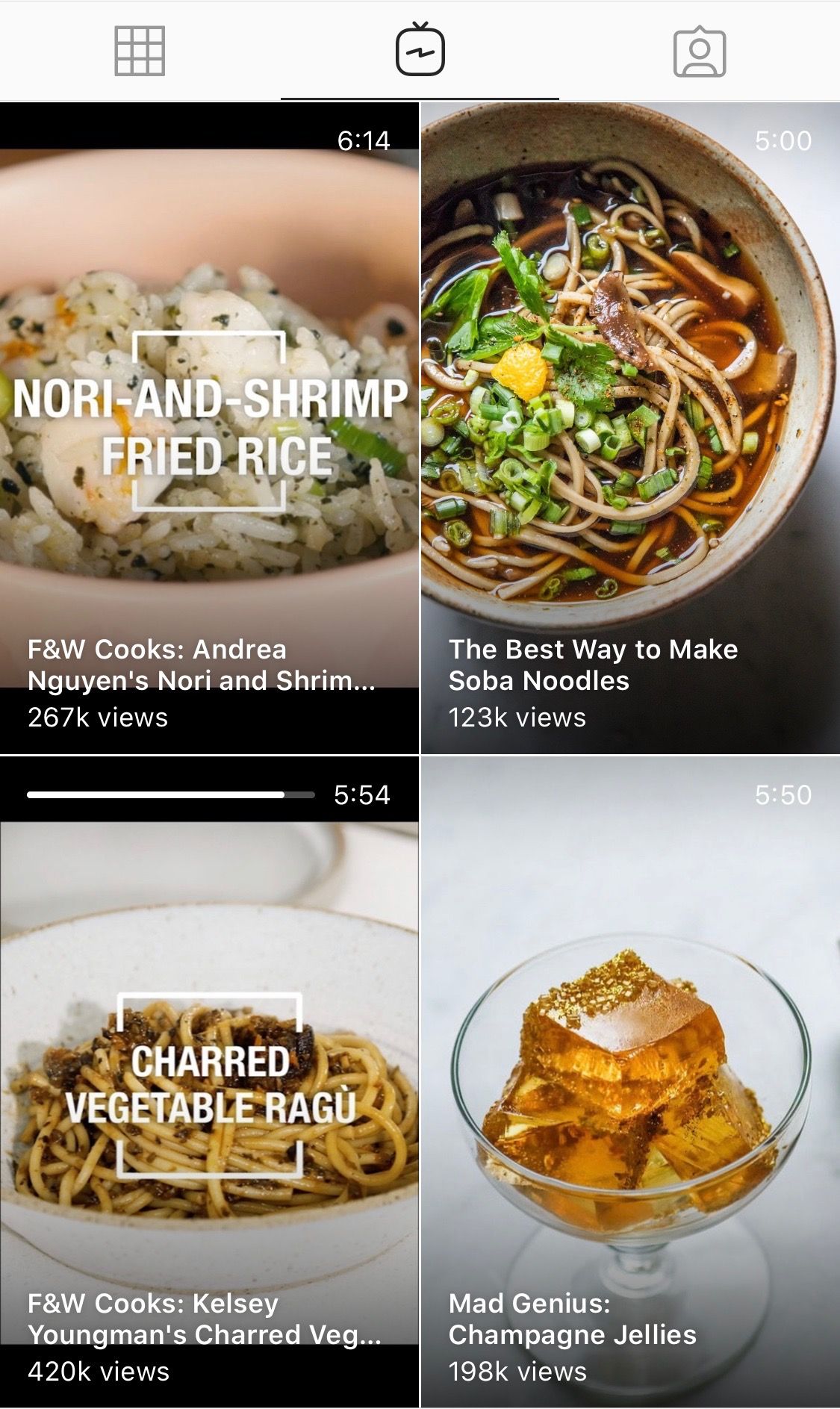 Instagram TV lends itself well to how-tos. Think about the tips or tutorials that could help your audience with relevance to your business.
Food & Wine consistently post to their main feed as well, giving audience members reasons to keep checking them out.

Link In Bio
Usually seen among smaller accounts and bloggers, Food & Wine point their audience to the link in their bio, using the descriptions attached to content on their profile feed.

What additional ways could you point your audience to your products and services, guiding them further into the purchase funnel?
Stories Highlights
Food & Wine have a large amount of stories highlights, many with significant amounts of uploads collated within them. This is a great opportunity to share loads more info that doesn't fit into the main feed. Take a look at their highlight called Best New Chefs. Food & Wine have taken this opportunity to link to other accounts, building and strengthening connections within the foodie community.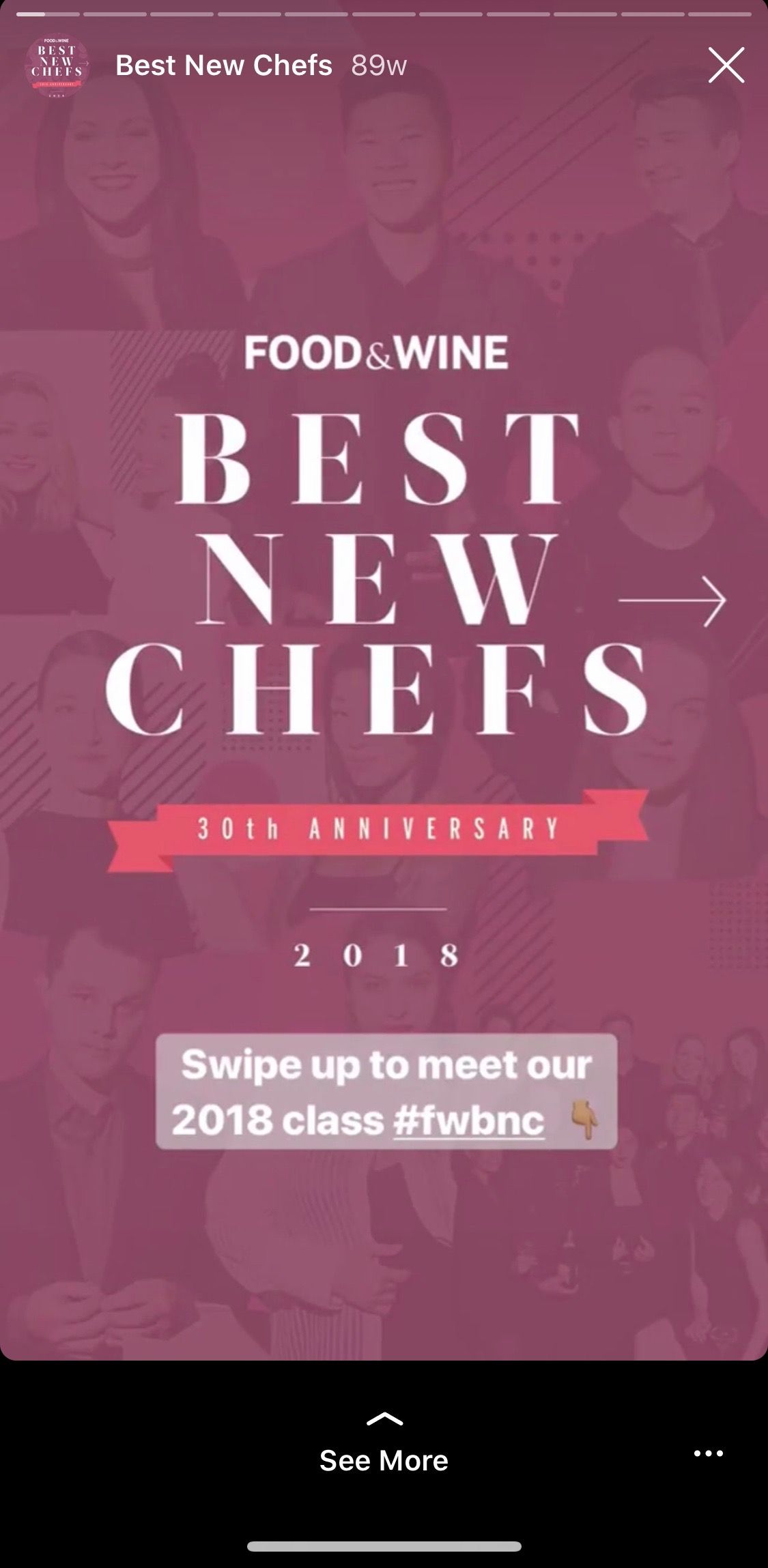 How can you link with relevant accounts in a positive way?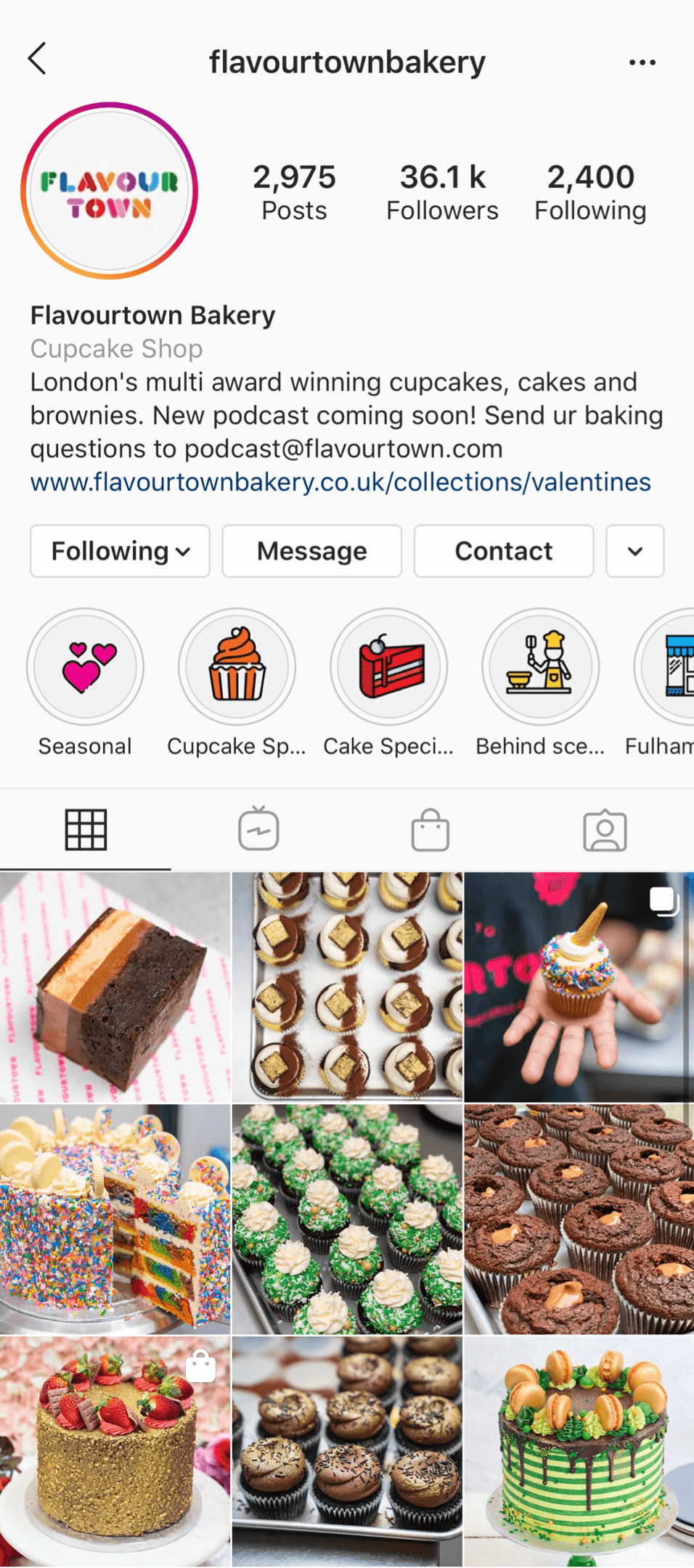 Flavourtown Bakery is a cupcake shop in London. Despite their business being pinned to a fixed location, their Instagram account hosts a healthy 36.1k followers. Here are some of the tantalising tricks Flavourtown Bakery are using to build their customer base.
Bio Links To Relevant Web Page
Flavourtown Bakery has a link in their bio, but the link doesn't throw the clicker straight to their homepage. Instead, they have carefully selected a specific page, relevant to the season. Currently the link sends the clicker directly to their Valentines collection. This is genius because it takes fewer clicks to find something relevant for the majority of users.

Which web page are you sending your followers to? Is there a more relevant page they count be landing on such as a product page, a current deal or a seasonal selection?

Staying on top of relevant, topical trends leaks into Flavourtown Bakery's tags as well. With top tags by interactions including #pride, #fridayfeeling and #happyweekend, keeping on the current pulse is a tendency this account pulls off in style.

Fun Stories And Highlights
Flavourtown Bakery use their stories as an opportunity to spice up their Instagram's personality. Using Instagram features such as stickers and gifs allows Flavourtown Bakery to entertain us with how excited they are about their products, while injecting their profile with fun. It's worth mentioning that their stories highlight covers are also very aesthetically pleasing while keeping within the feel of their profile.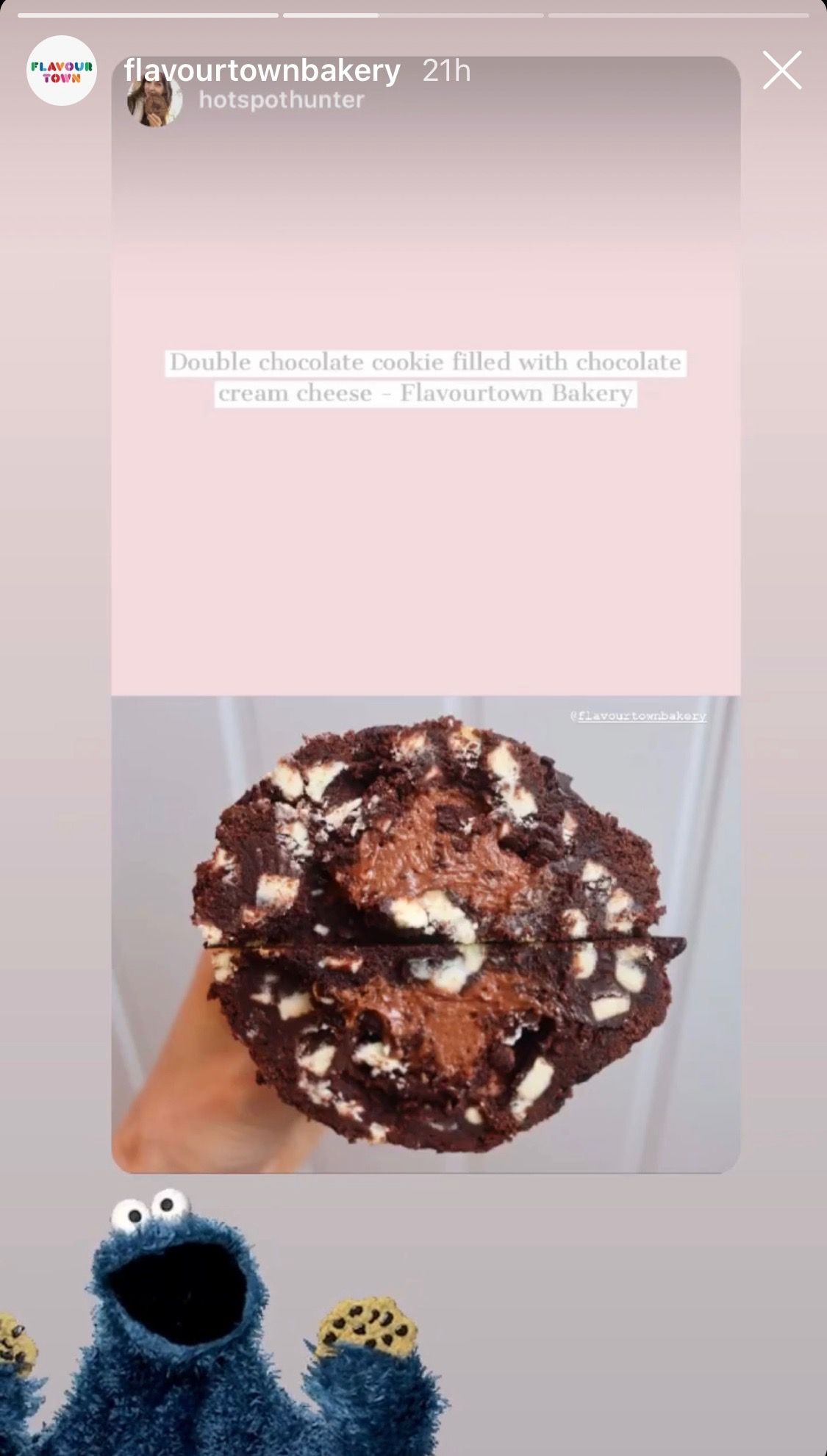 Are you making the most of Instagram's features to make the most of your stories posts?
Shop Tab
If you are selling a product, you really should be taking advantage of the shop tab on Instagram. This makes it easy for viewers to browse your items and head straight to the web page for purchase. Making this process easy to find and complete gives you a better chance of a customer completing the transaction.
If you're not currently using the shop tab on Instagram, look into setting this up for your profile.
Delicious Descriptions
Your content descriptions shouldn't be an afterthought. Flavourtown Bakery perfectly complements their captions with their content, handing you everything you need on a plate.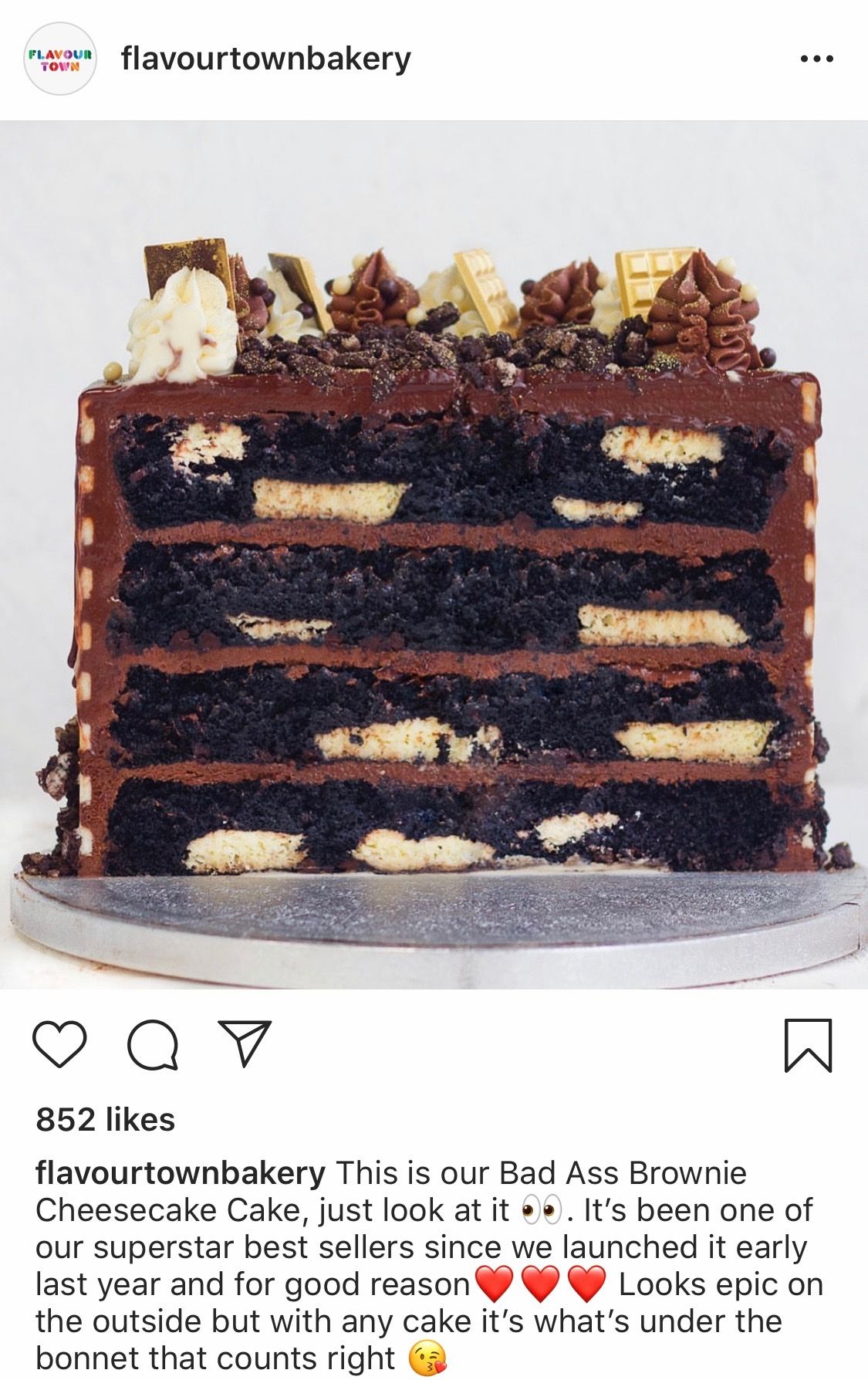 Think about the voice you use to come across to your audience. Does it reflect the feel of your company?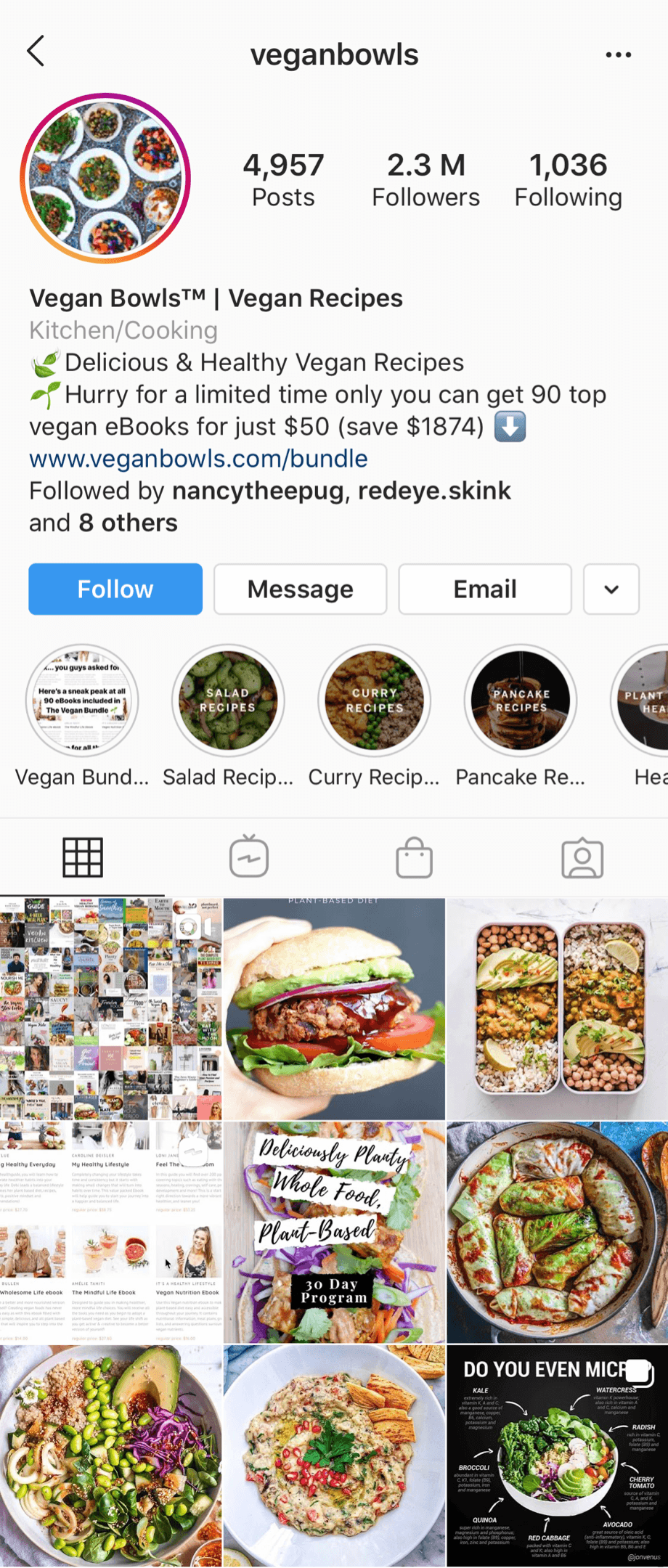 Vegan Bowls sells recipes and ebooks through their website. Boasting 2.3 million followers, this vegan account serves a variety of ideas to feast your eyes on.
Offer In Bio
Vegan Bowls are currently advertising their eBook deal in their bio. To some this may feel a little forward, but this makes it totally clear to their audience that they have something to sell and that potential customers can peruse items to purchase through the pointed link. Being abundantly open about a business is far, far superior to the opposite. Allowing audience members to know up-front what the business has to offer thoroughly outweighs having to hunt around for clear directions to purchase products when a potential customer is ready.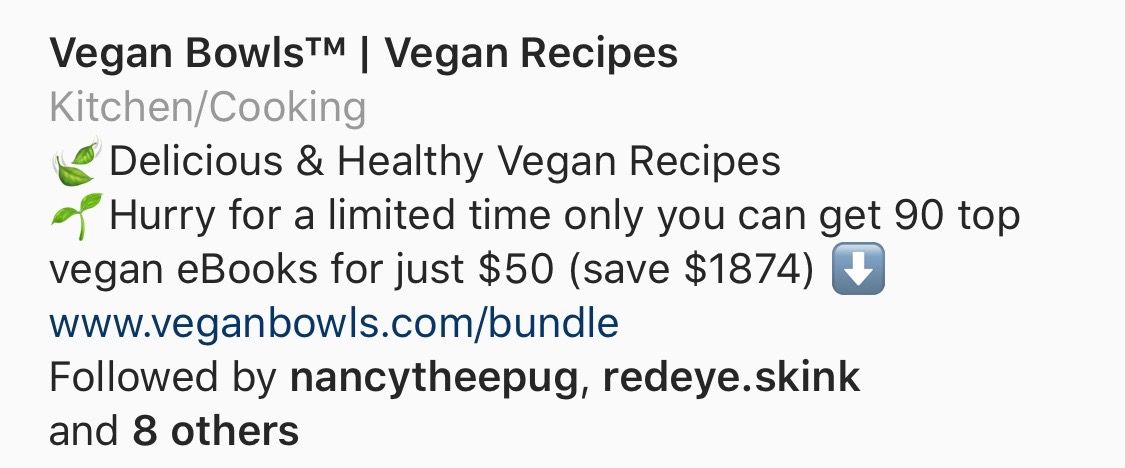 With a pretty steady incline in the post engagement rate, it seems audience members are far from put off by this method of advertising.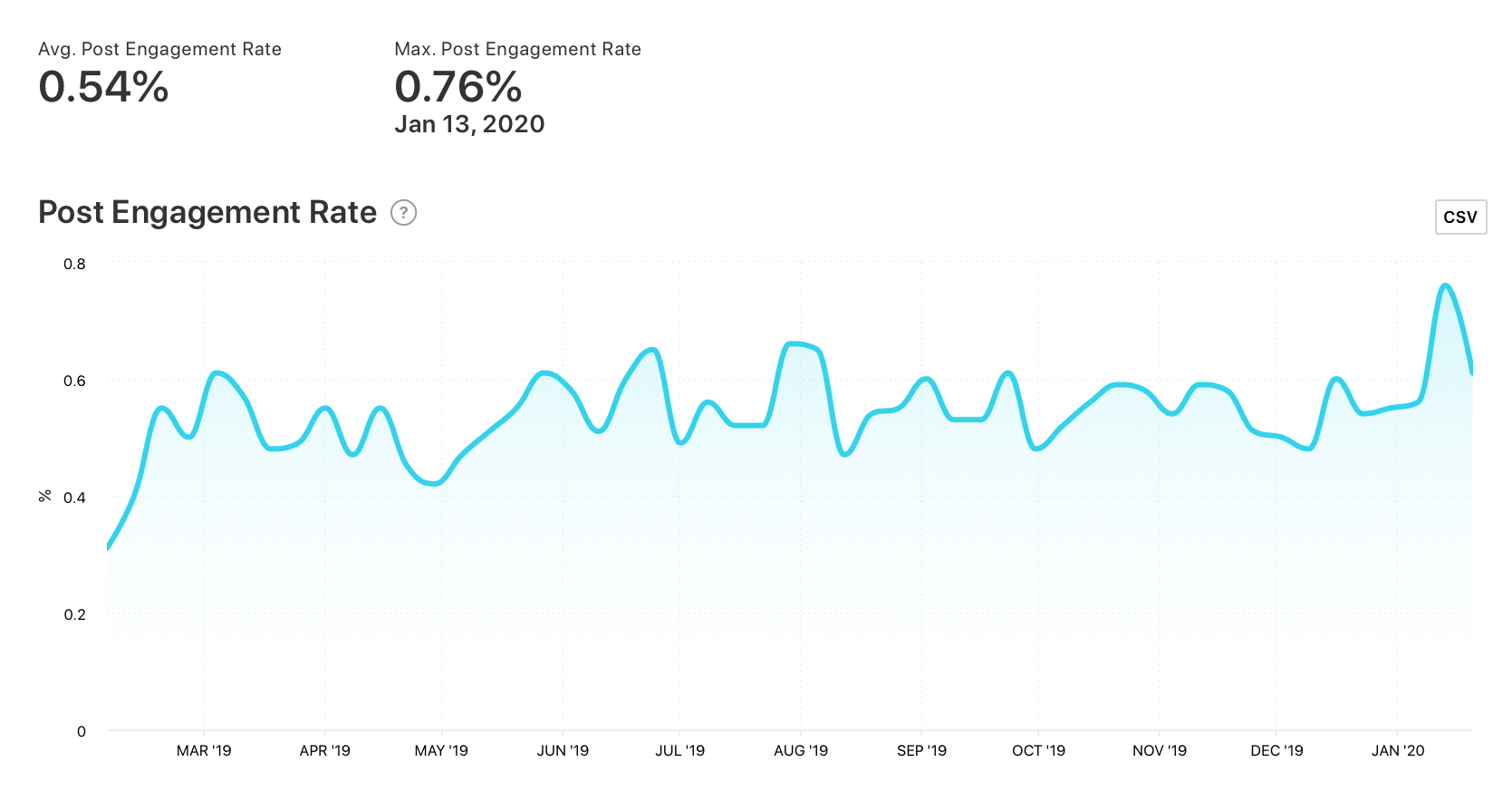 Are you making it easy for potential customers to find and purchase products from you?
Stories Highlight Links
As above, Vegan Bowls continues making it easy for potential customers to get to their website through their stories highlights. Almost every stories post that has been included in a highlight has a 'See More' link added, allowing viewers to swipe up to directly access a relevant web page.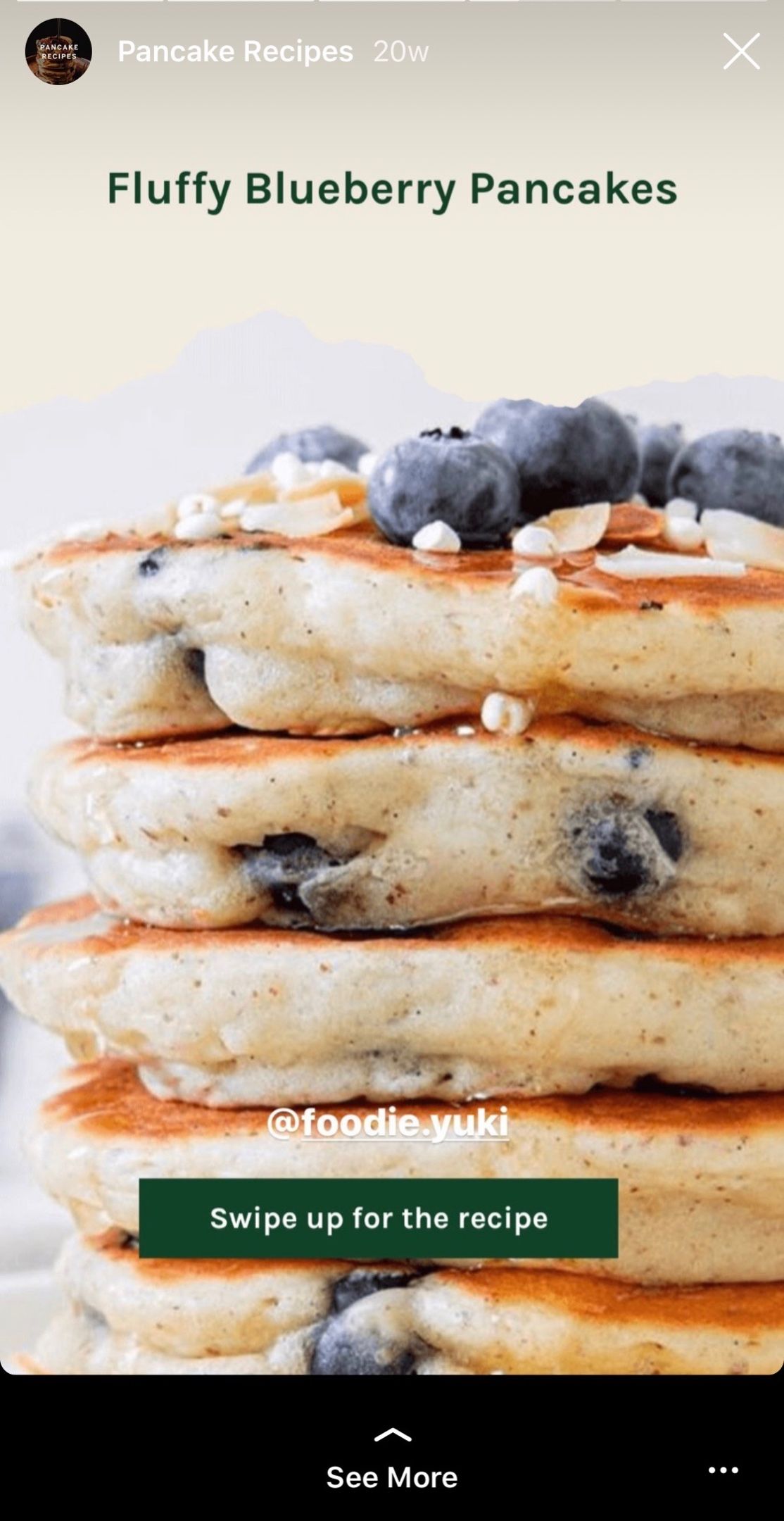 How can you make it easy for viewers to get to your website in more areas of your Instagram account?
Tagged tab
Let's not forget about the tagged tab. Content your profile is tagged in creates a feed accessible from your Instagram profile. Here is where your community lives. Think about how you can include and connect with your community. Use your tagged tab to engage with members of your community.
Are you cooking up ways to improve your Instagram business account? Keep track of your KPIs, competition and more with Minter.io. Check it out today!