3 Footwear Brands That Are Smashing It On Instagram Right Now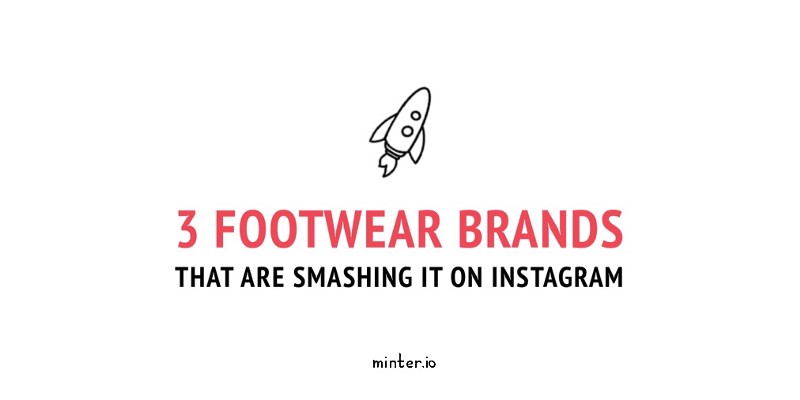 The best ways to ensure your business or brand continues to grow its Instagram presence are as follows: be adaptable to change and learn from others who are totally bossing it. We've put together a little packet of brilliant brands who are acing their Instagram game right now. See how stepping into the shoes of these fabulous footwear brands can help you build a strong Instagram presence.
Moon Boot @moon_boot_the_original
Moon Boot is a footwear brand that is inspired by the lunar landing. It has woven its individuality throughout its Instagram presence, using moon references in its Instagram bio, on its highlighted story covers, and throughout many of its posts. It's clear to see that the Moon Boot is more than a shoe — it's an experience, a statement, and a celebration.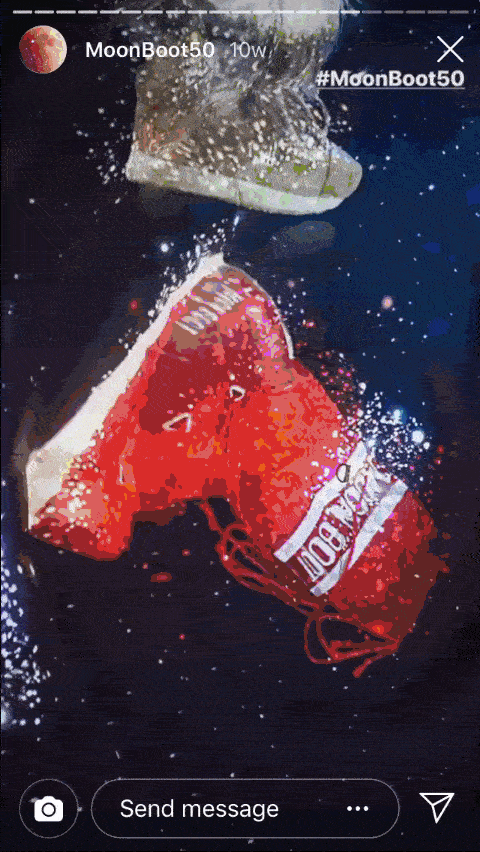 Upon first glance at Moon Boot's Instagram page, the target market is very clear. The majority of featured models are young female adults. There are some references to men and children wearing Moon Boot, but the overwhelming trend is obvious. This makes Instagram the ideal platform for Moon Boot to be engaging in content marketing, with omnicoreagency.com stating that 68% of Instagram users are female, 59% of internet users between the ages of 18 and 29 are Instagram users, and 6 in 10 online adults have an Instagram account.
I'd like to draw your attention to one post in particular which (in my opinion) is a shining example of everything the brand is doing right on Instagram.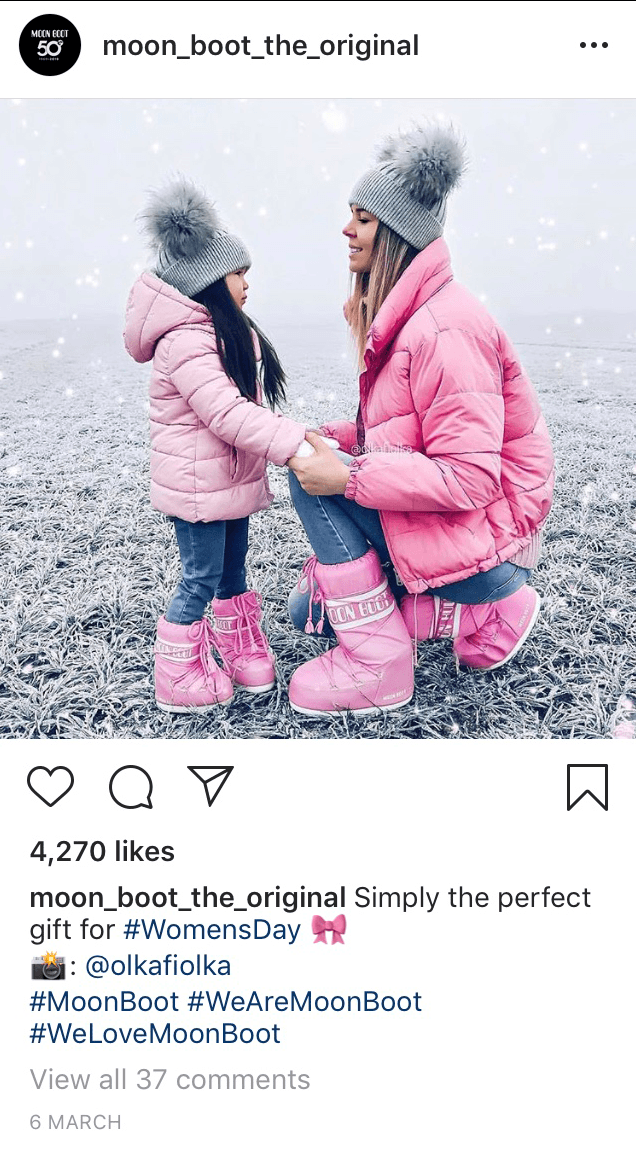 This post rose to the top of the pile when I checked out Moon Boot's best posts using Minter.io. During the past 30 days it was the best performing post by Moon Boot in terms of engagement rate, interactions, likes and comments. The image is perfectly centred around its target audience and features Moon Boot's products in a tasteful way, while taking advantage of Women's Day to engage its audience.

In fact, using Minter.io we can see that Moon Boot's most effective hashtags have been dates of interest, which the brand has carefully integrated into its marketing strategy. Moon Boot has been carefully reinforcing the brand with positive brand-specific hashtags, alongside the popular #WomensDay hashtag which will have boosted the reach.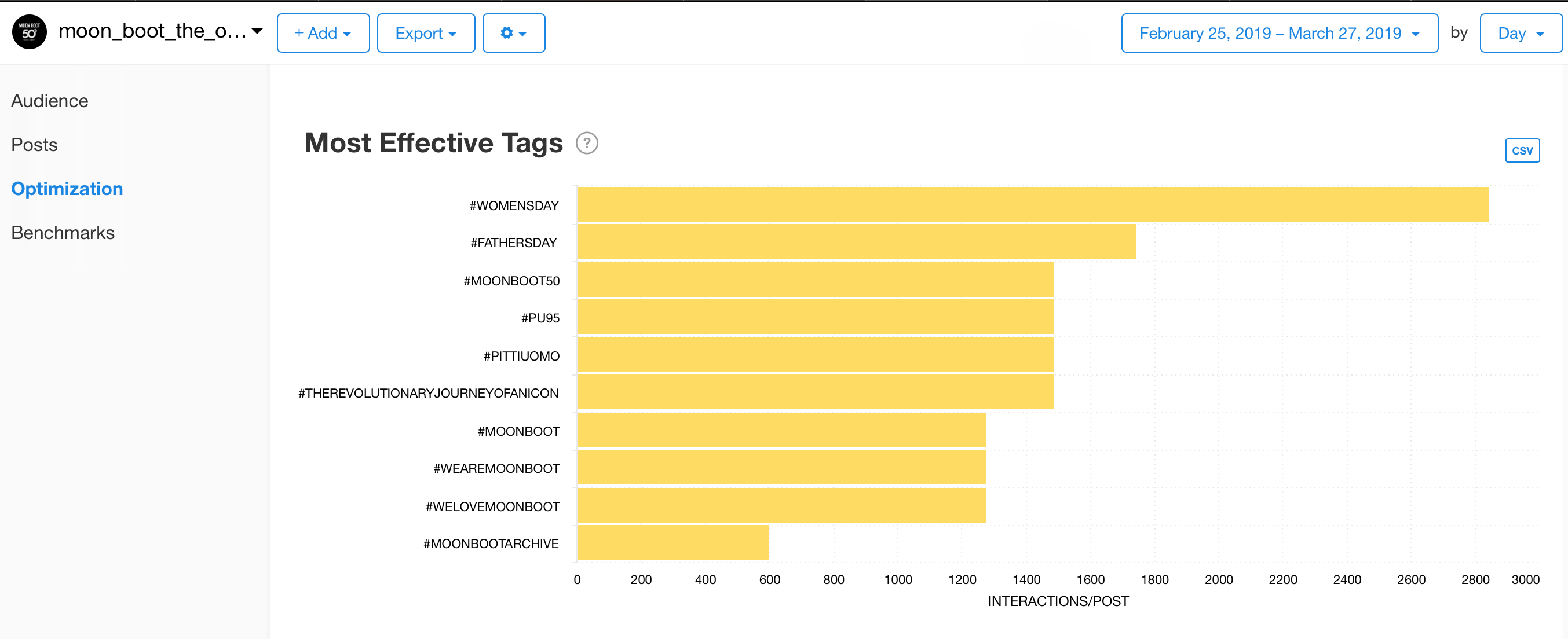 What can you learn from Moon Boot? You don't have to roll with the crowd to build a stunning Instagram feed. In fact, sometimes being different is a sure-fire way to get you noticed. As long as the quality of your content shines, you too can shoot for the moon!
Feiyue @feiyueshoes
Feiyue is a footwear brand originating from Shanghai. According to its website, Feiyue is "about exploration and the desire to experience all aspects of life by taking the next step to fly forward. Our creative DNA lies in clean, simple, classic and timeless silhouettes". Instagram is an ideal platform for embracing the line where fashion meets lifestyle.
One big way in which Feiyue is using Instagram to stitch the seams between fashion and lifestyle is through its stories highlights. Alongside highlighting promotions, Feiyue's highlights include 'Travel' and 'Social life'.
My personal favourite of Feiyue's highlighted stories is its 'Spotted' highlight which features user generated content. A lot of brands share customer stories of their products, but making this into a highlighted feature adds another level of permanence, which says volumes about how Feiyue value their customers.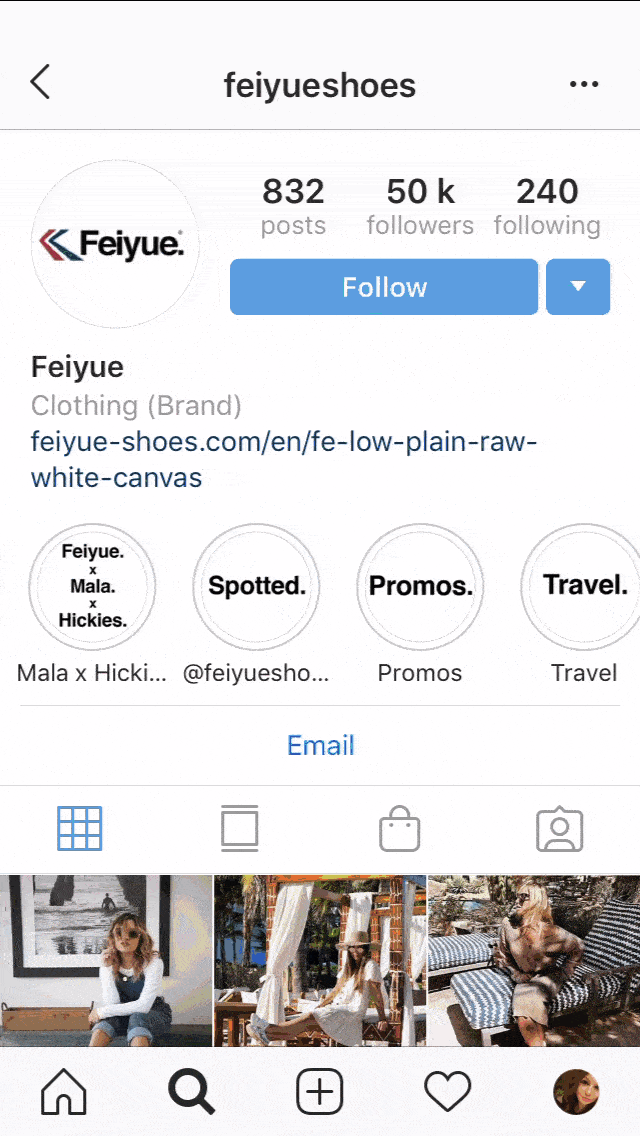 Another way Feiyue is embracing the community aspect of social media is by tagging the models and influencers that are showcasing its products, using the description accompanying its content. I think most of us can agree that there's something lovely about brands giving credit to models, influencers and partners.
What can you learn from Feiyue? Look after your followers and they will look after you. In fact, if you look after your followers well enough, you might just attract new ones, as proven by the steady increase in Instagram followers Feiyue has been attracting.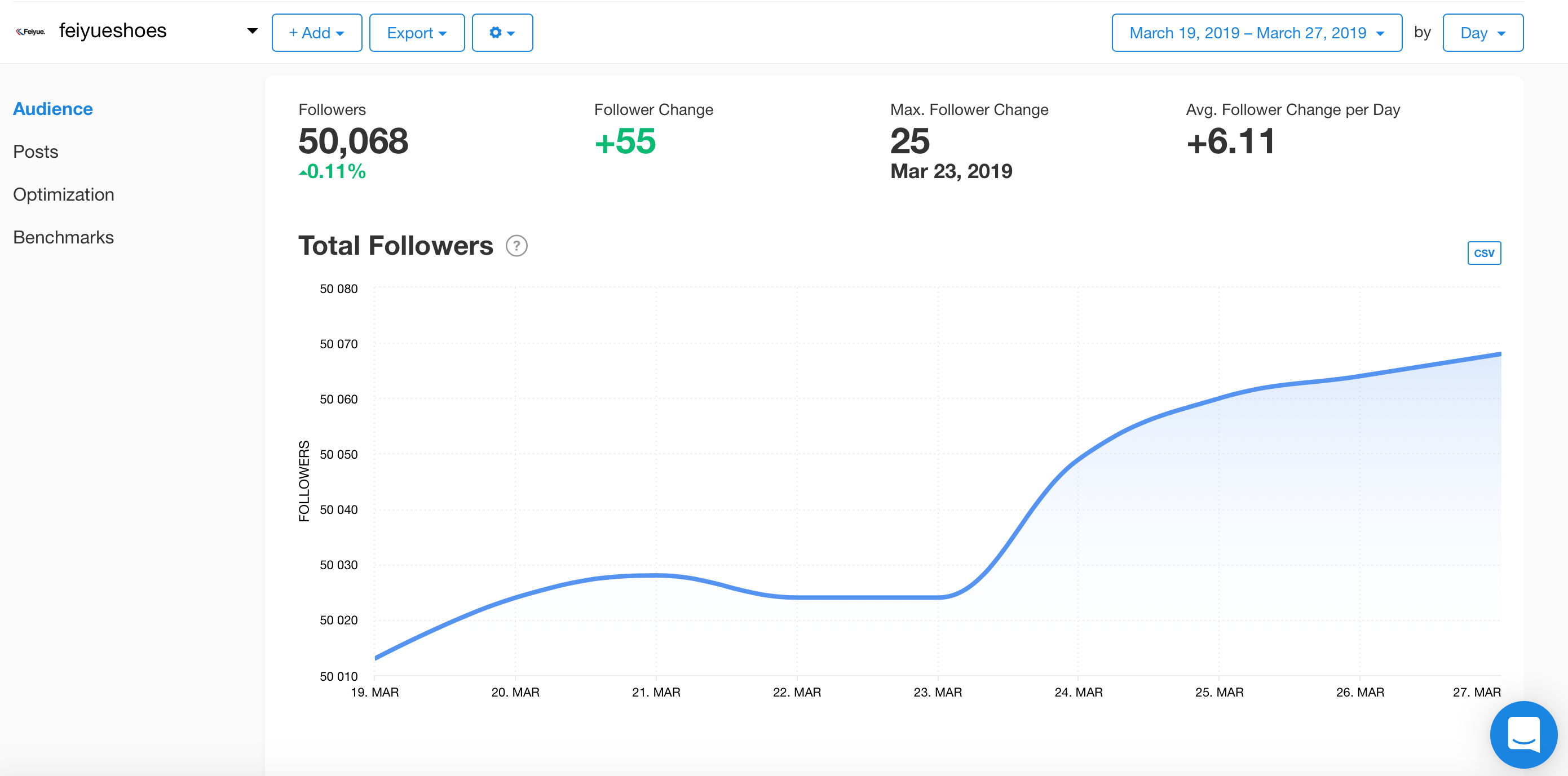 Vans @vans
Vans is a footwear company synonymous with skating, however as the company has grown over the past 50 years, so has its large customer base. Now sporting 15.2 million followers on its official USA Instagram page, Vans may have started off as a simple shoe made by a rubber company, but it represents so much more.
Let's delve into what makes Vans' Instagram feed pop…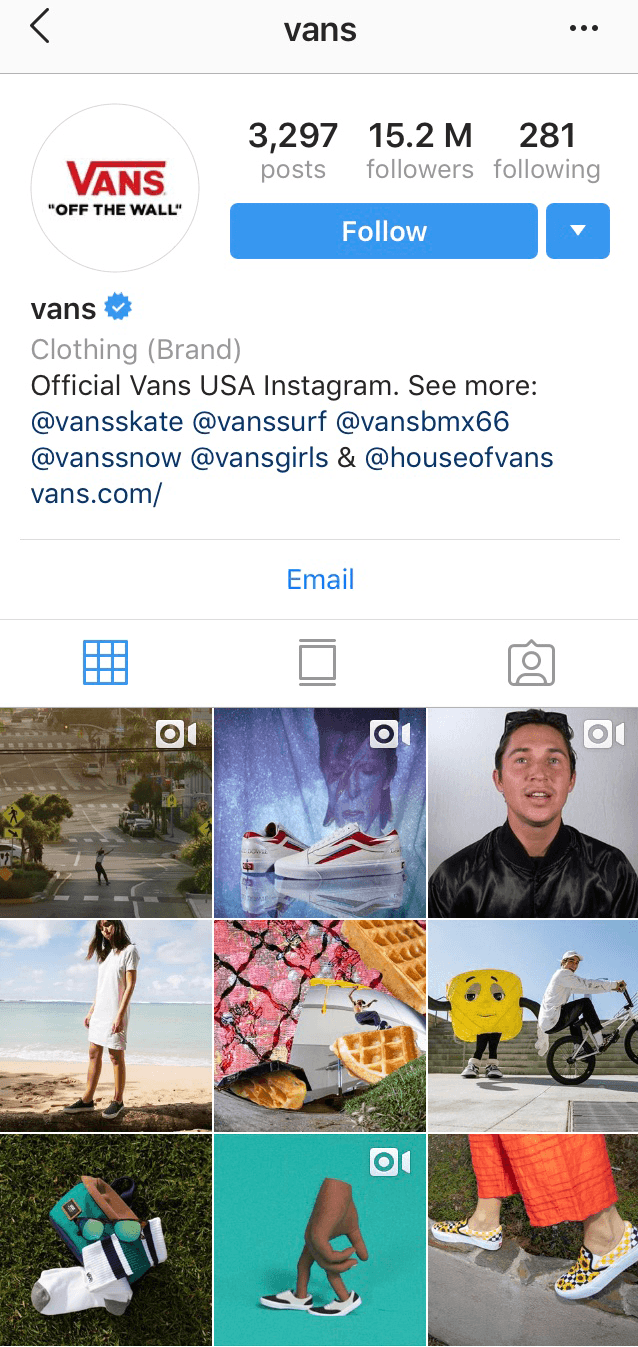 Check out the variation in Vans' posts. The mix of styles appeals to a wide variety of people; from urban scenes to beach life, from animation to collage. Vans carefully balances posts which are product-specific, alongside content centred around lifestyle. To keep content interesting, Vans varies its content between photo and video posts.
Using Minter.io's competitor feature, we can see that Vans benchmarks highly on 'Likes per Post' for their cohort, with Vans coming in higher than the upper bracket.

The growth of Vans' total amount of followers appears to have a steady amount of growth, each day hitting around the 12.5K mark.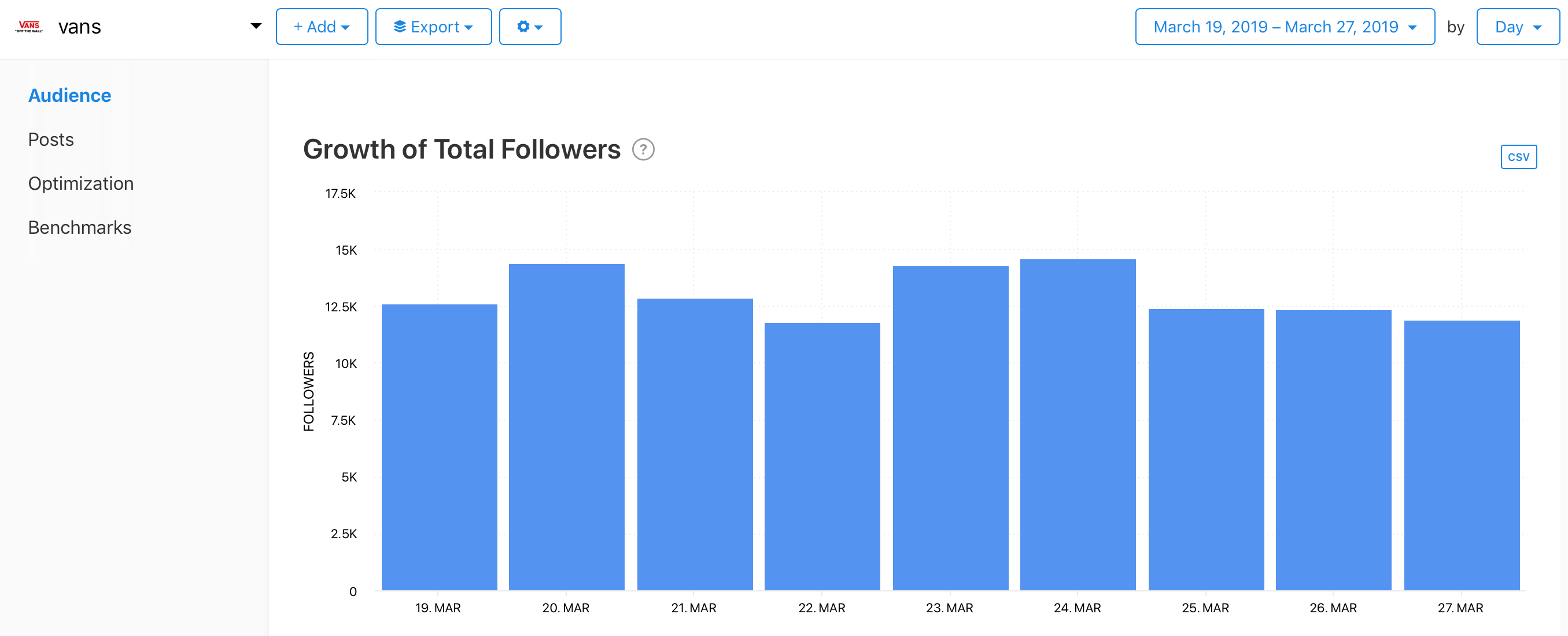 What can you learn from Vans? Being creative and mixing up styles of content is a way to engage different personality types and appeal to a large audience. Even though everything won't appeal to everyone's taste, this is one way to eliminate totally alienating groups of people. If your brand casts a wide net in terms of target audience, this may be a route to explore.
Don't forget, the more data you have to hand, and the more you track your progress, the easier it is to know for certain how your brand is doing on Instagram. Don't stab in the dark and hope for the best. Track your progress, and learn from your competitors using Minter.io. Start your 14 day free trial today!