3 Ways Casper Are Smashing It On Instagram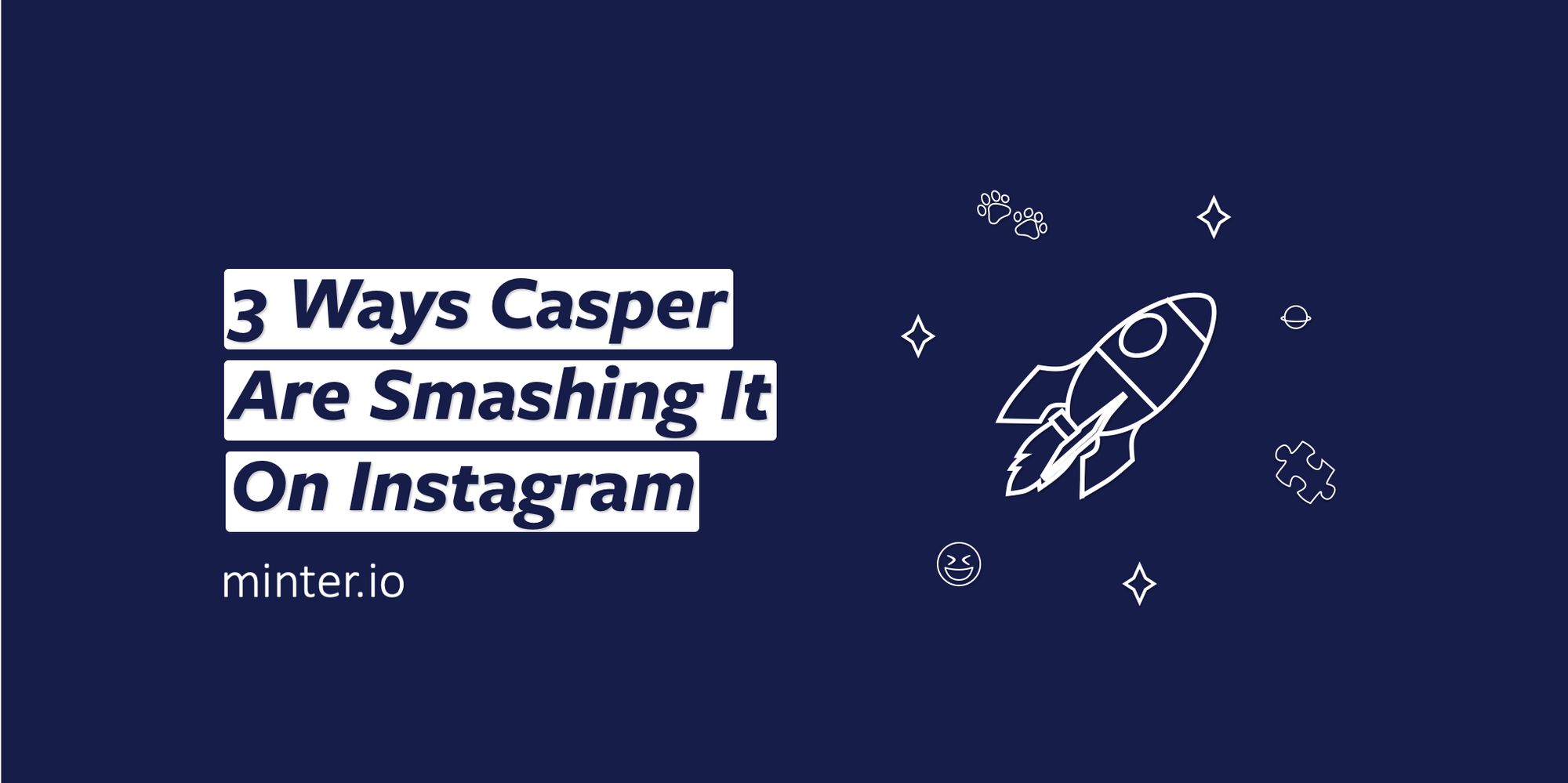 Mattresses. We spend a huge amount of time sleeping, snuggling and snoozing on them. Did you know: the average human spends 26 years sleeping in their life, which equates to 9,490 days or 227,760 hours. That's a whole lot of time spent in bed!
Casper is a brand specialising in mattresses, with a higher Instagram following than Eva Mattress, Simba Sleep and Emma Mattress. So what is it that sets Casper apart from the other mattress companies that showcase their sleepy accessories on Instagram?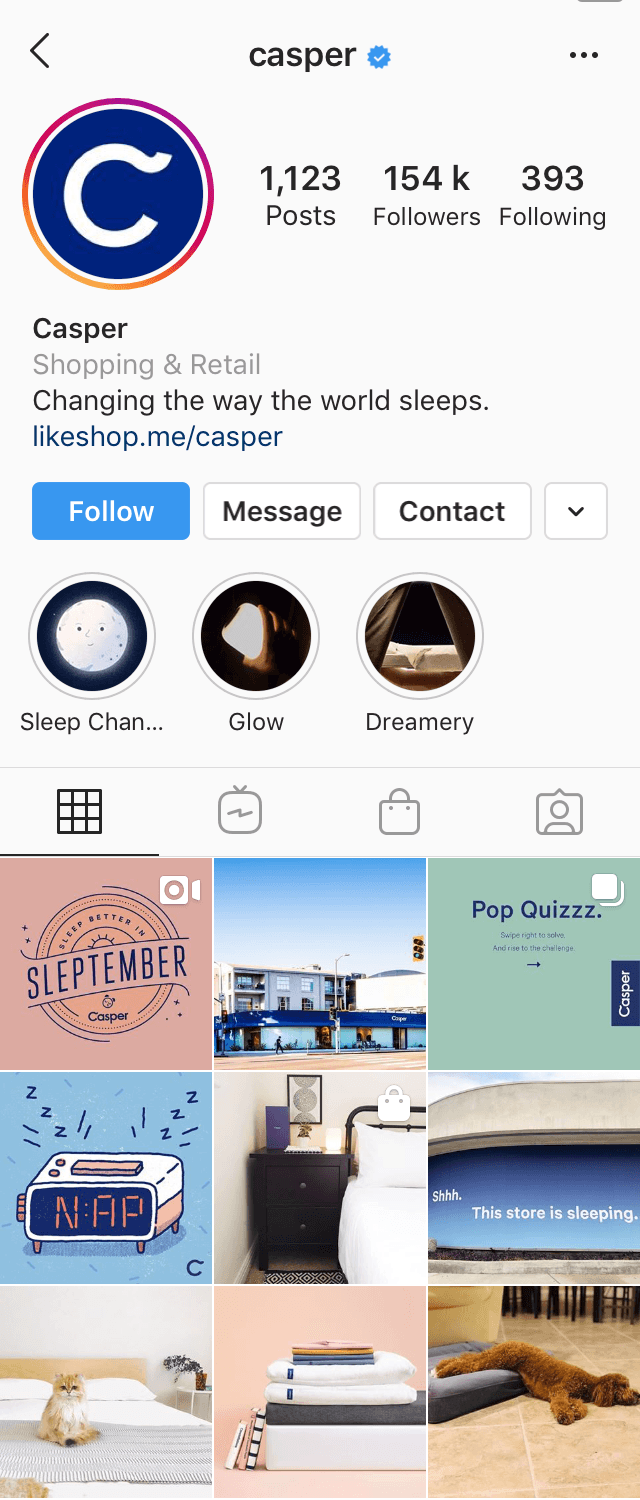 Here are 3 of the biggest ways Casper are out-snoozing the competition.
1. Cuddly Imagery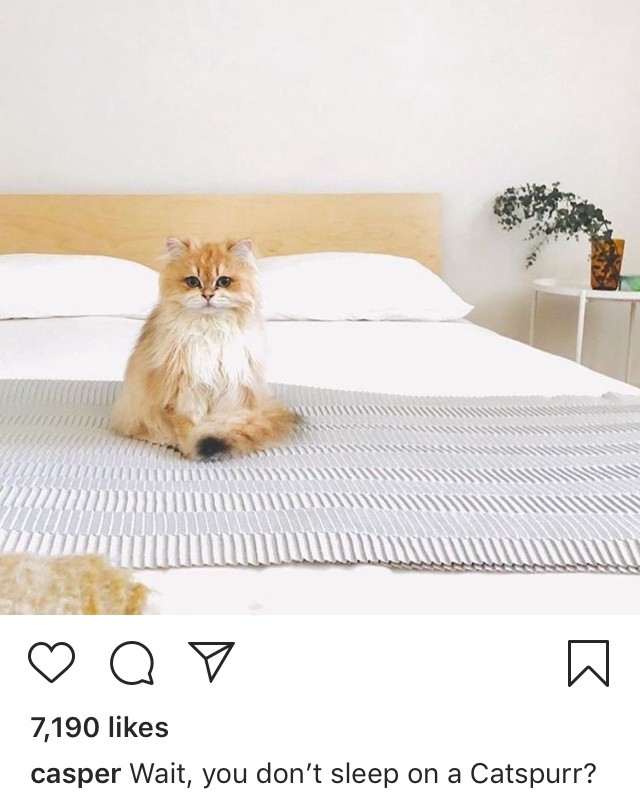 Casper uses imagery that imitates how you want to feel when using their products. When you think of snuggling up in bed or settling down for a snooze, how do you want to feel? Warm, comforted and cosy… and what's more comforting and cosy than a cute, fluffy animal? Half of Casper's top 6 posts by engagement rate, interactions and likes feature a small, furry animal on one of their products.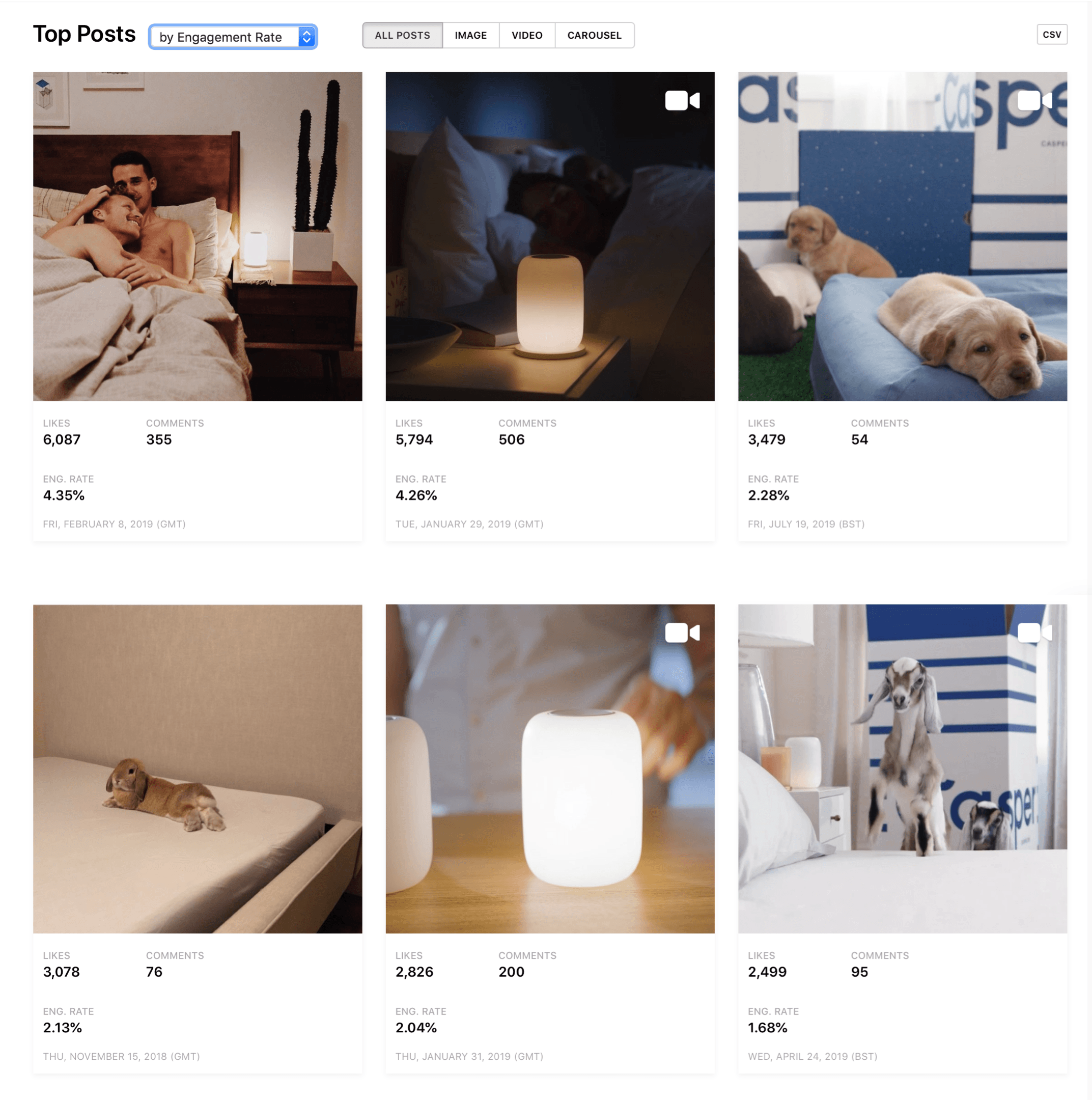 Think about what your customers associate with your products and be creative about portraying this in your imagery.
2. Humour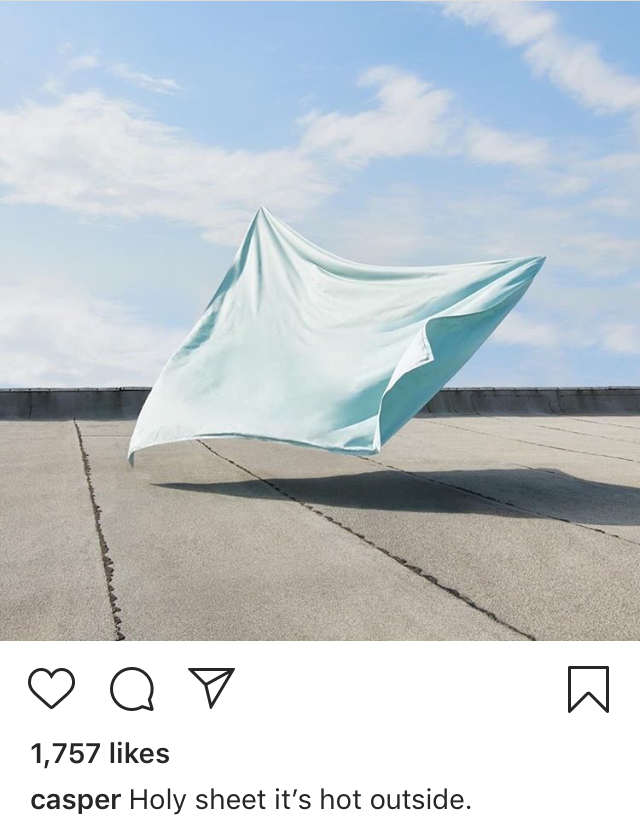 Who doesn't like a good old giggle? Laughter triggers the release of endorphins, the body's natural feel-good chemicals. Endorphins promote an overall sense of well-being and can even temporarily relieve pain. This is what Casper wants you to associate with their products: to feel good and a have a sense of well-being.
Casper uses humorous captions, relatable puns and relevant topics to engage their audience and switch up their content.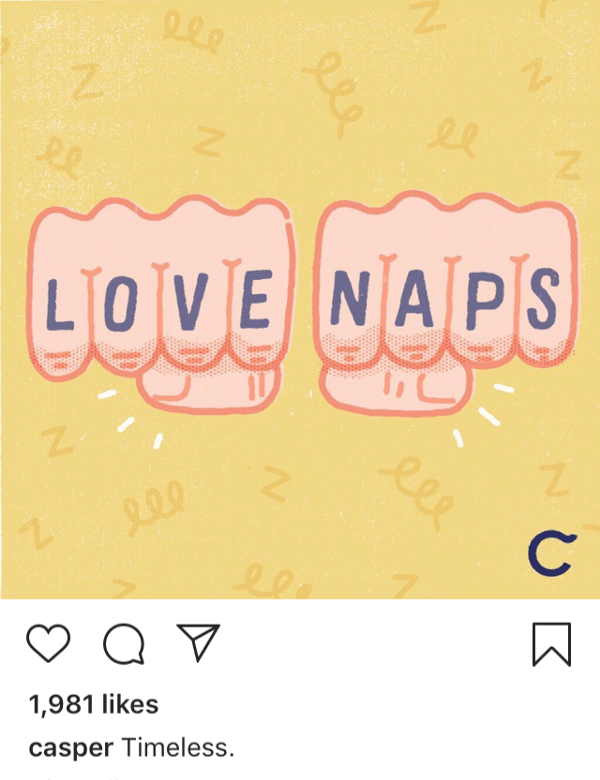 Triggering emotion is an essential part of encouraging engagement on social media. People want to react to things they connect with, relate to, or are wowed by in one way or another. Think about the kind of emotion you want to draw from your audience and how you can create posts that spark this.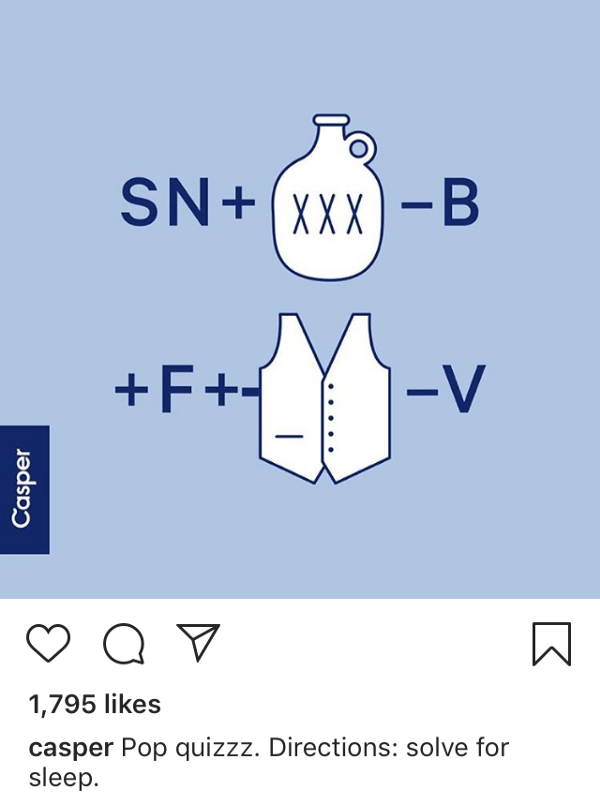 3. Interactivity
Being able to feel a part of the community is a big way social media connects brands with their customers in a way that other marketing methods can't. Casper makes the most of this by inviting interactions from their followers through puzzles and quizzes that are relevant to their brand. It is clear that followers respond well to this kind of content as 3 out of 6 of Casper's top posts by comments over a 3 month time period are puzzle-based, meaning their followers are engaging with these posts.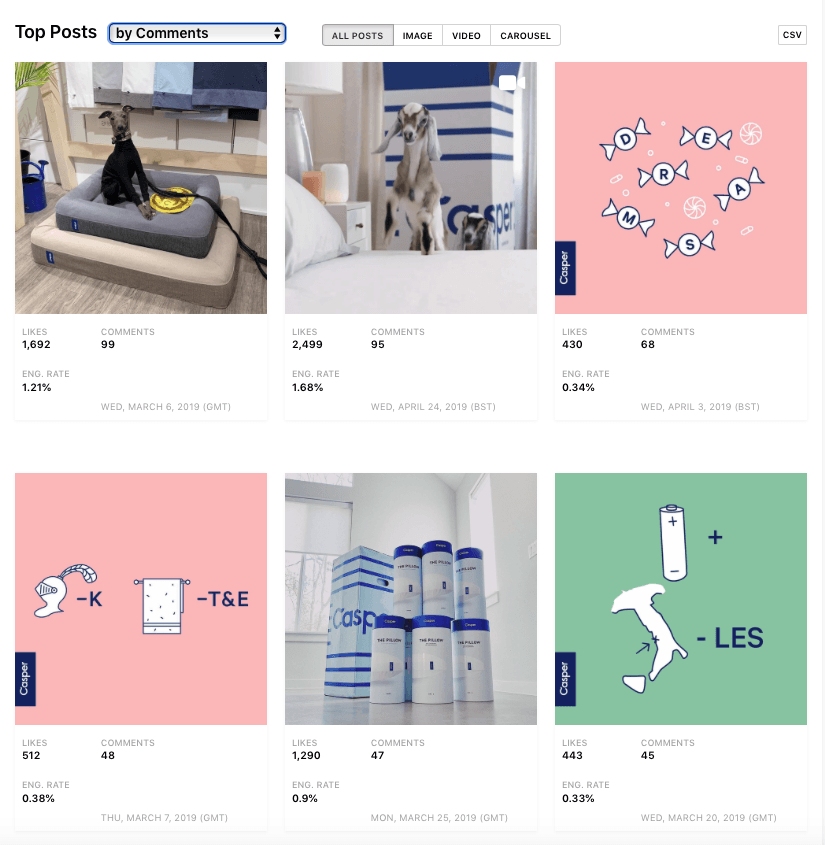 Think about how you can engage your audience through content that makes them think. What kind of questions, puzzles or quirky content could you include on your Instagram profile?
There's no two ways about it: Casper knows Instagram. They weaves their knowledge of the platform into creating engaging content, relevant to their brand, products and audience, not only on their main feed but through their use of Stories, IGTV and the shopping function. However, without a strong focus and branding, the use of additional features on Instagram wouldn't showcase the slumber party we all want to be invited to.
Don't let your Instagram nod off. Wake up your social media marketing with the knowledge and analytics tool you need to help you grow. Check out Minter.io today!