5 ways to win with Instagram Reels & @loveraw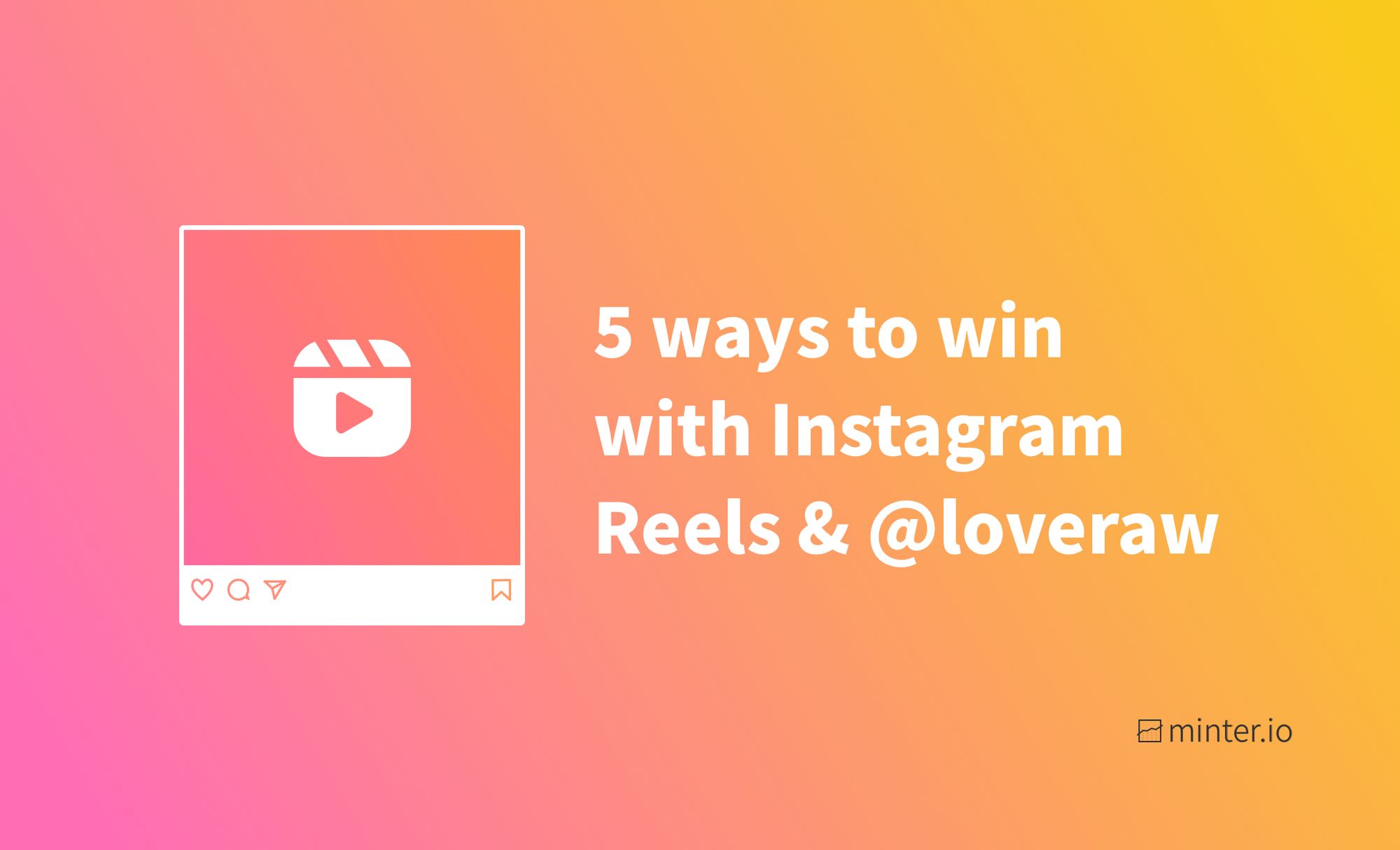 Reels rolled onto the Instagram scene in August 2020. These short, vertical videos are ideal for the dwindling attention spans of the overly-stimulated population, helping you to grab and keep attention just long enough to get your brand in front of potential buyers… but are you using Reels to their full potential?

Here are 5 ways @loveraw are winning with Instagram reels… and you can too!

1. Use It

When Instagram releases a new feature, the content on it is often pushed more to new audiences because the success of the new feature is Instagram's current company focus. New releases are often observed, tested and tweaked with a closer eye than features that are already loved, used and overly-saturated. It's also highly likely that fewer people will be using the feature in the early days, so you'll have less competition to fight for screen time. The longer a feature is around, the more noise you have to compete with. Therefore, there is huge merit in getting good at a feature while it's new, fresh, exciting, and while Instagram is focusing on its success. If you don't hop on new features, you may get left behind without the potential growth spurt that could do wonders for your brand.
2. Crosspost With TikTok

Posting the same content across multiple platforms that it lends itself to is an innovative way to save time, money, and reach new audiences with content that is fresh to them. Looking at @loveraw we can see how they have crossposted a fair few pieces of content across both Instagram and TikTok, while keeping some videos exclusive to a particular platform. The videos they crosspost sometimes include different music and regularly include different text.

Check out this example: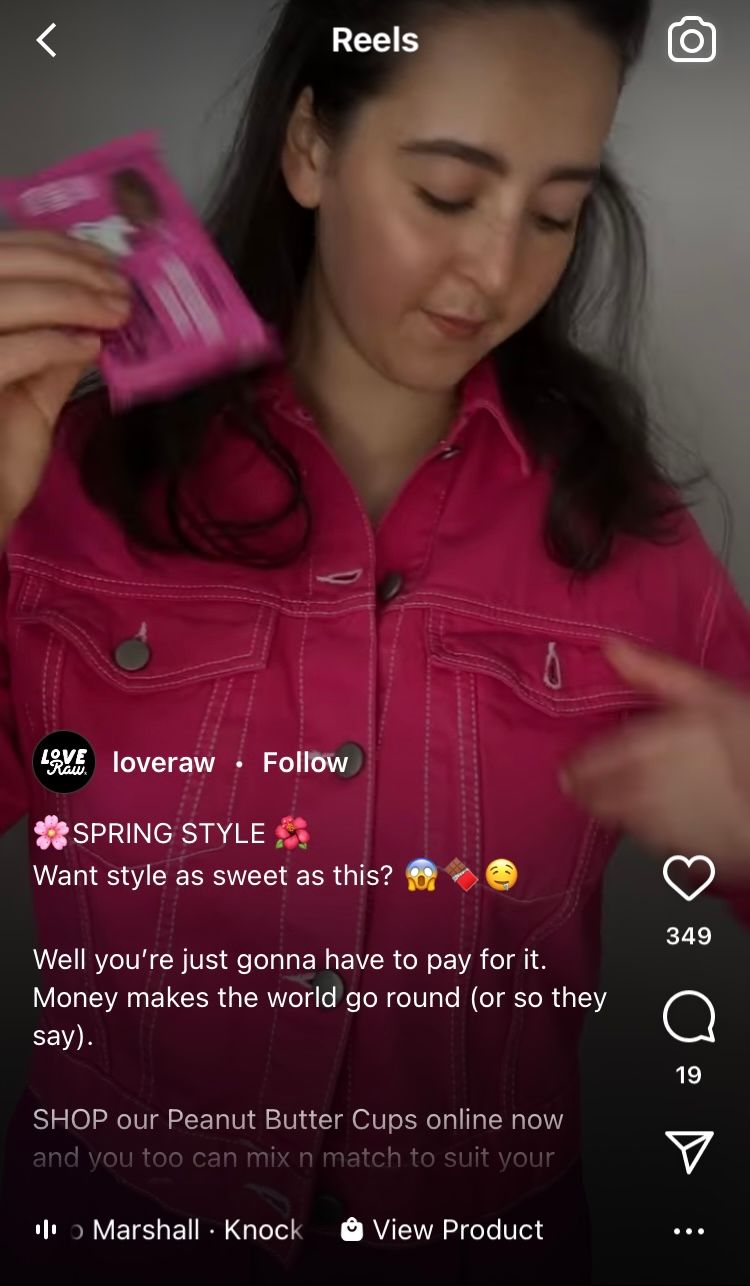 Notice how the Instagram reel has a lot more text and different hashtag use. The key to crossposting is optimising for the audience demographic you are reaching with the social media platform you are publishing to.

You can decide how much crossposting you'd like to do, as well as deciding which videos would work better for a particular platform audience demographic. Generally speaking, TikTok serves a younger audience, so shorter, snappier text, CTAs and content tends to work better in comparison with Instagram, where longer text and explanations could be better for your business. Your profile will have its own specific demographic breakdown. You can find this on Minter.io which will help you make informed decisions about what to post where.
3. Make Use Of The Features

When using Instagram reels, make sure to use it to bring your business and your audience the most value. You can do this by making use of the features specific to reels, as well as using the connectivity functions within Instagram as a whole.

Check out this post from @loveraw: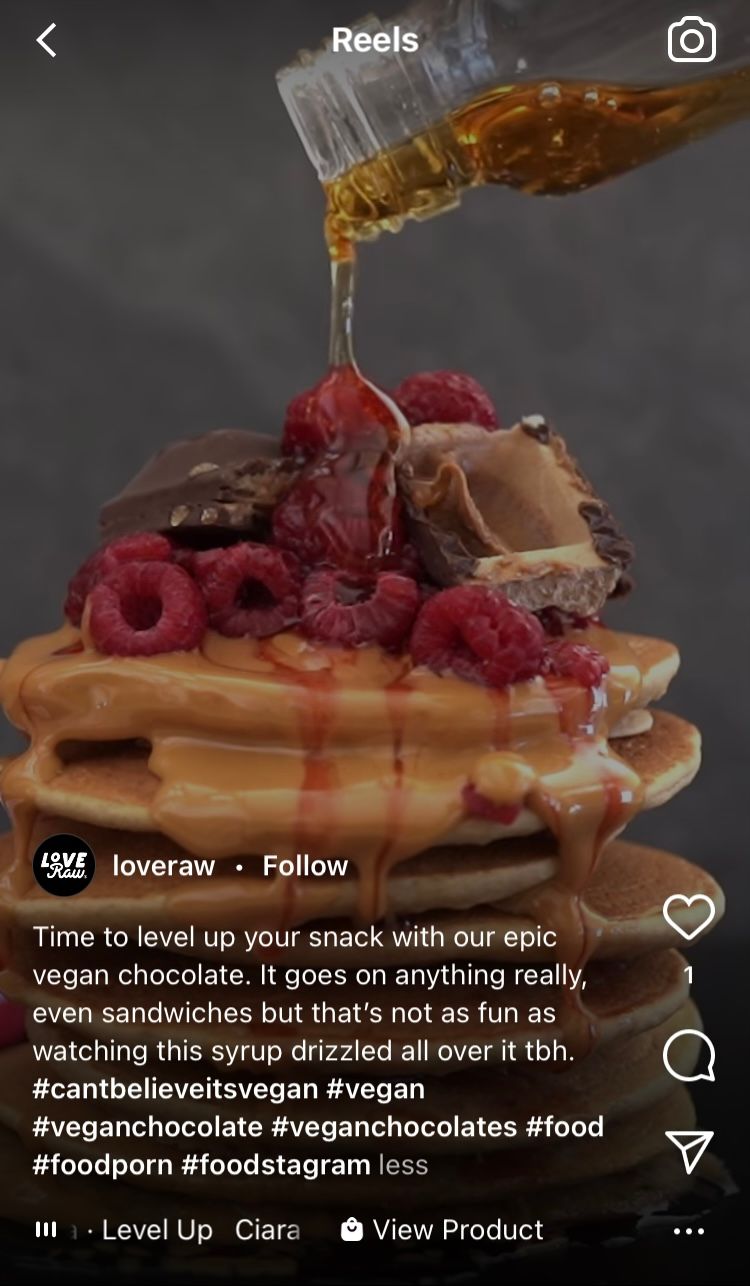 Notice how they added:
music - this adds to the creativity and professionalism of the video and aims to increase viewer retention
a linked product - this encourages interested viewers to browse products and ultimately aims to lead to increased sales
hashtags - this aims to connect the content with viewers actively seeking out content of this kind

Make sure when you're creating and publishing reels videos that you think beyond the content, but towards the business goals you have and how your content facilitates achieving these.
4. Craft Creative Subject Matter

Social media platforms are creative avenues to connect with an audience, so there's no two ways around it - you have to get creative to succeed. That being said, your content must make sense to your particular business.

When it comes to crafting creative content, it may help to ask yourself:
What field am I in?
How are my products/services used?
How can I grab attention?
Can I put my product in an unusual situation?
How can I spark emotions from my audience?
How can I bring about nostalgia?
Can I present my business in a relatable way?
Does it make sense to connect in a comedic way?
Can I do something out of the box, inventive or intriguing? (What could that look like?)

Whatever your content, it should be entertaining, informative, or both.

@loveraw creates content around comedy and recipes. This allows them two separate avenues to focus on entertainment (comedy) and information (recipes). It also builds on their company voice, using humour to connect and relate to their audience.

Check out these comedy reels by @loveraw: GCSE drama and hair tutorial: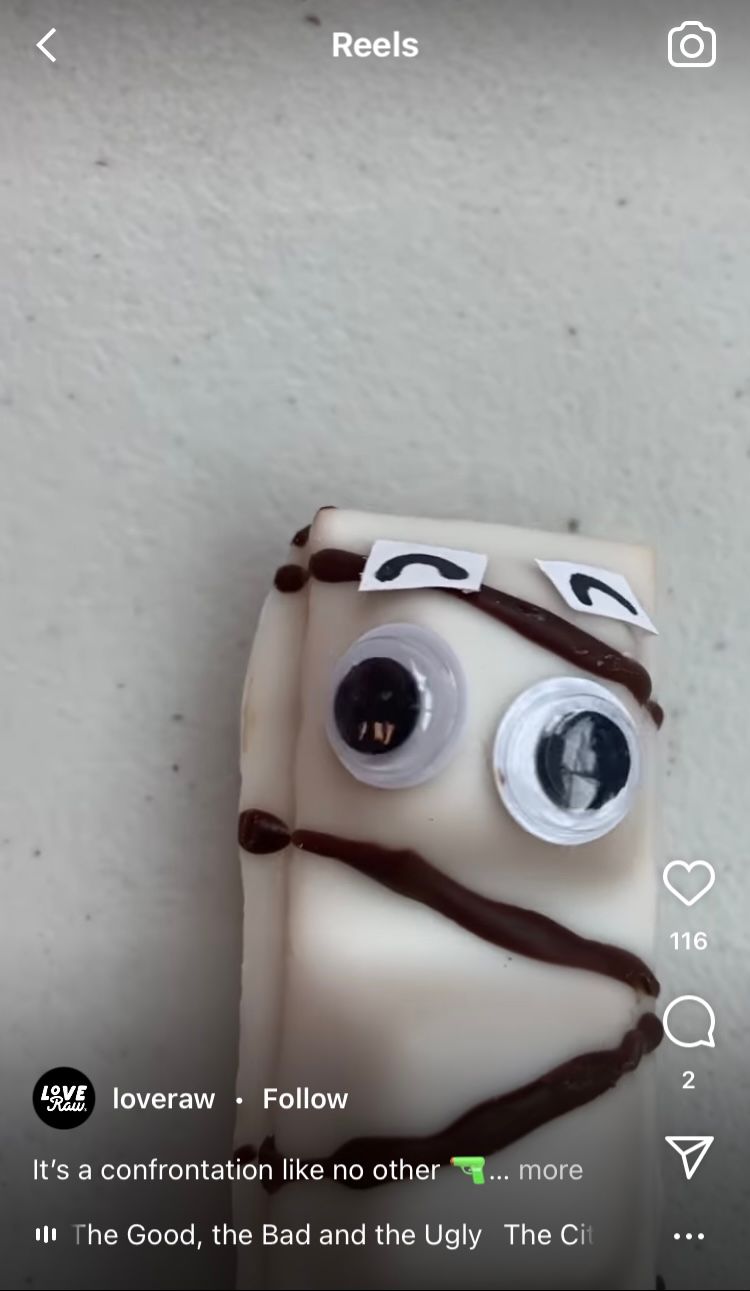 I particularly like how they took the trend of heat-free hair curling and applied it their product in a humorous way.

Check out these recipe reels by @loveraw: easter eggs and hot chocolate: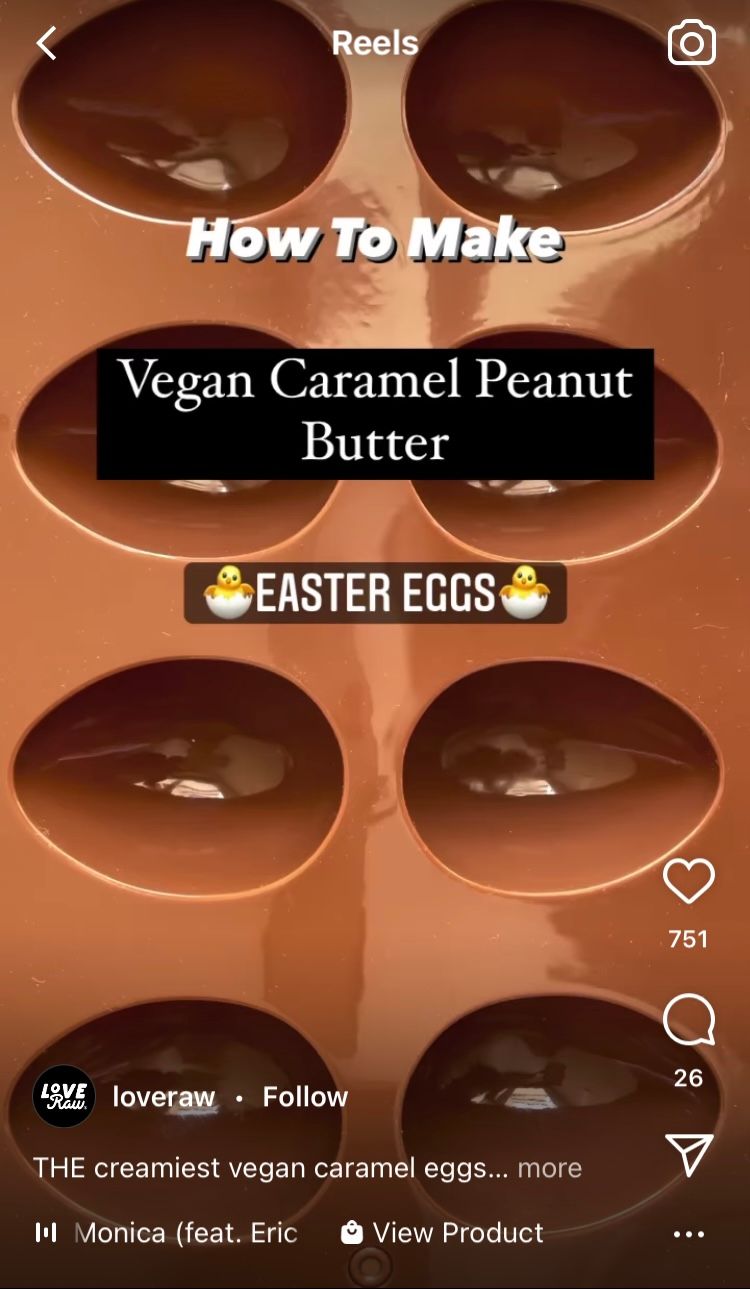 How can you use your products/services to connect, inform and entertain?
5. Quality Customer Service

When you use a new feature on Instagram it can be very easy to forget about the basics, but they are so important to how your audience views your brand. Your reels content should be a continuation of the quality customer service you provide in other areas of the platform.

You can provide quality customer service by:
providing value through your content
responding to comments
listening to feedback
adjusting your content as appropriate

Are you giving your audience what they want, care about and desire to see? Are you responding to comments, questions and queries wherever they come up on social media? Having clear, coherent customer service will always serve your business well.

We hope these tips help you grab, run with and grow with Instagram reels. For a more in-depth look at what your business is doing right on Instagram, check out Minter.io today.
---
Grow your Instagram business with Minter.io Analytics.
Try Minter.io now →