8 Ideas For Your Business' Instagram Stories Highlights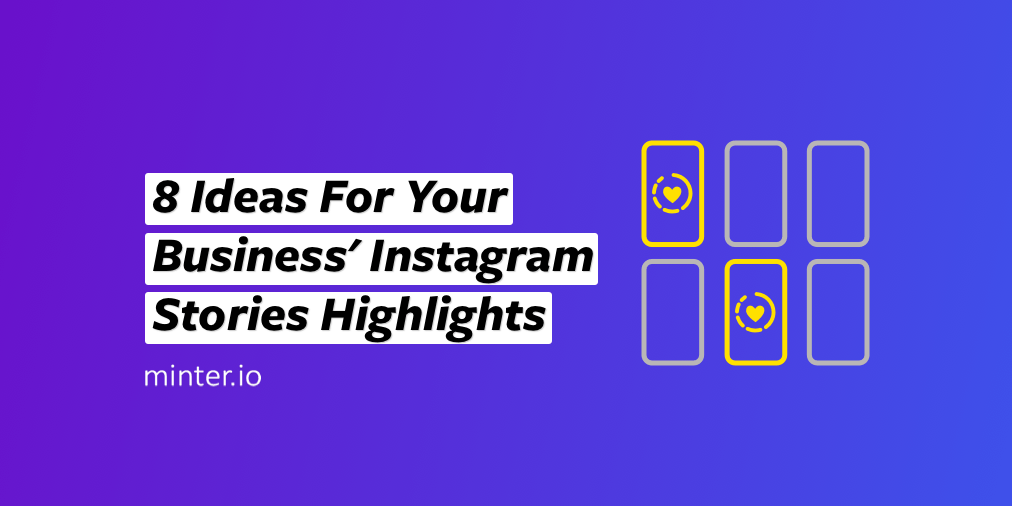 Stories posts on Instagram are a great way to capture content in the moment. They allow you to share more personable information, or a collection of media that doesn't line up with your feed imagery, giving you more flexibility to be creative as a brand or business. Stories posts disappear to the audience (and are archived for the uploader) after 24 hours, however Stories Highlights allow the uploader to group and display Stories posts on their profile indefinitely. These Stories Highlight collections are displayed at the top of an Instagram profile, making them easy to find, view and revisit.
Benefits of using Stories Highlights:
Viewable past 24 hours since publication
Viewers can revisit important posts in the future
Prominent position at the top of an Instagram profile
Let's have a look at the ways brands can brilliantly use Stories Highlights.
1. Showcase Your Products/Services
Make your products and services the star of your Stories by showcasing them on your Highlights. Group together collections, lookbooks and product launches, making it easy for your customers to browse and find items of interest. Using Stories features, you can add links to your Stories posts to drive traffic to your website and encourage sales. You could even use the shopping features built into Instagram.
Check out how the ice-cream company Ben & Jerrys use Instagram Stories Highlights to show off their flavour range.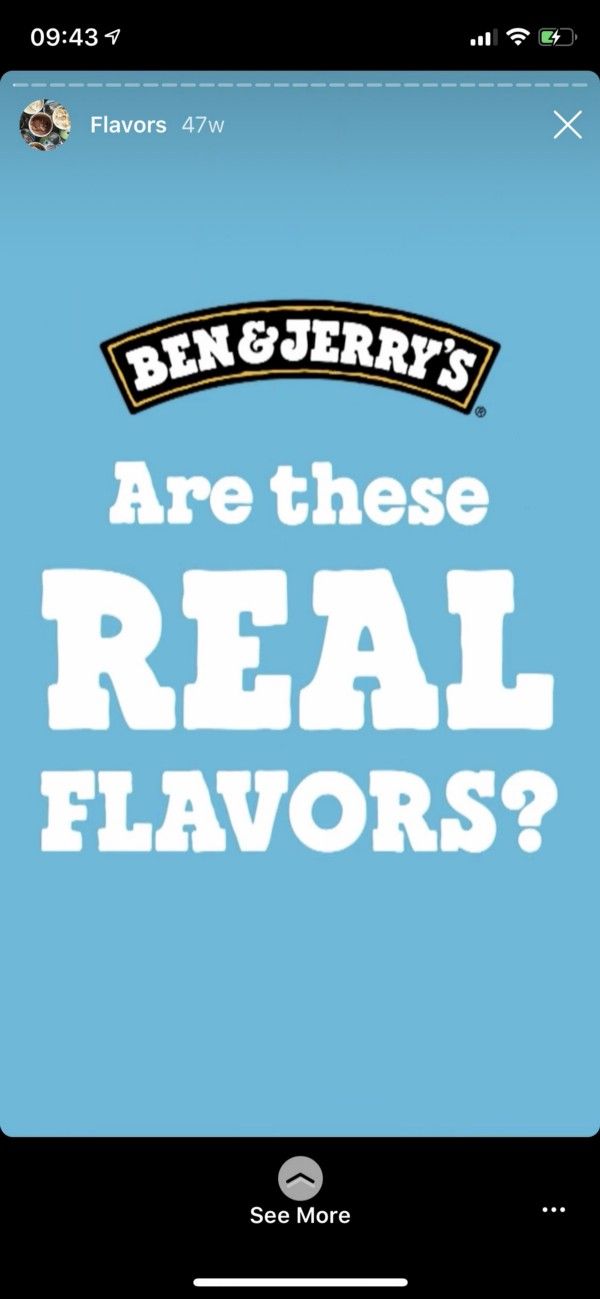 Using strong branding, Ben & Jerrys showcase their selection of tasty flavours, linking to their website with the 'See More' swipe up function.
2. Repost User-Generated Content
Put your customers in the spotlight, and reward their loyalty, by sharing their content on your Highlights. As Highlights are viewable for longer than 24 hours (permanent until you want to remove them) this shouts about your customer focus and appreciation. You could also use this as an opportunity to encourage the use of a hashtag to invite more user-generated content.
Here are some great user-generated images, posted as a Highlight by the fast food chain Wendys.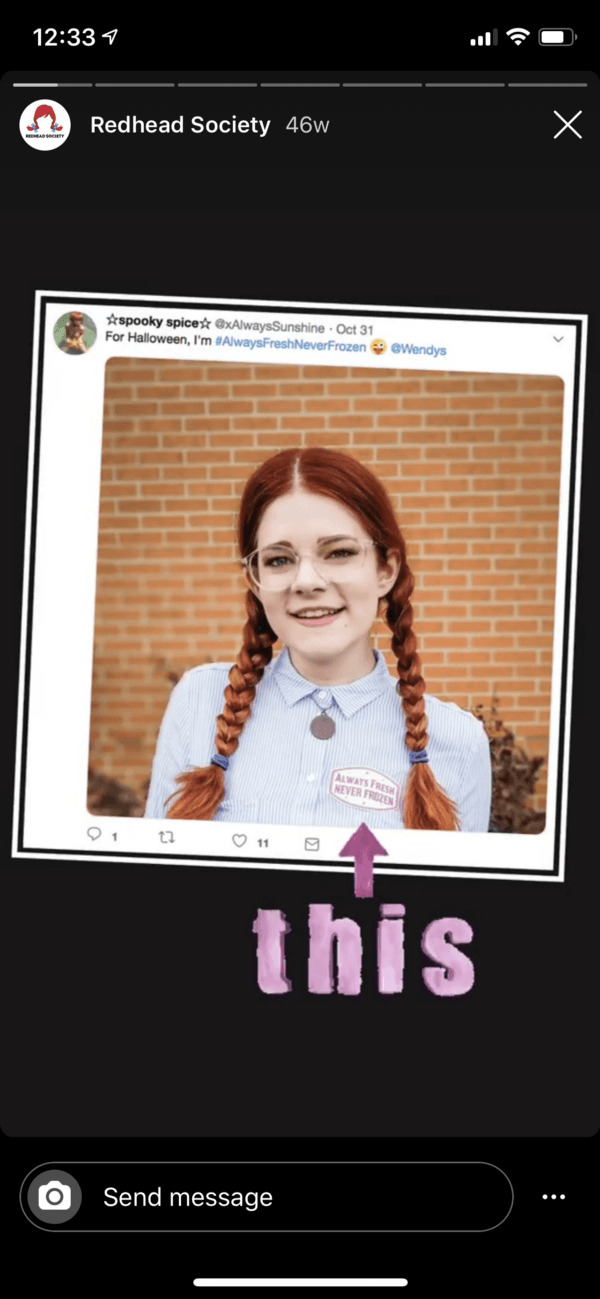 3. Share Company Ethics And Values
Sharing your company values and ethics is a powerful use of social media, building your following through what you stand for and keeping them around for what you have to offer. At the centre of your company lies what you stand for as a business and a brand. This should be the common thread that runs through your people and products. This could be anything from quality, care, community, inclusiveness etc.
Check out how the burger company Shake Shack are using their Highlights to share their support of Pride.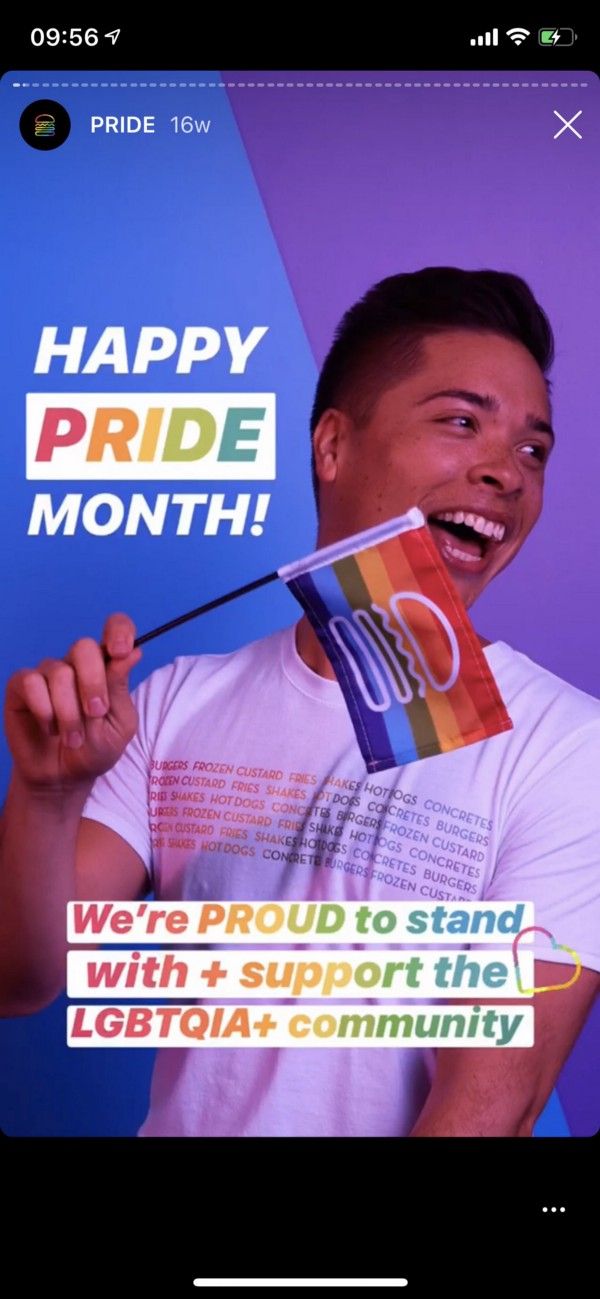 4. Create Useful Content To Revisit
Content such as How-To content, recipes or instructions can be incredibly useful to customers. Creating a Highlight with this in mind will give users a reason to come back directly to your profile, which is great from a business perspective. Giving consumers a reason to revisit your Instagram profile will increase the likelihood of staying in the minds of the customers, and get new content viewed in the process.
Check out how travel retail company Away use Highlights to share useful tips for using their products.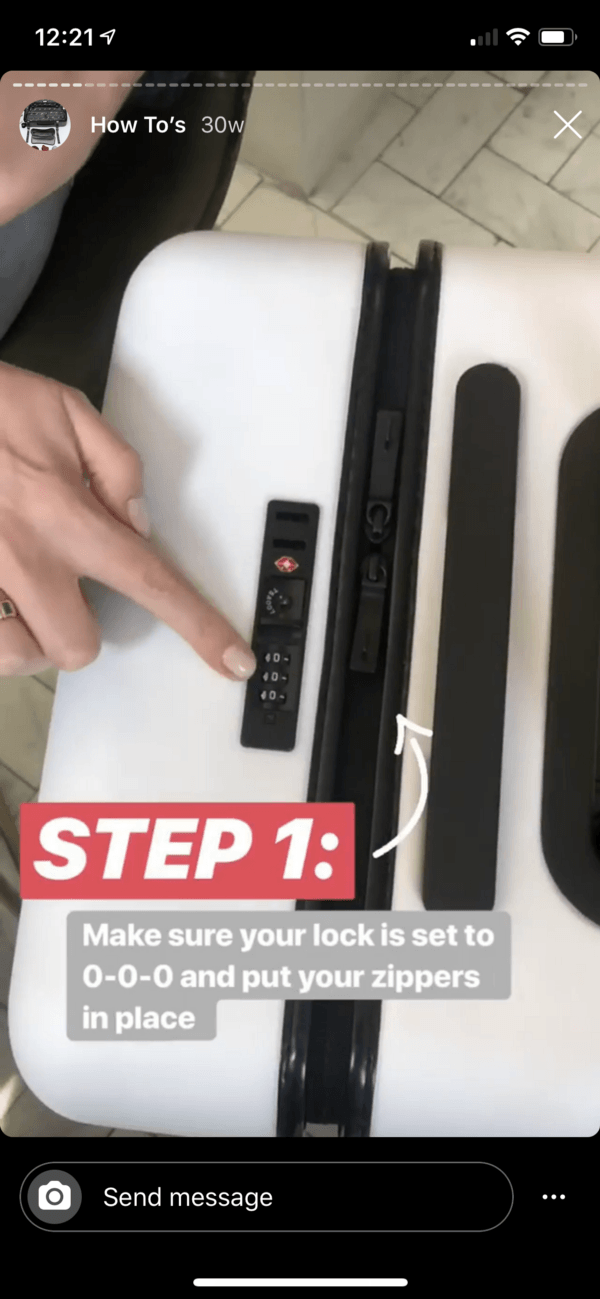 5. FAQs
Make the most of Instagram's Stories features by asking for your audience's questions for you to share the answers with an FAQ-focused Highlight. Similarly to the point above, this gives customers a reason to visit your profile. Additionally it showcases your customer care.
Check out how Frank Body answers questions about their haircare products.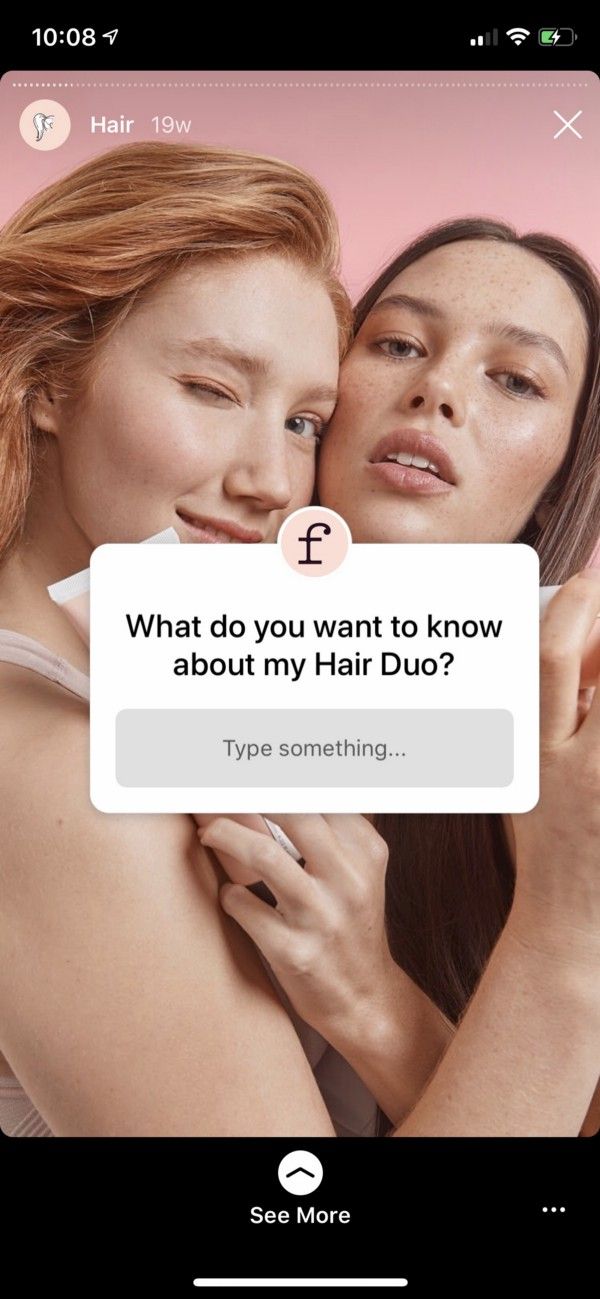 Notice how Frank Body uses the opportunity to point customers to their website through a competition and shares the useful information about their products.
6. Events And Launches
Share the moments your company is excited about such as events, store openings, walk throughs and product launches, and be proud of your company growth. Build hype and buzz in the run up to a launch or event, and share the excitement afterwards. You could even use the opportunity to push a hashtag relating to the event or a campaign, encourage people to attend through links to information on your website, or add useful elements such as store walk-throughs or product features to encourage profile revisits.
Check out this Highlight from Lego's red carpet premiere event of The Lego Movie 2.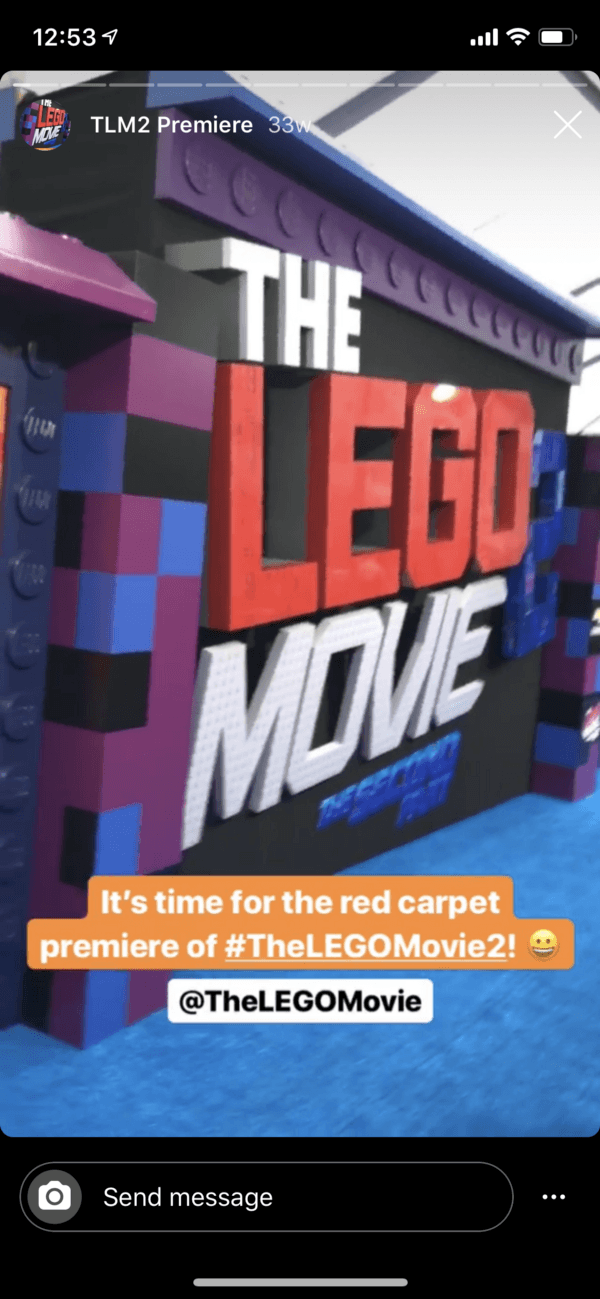 Notice that the actors within the movie are holding the lego characters they voice. This little touch hammers home the brand in a fun and interesting way.
7. Partnerships And Collaborations
Looking at Lego again, we can see how partnerships and collaborations can be shown off using Stories Highlights. Here is a collaboration example between Lego and Harley Davidson.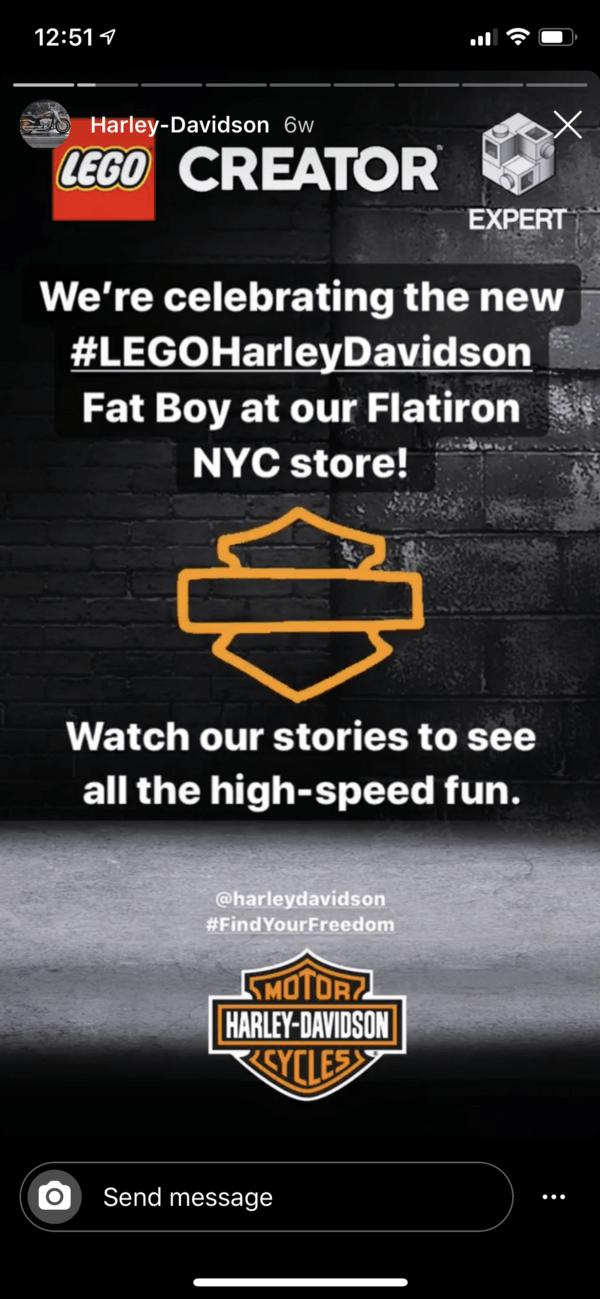 This is great for keeping your partnerships strong by showing your appreciation of the collaborative company.
8. Field Specific Content
Showcase the things that make your field of work interesting using Highlights. If you're a hotel company, sharing the best tourist activities in the locations you're situated makes for an interesting and relevant Highlight showcase. If you're in the fitness industry, you might opt for sharing workouts broken into different types, muscle groups or lengths to separate your Highlights. Creating Highlights like this is a way of keeping content super relevant to your industry and allows you to add more to your Highlights effortlessly as you share more on your Stories.
Check out these holiday Highlight snaps by Expedia.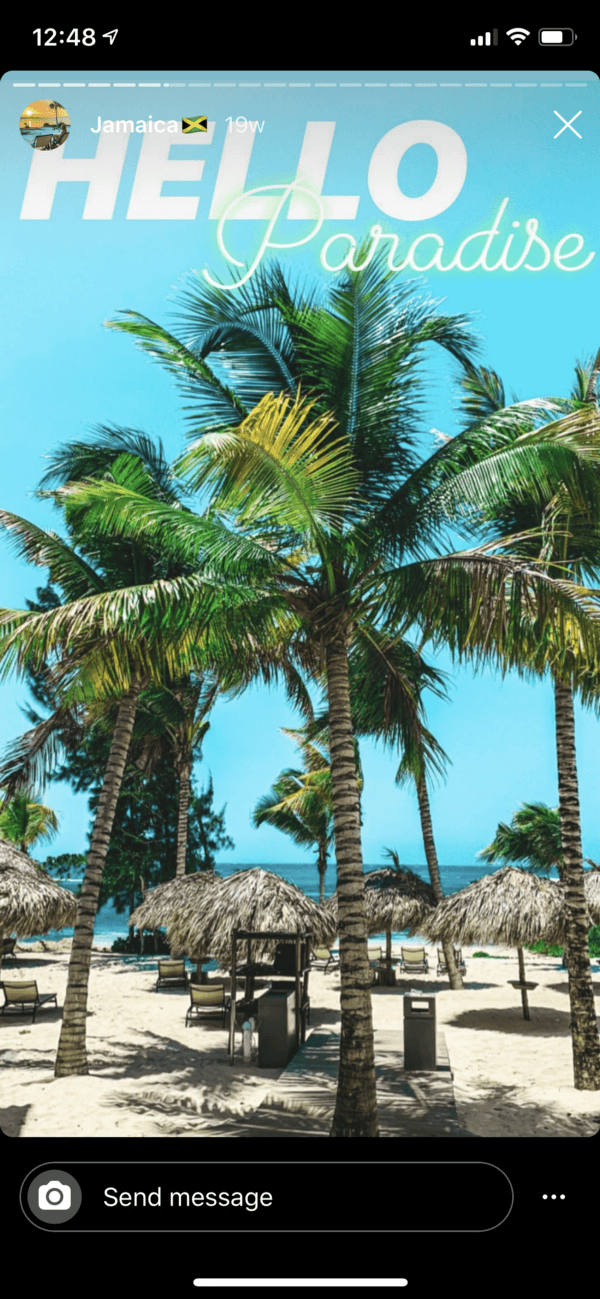 Do you have any more ideas for great Instagram Stories Highlight content? Drop them in the comments! See how your Instagram Stories are performing with the Instagram Analytics Tool Minter.io where you can view extensive Stories analytics including impressions, reach rate, top posts and more!