How brands use Stitch on TikTok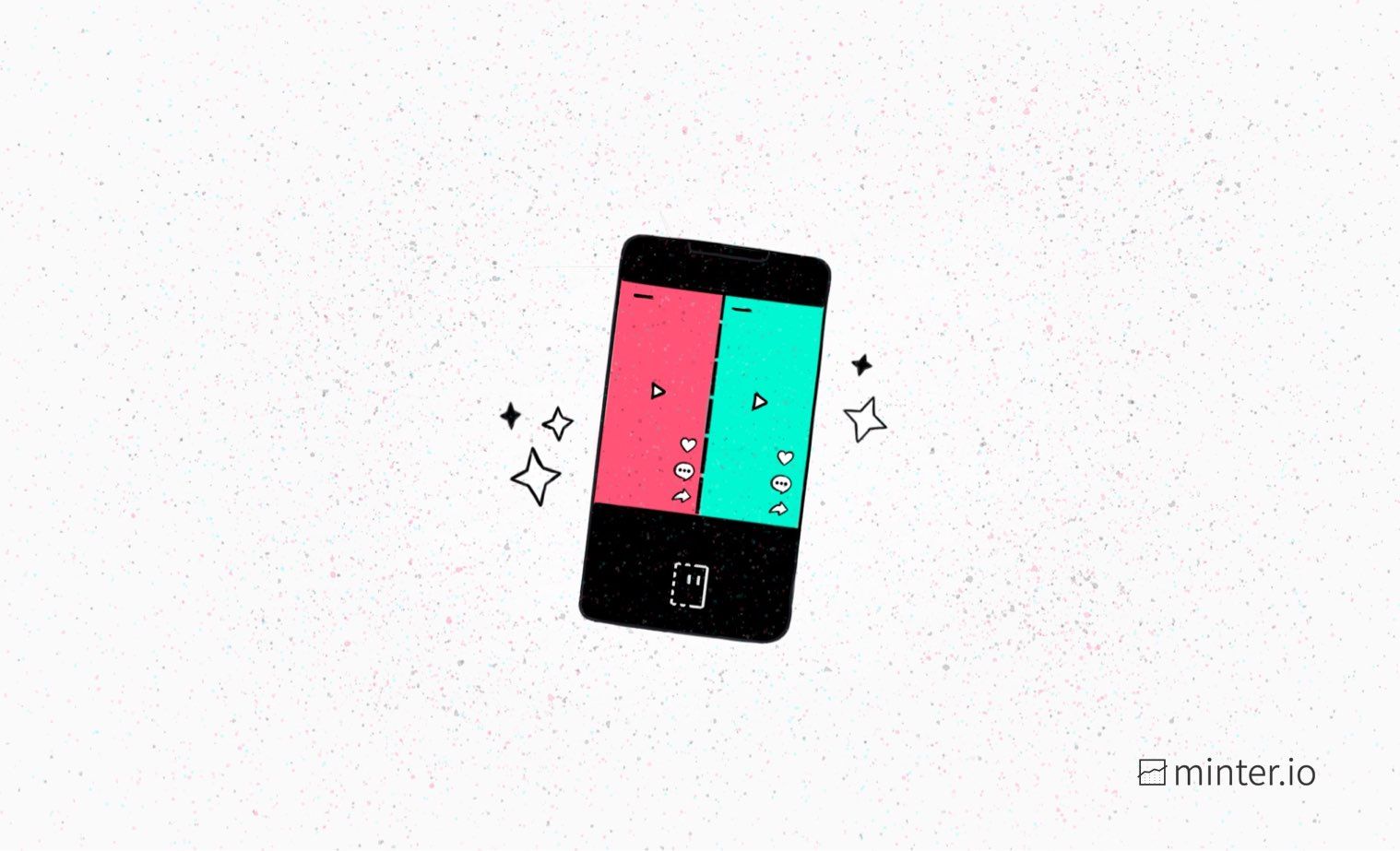 There must be magic poured into TikTok because other social platforms are straight-up stealing and renaming TikTok features. Meta's Facebook and Instagram have Reels, YouTube has Shorts and Twitter is reportedly testing Takes as a TikTok imitation. Let's hope it doesn't suffer the same fate as Fleets.
Not only are social platforms leaning heavily into short-form vertical content, they're copying specific TikTok features. Meta platforms use Remix which is essentially TikTok Duet and Stitch, while YouTube allows users to 'Cut this video' as a Stitch substitute.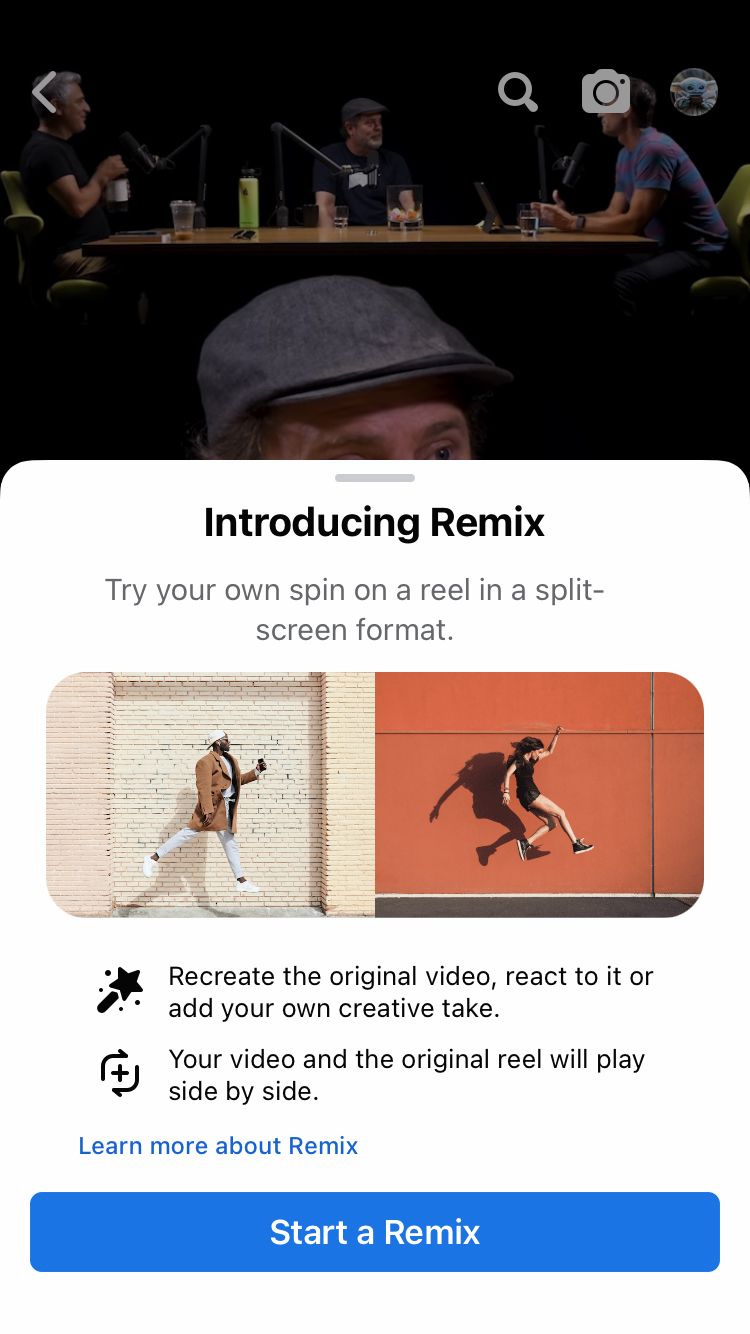 In this article, we're going to look at the TikTok Stitch feature. We're going to show you how to use it and share some examples from brands on TikTok…
What is Stitch?
The word 'stitch' is synonymous with the word 'join'. This makes sense because on TikTok, you add your own video onto the end of someone else's video and share it on your profile. This is different to Duet where the videos play side-by-side at the same time.
There are several ways to utilise this powerful TikTok feature. Whether you wish to Stitch with other creators' content, create Stitch-worthy content yourself or publish other people's Stitch videos to your profile - we've got you covered!
Stitch with someone else's TikTok video
If you view a TikTok you wish to add your own video clips to, you'll have to use the Stitch feature on a pre-existing video. Here's how…
Open TikTok. Then find and select a TikTok video you'd like to Stitch.
Tap the share icon from the panel on the right-hand side.
Select 'Stitch' from the options at the bottom of the screen.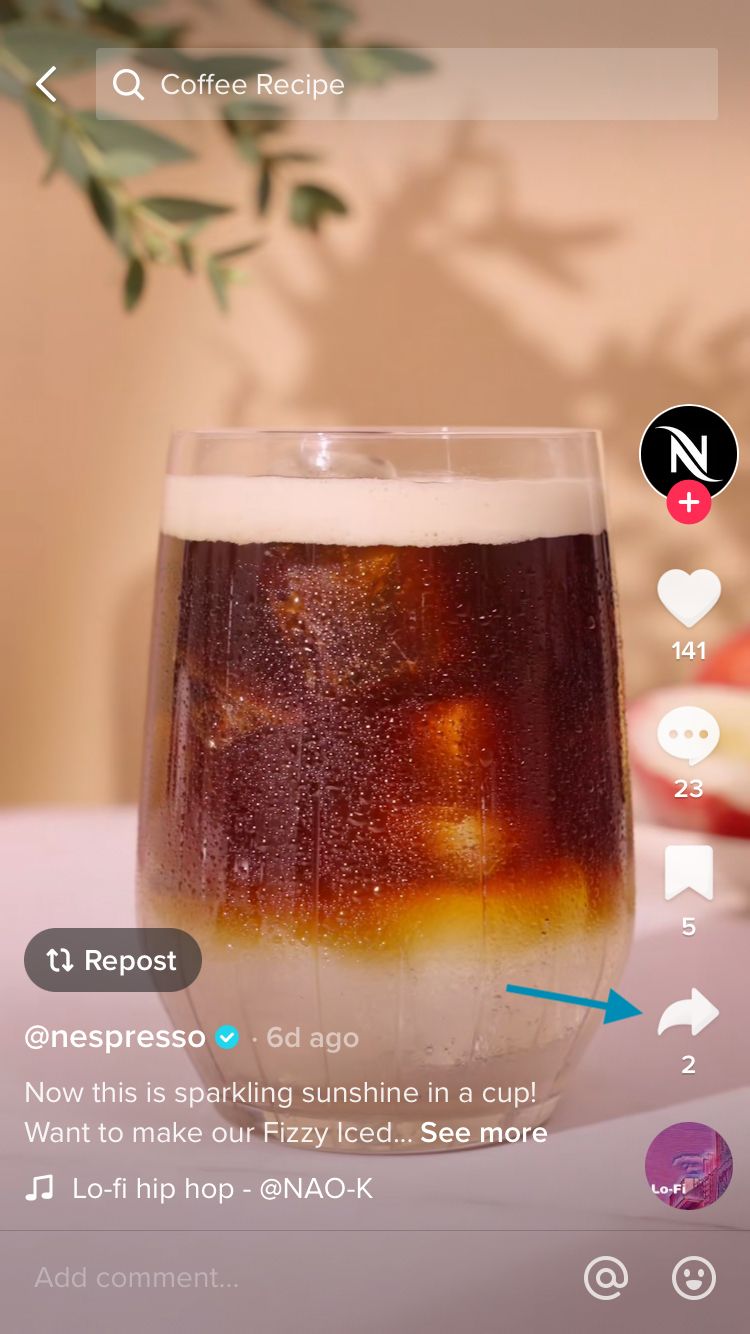 4. Trim and move the selection bar to use 1-5 seconds of the TikTok video.
5. Tap the 'Next' button in the top right-hand corner.
6. Capture and customise your own clips to 'Stitch' onto the other footage.
7. Hit the tick button when you're ready to continue.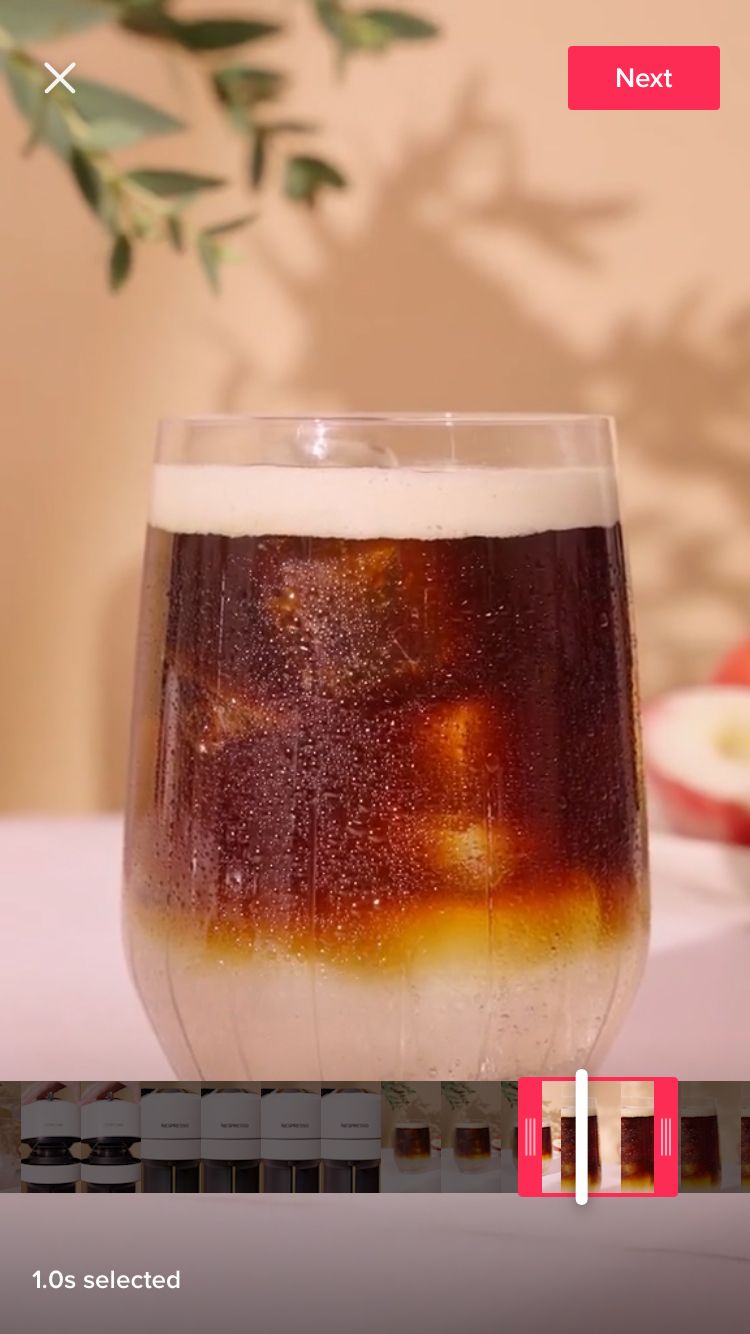 8. Customise the whole Stitch video and either 'Post to Story' or hit 'Next'.
9. TikTok will automatically place #stitch with the original creator tagged into the description. Further customise your post's description and publishing settings before hitting 'Post' or saving as a draft.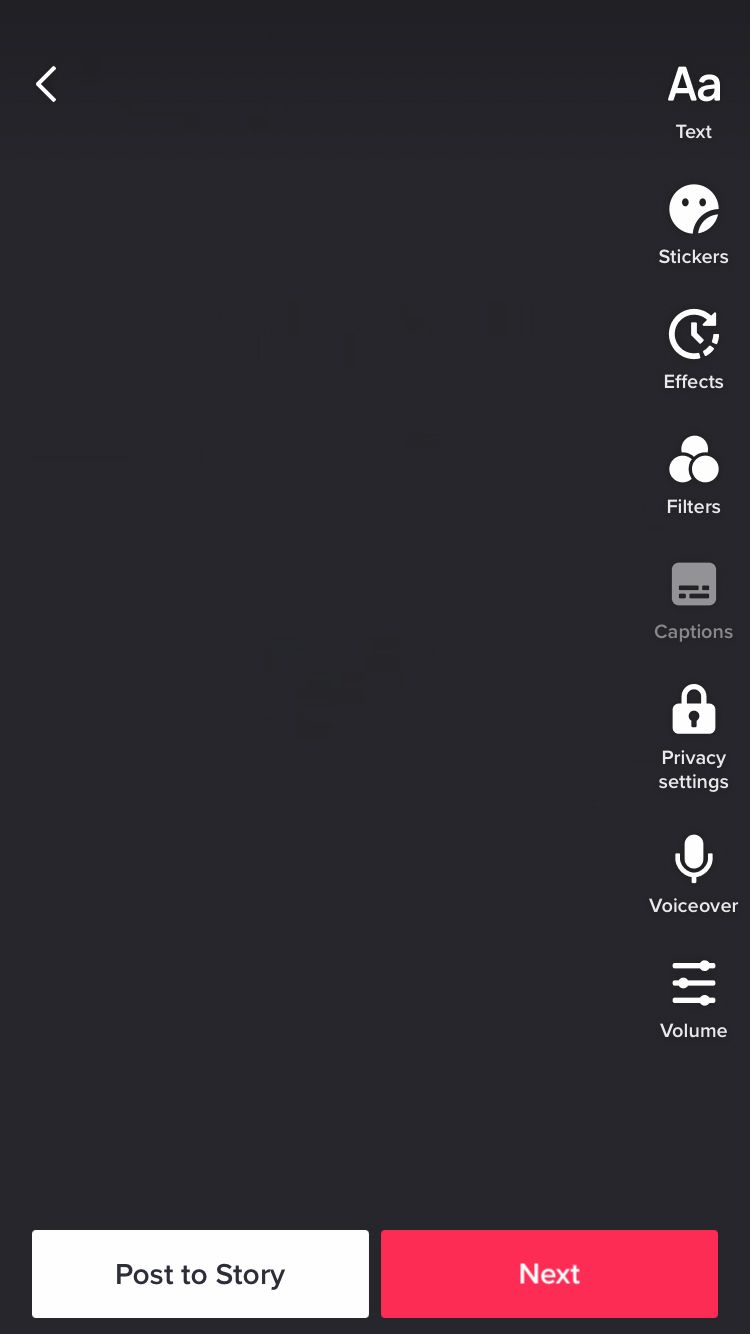 Note: The original TikTok video creator can choose whether or not to allow others to use Stitch with their content. If the Stitch option doesn't appear or you can't select it, this might be the reason.
Check out this example!
Restaurant chain @chipotle created a Stitch using a TikTok from the verified creator @bradley.thor who has a whopping 5.6 million followers. Creating a video which stitches a hunky man cracking a watermelon followed by @chipotle promoting its new organic watermelon limeade is sure to quench some thirst.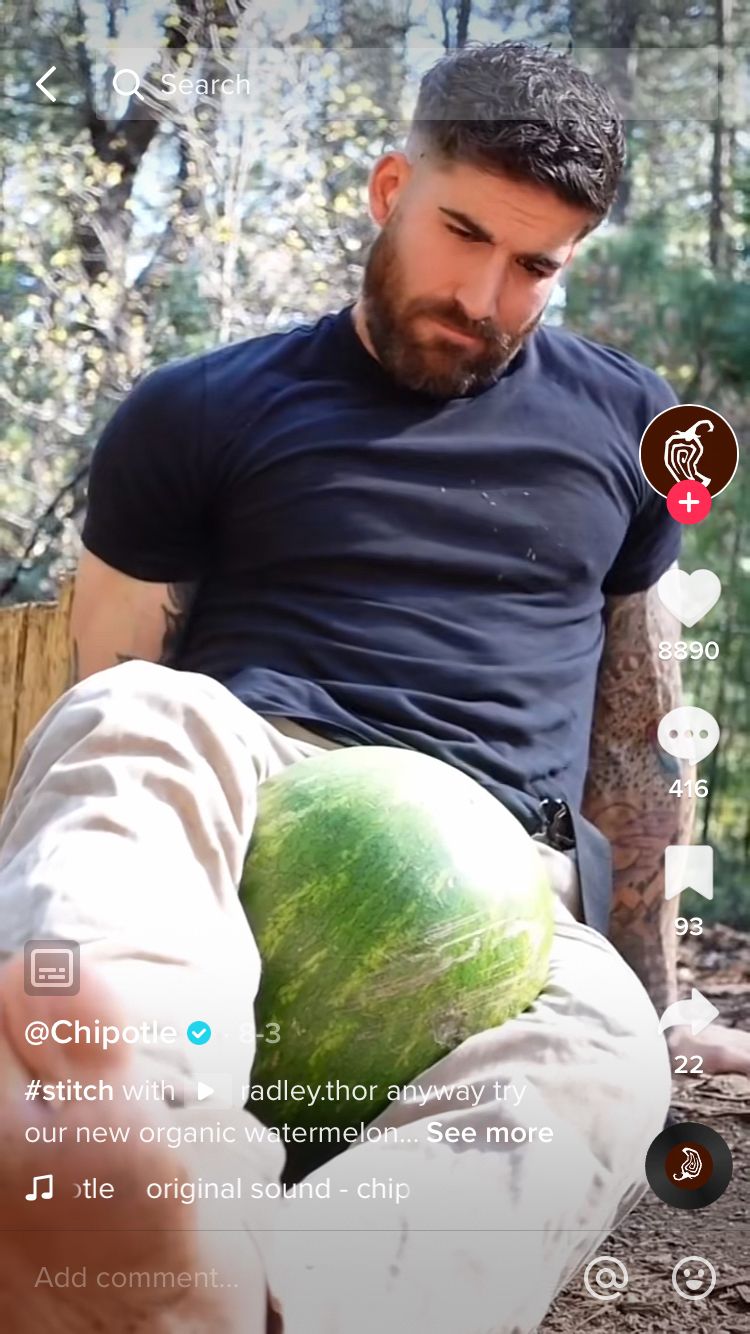 Create a TikTok for others to Stitch
Smart brands encourage engagement and interaction with content on social media. One way to do this is to create a piece of content to be interacted with in a specific way. By posing a question, sharing relatable imagery or asking viewers to use Stitch with your TikTok video, you can aim for a specific type of interaction to get more eyes on your content.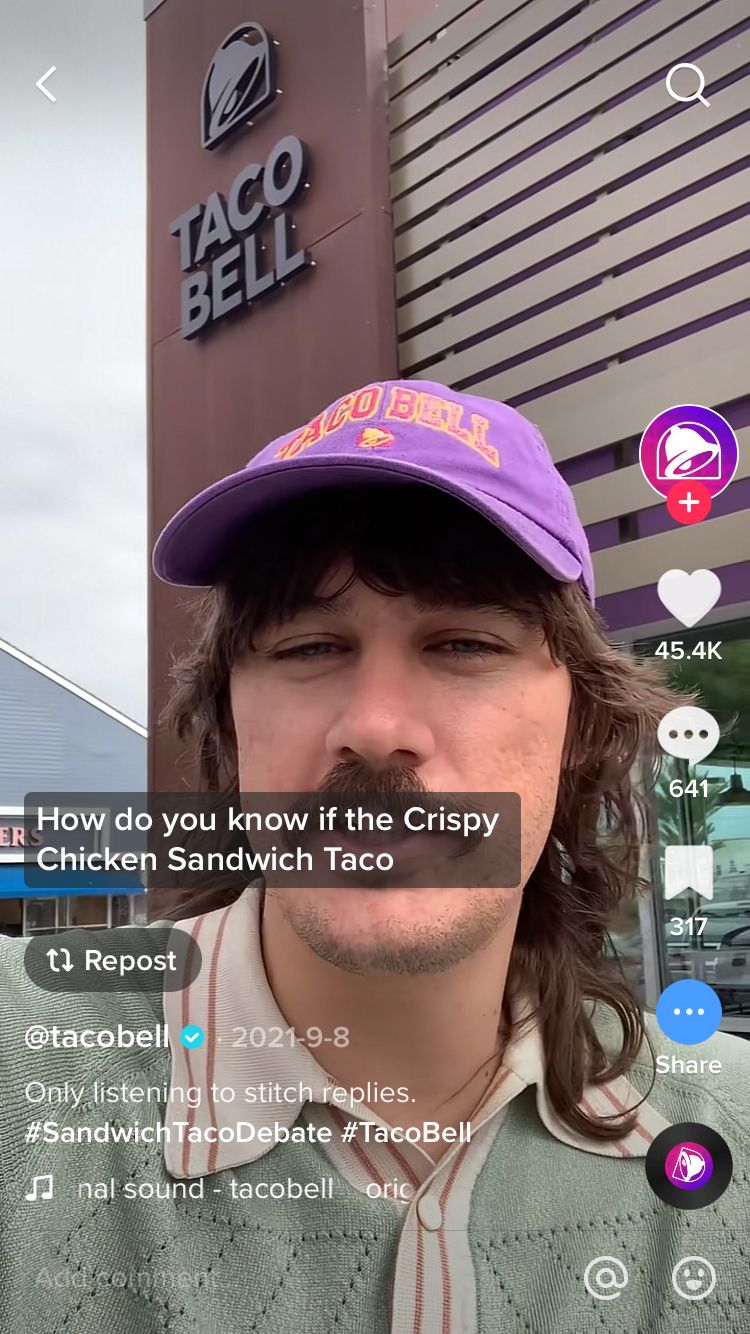 People used the Stitch feature to create responses to this TikTok video by @tacobell, just like @skylarrr_marie did.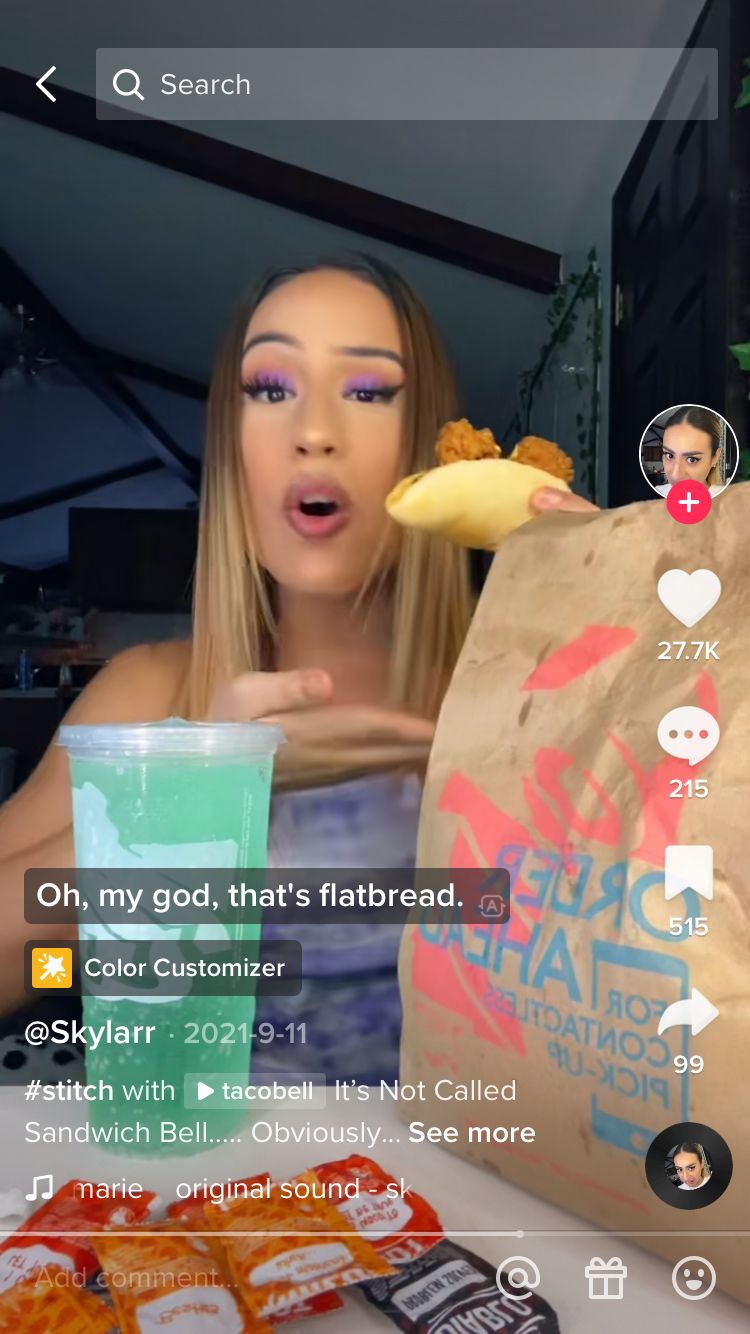 Brands need to do this!
This TikTok by @onthebeachholidays has soaring engagement because it leaned into the trend #tellmewithouttellingme to create a relatable TikTok video that's relevant to the brand. However, @onthebeachholidays could have made this into a video specifically for the audience to use Stitch with. Encouraging viewers to Stitch their own videos to it could take the engagement up yet another level.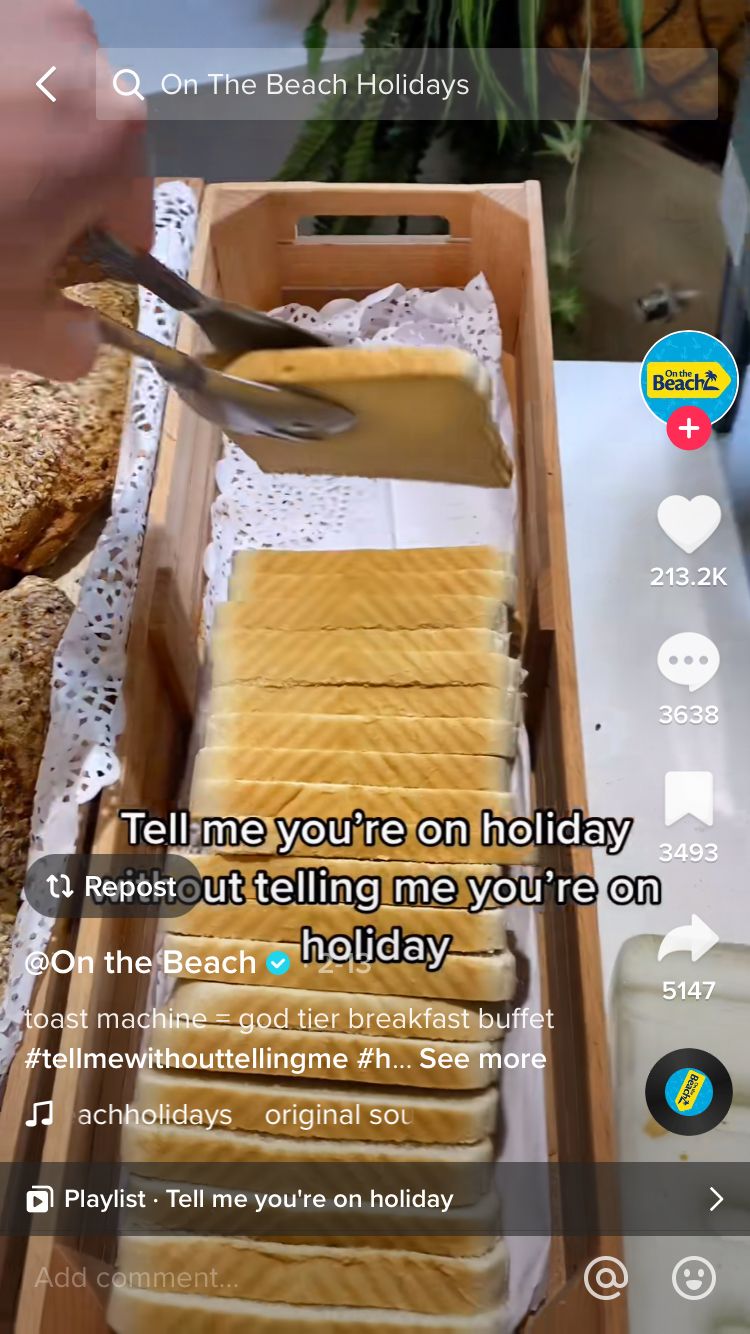 Allow others to Stitch with your videos
If you want viewers to use Stitch on one of your videos, you need to make sure your settings allow people to use the Stitch function on it. When publishing a video, you can decide whether or not to allow others to Stitch with your content. After creating a TikTok, use the settings on the post customisation screen to toggle 'Allow Stitch' on.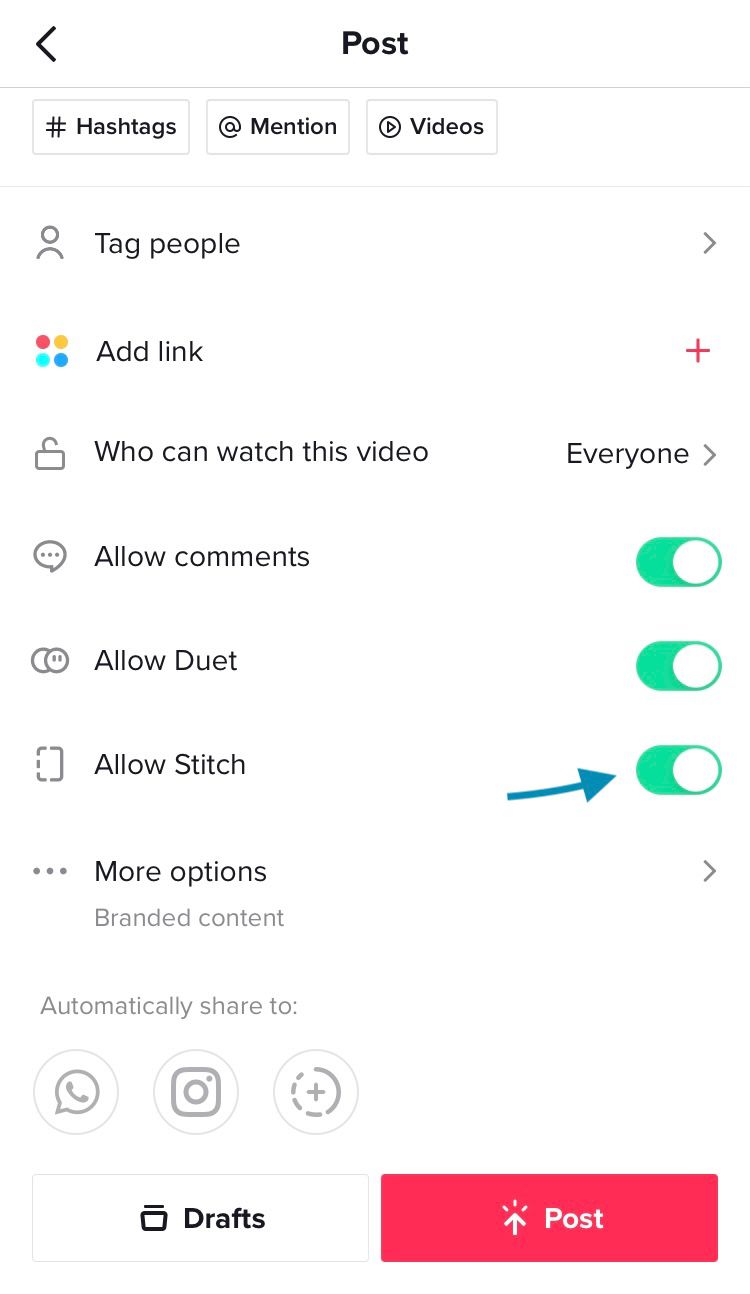 Allow Stitch on a published video
If you've already published a video and not allowed Stitch, you can change this easily. Here's how…
View the TikTok video you want to allow Stitch on.
Select the three dots from the bar on the right-hand side.
Scroll through the options at the bottom of the screen until you find 'Privacy settings'. Tap this option.
Toggle 'Allow Stitch' to on (green).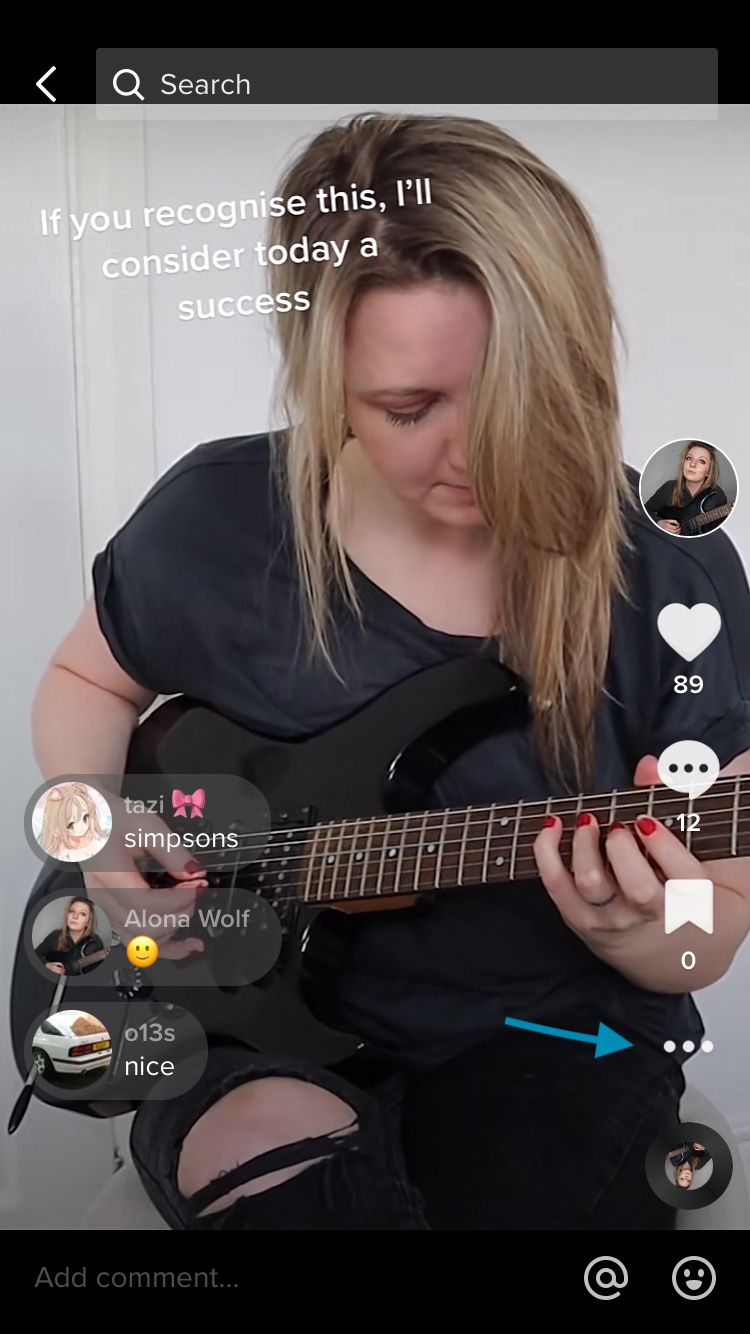 Save and publish a Stitch to your profile
Saving a Stitch TikTok video to share on your profile could come in handy when showcasing user-generated content. Here's how you do it…
View the TikTok you wish to share.
Select the share button from the bar on the right-hand side of the screen.
Tap 'Save video'.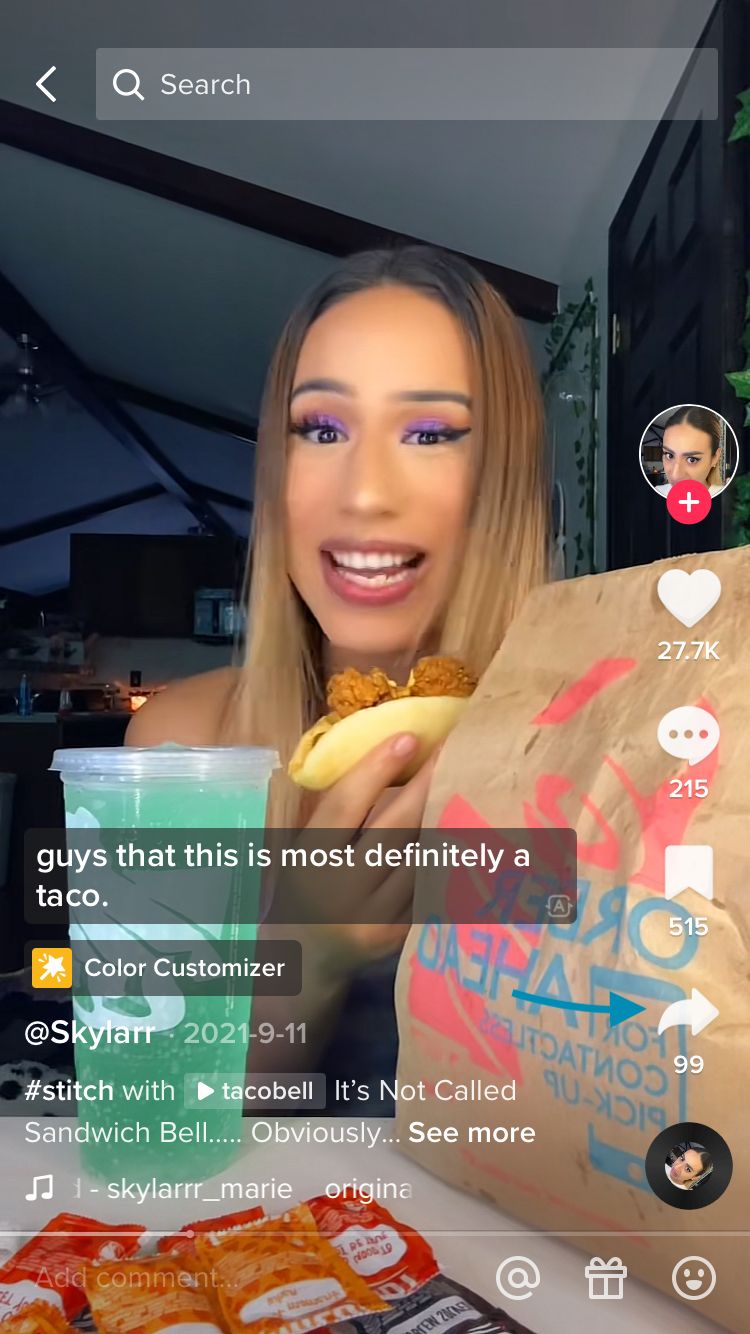 4. Navigate back to the TikTok home screen and hit the plus button in the centre of the bar at the bottom of the screen.
5. Tap the 'Upload' option in the bottom right-hand corner. Then, find and select the saved video.
6. 'Post to Story' or tap 'Next'.
7. Customise the post settings. Then, save as a draft or hit 'Post' to publish to your profile.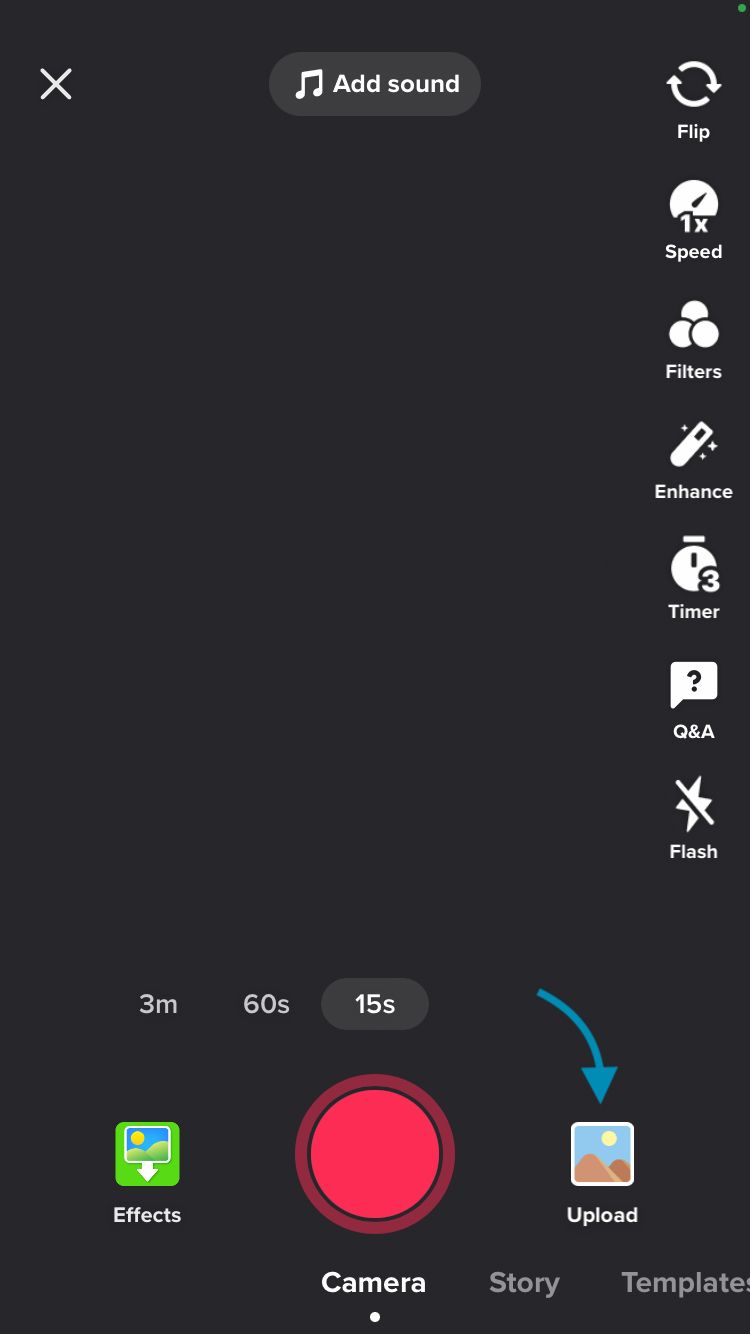 Some TikTok videos allow you to Repost a video to your own profile within the app which you can access through the share option, although I've found this new feature to be a bit hit-and-miss at this time.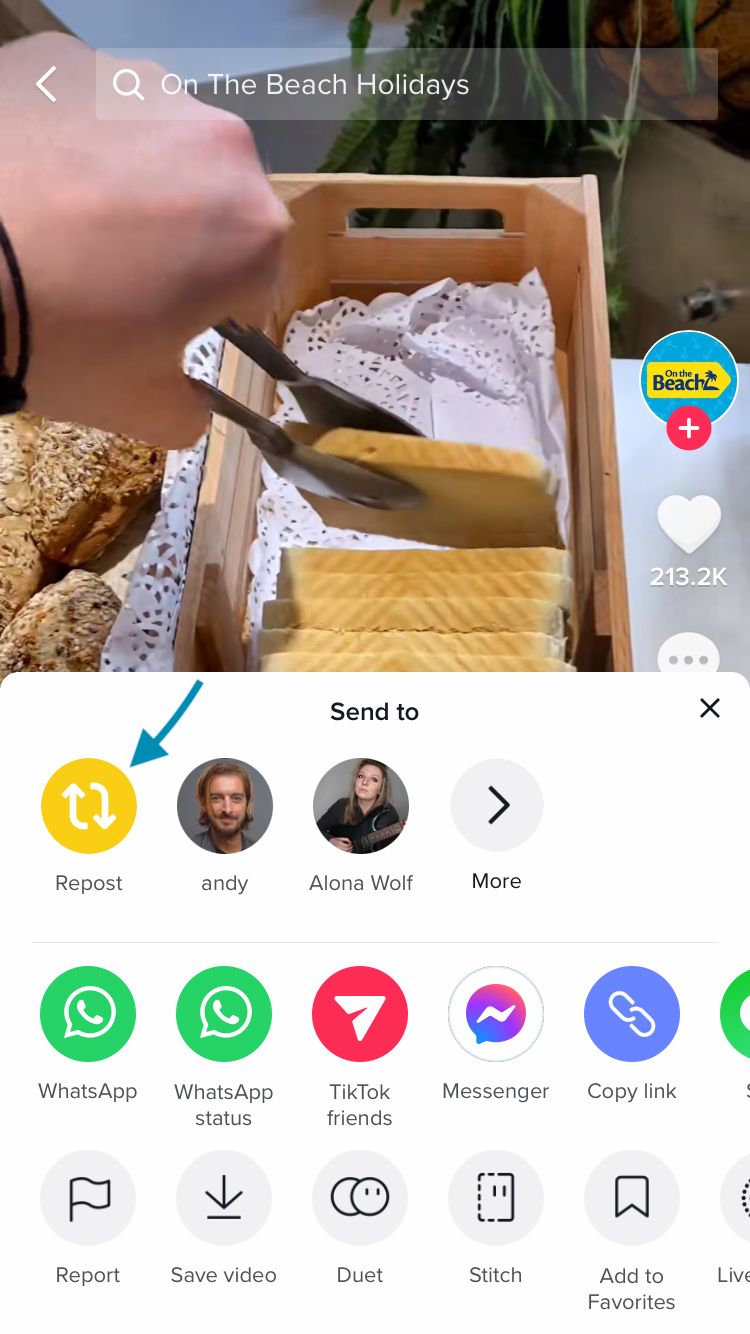 Experiment and adapt to suit your brand
Sometimes sharing the same or similar content to multiple accounts without the tagged Stitch account in the description works well for collaborations. In this example, it looks like @redbull manually stitched together a clip showcasing diver @mollycarlson with an epic photo edit, deciding to tag in the contributors instead of opting for a straight Stitch. Remember, features are there to support your creativity, so you can use them as intended or take inspiration from them to create something unique.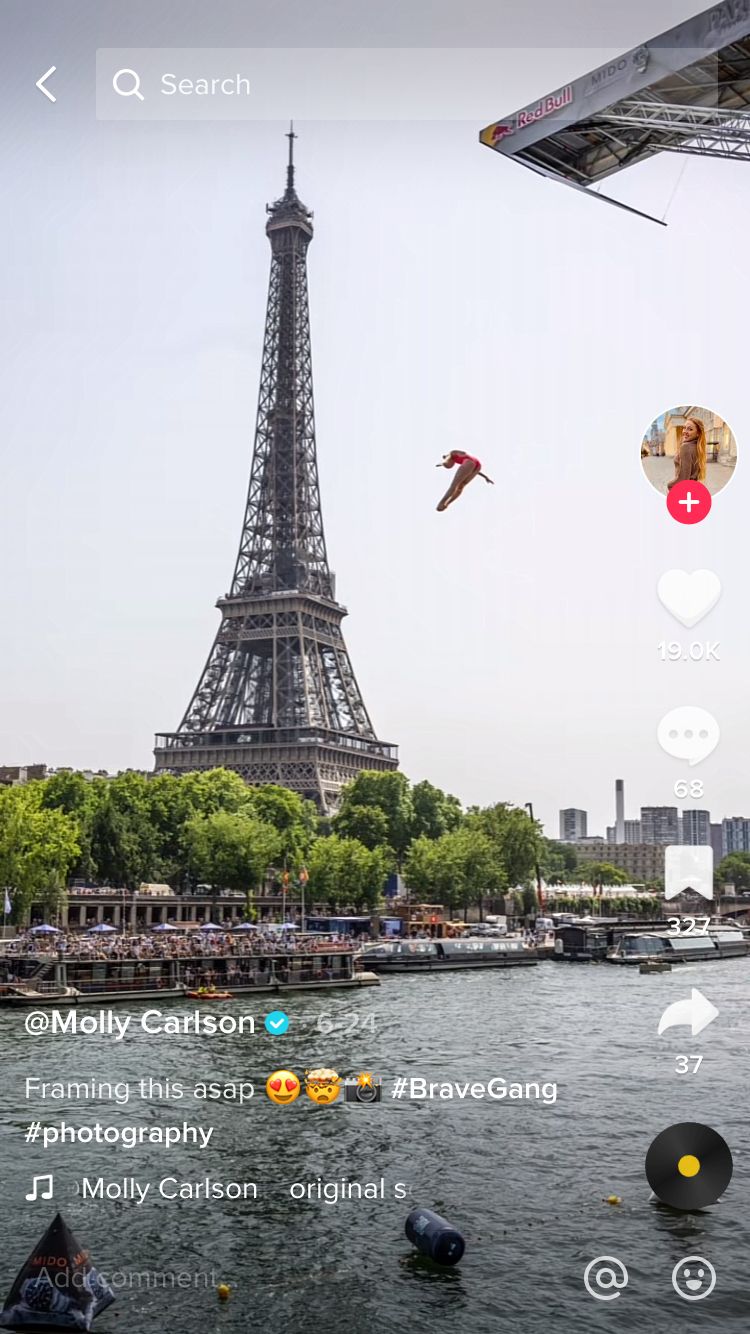 We hope this article has sewn up knowledge gaps, threaded together your use of Stitch and the various copycat features and tied up loose ends in your business strategy of this feature. Make sure your efforts are working for you, no matter the social media platform you're using. Check out Minter.io today for all your social media analytics, metrics and data to keep your business online on track.

---
Get in-depth analytics for your business on TikTok.
Try Minter.io!→