How to TikTok as a business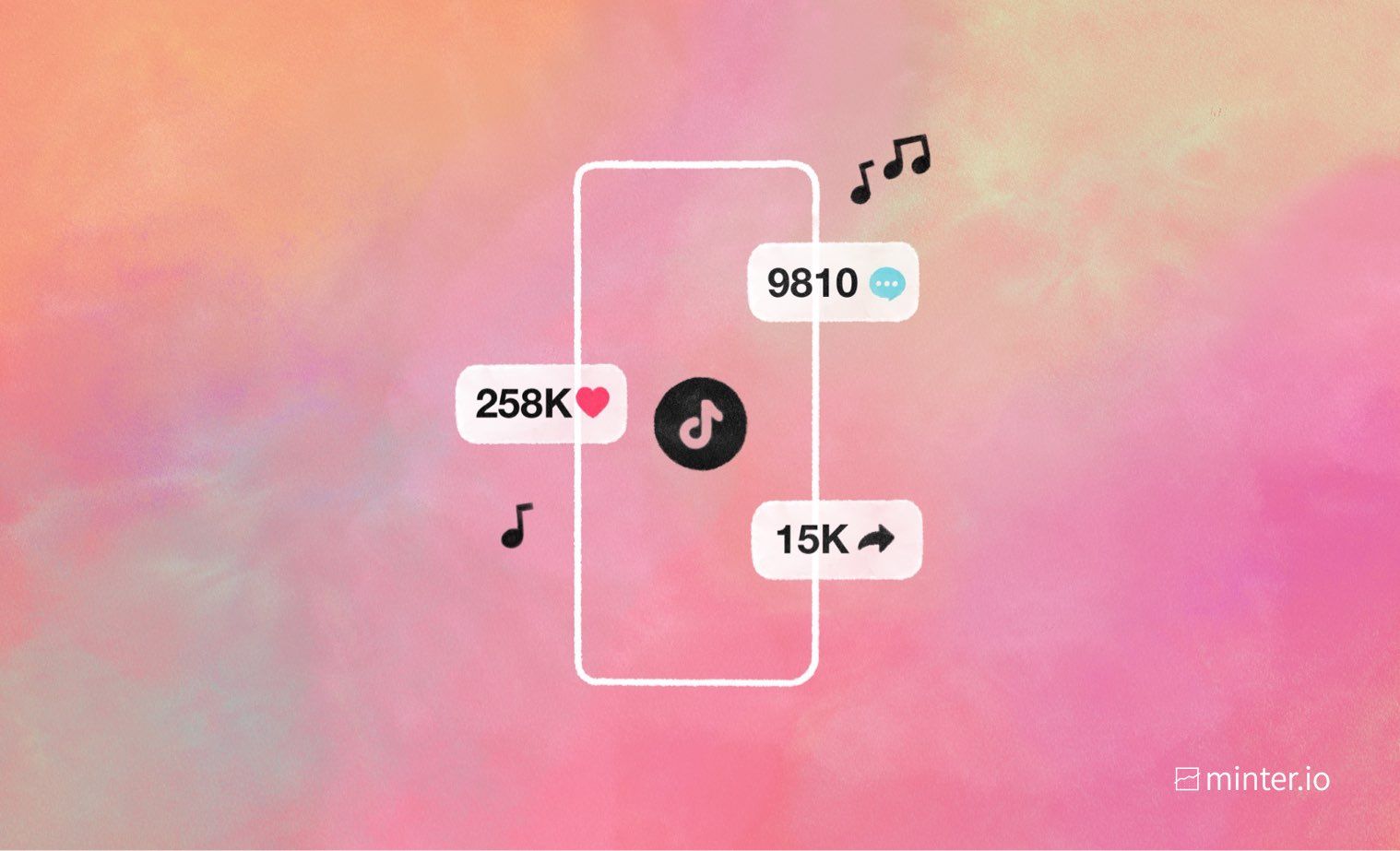 New kid on the block TikTok has ruffled some feathers since its arrival on the social media scene. The vertical video-sharing app, most popular with Generation Z, has seen exponential growth in recent years, spurring Instagram and YouTube to mimic TikTok's layout in some of their own features.
With the success of TikTok only continuing to grow, many businesses have been jumping on board and creating their own TikTok accounts and content. This makes sense, particularly for businesses seeking to grow brand awareness and connect with younger audiences. However, when many of the most popular TikTok trends include dancing to songs and lip-syncing, how does a business TikTok?

We hope to shed some light in this article…
Relatability is key
Many of the principles leading to success on all social media platforms transfer smoothly to TikTok and they start with getting people to engage. How do we get people to watch, like, comment and share our content? We make good quality content that our target audience can relate to.
As an example, let's turn to the powerhouse company McDonald's. What kind of content is it sharing to TikTok and how is it relating to Gen Z?
Send this to…
The younger generations are likely to be still in school, daydreaming over the cute kid they sit behind in math class and hanging out with their best friends at the weekend. McDonald's knows this so it has crafted content teens can share with their friendship groups and laugh about with their besties.
Examples include:
send this to your crush
send this to your best friend
can your friends do better?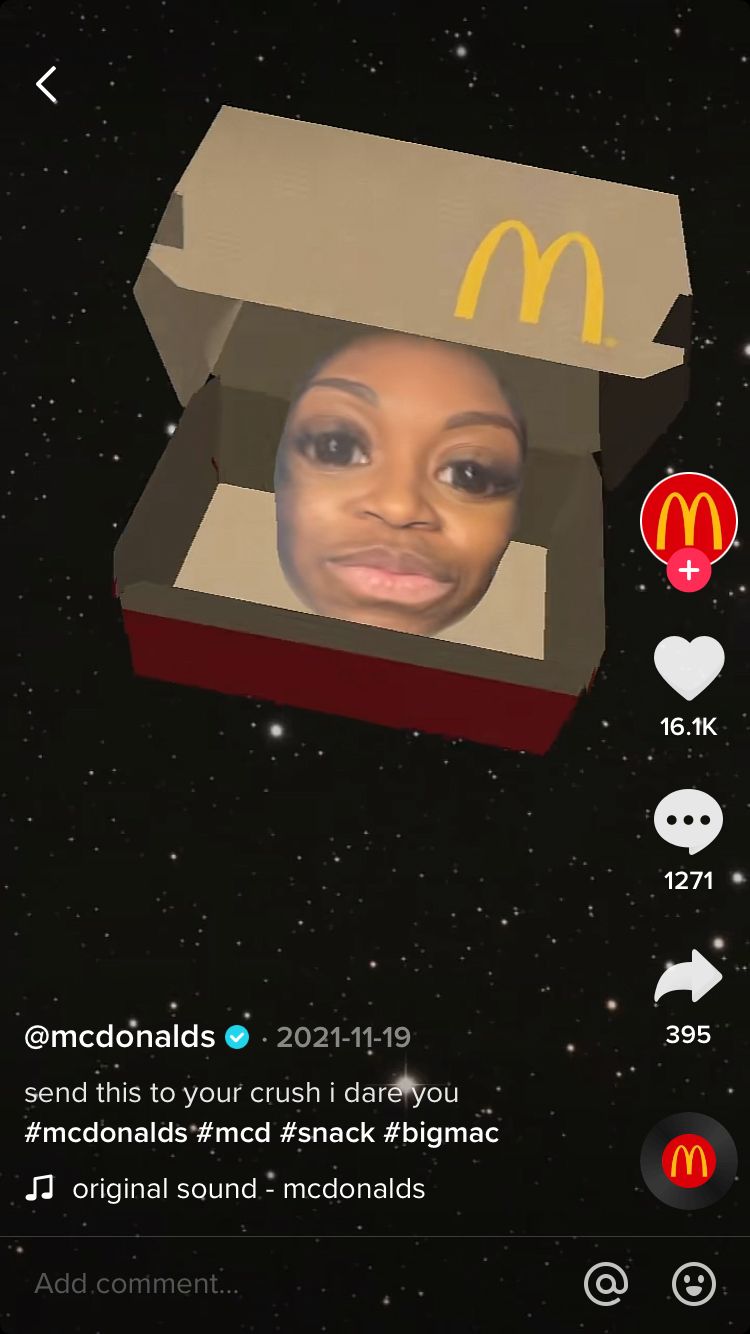 Notice the spelling of 'can ur friends do better' and 'bestie'. These little tweaks in language make the copy targeted towards a younger audience.
Point of view…
McDonald's hops onto the duet feature on TikTok by offering the point of view of its own products. Yes, that's right, you get to hear the thoughts of an iced caramel coffee and a box of chicken nuggets in these quirky, comical clips featuring McDonald's responses to content from other creators.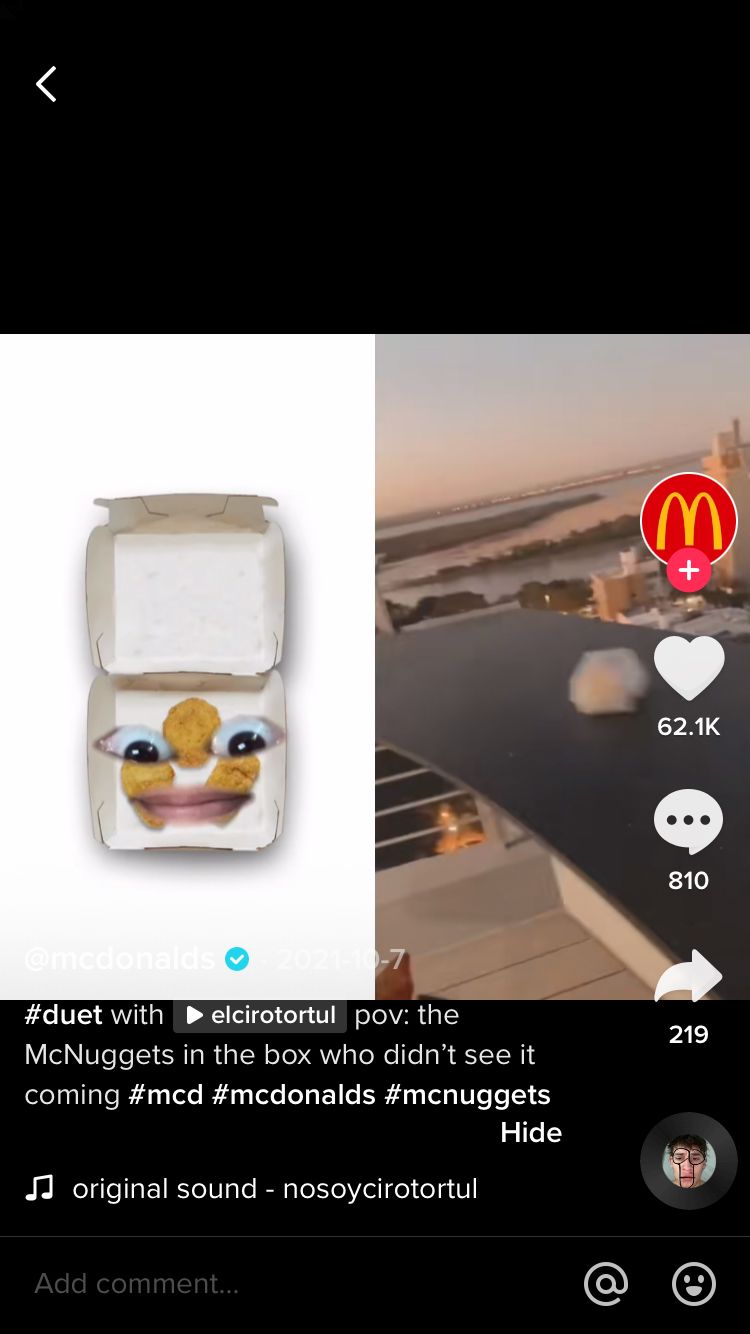 The use of humour is a way to instantly relate to others, however the things people find funny do tend to change depending on age, time and generation. This silly personification is perfect for the platform and the target age range.
Jumping on trends
Another great way to relate to others is to do what they are doing. A prime example of this is hopping on trends. You can pick and choose the trends that work well for your brand and put a business spin on it by including your products.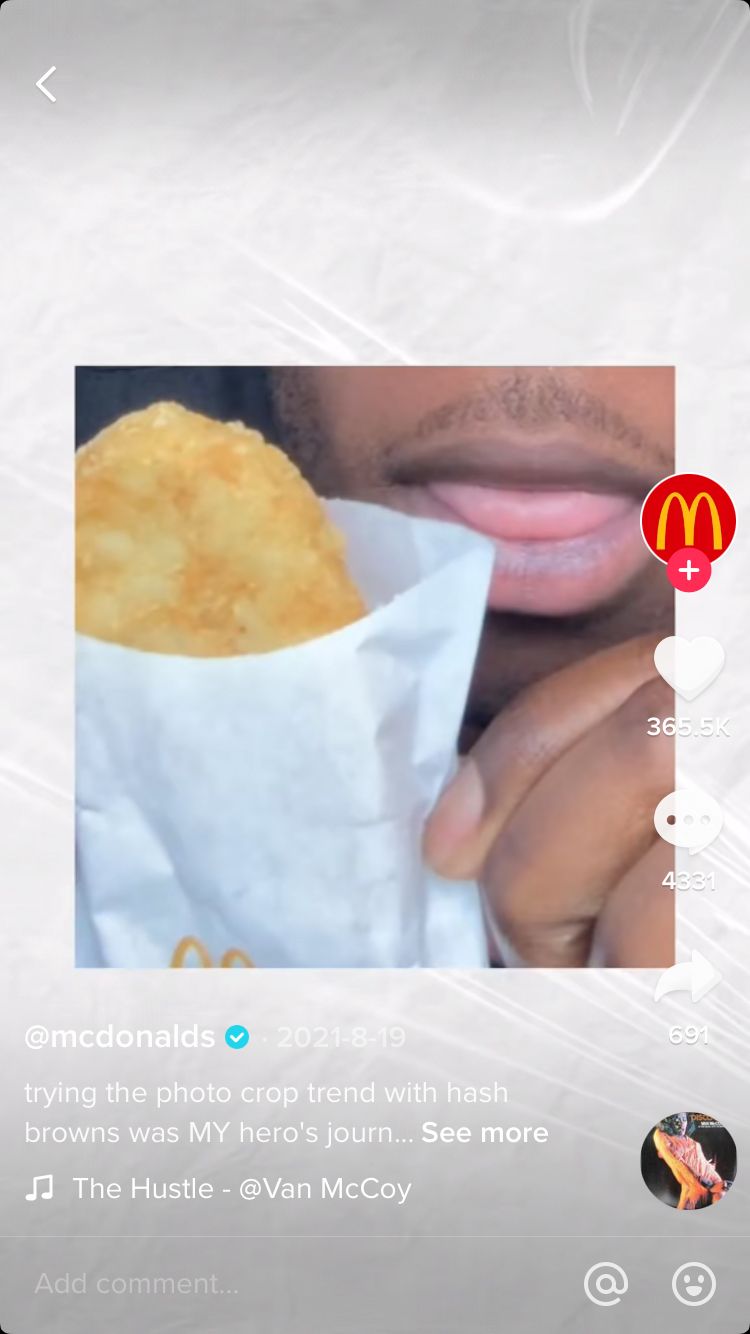 You don't have to make all the content
On TikTok you have a plethora of content creators at your finger tips. If you haven't leaned into user-generated content and/or influencer marketing yet, you are missing a trick. It doesn't matter how big or small your business is, influence doesn't have to come from celebrities or popular TikTokers with millions of followers. Micro-influencers and customers can have a huge sway over their followers, so have a think about integrating collaborative content creation into your social media marketing strategy.
Let's look at the clothing company ZARA. With the hashtag #zaracreators dedicated to sharing content from others, we can really get our teeth into this strategy.

The first video currently viewable on the #zaracreators feed features the hedge trimming of the ZARA logo. ZARA has helpfully added the creator's TikTok handle to the clip's copy, creating a greater sense of community and giving the creator exposure with ZARA's audience. What really strikes me is that the creator is purely a hedge cutting company. At first glance, this seems like an odd choice of creator for the fashion brand to team up with.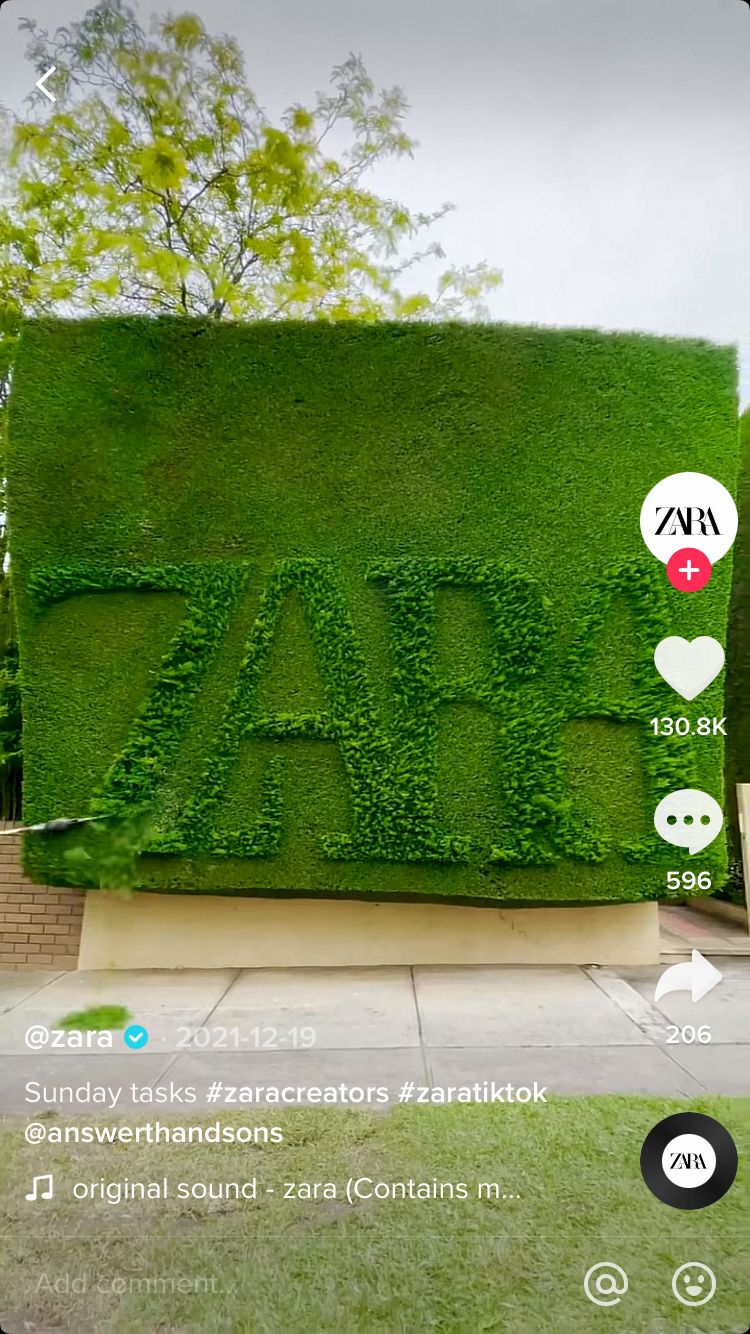 If we dive into #zaracreators we can see ZARA has recreated similar working relationships with several other creators from various industries including rice artist @friedriceart, skateboarder @tonqart and miniature artist @dslump.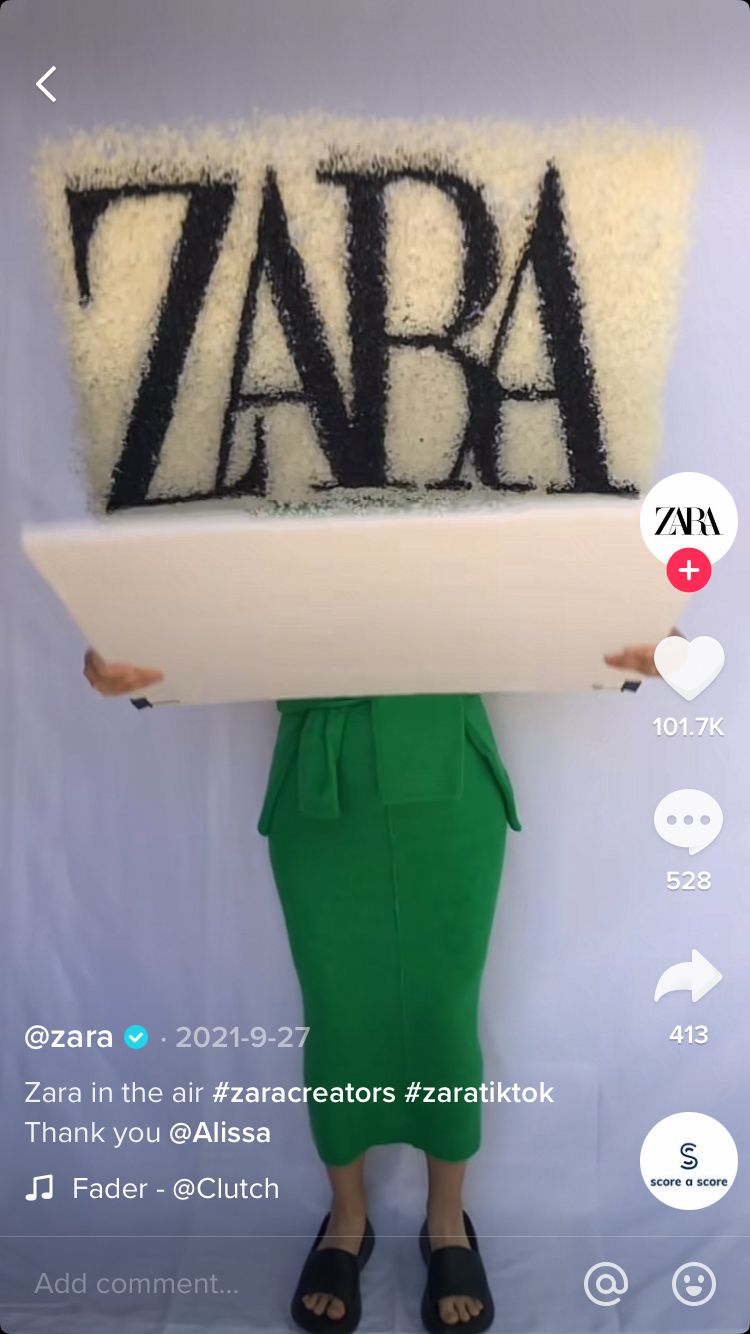 ZARA is thinking big by throwing a wide net and connecting with as many people as possible… because everyone wears clothes! What's great about this is the content is shared to both ZARA's profile and the profile of the creator. This is valuable to both accounts - ZARA builds brand awareness with a wide audience, while the creator gains exposure and a tie with a huge brand. This is something they can rave about on websites, business cards, CVs… you name it! This tactic also builds brand awareness for ZARA in the real world. The stencil on the skatepark and the logo on the hedge are sure to have been witnessed by people beyond social media.
Crosspost
When you create original content, it might be a good idea to crosspost across multiple social media platforms. Crossposting is when you share the same, or similar content across multiple platforms. This can contribute to cohesive branding and works well with hashtag campaigns, while saving you time and money when creating content. The TikTok layout is very similar to the Instagram reels feature, so crossposting works well across these apps.
Sneaker company Size? shows us how crossposting is done.
Some companies (including reeeeeally big companies) don't hide that they're downloading media straight from TikTok and uploading it to Instagram, evident by the big TikTok logo slapped onto the corner. This could be a strategic move to encourage viewers to check out their TikTok accounts. However, I like how Size? makes its content feel unique to the platform you're seeing it on - with no app labels and customisation of music, hashtags and copy.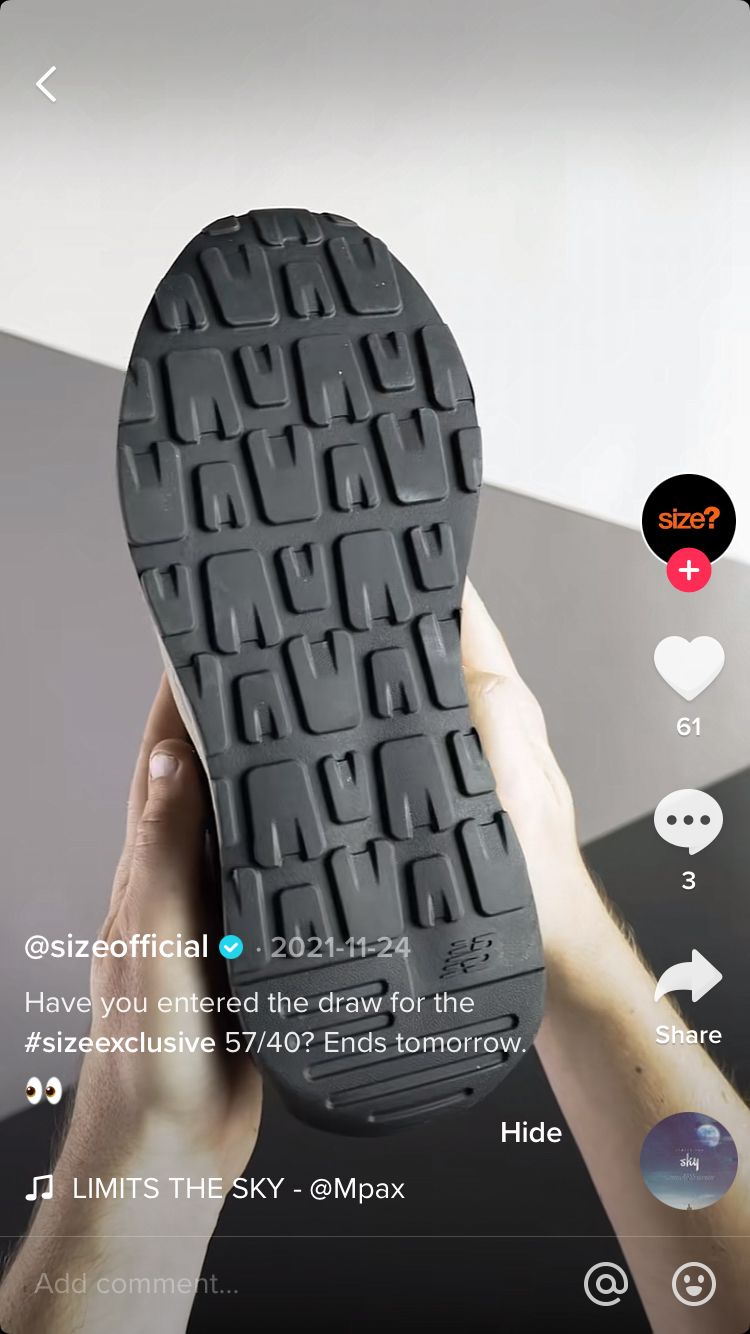 We recently launched an incredible new feature on Minter.io - TikTok analytics! Check it out today and see how you can grow your business on social media with Minter.io.
---
Grow your business on TikTok with analytics.
Try Minter.io →