The Most Important Instagram Metrics To Track In 2019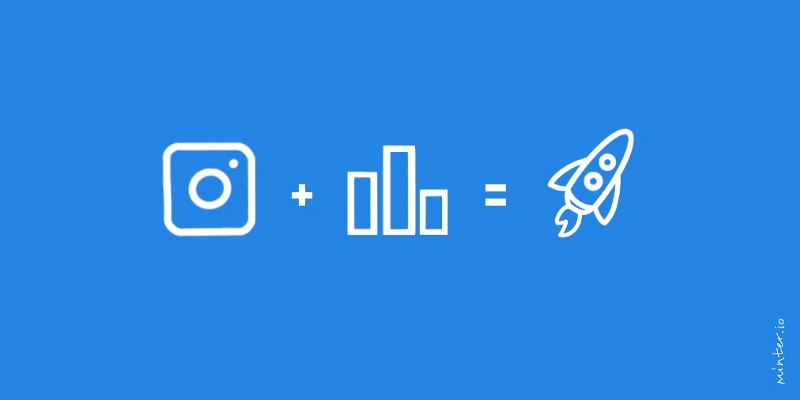 How can you tell if your Instagram page is performing well? Tracking metrics is a way of keeping check on your key performance indicators. A wise business owner will track metrics that grow their business, rather than solely their Instagram page.
Before we look at which metrics to track, you should ask yourself, "What specifically am I seeking to achieve for my business with my Instagram profile?" The likelihood is that you'd like to see a greater return on investment, have more significant brand awareness, and to reach more people with your services or products. It's important to hone in on exactly what you are expecting your Instagram presence to achieve. This will guide you away from vanity metrics and give you targets that actually mean something to your business.
Let's have a look at the kind of metrics that can point to real change for your brand or business.
Engagement Rate
Instagram engagement is the term used when a user interacts with a piece of content e.g. likes or comments. Your engagement rate is important to track because it shows you how active your audience is and how much they care about your content. If users aren't feeling the need to engage with your content, the chances are they aren't going to engage with their wallets.

Check out the engagement levels you have today. What content is working for your audience and why? Is your content relevant to your audience? Start with getting your current audience excited about your business. Once your content is getting the engagement it deserves, you can turn your attention towards reach.
Reach Rate
Reach tells you how many unique users have viewed a piece of your content or your profile. If you have services that are relevant to a large group of people throughout the world, you may just be focused on getting more eyeballs on your content, so your reach rate would be an ideal metric to track.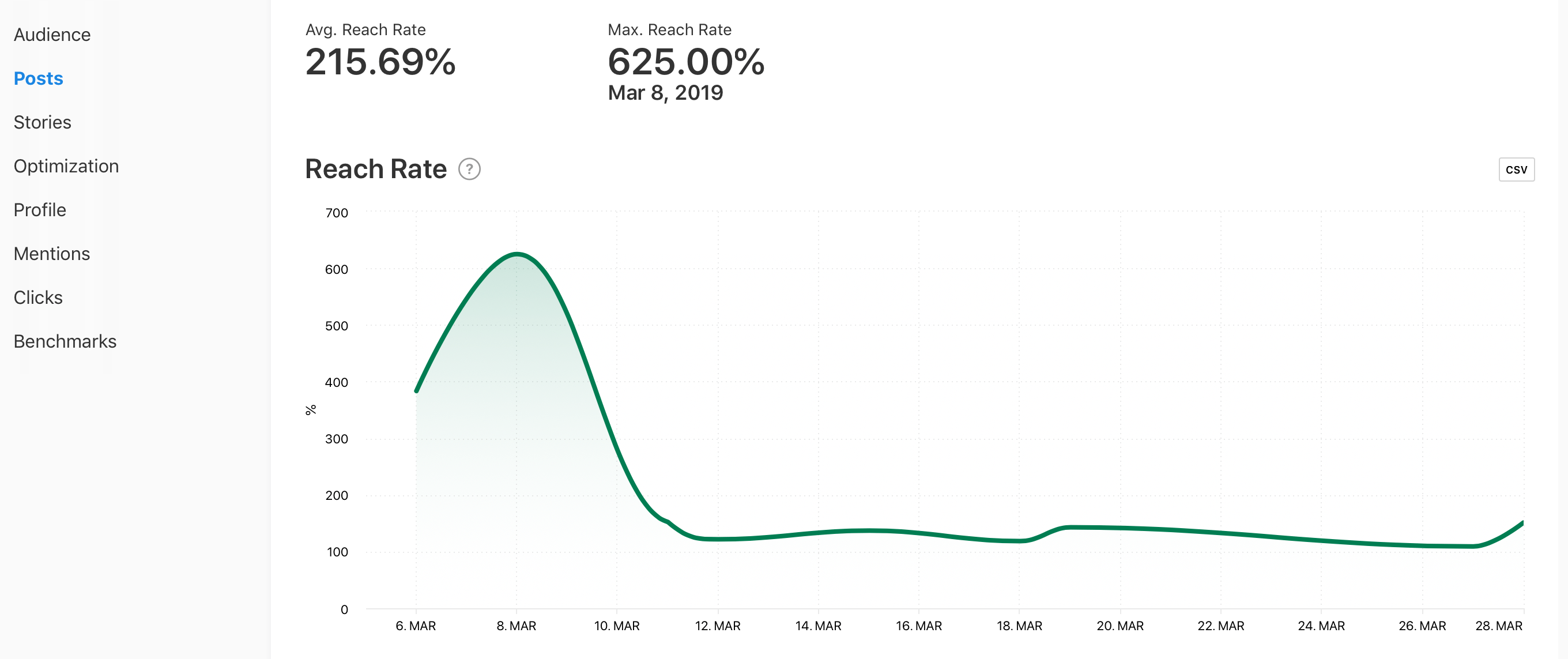 How much reach should you be getting? Check out this article where 3–4 million posts were analysed to bring you median reach rates for various audience sizes. It's relatively simple to improve reach rates through the many in-built features on Instagram. Using hashtags, geotags and mentions, your content can easily show up in more places on the app. Being active on Instagram, by interacting with other accounts, can also improve the reach of your own content.
Also, check out which individual pieces of content are pulling in the highest amount of reach, so that you can replicate feature use and content style for future optimization.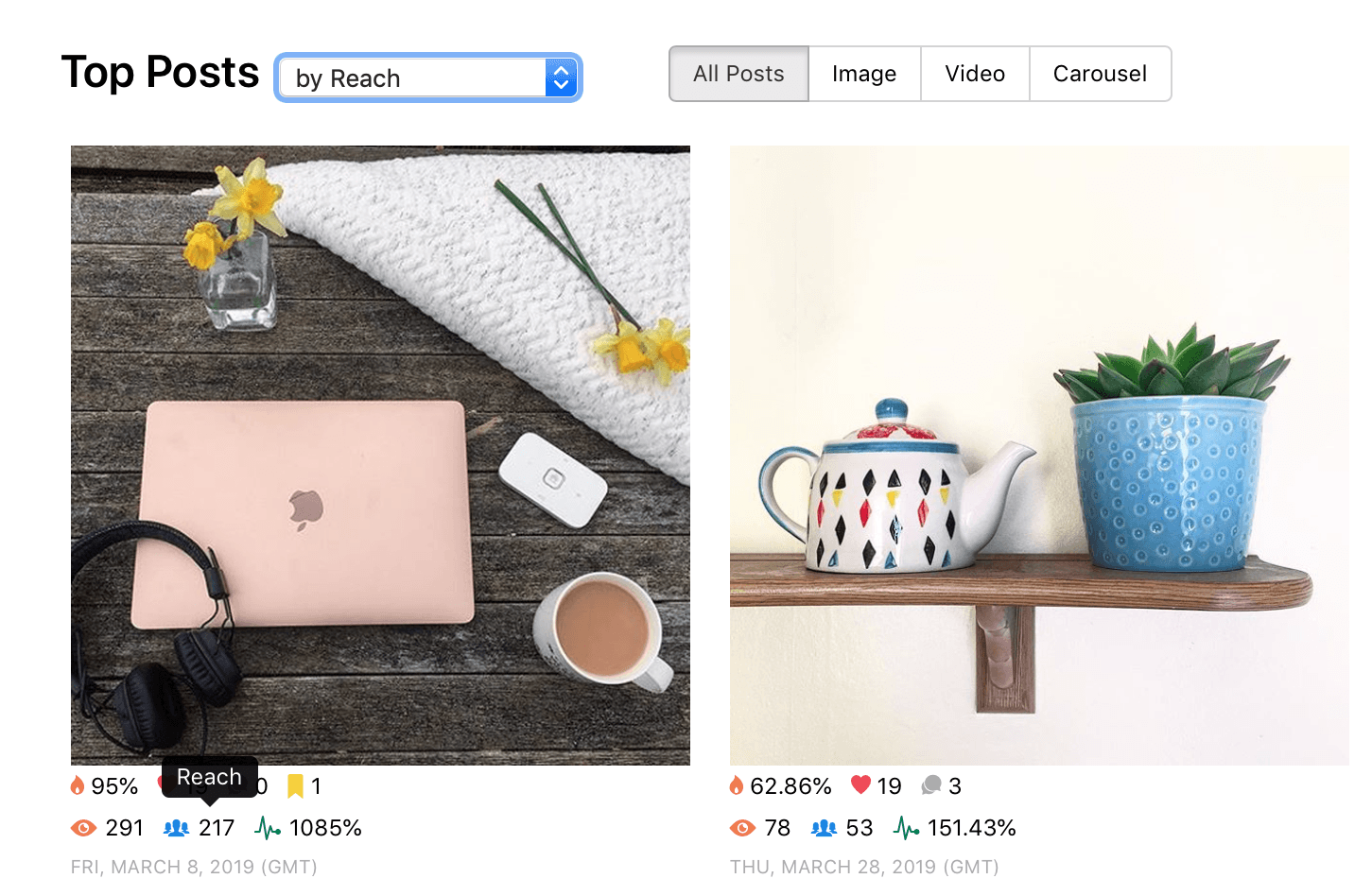 Some would include impressions as a metric to track. Instagram impressions is the term used for how many times your content is viewed, however they don't show the full picture as they include when a user has seen your content more than once. Therefore, if you choose to track impressions, always ensure to use impressions in conjunction with reach.
Best Times To Post
If you're tracking reach, it makes sense to maximise the potential of your reach by optimising your posts. Keeping track of the days of the week and times of the day which are the best for you to publish your content, in terms of when your audience is most likely to interact, will help sway Instagram's algorithm in your favour. Increasing the engagement on a post early into its publication can increase the likelihood of your content appearing in Instagram's Top Posts and Discovery features.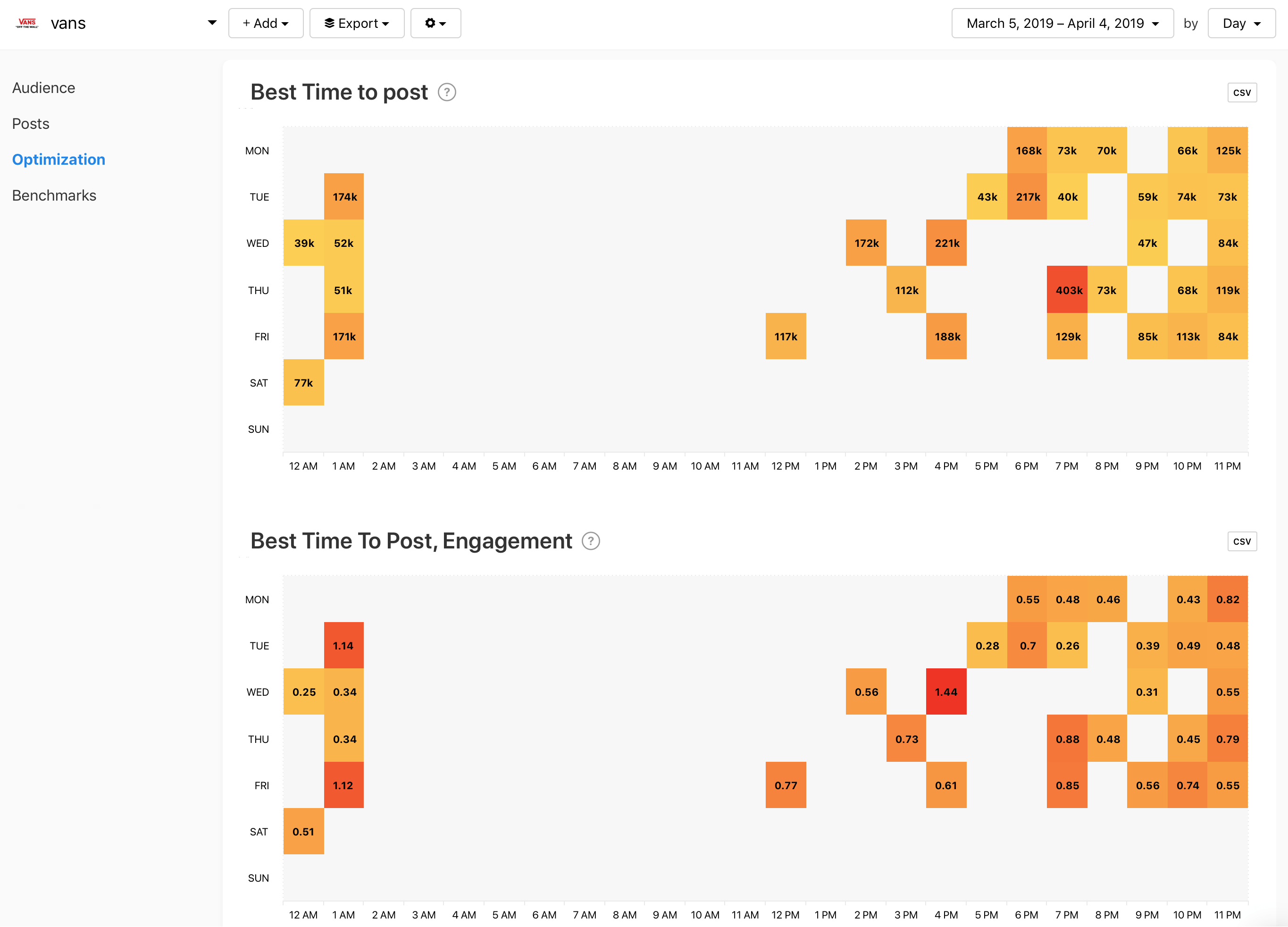 Stories — Full View Rate
Similarly to engagement, the full view rate on Instagram Stories is an indicator of how invested your audience is in your business or brand. The full view rate is calculated by the total amount of users who view your Stories post without exiting or tapping forward, divided by impressions. The higher the completion rate, the more engaged your audience is.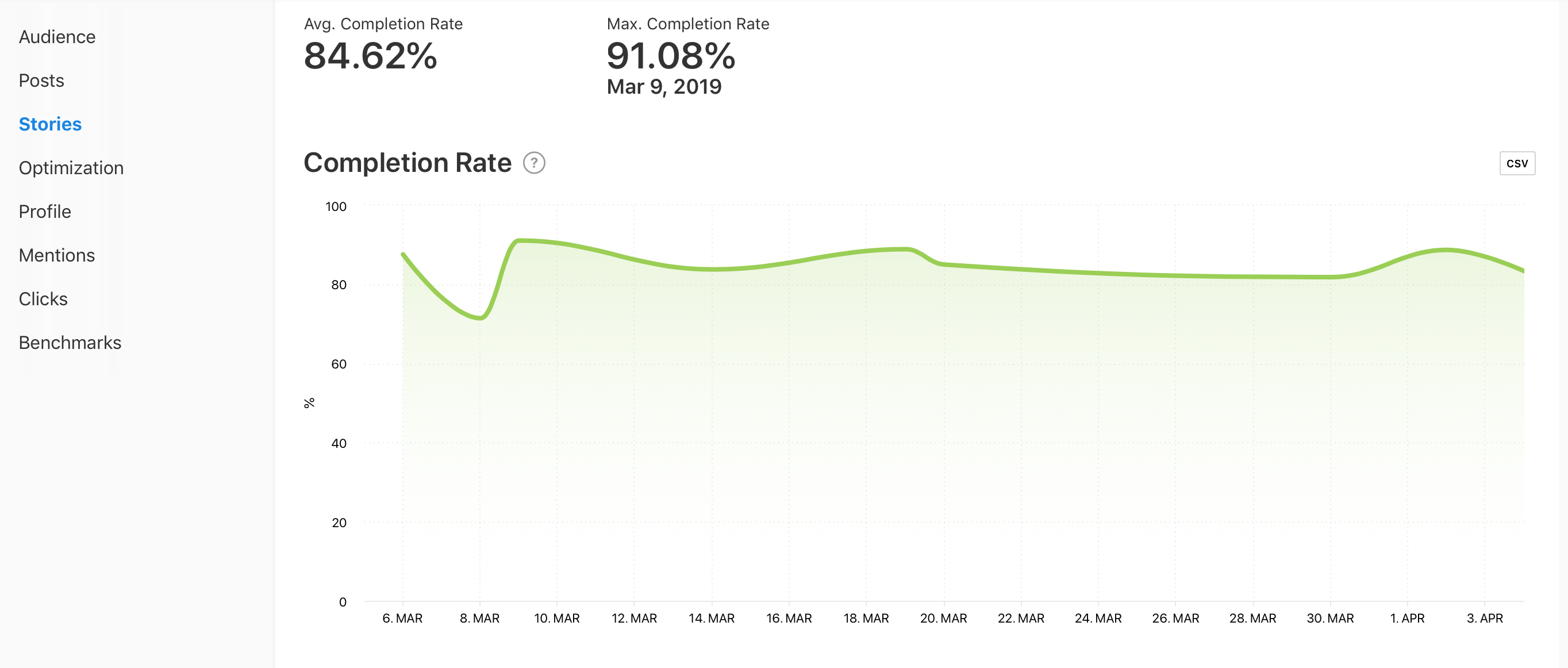 If your audience isn't watching the whole of your Stories posts, tapping forward or exiting your Stories, consider the relevance, length and quality of the posts. Getting your audience engaged in your Stories posts can open the door to humanising your brand, whereas adding links in your Stories posts is a direct way to lead users onto your website.
Clicks (Traffic to Website)
Once you've got the foundations in place, you can start using your strong social media presence to convert your audience into your customers. Take a look at a standard marketing funnel…
The Marketing Funnel
Awareness
Interest
Consideration
Intent
Evaluation
Purchase
(7. Re-purchase)
Getting your audience clicking from an app (such as Instagram) and onto your website, moves a user from awareness and interest in your products/services, to and beyond considering the purchase of your products/services. This is where we witness the use of social media supporting the growth of business. By tracking the clicks from Instagram onto your website, you are fundamentally making sure your social media is working for your business.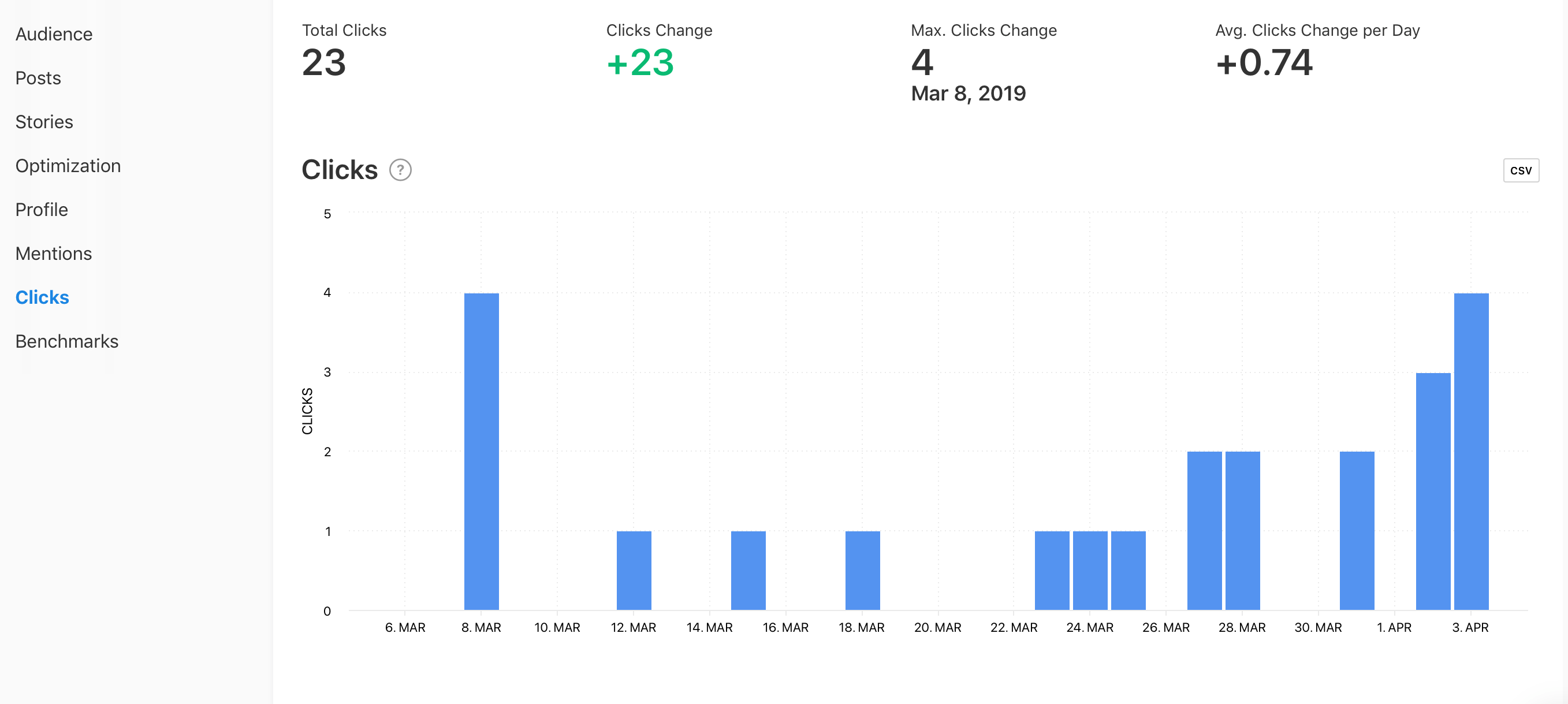 Using Minter.io you can set up a changeable tracking link to keep tabs on how many times users are clicking the link in your bio, to your web page of choice.
Follower Growth
Follower growth is great — it's an indicator that you're doing something right — but don't use it as a vanity metric. If you're serious about your business growth, rather than just your growth on social media, you'll pay more attention to engagement and sales than followers.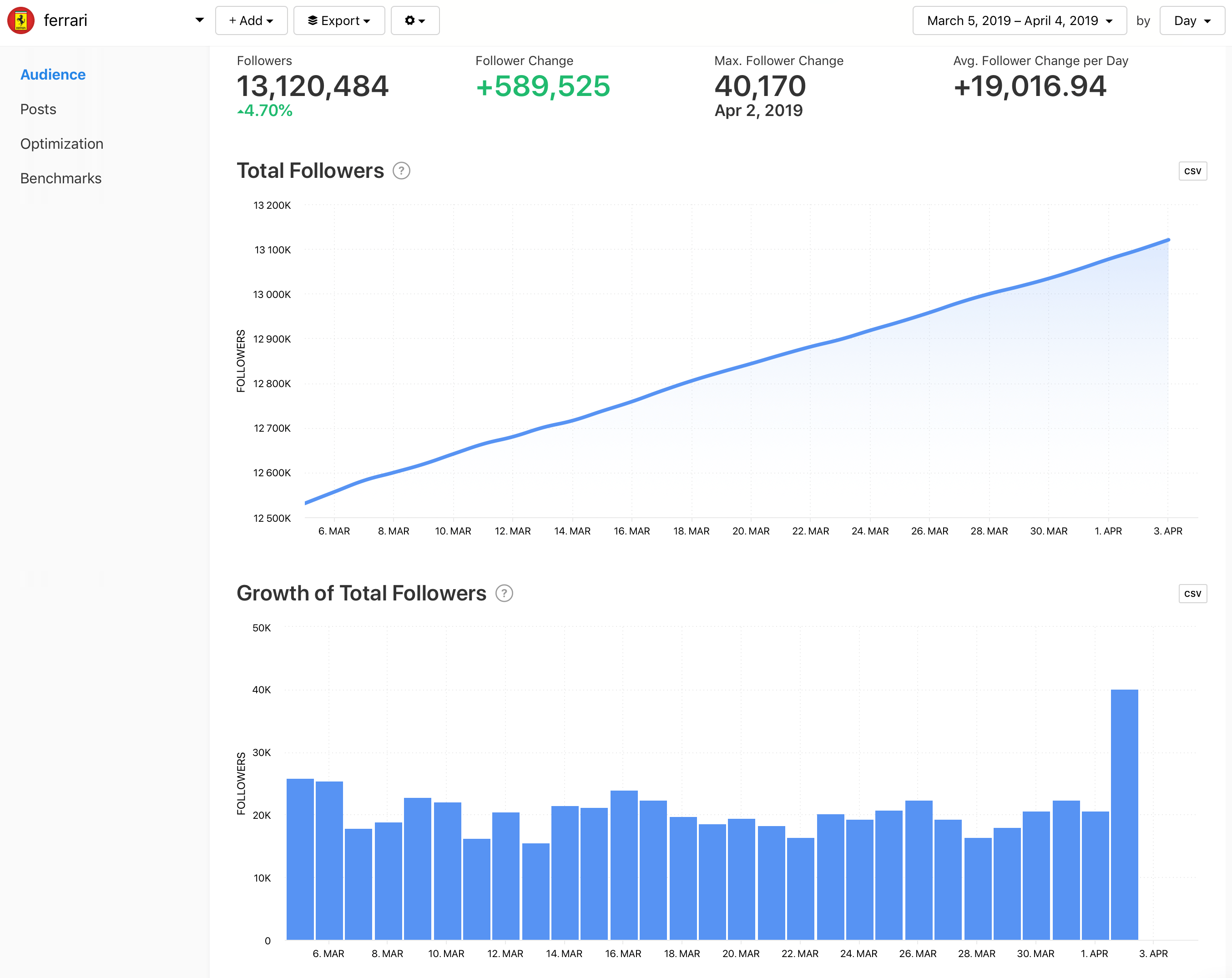 This is one metric to track over time so that you are able to compare your follower growth with previous months. If your follower count isn't growing at the same rate that it was in previous months, it may be time to try something new and add something fresh to your strategy.
Remember: business growth is so much more than gaining more followers.
Ghost accounts, paid followers and inactive accounts will amount to nothing for your business. So will having followers who can't benefit from your business e.g. if you're a local electrician from Minnesota, gaining followers from a different country (or even a different state) probably won't have any real effect on your business. Always keep in mind your end goal when crafting your social media presence, to work with your business.
Are you looking to take your business on Instagram to the next level? Track all these Instagram metrics and more, totally effortlessly with Minter.io.