How to create videos that appeal to the TikTok culture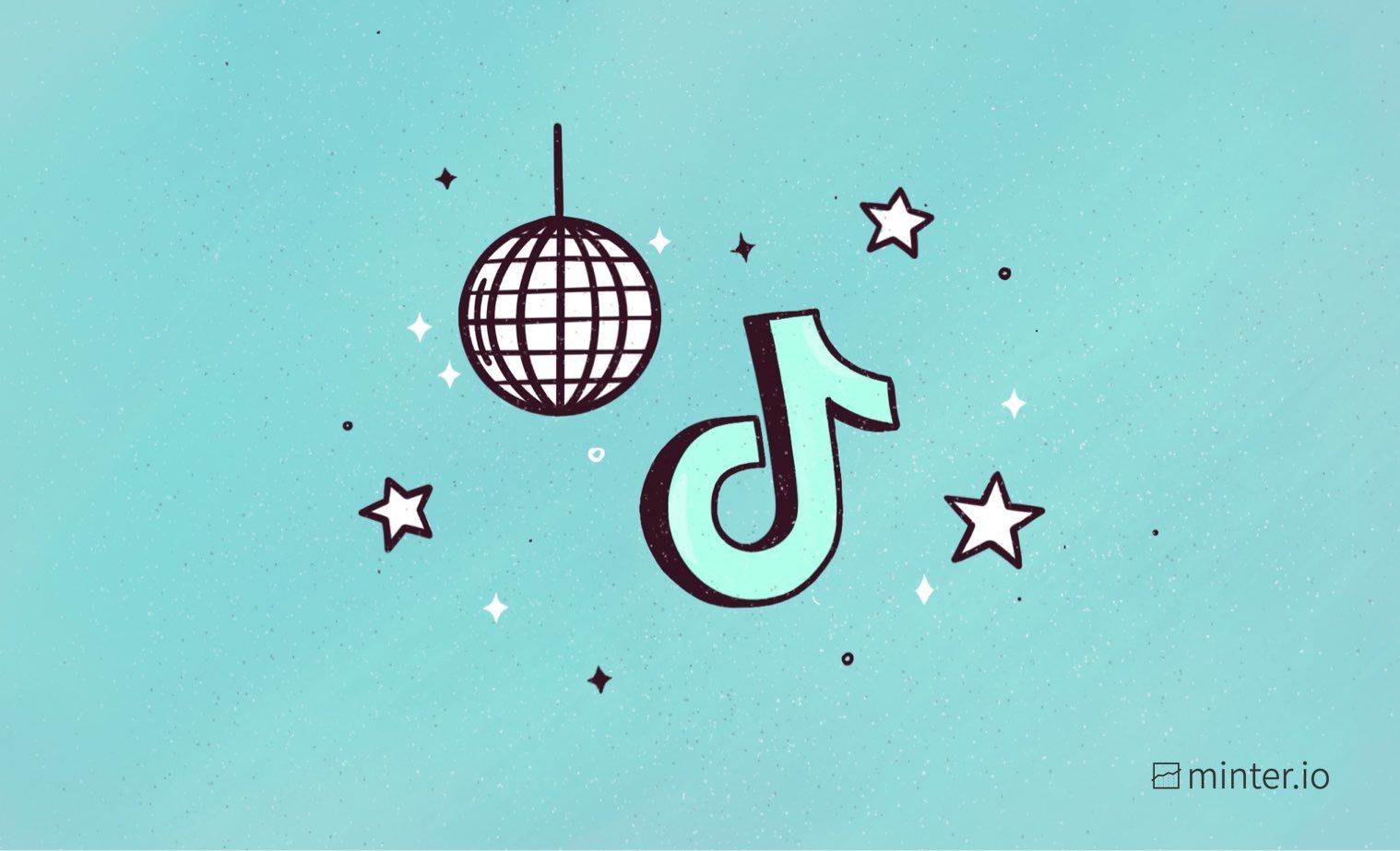 TikTok crashed onto the social media scene like a drunk alien landing a flying saucer - it re-orbited our attention and repositioned the monopoly of the social tech giants. This has caused a massive stir among social media platforms. Instagram quickly adopted a copycat TikTok in the form of Reels. Even YouTube developed Shorts in competition with TikTok. The fight for attention really is on.
But… what does this mean for people trying to grow their businesses online? If you've only just grasped the basics of social media marketing; or your followers have flocked to TikTok en masse; if trends leave you scratching your head or you don't feel you can keep up with the teenyboppers - this article is for you.
We're going to be looking at:
Businesses that have TikTok engagement pouring in faster than coffee on a Monday morning.
Crafting content that slaps harder than a funk bassist at a rock concert.
Why some TikTok videos soar like an eagle while others go splat like a bug on a windshield.
Techniques that will make you say, "Hooray!" instead of, "Huh?"
Let's look at TikTok techniques worth shouting about…

How to's
How to's totally work for a few reasons. Firstly, the demographic on TikTok is largely a younger audience, so they're still experimenting with their style, identity, interests and fashion. They haven't solidified into a grey pant suit behind a desk yet.
Secondly, how to's create instant value. You're giving away tips and tricks free of charge for anyone to access. If people love the vibe, the look or the information and it's shown in a way that's easy to follow, even better.
Thirdly, showing instead of telling works really well on TikTok. How to's don't even need words. Visually showing how to do something in a concise way, with beautiful imagery and catchy music means all you need is a cool, interesting, eye-catching, useful or nifty idea.
Fourthly, how to's aren't a one-hit wonder. As long as you have ideas, you can create how to's. For example, if you have a nail art company, there are thousands of how to designs you could make for your TikTok account. They don't have to take up a whole bunch of time to make and the only real limit is your imagination.
Fifthly, there is no entry barrier. Some kinds are content are only possible to make if you're in a particular industry and have access to celebrities, red carpets, big brands etc. You see this a lot with magazine companies and it's what makes their content stand out. With how to's you don't need a big budget, famous friends or a big following. All you need is an idea and a phone with a camera.
Check out this how to TikTok video by @zara currently totalling 1.5 million views.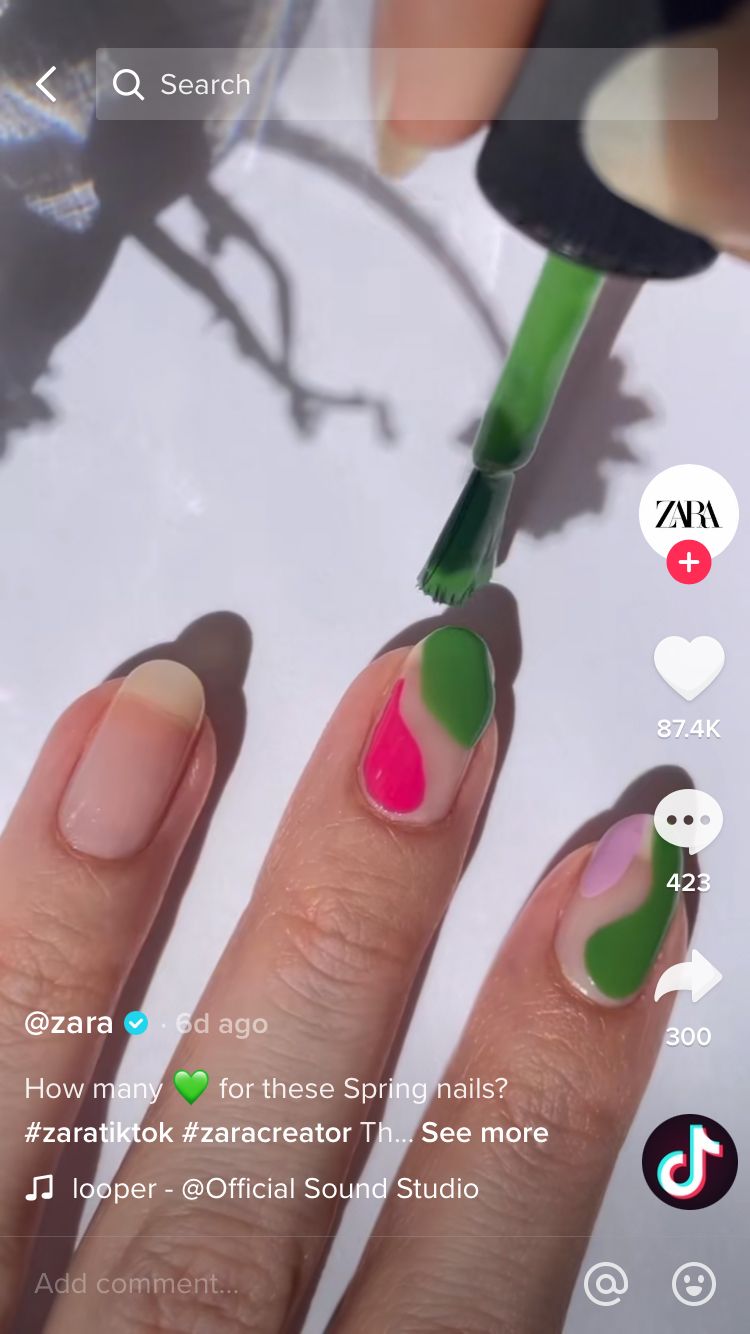 Something out of the ordinary
Let's look at the TikTok account @officialallsaints to see what sets the high performing videos apart from the rest. At the moment, of the 19 TikTok videos on the @officialallsaints account, only 7 have over 1k views. 3 have over 100k views. Take a look at the pinned post, currently totalling 446.2k views…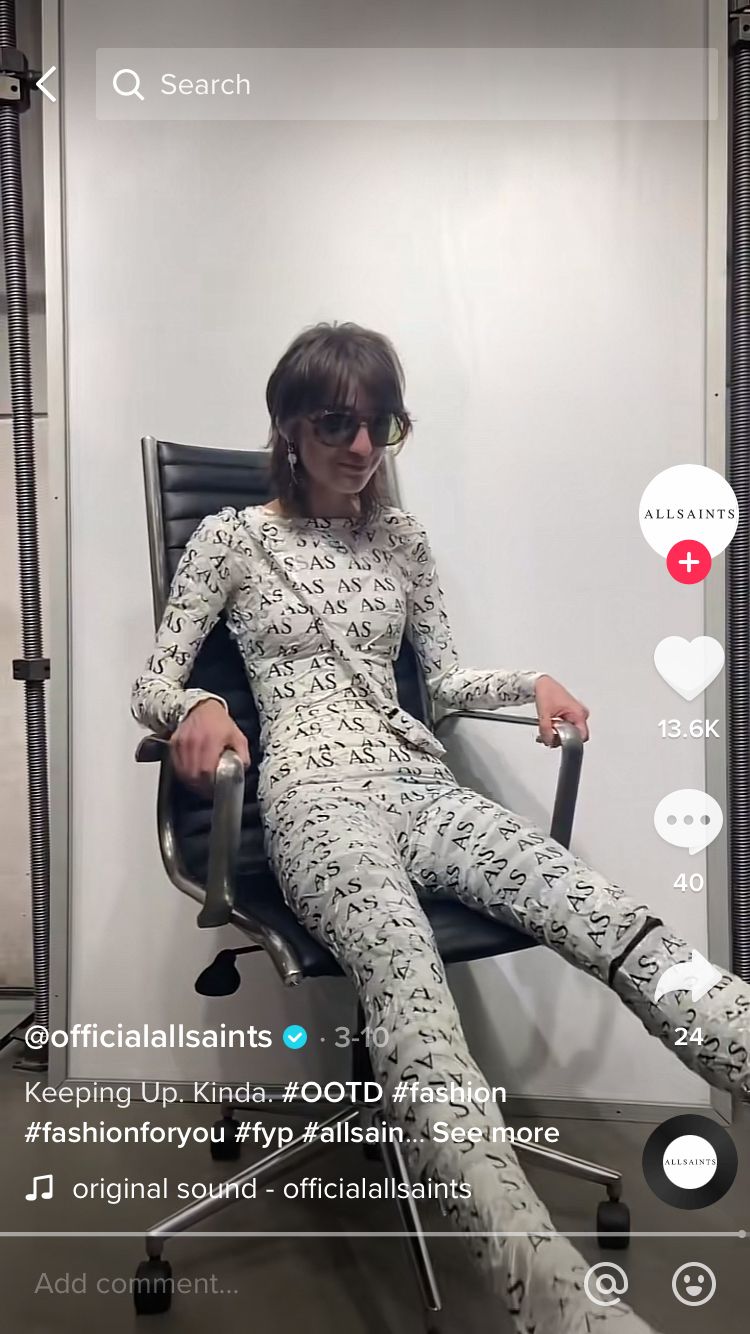 The TikTok comprises of a woman dressed neck to foot in branded sticky tape. The video shows the lady going about her day, walking into the loos, using a lift, going down the street, trying on a jacket, walking upstairs, being carried downstairs and attempting to sit in a chair… as if this is all totally normal to do while dressed in sticky tape which severely restricts her range of movement. The TikTok has no music, only the sound of the tape rustling as the lady goes about her day and a security guard saying, "What's going on?" The genius of this video is not only is it totally hilarious to watch, it's really simple, costs next to nothing to make and is totally unique. You don't see that kinda stuff every day.
Thinking outside the box is crucial for making waves when an avalanche of content is uploaded to TikTok every day. How can you make your content stand out? It doesn't have to be expensive, time-consuming or expertly edited. Grabbing attention can be as simple as sharing something people don't often see… even if that is just wrapping a buddy in tape and following them around with an iPhone.
Try transitions
TikTok is pretty well known for its excellently executed transitions, especially when synced to music. When exquisite transitions are coupled with extraordinary locations and/or ideas, these videos tend to leap into a world of their own.
This transition TikTok video by @everlane has currently gained 1.4 million views.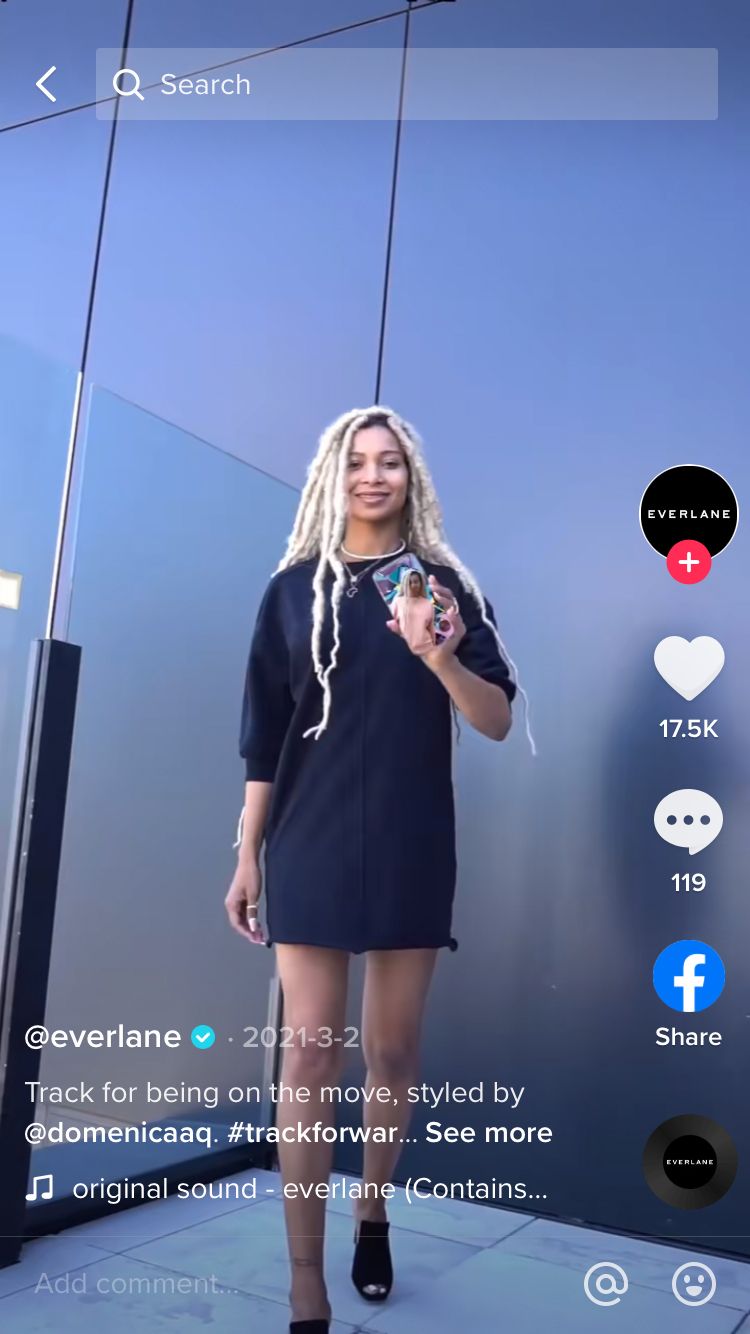 A great way to set your transitions apart is to try to think outside the box. Gaining 7.5 million views, this surreal TikTok video by @mcdonalds (tagging in @24framesofginger) mixed stunning locations, stop animation and products.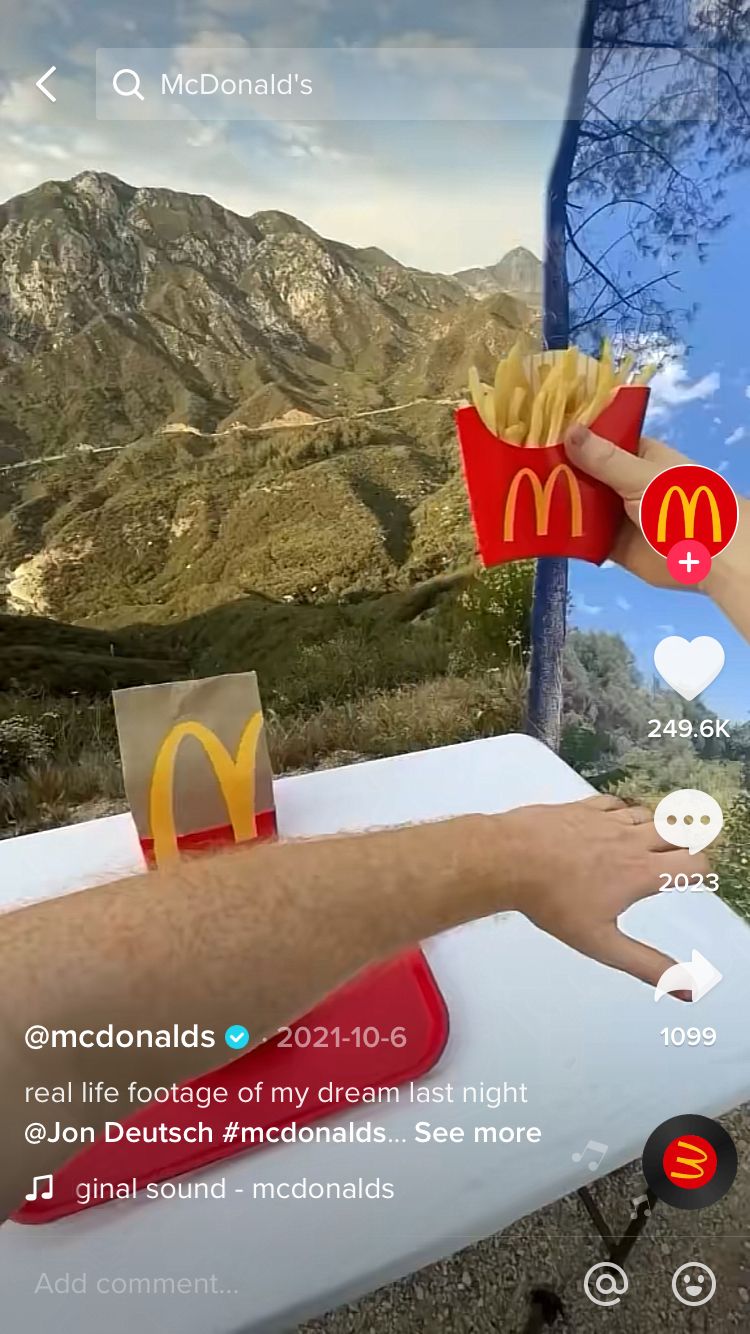 Difficult to replicate
Who doesn't wanted to be wowed, intrigued or entertained on the internet? If you have a skill that is unusual or there's something different about you or your business, TikTok is the place to share it.
Perhaps your business:
Is located in picturesque surroundings
Uses unusual or impressive equipment
Has interesting stories to share
Requires skills that take years of mastering
Interacts with people worth shouting about
Is visually captivating
Picture yourself as a teen sat on a sofa flicking through a TikTok feed. What is likely to make you stop mid-scroll? Being different could help you stand out.
This @amazon TikTok video featuring the process of making a welcome mat currently has 976.2k views.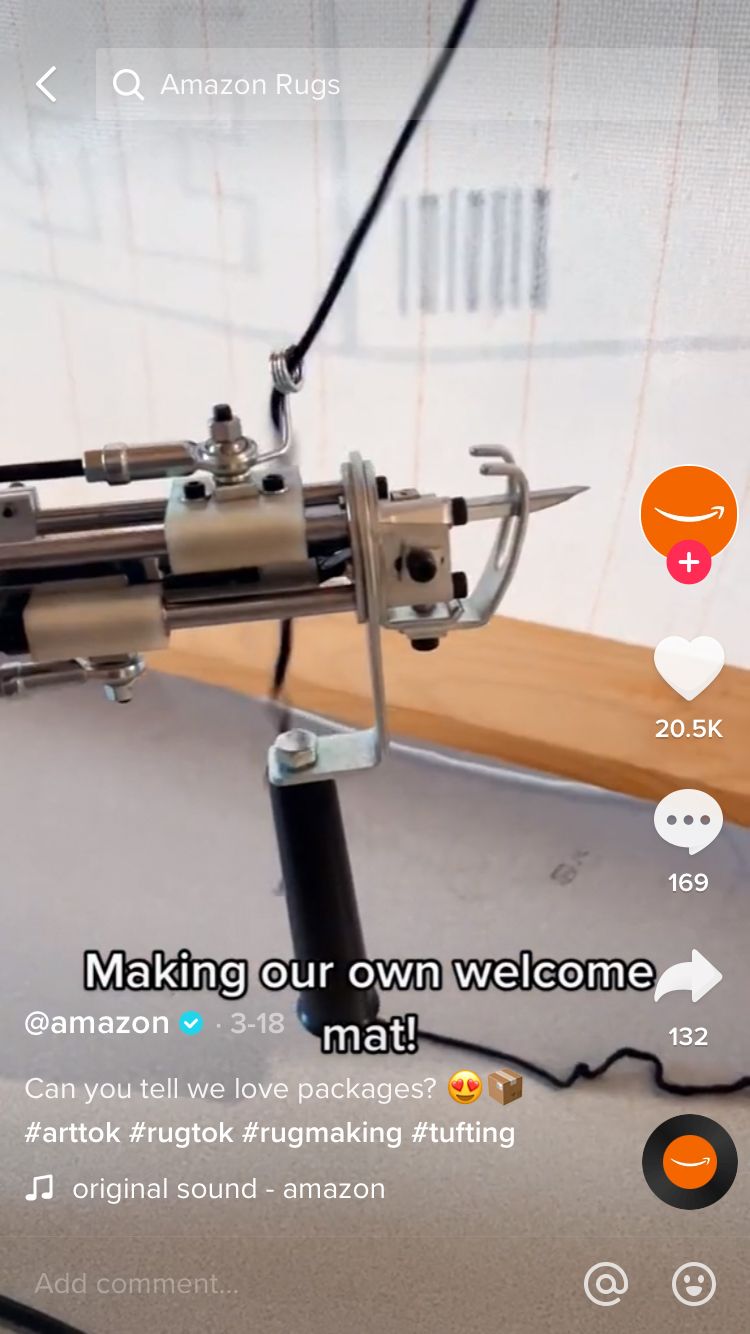 Pop culture and familiarity
TikTok is built on pop culture. Building videos around elements that tap into things the audience already knows, loves and can relate to is a powerful thing. There are many features that weave familiar elements into the videos you can make and see.
These include:
Celebrity filters
Chart music
Sound bites from films and TV shows
Popular trends
TikTok itself has created its own culture that sees businesses personify inanimate objects for comedic effect using a filter. You can even flick through videos that use a specific sound or filter. You'll also find reactions celebrated through the duet and stitch features which are unique to TikTok.
Want more techniques to skyrocket your business on TikTok? Read this article next.
---
Get in-depth analytics for your business on TikTok.
Try Minter.io!→