General
---
What data does Minter.io Analytics provide?
We provide Instagram account and Hashtag analytics. Start a free trial to see the range of possibilities.
Is there a trial for Instagram Analytics?
You can try Minter.io Instagram Analytics with our 14-day free trial.
How do I set up a new report?
You can create a new report by clicking the "+Add" button. Select: @account or #hashtag, click "Connect Instagram" to connect your Instagram or enter the hashtag you want to monitor. It may take some time to generate your report, so please be patient. When our calculations are done, we'll send you an email.
Why my report is still being generating?
Report generation time varies greatly depending on the size of your Instagram account or hashtag. This could take anywhere from a few minutes to several hours. Our system will automatically send an email once your report's been generated. Please contact us if you have any questions about the status of your report.
How many reports can I track from on one account?
You can track an unlimited number of Instagram accounts and hashtags on your account.
How can I remove a report from Minter.io?
Open the report you want to remove, click the gear icon

. Select "Remove" from the drop down menu.


However please note that you will be limited to 10 deletions per month.
How do I invite team members?
To give other users permission to monitor your reports, you can invite them as team members. Open you report, click the gear icon

and select "Team members". Add the email address you want to invite and hit "Invite". You can invite your team members to each of your Instagram reports, depending on which reports you want each of them to have access to.
Can I export data from my Minter.io account?
Your can easily export your reports to PDF and PowerPoint format. Open the report you want to export, select the date range, and click "Export" to select PDF or Presentation. Download will start automatically. You can also export all your data to a CSV file you can use in a spreadsheet program like Excel or Numbers. Go to the metric you want to export and click the CSV button.
Does Minter.io have an API?
Yes, we have an API. The Minter.io API lets you access the data available in our reports to be used to integrate with your CRM, tracking system or create your own apps. The API is available to all paid subscribers. To create your app and get API access go to https://minter.io/r/?url=/developer/apps/. For technical information, please see our API documentation
How do I cancel my Minter.io account?
You can cancel your account at any time by contacting our support team at support@minter.io.
Analytics
---
Does Minter.io provide historical data?
Minter.io provides full historical data on Instagram accounts and hashtags except for:
Accounts – List of Lost Followers
Hashtags – Reach and Exposure
In these reports the data will only be available from the date the report is first generated.
Can I track multiple Instagram accounts?
Yes, you can manage unlimited Instagram reports on one Minter.io account.
Can I track other accounts than my own?
Yes, you can track any public Instagram account. However, follower data such as gender and location is not available without user permissions.
How often is my data updated?
Your reports' data is automatically updated on a daily basis.
How do I look at my data for a specific time range?
Use the time picker to view data on specific periods
1. Select the scope:
Custom the time period or choose between different presets.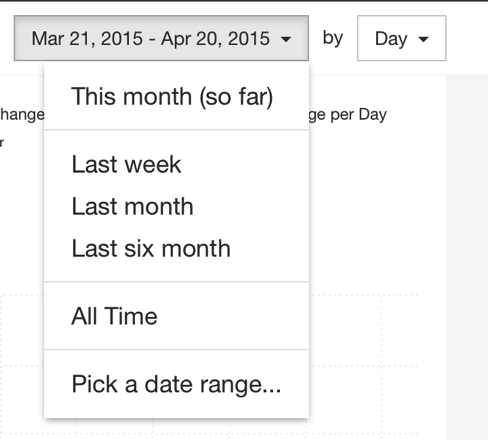 2. Select the resolution:
Click on the resolution button to show results by day, by week or by month.
What does the fire icon in the Top Posts by Engagement stand for?
It's Engagement Rate. The Engagement rate of a post is calculated as the sum of likes and comments divided by the number of followers at the time of the post. It shows the percentage of your audience who engaged with the post.
Is it possible to change the time zone for "Best Time To Post" in my reports?
Yes, just go to the metric and select the correct time zone from the list.
What does data usage mean?
The data usage applies to the total number of followers and hashtagged posts across all your reports.
Billing
---
How can I pay?
We accept all major credit cards and PayPal. Currently we're unable to accept other forms of payment.
How long are your subscriptions?
We offer standard monthly subscriptions. All Minter.io packages are set to auto-renew at the end of each billing cycle unless you change or cancel your subscription. You can upgrade, downgrade or cancel your subscription at any time.
What paid package do I need?
When choosing between our packages, consider the total number of followers and posts on hashtags across all the reports you want to track at once. We offer a variety of package levels to accommodate your particular needs. You can find our packages and check your current data usage at https://minter.io/#/packages.
What if I don't know my monthly data usage?
Minter.io displays your data usage (the sum of the number of followers and posts on hashtags across all your reports) on your Upgrade & Billing page: https://minter.io/#/packages. You can use these values to determine which plan meets your needs.
What if I need more than 5M followers or posts?
We offer custom packages for high volume accounts. Just contact our team at support@minter.io if you need more than 5M.
What if I go over my package limits?
If you exceed your package's limit, you will have the option to upgrade to a bigger package to keep all your reports up and running, or if you'd rather continue on your current package, you can delete some of your reports. You can check what your limit is as well as your current data usage on the Upgrade & Billing page: https://minter.io/#/packages
How do I change my subscription package?
You can upgrade or downgrade your package at any time. You can change your subscription package simply by choosing a new package on the Upgrade & Billing page. Just go to https://minter.io/#/packages or choose Upgrade & Billing from the account menu.
What if I upgrade in the middle of the subscription period?
If you already have a paid package and you want to upgrade your package in the middle of your subscription period, you'll be charged the prorated difference between the two packages based on the remaining time in your billing period.
How do I renew my subscription?
You don't have to do anything. Our paid packages are automatically renewed on a monthly basis.
How do I change my payments details?
You can find and update your billing information on the Upgrade & Billing page https://minter.io/#/packages
How can I cancel my Minter.io subscription?
If you are a paying customer and wish to cancel your subscription, please go to https://minter.io/#/packages and click "Cancel subscription." You can also always contact us at support@minter.io. Please note that you'll lose access to all your reports when your subscription expires.
Can I get a refund?
We do not issue refunds, but are happy to discuss any issues you have.