5 steps to TikTok success with @maccosmetics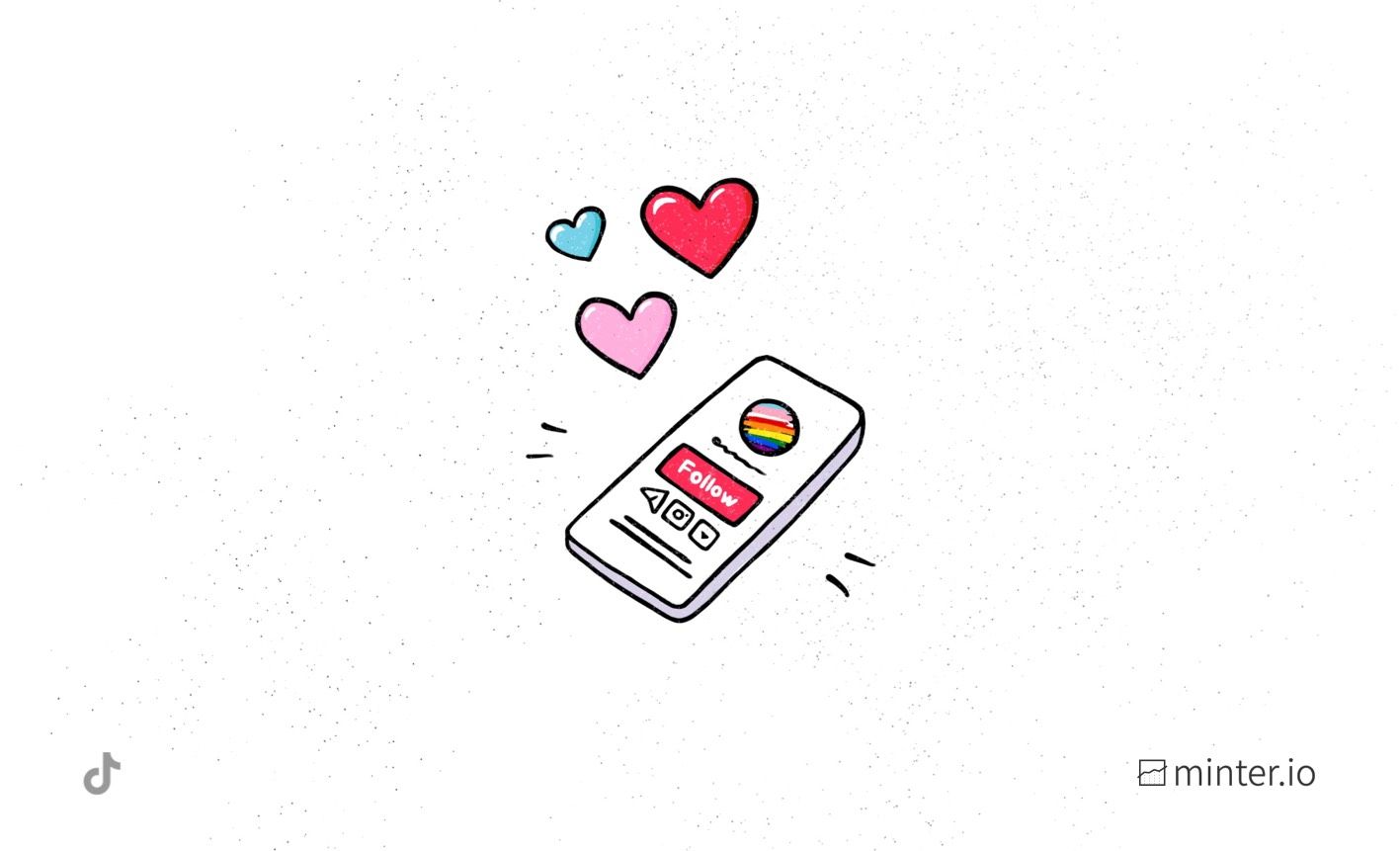 If you're looking for a TikTok makeover, scroll down for some secrets. We're taking some tips from makeup brand @maccosmetics to brush up your business online.
Here are 5 ways to give your TikTok a facelift with @maccosmetics…
1. Highlight your values
Your TikTok bio is part of your first impression, so make sure people always capture your good side. The bio of @maccosmetics proves that this space doesn't always have to be about what you do, who you are, or the products or services you sell. Instead, it could be all about what you stand for.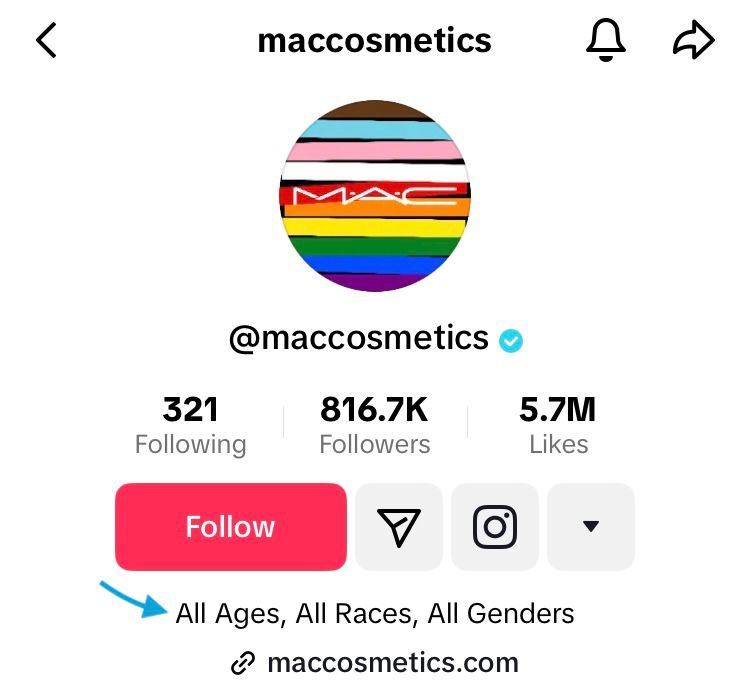 TikTok is the perfect platform to front-load with company values - this is truly what younger audiences care about these days. We can see @maccosmetics embracing this with their bio which champions inclusivity. It says, "You're welcome here," to whoever reads it. This is the foundation of your TikTok page, ready to layer on different shades to make your TikTok truly pop.‌
2. Create a palette of playlists
While not available to all creators, with playlists you can group videos into bingeworthy watch sessions. A huge benefit of playlists is that they are featured at the top of TikTok profiles, underneath the bio section but above all video content. They are easy to find and flick through, and once you watch one video in a playlist, the app automatically rolls onto the next video. If this feature is available to you, grab hold of it like it's the last of your favourite discontinued eyeliner.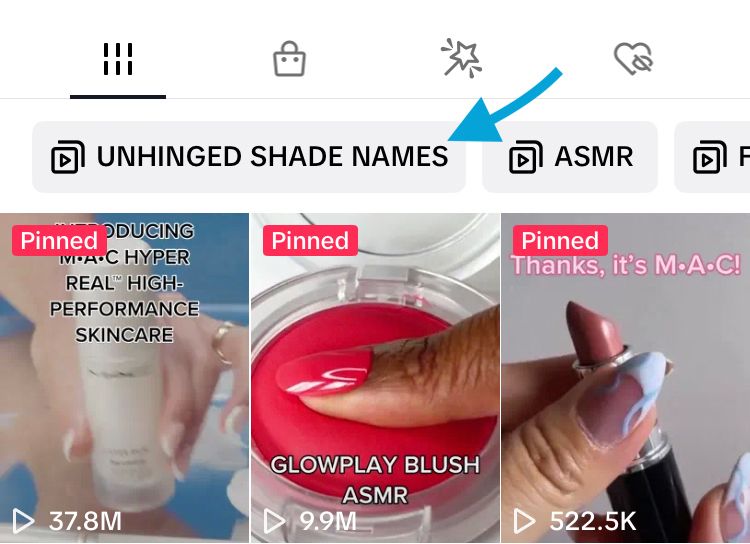 Playlist names by @maccosmetics include:
Unhinged Shade Names
ASMR
Face & Skin
M.A.C to life
New & Now
Trends & Inspo
Hacks & How Tos
Artistry & Expertise
Notice the different types of playlists including: guides, trends, inspiration, featured products and industry-specific content. You can really have fun while providing heaps of value with this feature. Use this guide to create and edit your own playlists.
3. Flatter with filters
‌It's so cool when brands create more elements for fans to engage with. This TikTok filter by @maccosmetics is a good example of this. Filters help TikTokers express themselves in new ways. It can also make them feel connected with brands they love while connecting with other people within the TikTok community.
Newly created effect filters are connected to the TikTok account of the creator. These filters are found in a tab solely for TikTok filters created by the account owner. This makes them easy to find. When a viewer clicks on the effect, they can see other TikTok videos that use this filter and they can use the filter themselves.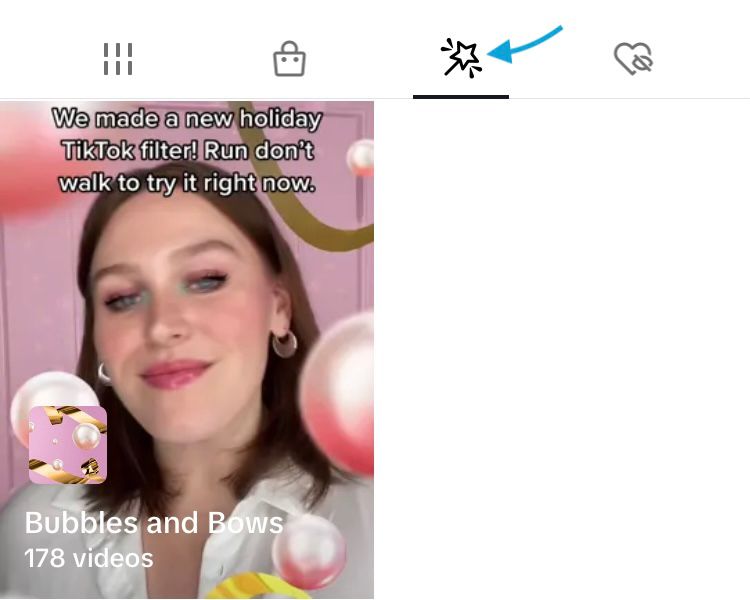 For a glossier take on video content, try creating your own TikTok filter. Take a look at this guide to get you started. There are many templates and tutorials available, so whether you're a total beginner or a proper pro, it's worth giving it a go.
4. Pin picture-perfect posts
Draw the eye with pinned posts which line the top of your TikTok content. Choose wisely as these will be the first TikTok videos visible directly on your profile. You can pin up to 3 posts in the order you find most appealing. Just look at the striking colours and featured products @maccosmetics chose to pin.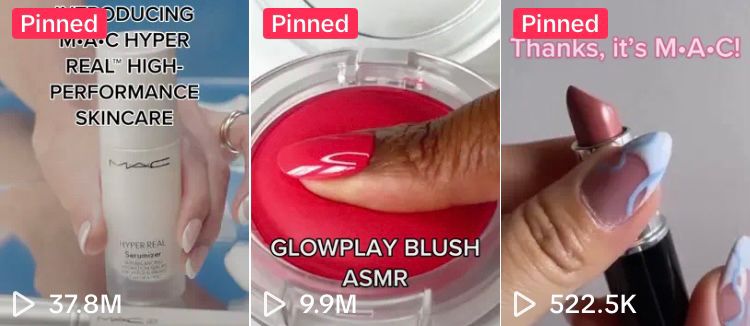 ‌Wondering what posts you should pin?
Here are some ideas:
Product features
How tos
Well-performing videos
Brand values
Deals or sales
Important information
You could make a smashbox of an impression with your pinned posts.‌ We wrote a whole article showing you how to pin a post, alongside a heap of inspiration, so make sure you check it out.
5. Makeup a routine
Don't let your TikTok profile fall into urban decay. Consistent publishing is key for gaining traction on social media. Like re-applying shiny lipstick after a smooch, new videos are topped up regularly on the @maccosmetics TikTok profile. We've noticed that @maccosmetics typically publishes new content daily, sometimes posting multiple times in the same day. When going for a more relaxed vibe, the beauty brand doesn't brave more than 3 days without gracing TikTok with its presence.

When a social media channel is popping, maybe they're born with it, maybe they're signed up to Minter.io - the social media analytics tool for beautiful businesses online. You don't have to be a cosmetics brand to have a glowing online presence. Check out how we can help you shine today!
---
Take your TikTok marketing to the next level with analytics.
Try Minter.io today!→