10 TikTok tricks to copy from @headandshoulders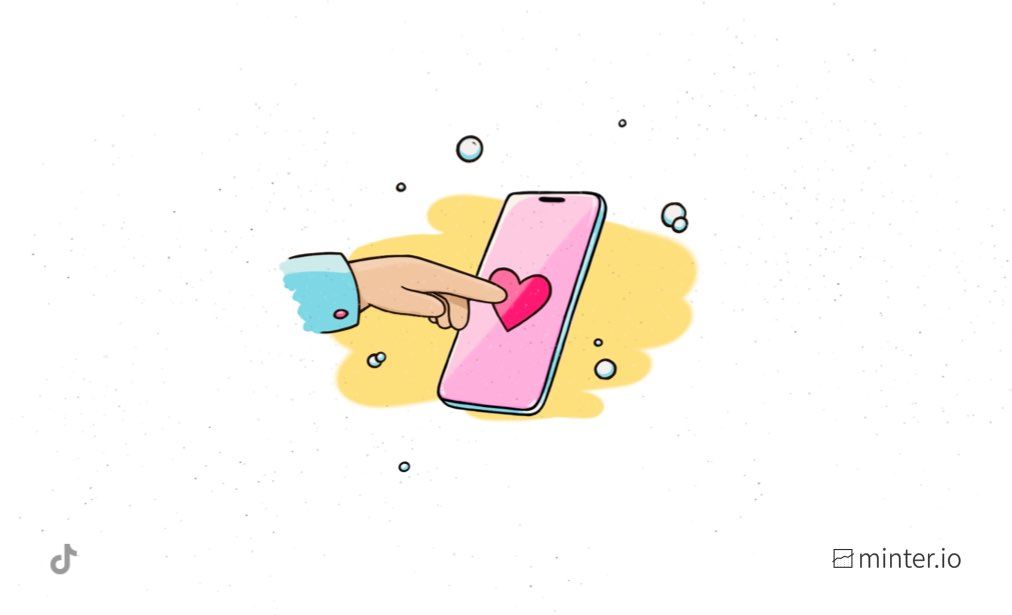 Hello there, brand boss! Have we got a tub load of tips for you today. We're looking at haircare brand @headandshoulders to strut your TikTok profiles off the shelf and onto the catwalk. From root to tip, your TikTok should be shining by the time you lather these techniques into your social media strategy…
1. Why should we even trust you?
Social proofing isn't purely reserved for Facebook pages and websites. You wanna smother that syrup all over your socials. On the @headandshoulders TikTok profile, viewers are hit with social proof upon arrival. This isn't love at first sight - it's trust at first sight… and that means a heck of a lot for your business. Social proofing your TikTok profile can result in higher conversion rates and customers spending more money.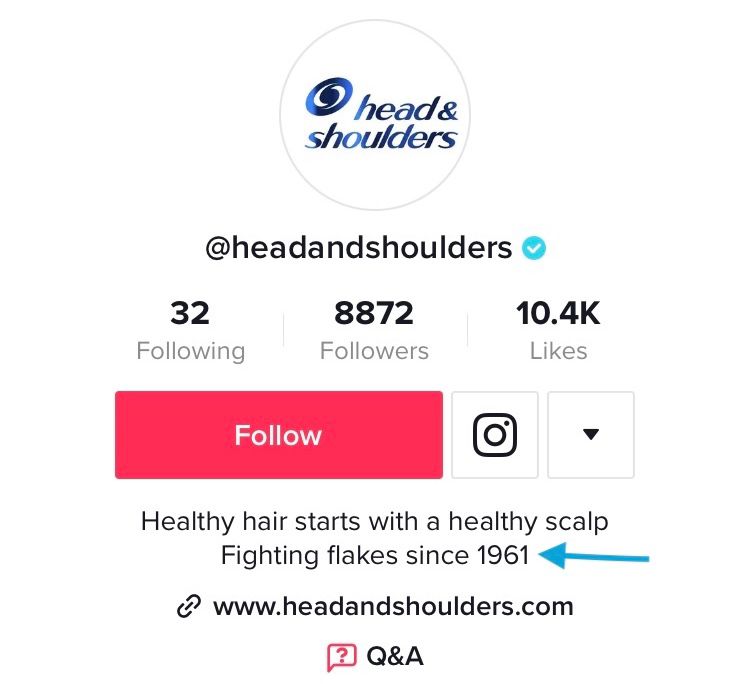 2. Babe, your USP is showing…
We live in the era of finding whatever you want at the touch of a button. You've gotta have something that makes your brand stand out if you're ever gonna make a dent in the business world. Luckily for you, it's super easy to stand out when loads of other brands aren't doubling down on what makes them unique.
The @headandshoulders unique selling point is made very clear because it's put front and centre as the focus of the TikTok profile. This messaging is hammered home in a significant amount of TikTok videos, making it extremely hard for even the most casual of viewer to miss.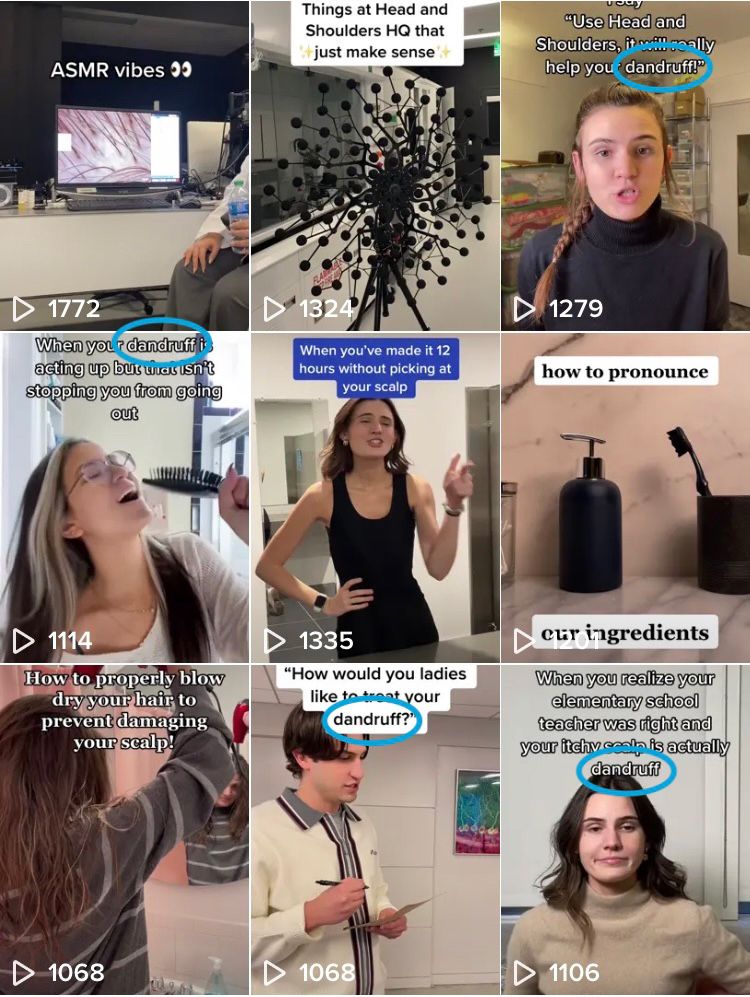 3. It's not all about you, hun.
You wanna know how I first found the @headandshoulders TikTok profile? It was through an influencer ad that popped up on my home feed.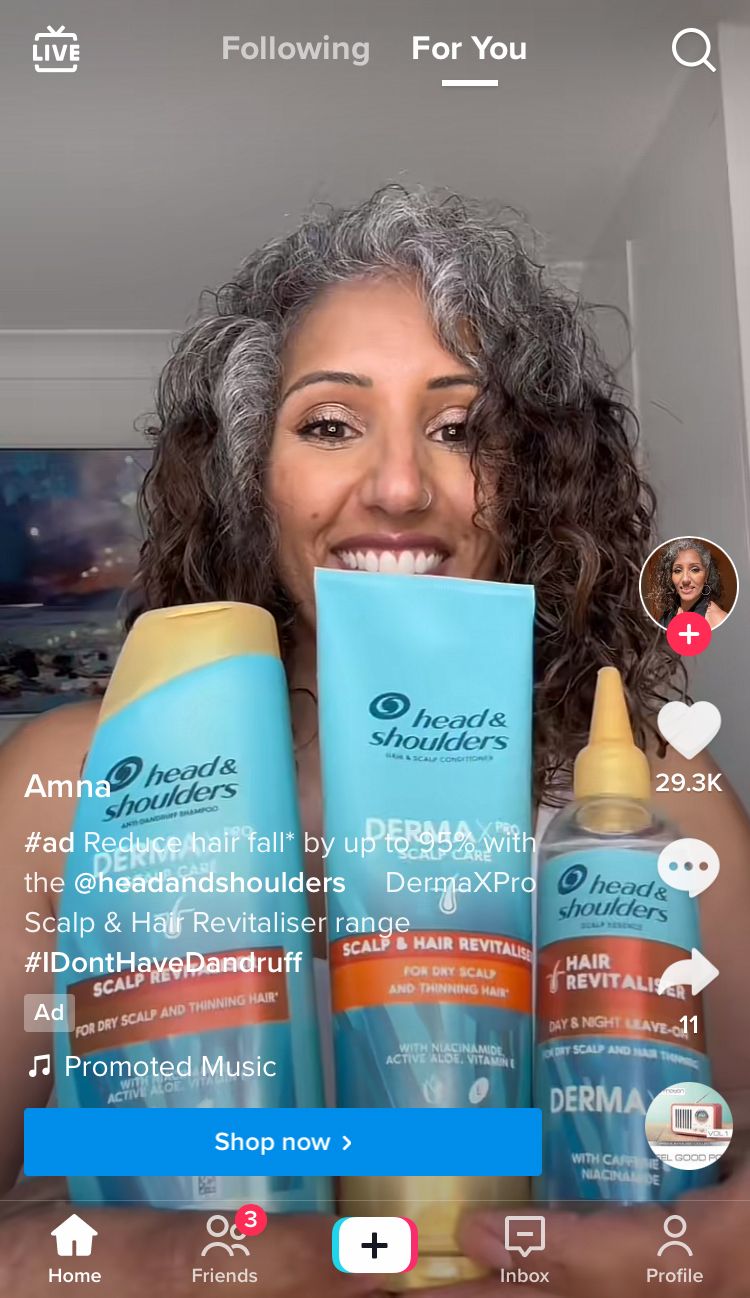 This TikTok post did four important things:
It introduced me to the products.
It showed me how to use the products.
It introduced me to the @headandshoulders TikTok profile.
It directed me to a retailer to purchase the products.
Those influencers aren't just pretty faces after all, huh?
4. You've gotta talk to your following… literally.
TikTok has been making waves with one of the greatest features in social media's evolution - you can reply to a specific comment with a brand new piece of content. This takes the 'social' in social media to incredible new heights.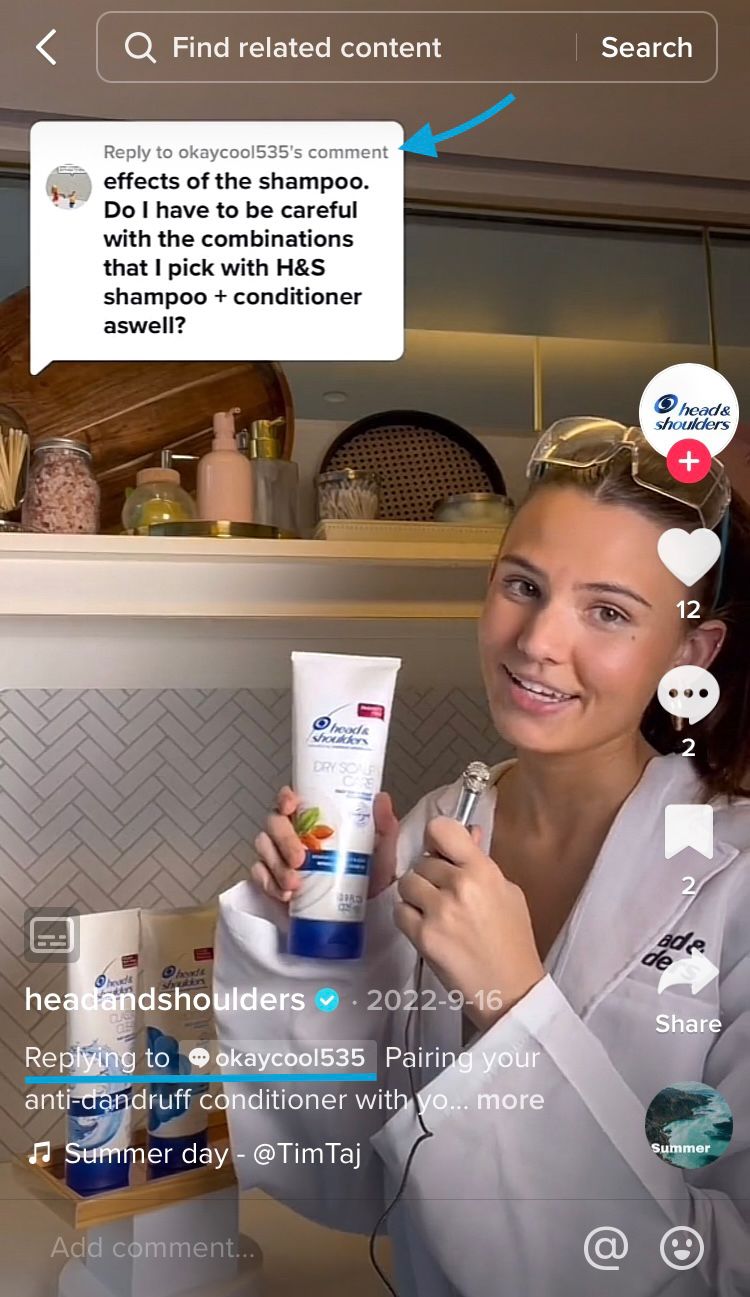 While liking and replying to comments is a good place to start, making brand new content as a response makes followers feel even more heard, while building a bank of fresh content in the process.
Here's how you do it:
1. Choose a comment on one of your TikTok videos that you'd like to respond to.
2. Tap 'Reply' underneath the comment.
3. Tap the record icon next to the text box.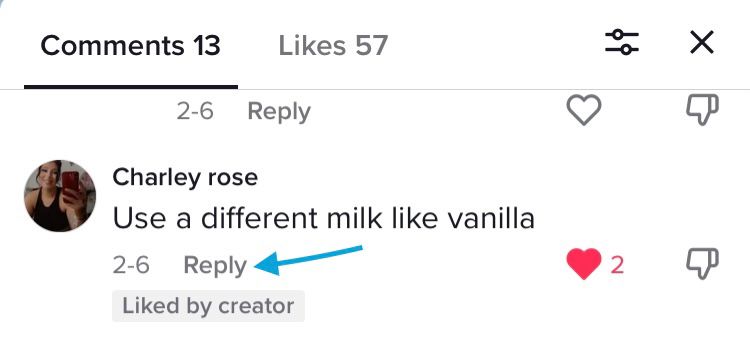 4. Record a response video.
5. When you've finished recording the video, adjust the size and positioning of the original comment.
6. Change the duration of time the comment appears in your TikTok video by tapping on the comment, then tapping 'Set duration'.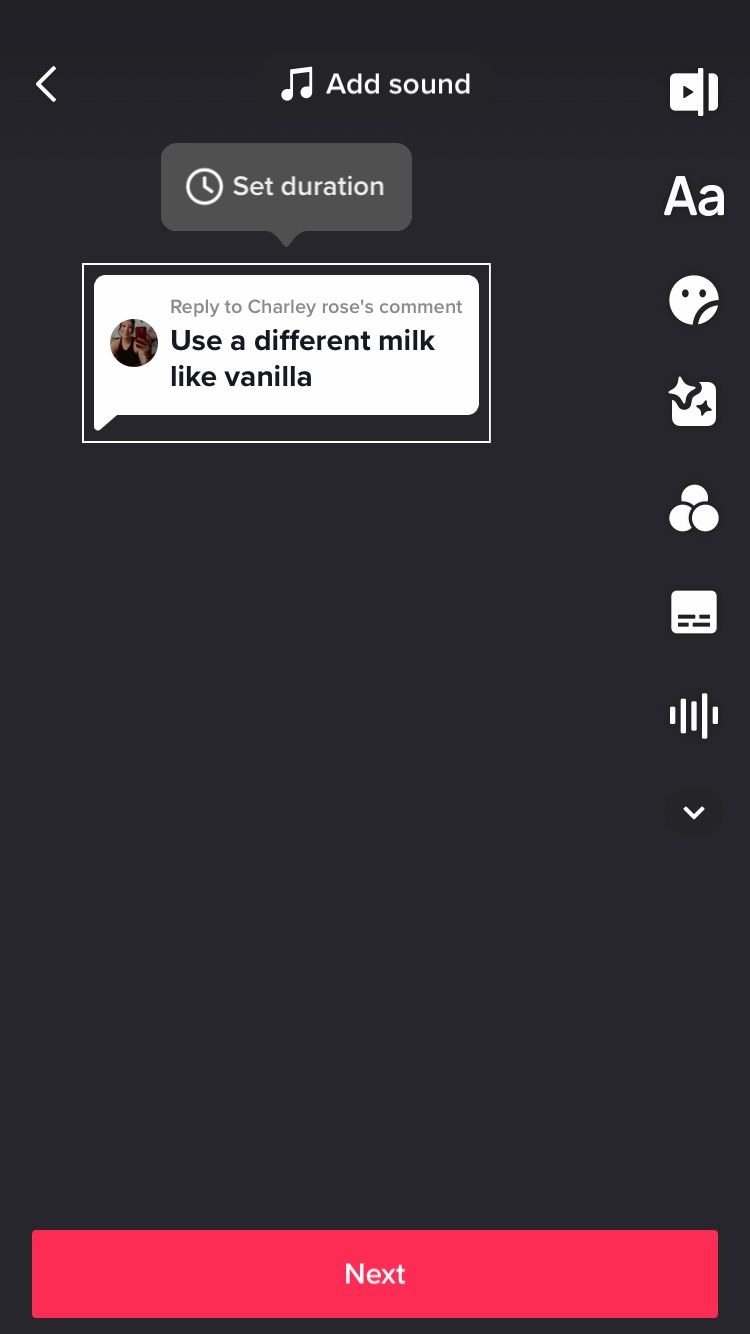 5. Oh, so you want people to recognise you?
There's no need to get split ends over fakes online; use these tactics to ward against them. The TikTok profile of @headandshoulders shares the same profile picture as the brand's other social media accounts. It also shares the same handle as its Instagram account and the brand is verified across all platforms… I mean, hello professionalism! This makes life easier for the fans and themselves.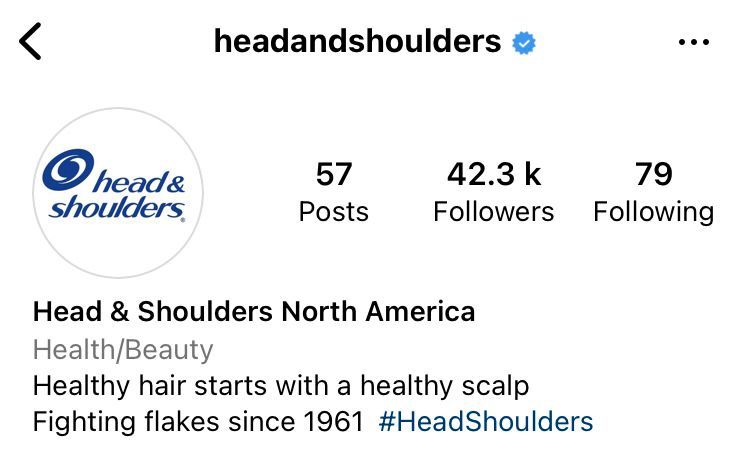 You might also want to bring followers to TikTok from other social media platforms, but that's only possible if they can find your real account. This is why you can never underestimate the importance of setting up your accounts properly from the start.
6. Get that post the attention it deserves!
Don't you just love it when you don't have to scroll and search to find the good stuff. The @headandshoulders TikTok profile features a couple of videos they want viewers to see first!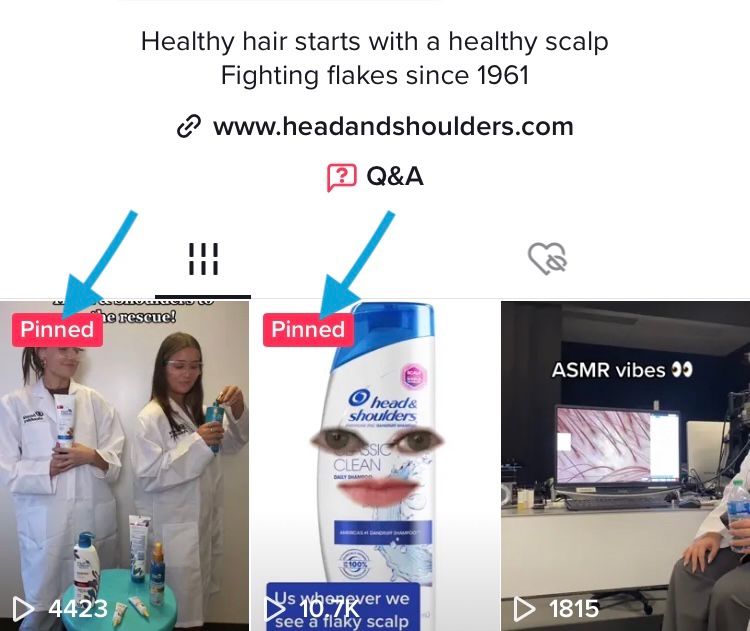 By pinning up to 3 TikTok videos to the top of your profile, you can make sure you're making a head-turning, grand-entrance-worthy first impression.
Here's how you do it:
Find a TikTok video on your profile that you'd like to pin to the top of the profile.
Tap on the three dots on the right-hand side of the screen.
Tap 'Pin'.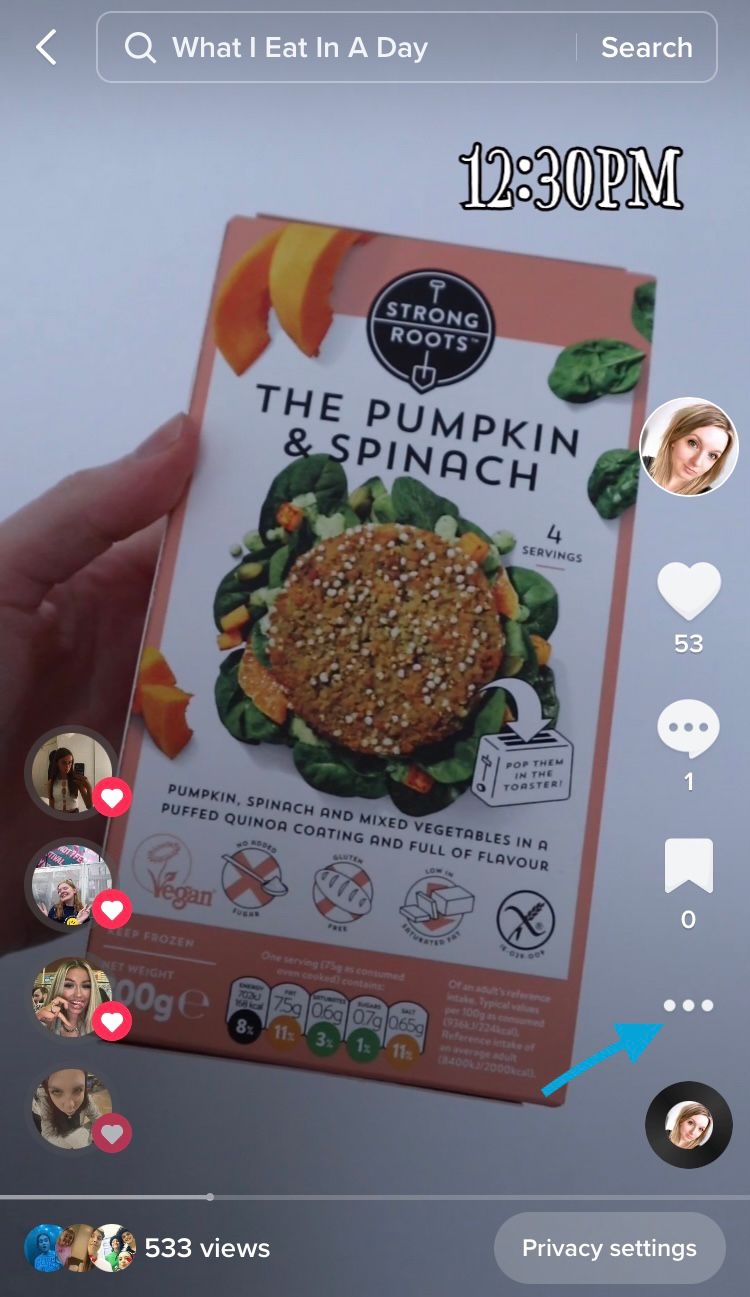 7. It's time to glow up!
Don't tell me you've been ignoring filters because you think they look unprofessional. Oh sweet angel, if my eyes could roll back further into my head, they would. Filters are about connection, creativity, relatability and fun! If you're not using any single one of those words to describe your business or your brand's presence on social media, you've been going wrong somewhere, sunshine.
Of course, not every filter is for everyone, but there is always a filter you can use to elevate the experience of the end user - and that's who your social media presence is built for. Your content is for the potential customer; the loyal fan; the friend of the brand. It's also for people who have no idea who you are, but who might give you a chance if you give them a giggle.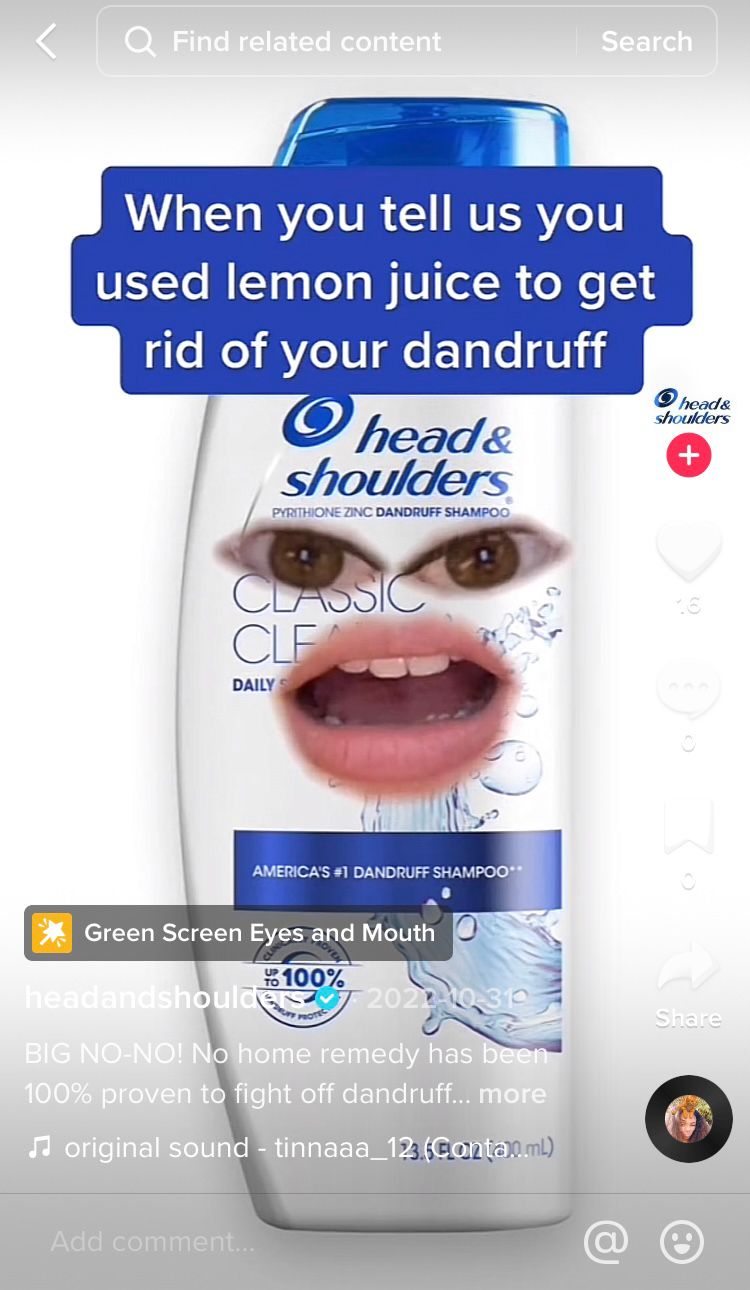 The classic 'Green Screen Eyes and Mouth' seems to be a favourite of @headandshoulders but you can use whatever filter you want. If a filter someone else is using catches your eye, you can pinch it for your next creation.
Here's how:
Tap on the effects icon overlay on a TikTok video.
Tap 'Use this effect' at the bottom of the screen.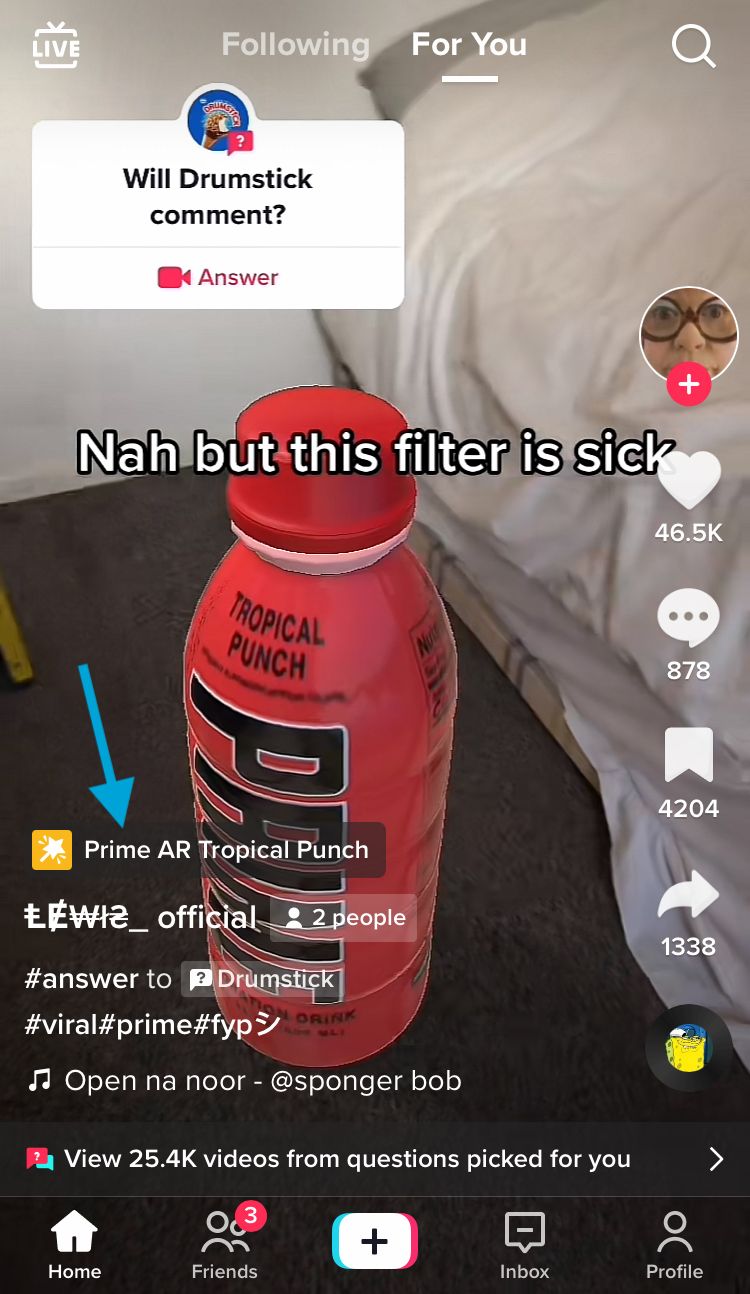 Alternatively, choose 'Add to Favorites' to save the effect for later:
Tap on the effects icon overlay on a TikTok video.
Tap 'Add to Favorites'.
When you create your next TikTok video, tap on the 'Effects' icon.
Choose the 'Favorites' tab to find your saved effect.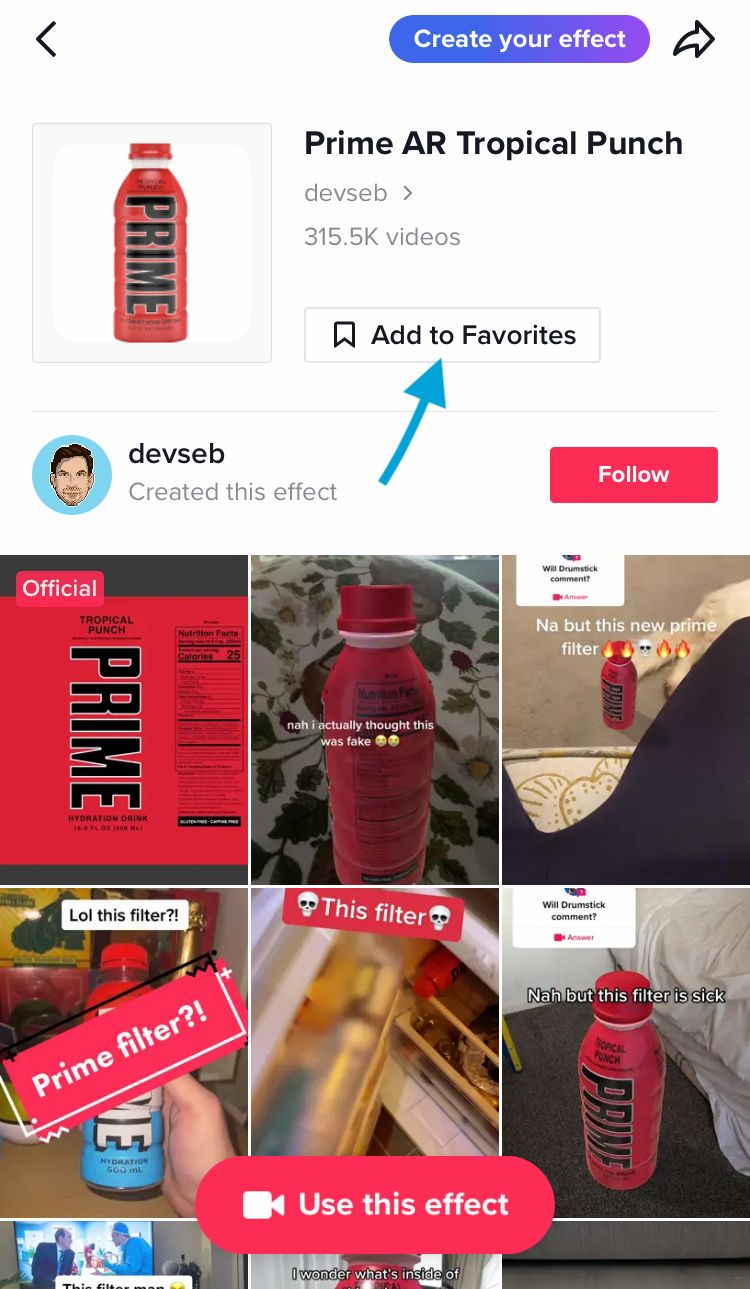 8. Your eyeballs are only one of your senses.
Now that we've reached an understanding about filters, let's not neglect another big element that makes TikTok the exciting, shiny new kid on the block - the huge library of sounds and music available directly in-app. This revolutionary integration has raised the social media game and you'd be missing out big time if you choose not to get in on the action.
The @headandshoulders TikTok content features a flurry of sounds you can pinch at will. From hair-raising pop-culture sound bites to new tunes making waves on the platform, there's bound to be something to get any head bopping.
To pinch a sound you love:
Tap on the sound underneath the TikTok description at the bottom of the screen.
Tap 'Use this sound' at the bottom of the screen.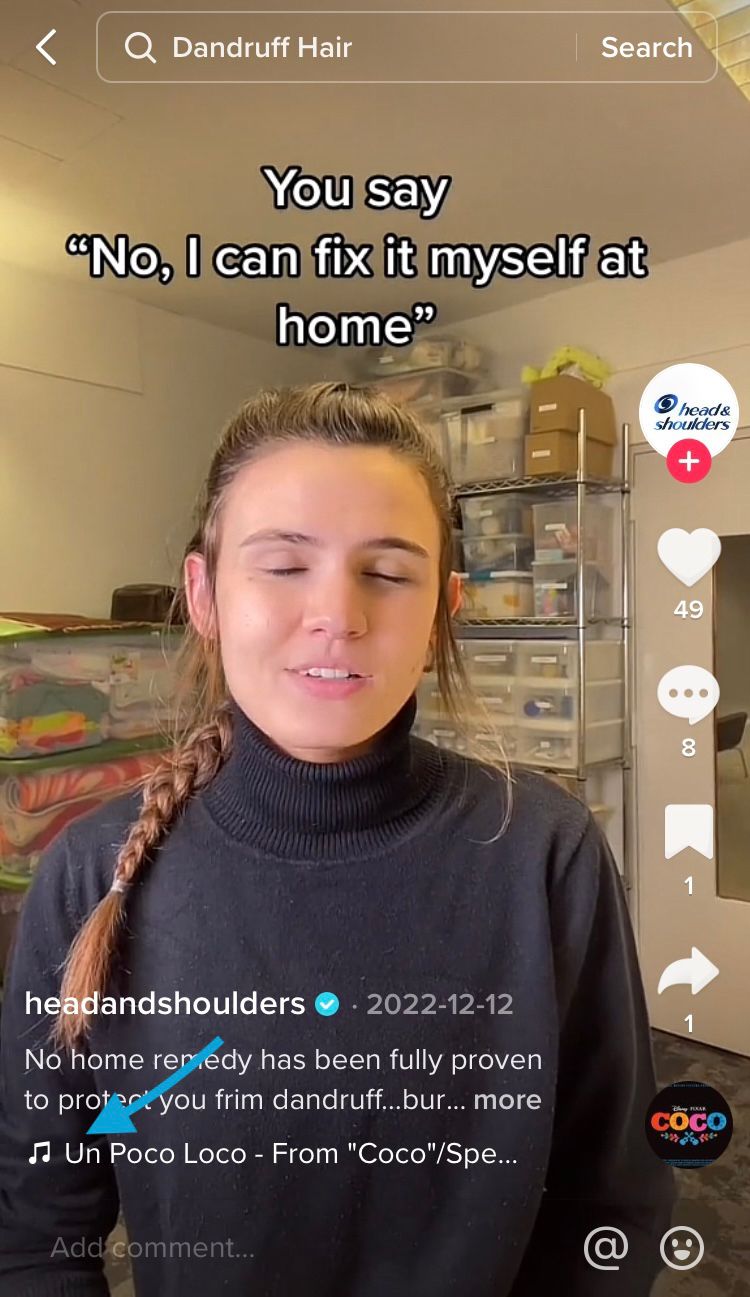 Alternatively, choose 'Add to Favorites' to save the sound for later:
Tap on the sound underneath the TikTok description at the bottom of the screen.
Tap 'Add to Favorites'
When you create your next TikTok video, tap on 'Add sound' at the top of the screen.
Then tap on the 'Favorites' tab to find the saved sound.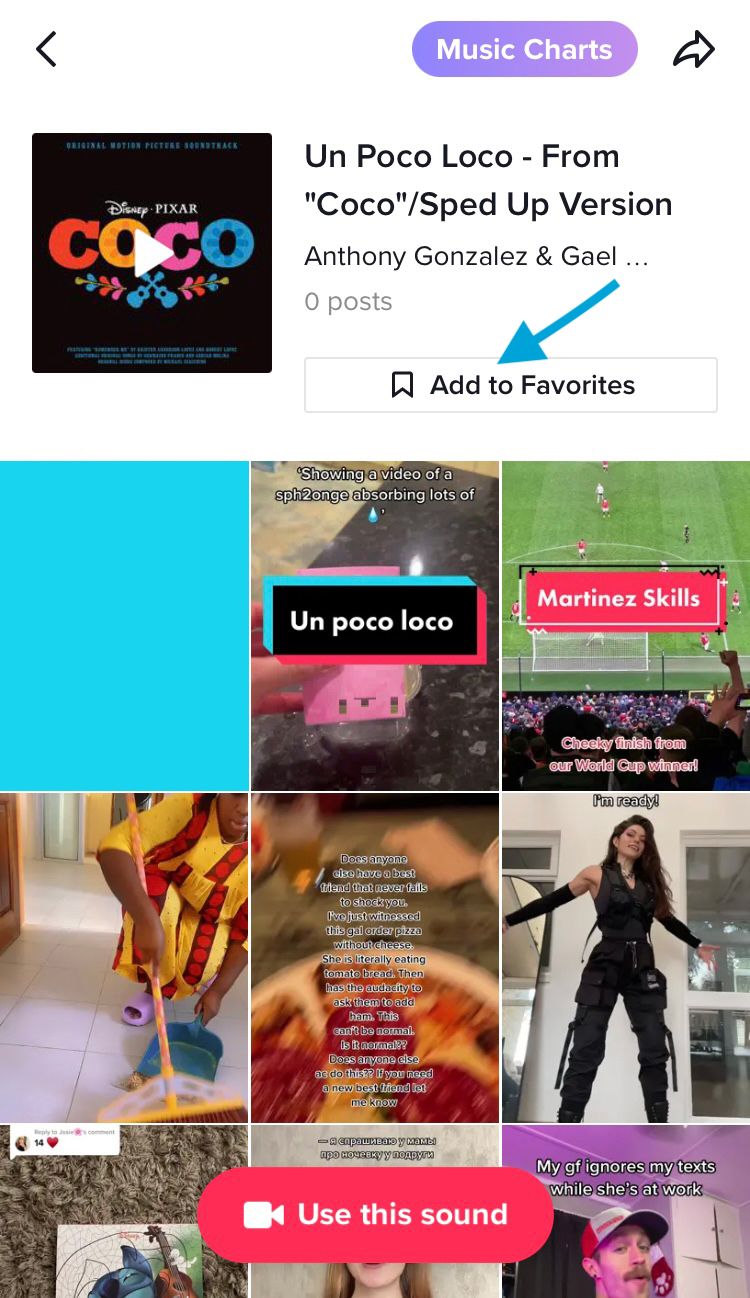 9. Big corporation or potential new bestie?
As a young person, the pure mention of the word 'corporate' used to send shivers down my spine. Who wants to feel like they're handing their hard-earned cash over to some stuffy suit with a robot for a brain and laser beams for eyes? But social media has changed the game. With so many new ways to connect with people as actual human beings, the idea of corporate companies being faceless money-grabbers has melted away.
I love what the @headandshoulders TikTok content is doing to humanise the brand. In multiple videos the viewer is met with the same members of the team. There's even a 'day in the life' of a member of the team and a tour of the @headandshoulders HQ. This lets people behind the scenes and invites them into the @headandshoulders world so they'll never want to get out of its hair.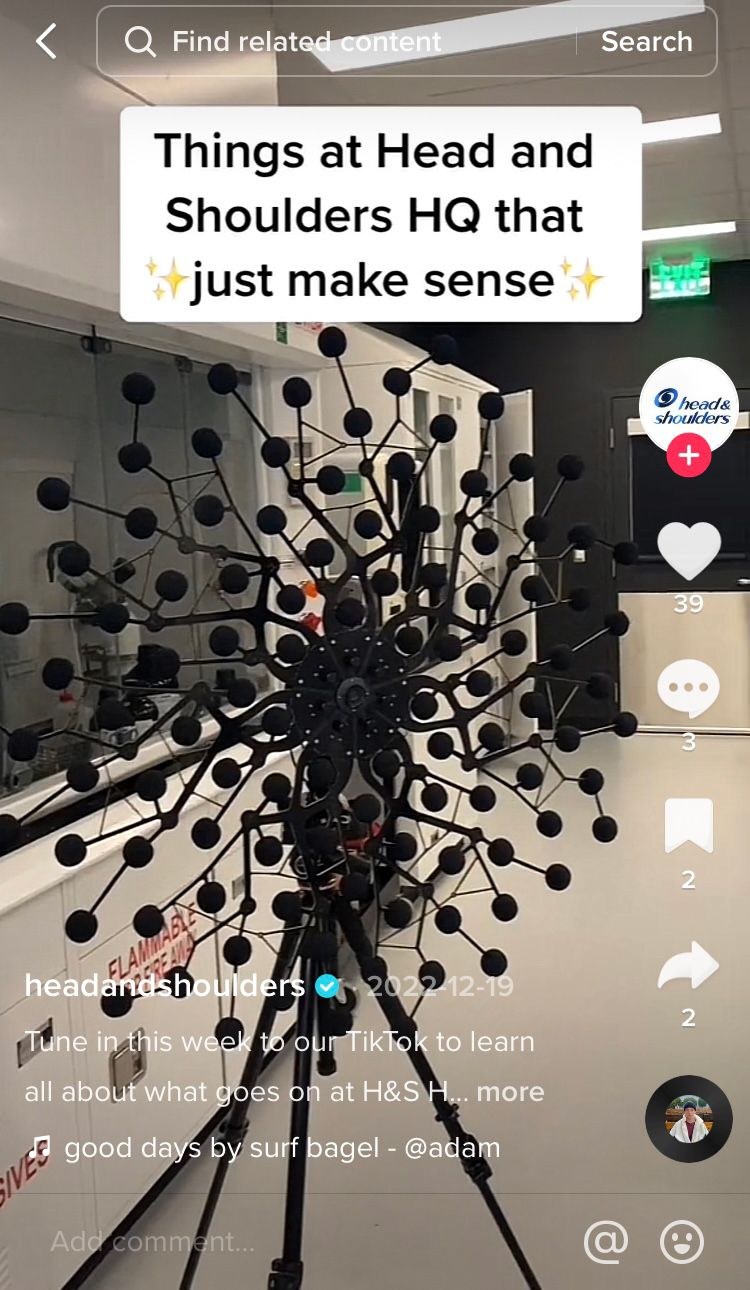 10. This app needs Google Maps.
You've done the work to straighten out your social media locks, now it's time to turn that effort into cash. You've gotta make it easy for potential customers to find and buy your products if you're going to reach your business potential. After all, social media is pointless for a brand if it doesn't actually help you reach your business goals.
Make sure you're using the link in your bio to direct potential customers off your TikTok profile and onto your website to make purchases. Your content acts as advertising, product promotion and customer relations but you still need to drive the generated traffic to its final destination - the checkout basket on your website.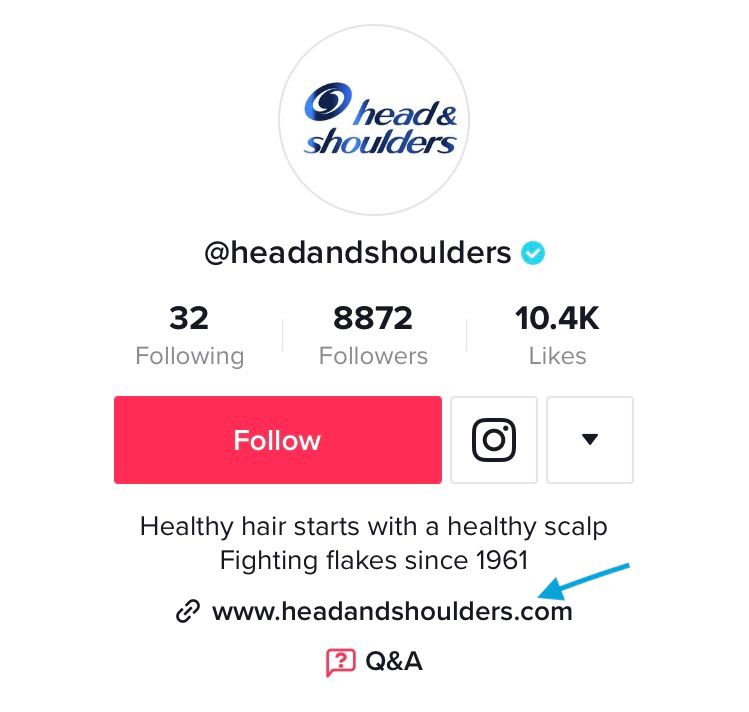 We hope this article made you feel as shiny as a haircare commercial - with airbrushed skin, hair blowing in the wind, secret extensions undetectable and Beyoncé levels of confidence - ready to strut your stuff all over TikTok. Pair this new-found fabulousness with Minter.io - the analytics tool to help you stay on track. Have a sneak peak at it now and get all the tools you need to keep slaying on social media.
---
TikTok analytics to help you make your best content yet.
Try Minter.io!→