How To Create A Twitter Poll + 10 Clever Examples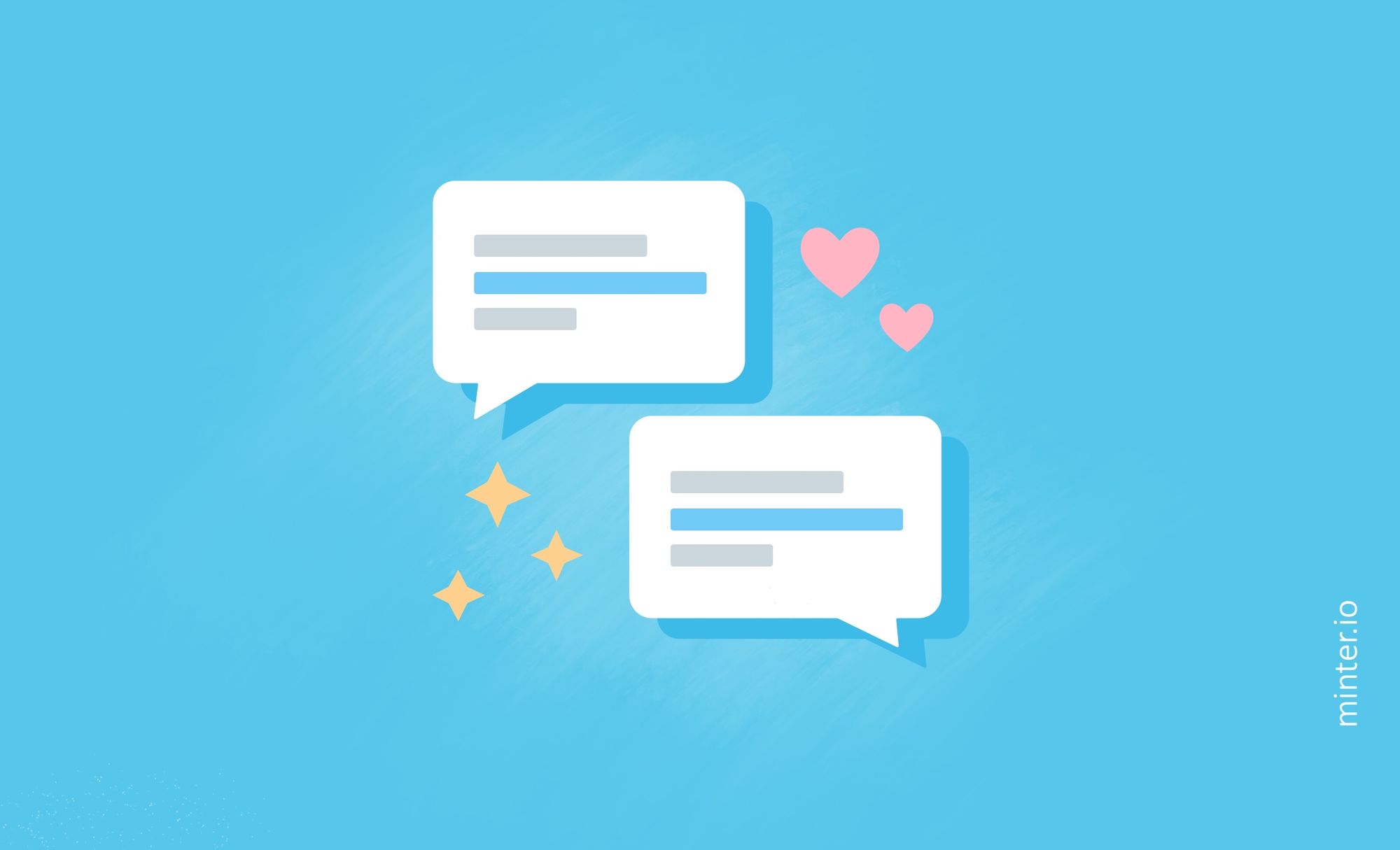 Twitter polls are an opportunity to pose a question to your audience and give viewers options to choose between. This aims to encourage interaction, grow your engagement and develop your brand on Twitter. Twitter polls are simple to create as they are built straight into Twitter. We've put this guide together to show you exactly how to create a Twitter poll, alongside 10 ways brands are already using them to mix up their content.
How To Create A Twitter Poll
Go to your homepage to start to write a tweet.
Click on the 3rd icon to create a Twitter poll.

3. Add a question and some choices.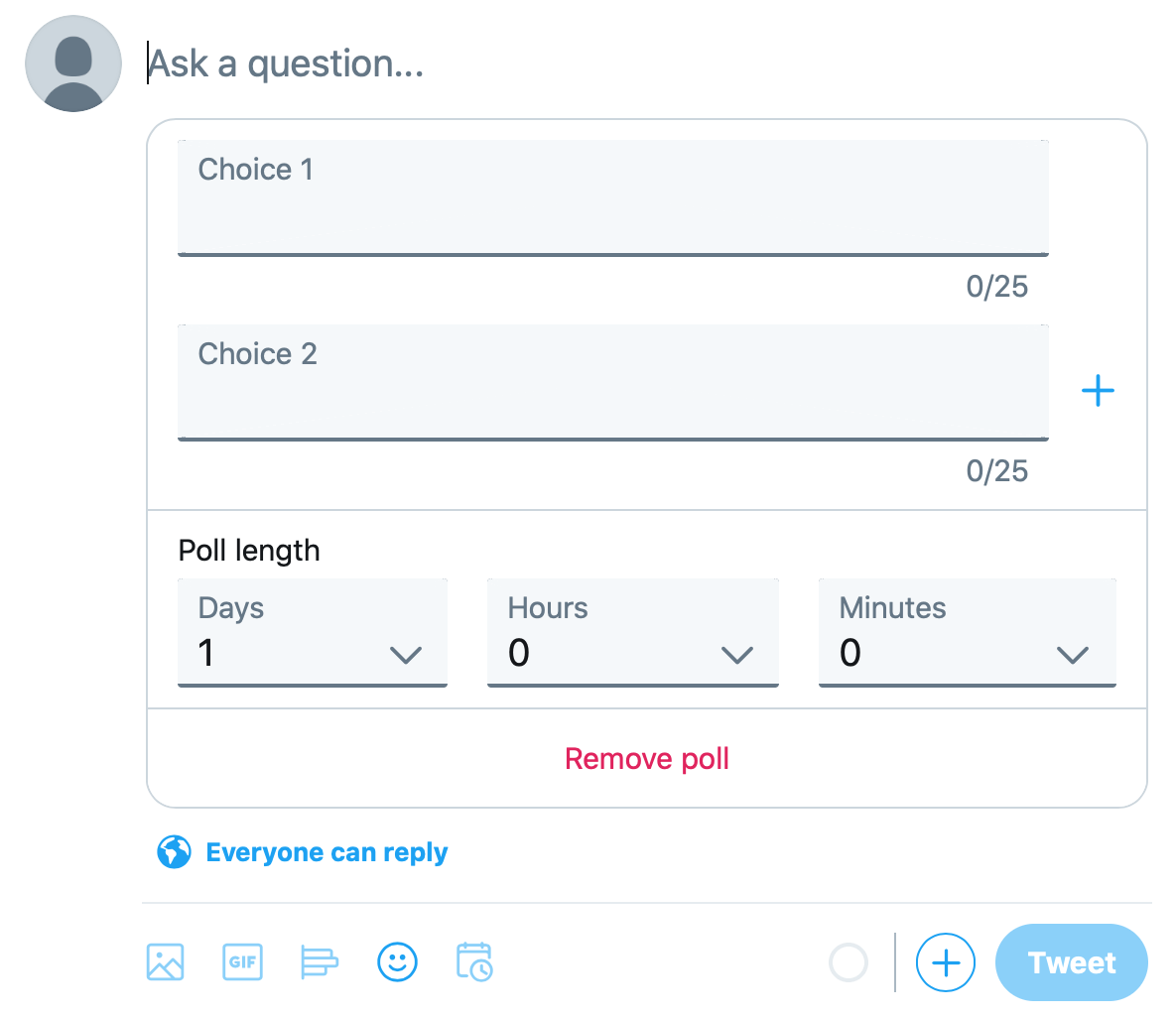 4. Add additional choices by selecting the plus button to the right. You can add up to 4 choices.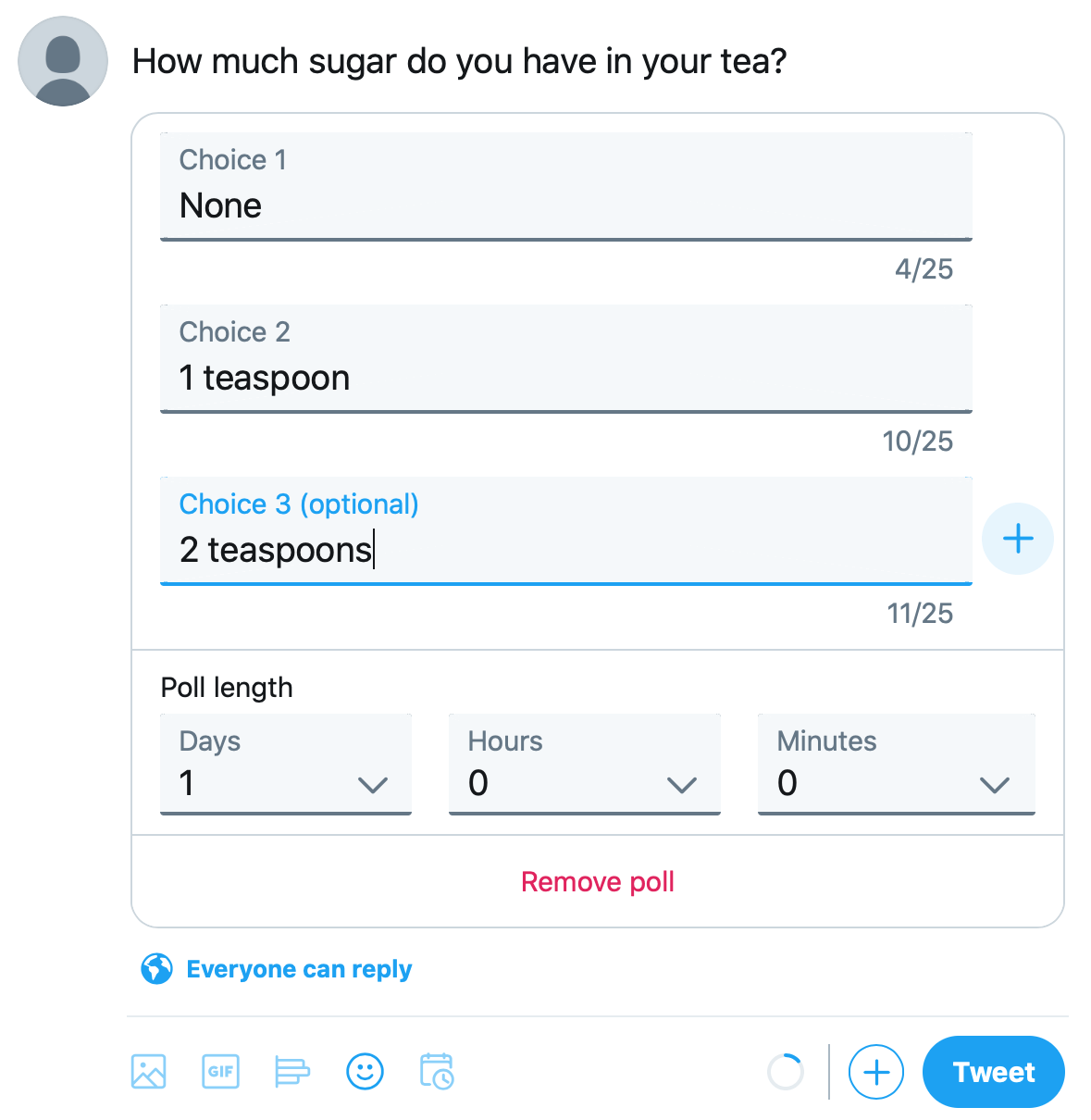 5. Select poll length. The maximum length is 7 days.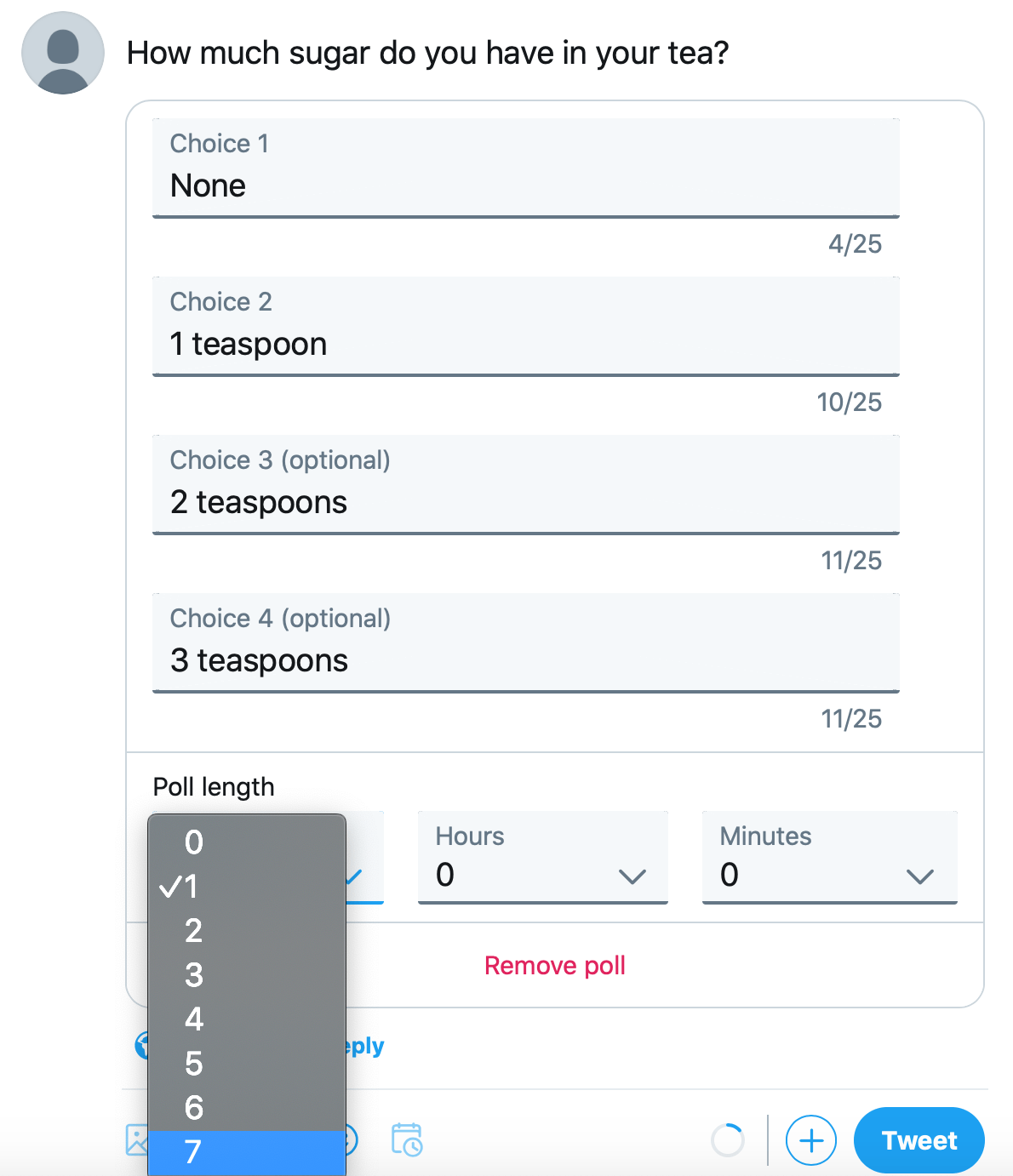 6. Press 'Tweet' for your Twitter poll to go live.
10 Clever Examples For Your Brand
Now that you know how to create a Twitter poll, here are 10 examples from brands already doing it, with a whole host of ideas for you to draw from.
Quiz Your Customers
Twitter polls are a great opportunity to learn about your customers. In finding out about how the majority of your engaging customers go about their lives, you can tailor your services and products to suit their needs.


Peruse Customer Preferences
Want to know what your customers like about your brand and which products are their favourites? Ask them with a Twitter poll. If you're thinking of bringing back a product like in this example, a Twitter poll can double up to build excitement. It will also encourage more votes as customers try to get their favourite to the top of the pile.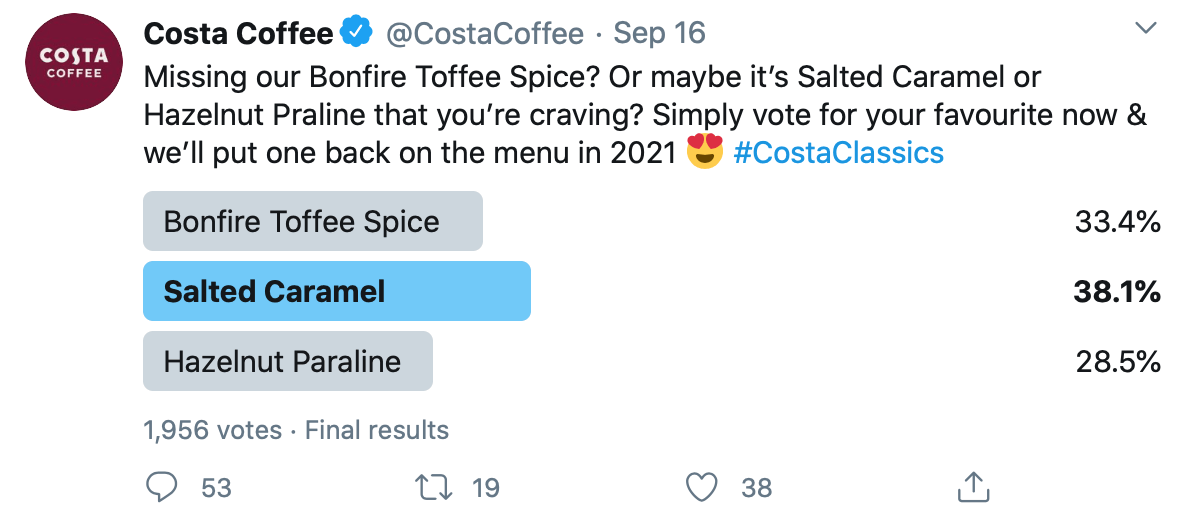 Rally Up For Releases
Of course, you don't have to give your audience a choice of product to get them excited about a release. Krispy Kreme have announced their release and created a sense of fun around it with this Twitter poll. This kind of idea works for events too!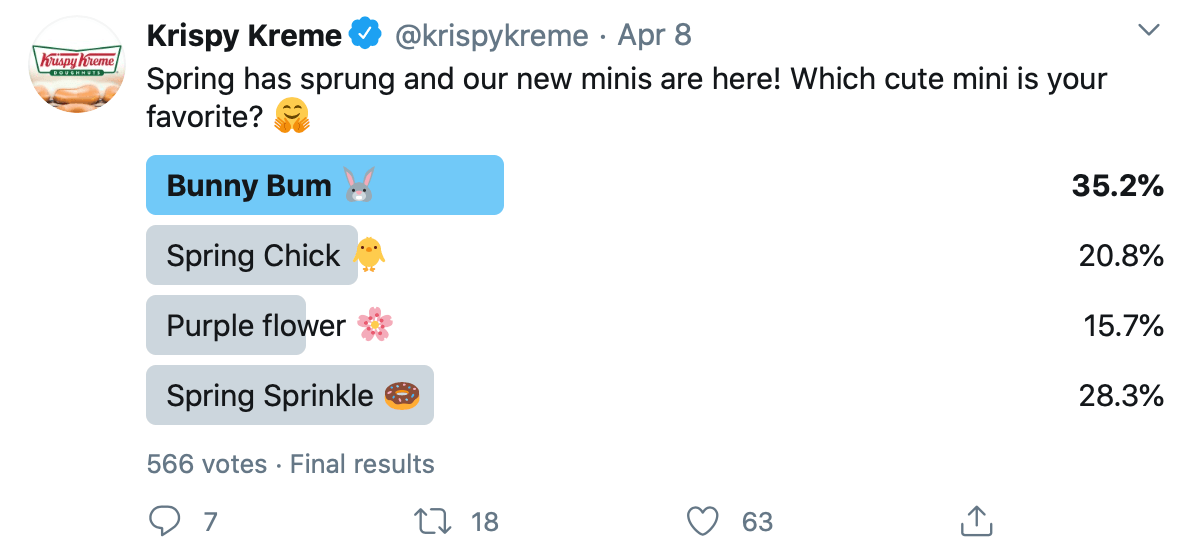 Let's Get Seasonal
Adding seasonal flare is another great excuse to get your audience voting on a Twitter poll. Look at how Tinder have squeezed the opportunity by creating a thread of polls on a Halloween theme.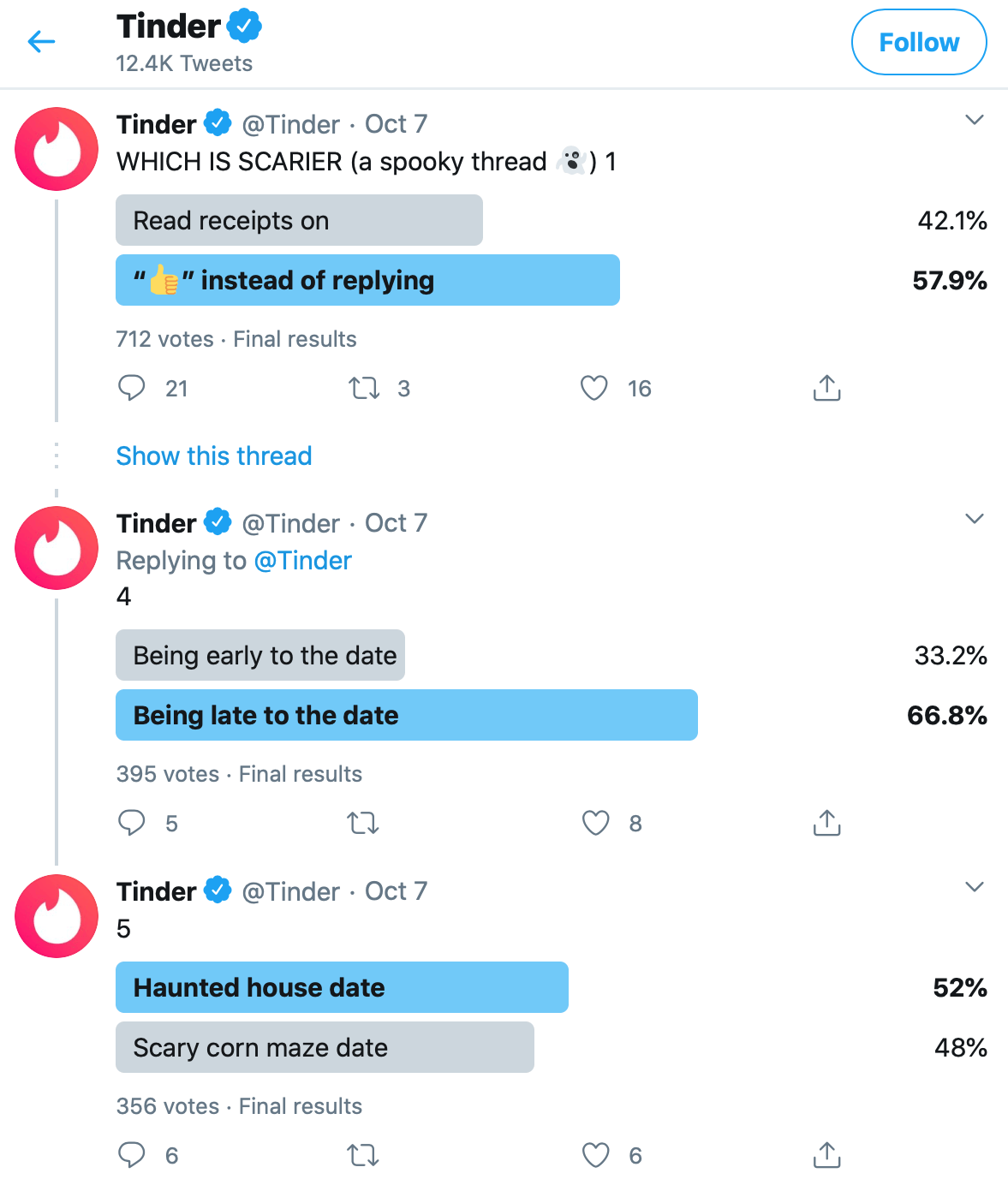 Conjure Up A Conversation
Want to start a conversation? Give your audience some options to spark communication. Whether you'd like the conversation to be about the best brand, beer, boxer or place to brunch, a Twitter poll can be a great place to start a discussion.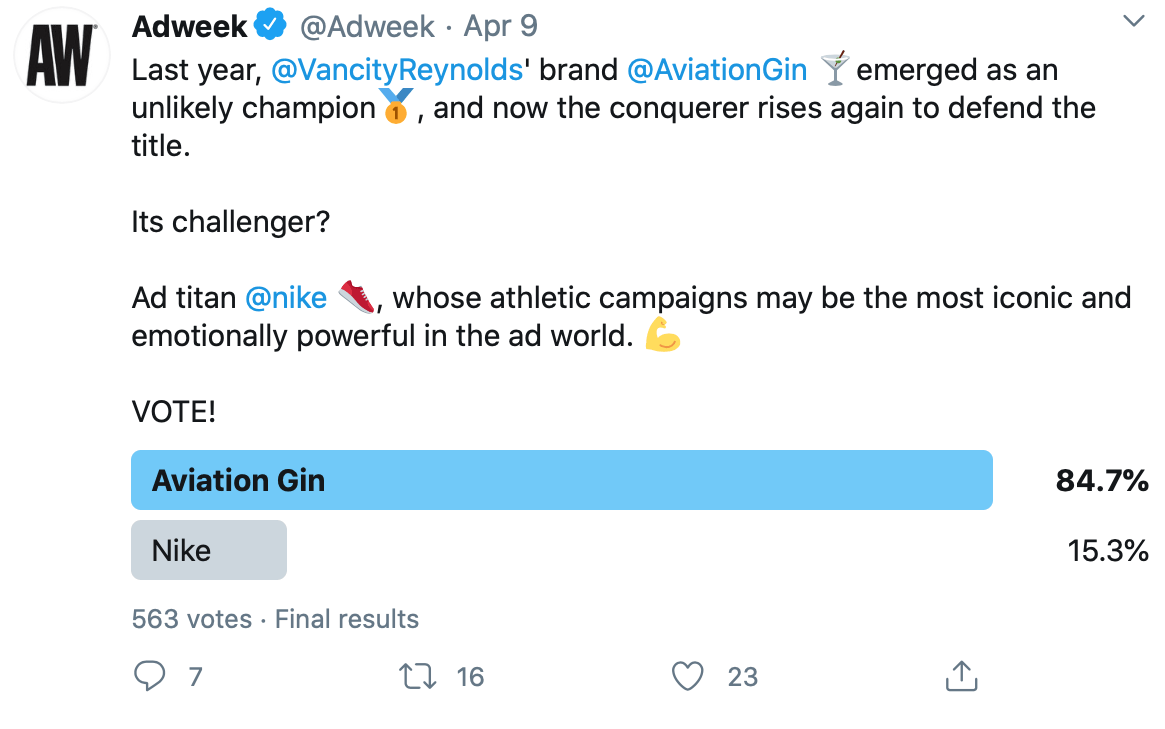 Crash A Current Conversation
A Twitter poll doesn't have to be a stand-alone piece of content. You can always get in on an already-thriving conversation and stake your piece of Twitter real estate with a Twitter poll attached to a trending hashtag.

Customise Your Content
If you're at the beginning of your Twitter journey and you've brought your audience over from another platform, asking your audience about the kind of content they'd like to see can be a good place to start. Perhaps you'd like to hone in on what your current audience wants to see more of and which content you can spend less time on.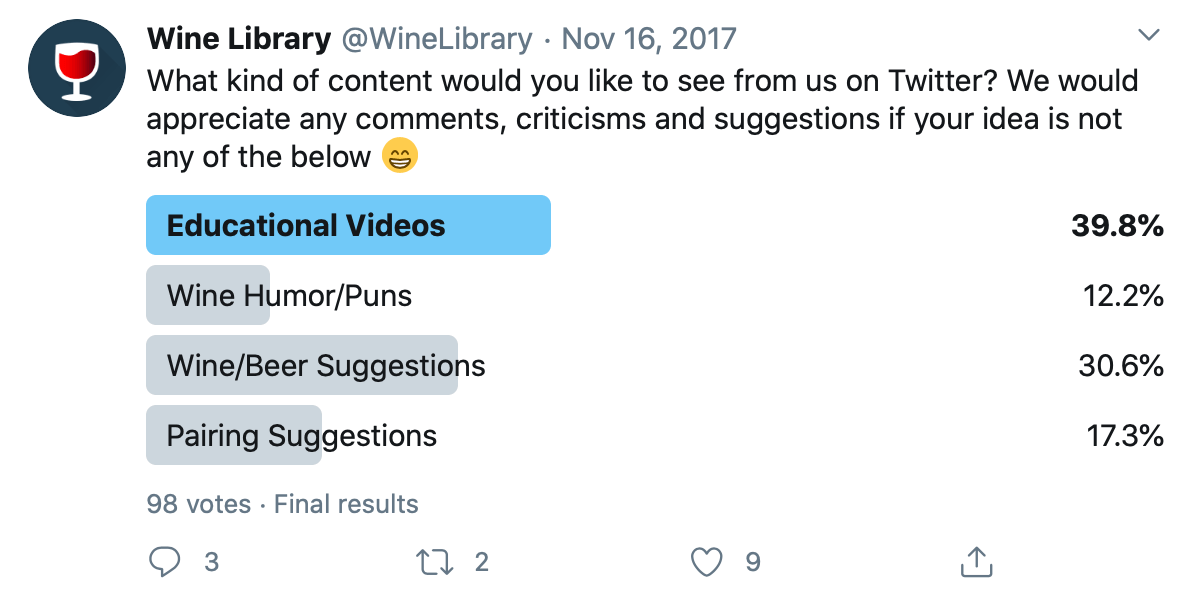 Find Feedback
Equally, if you're thinking about trying out a new way of doing things, check in with your audience to see if they'd be on board. This could save a lot of time and effort in the long run.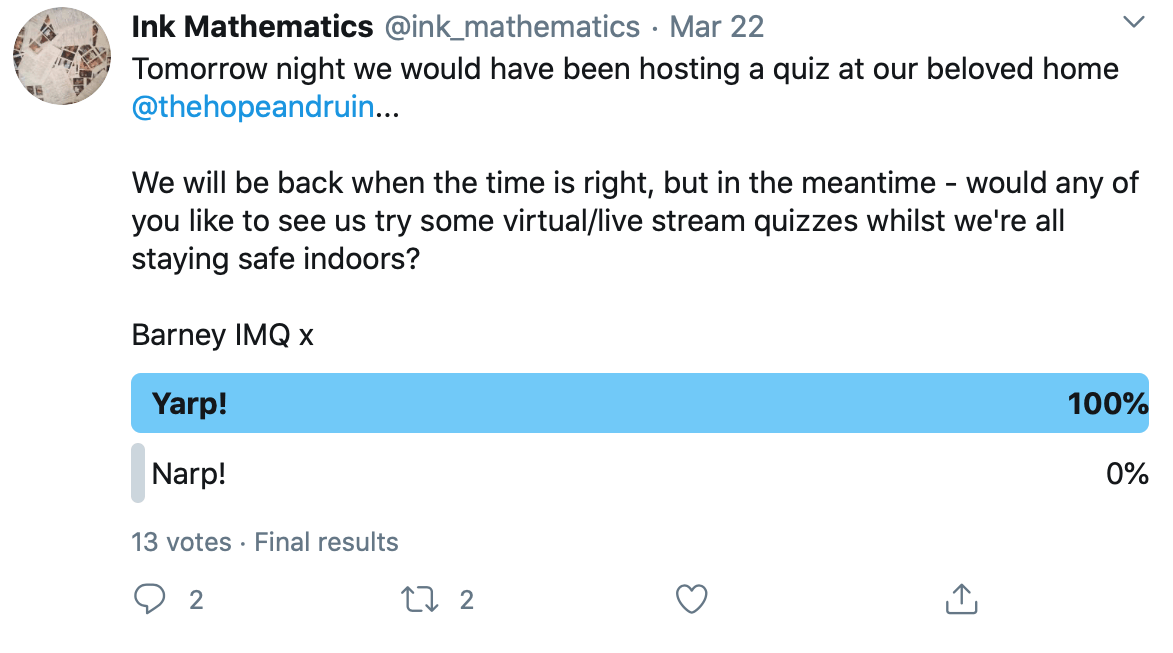 Focus On Fandom
For a fun take on Twitter polls, engage the emotional side of your audience with a Twitter poll about their fandom. Whether you make it about factual people, characters from a film or book, celebrity crushes, characters from a show or competitors from a sport, you can even add an image on an additional tweet on the thread to drive the competition.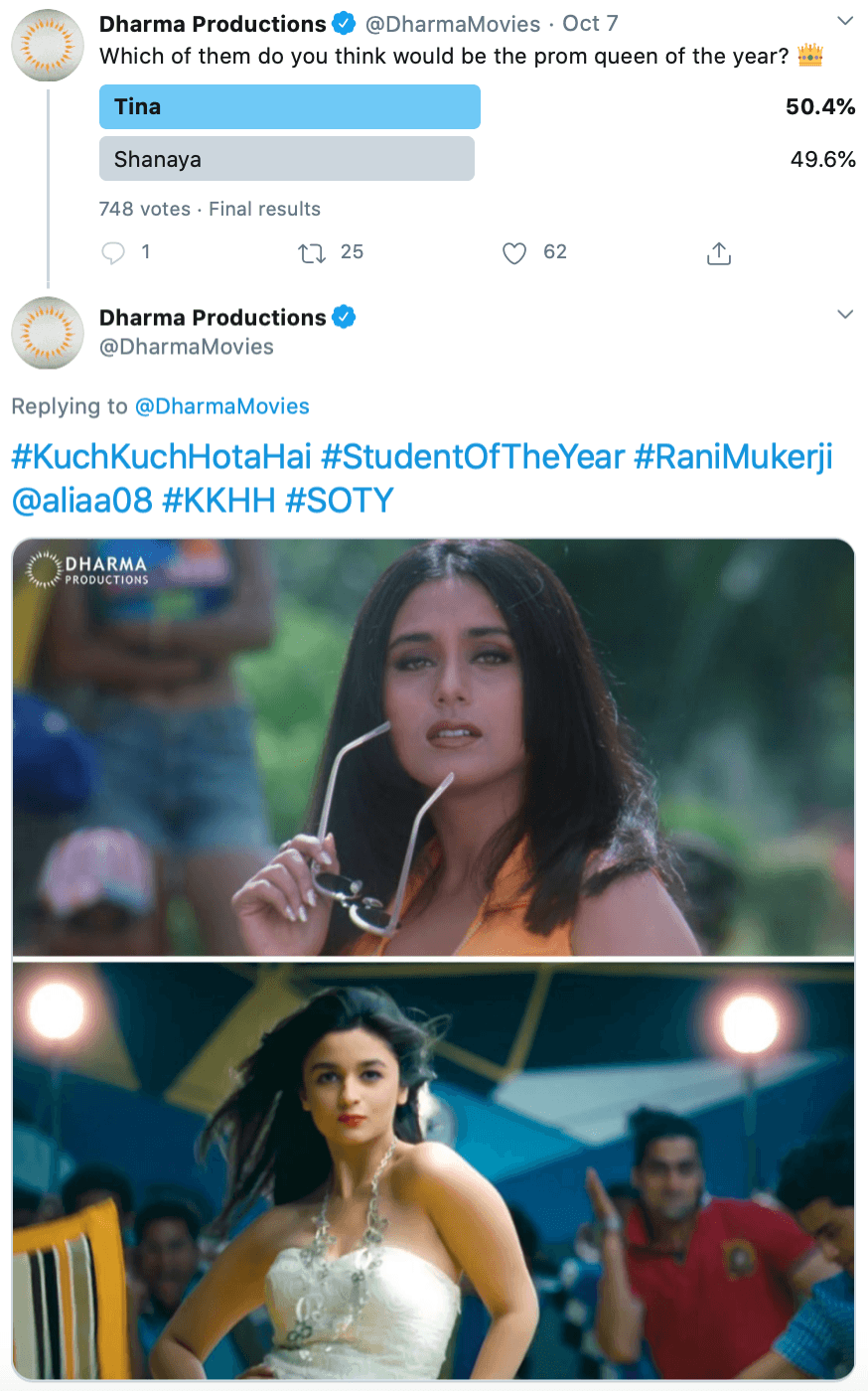 Have Fun With Facts
Get factual with a quiz-style Twitter poll to excite the intellectual brain and grow the knowledge of your fanbase.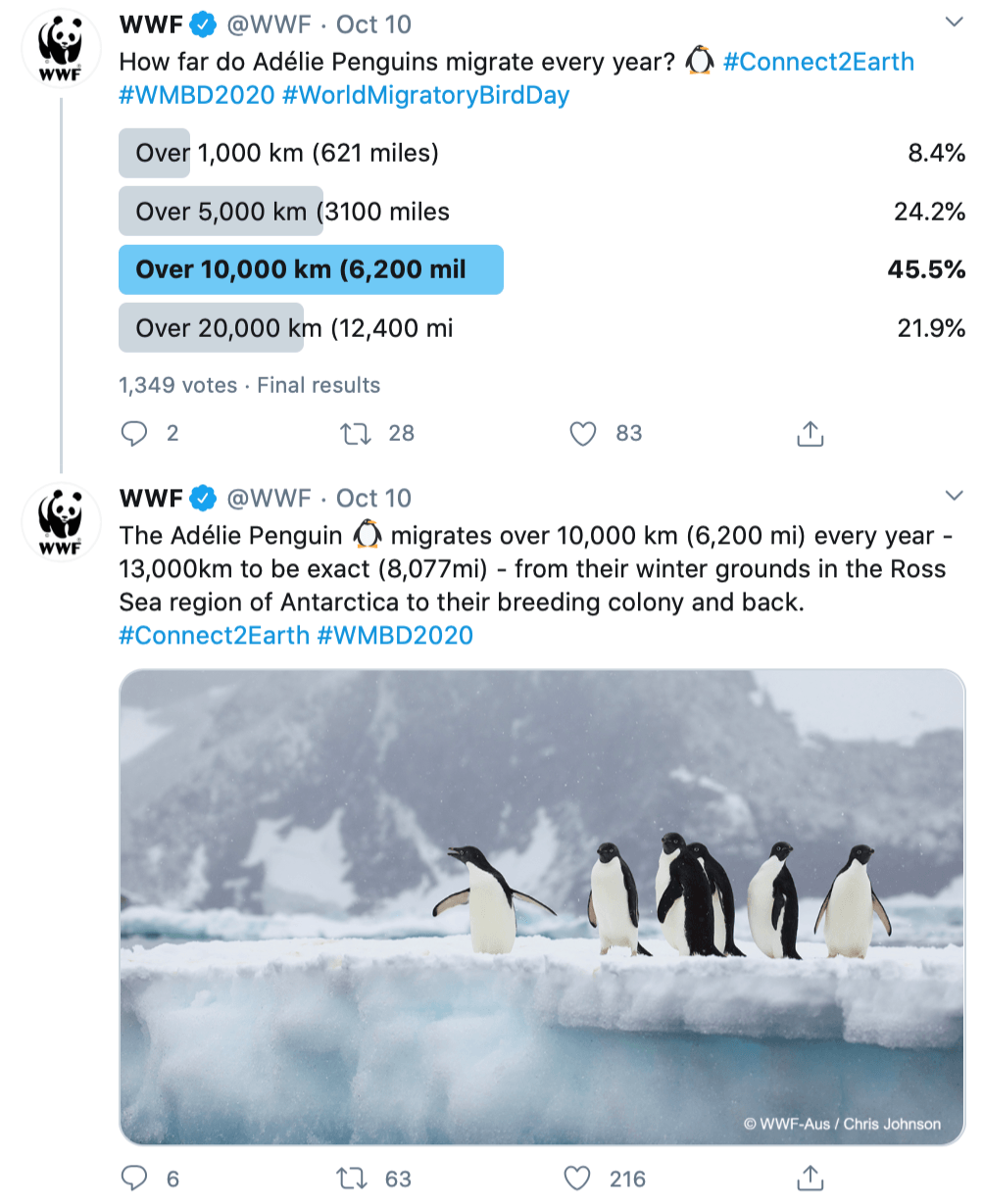 Get creative with Twitter polls and engage your audience in more ways than ever before. Have you checked out Minter.io yet? Learn what is really working for your Twitter audience with all the data you need from the in-depth analytical tool for every business online.