How to switch to a TikTok business account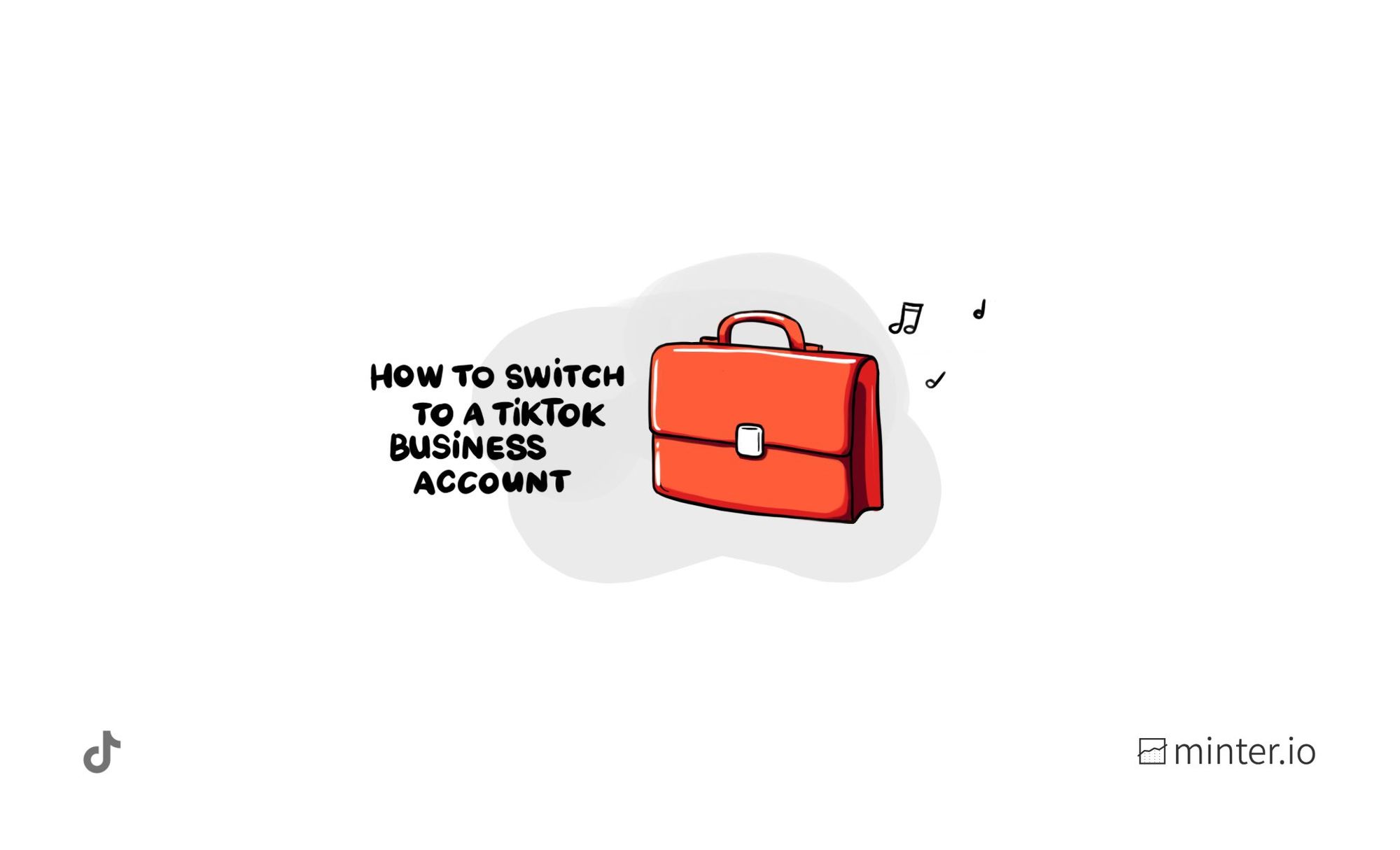 With over 1 billion users on TikTok, you're missing out big time if your business isn't making the most of TikTok's features. If you haven't yet switched to a business account, this is the article for you. We're going to show you how easy it is to make the switch, the features you'll gain and how you can use them to grow your business on and off TikTok.
How to switch to a TikTok business account
If you've got a brand or business on TikTok, consider switching to a business account. It's free and simple to do, it unlocks several features designed specifically for business use and you can switch back to a personal account at any time if it's not for you.
Switching from a personal account to a business account on TikTok is simple.
Here's how:
Open the TikTok app.
Select 'Profile' from the navigation bar at the bottom of the screen.
Tap the 3 bar menu in the top right-hand corner of the screen.
Choose 'Settings and privacy'.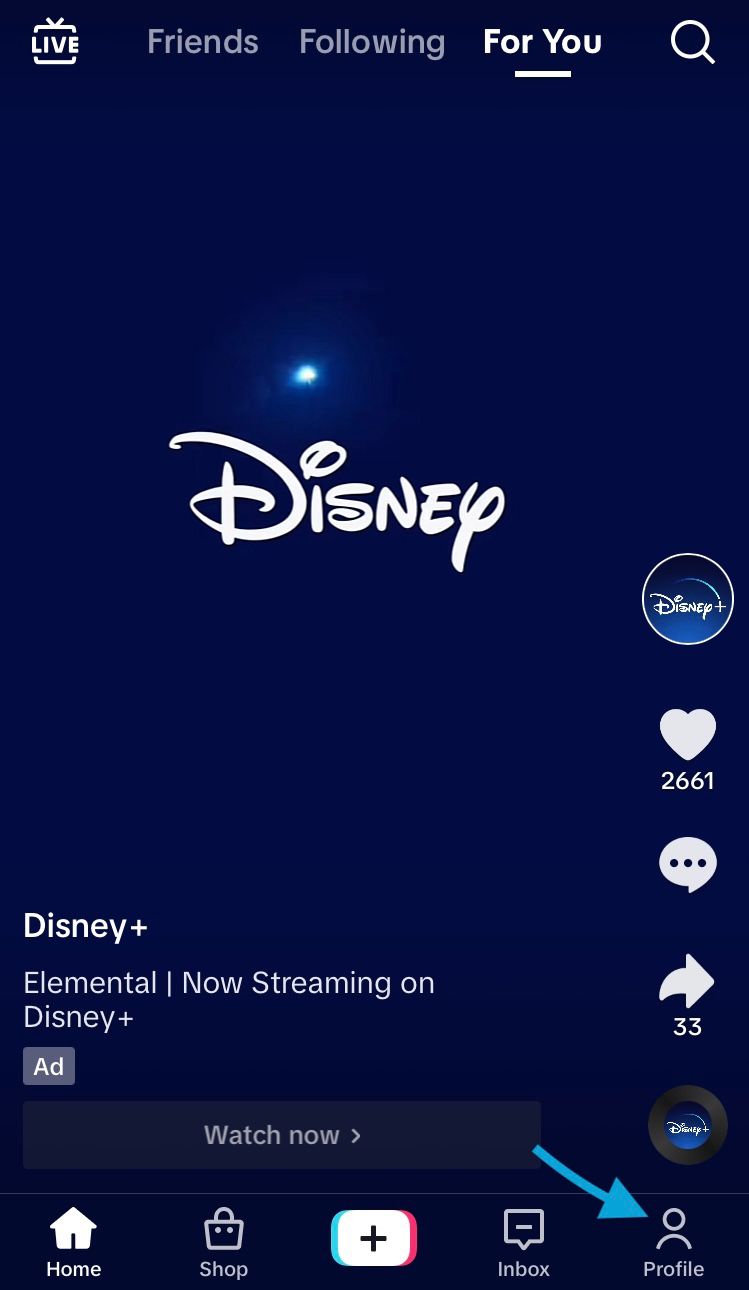 Tap 'Account'.
Select 'Switch to Business Account'.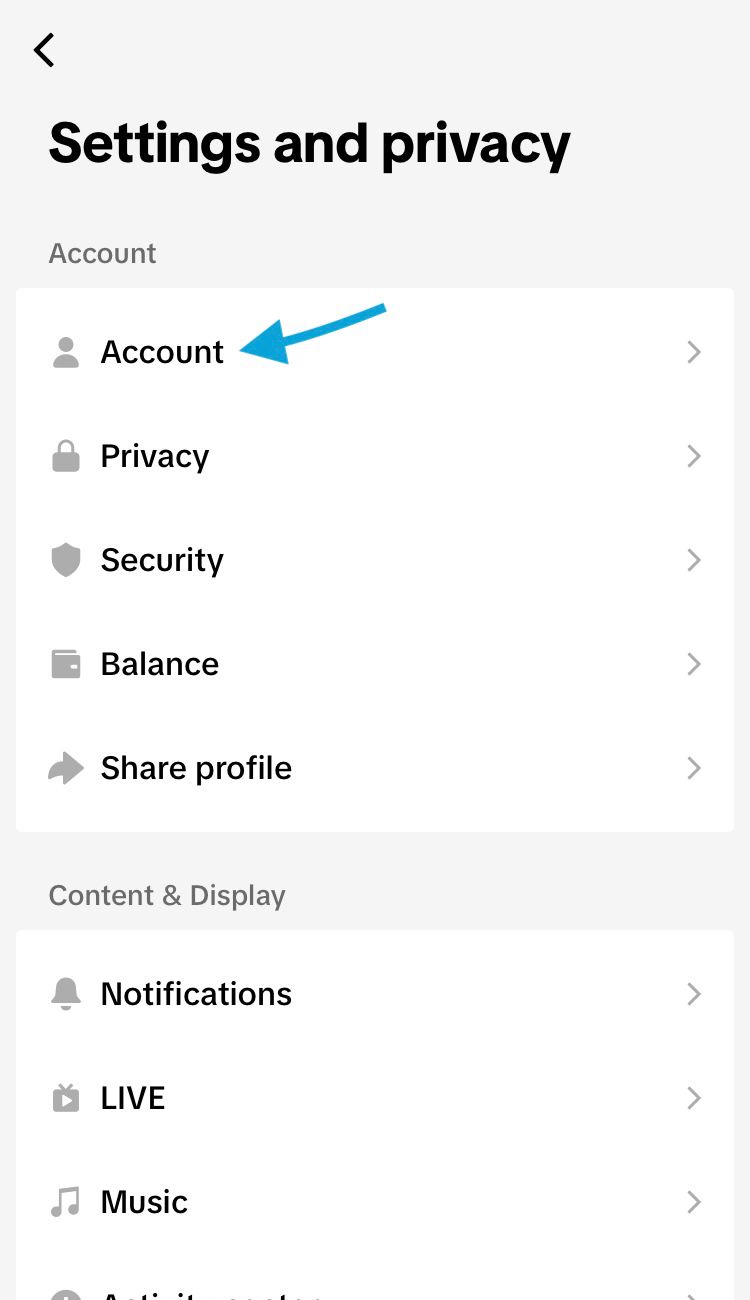 Tap 'Next' on each information screen.
Choose a category.
If you haven't already, you'll be prompted to add a profile photo, add a bio and create your first video.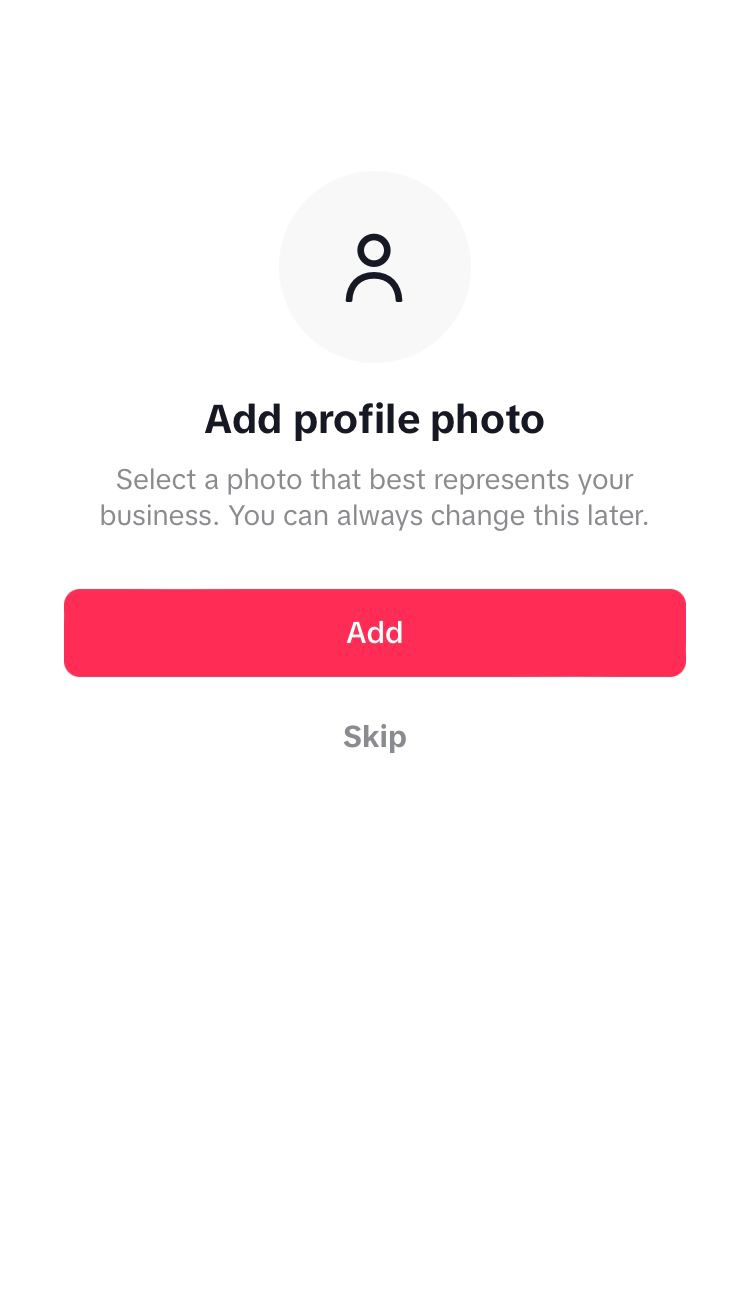 You can switch back to a personal account at any time by following steps 1-5, then selecting 'Switch to Personal Account'.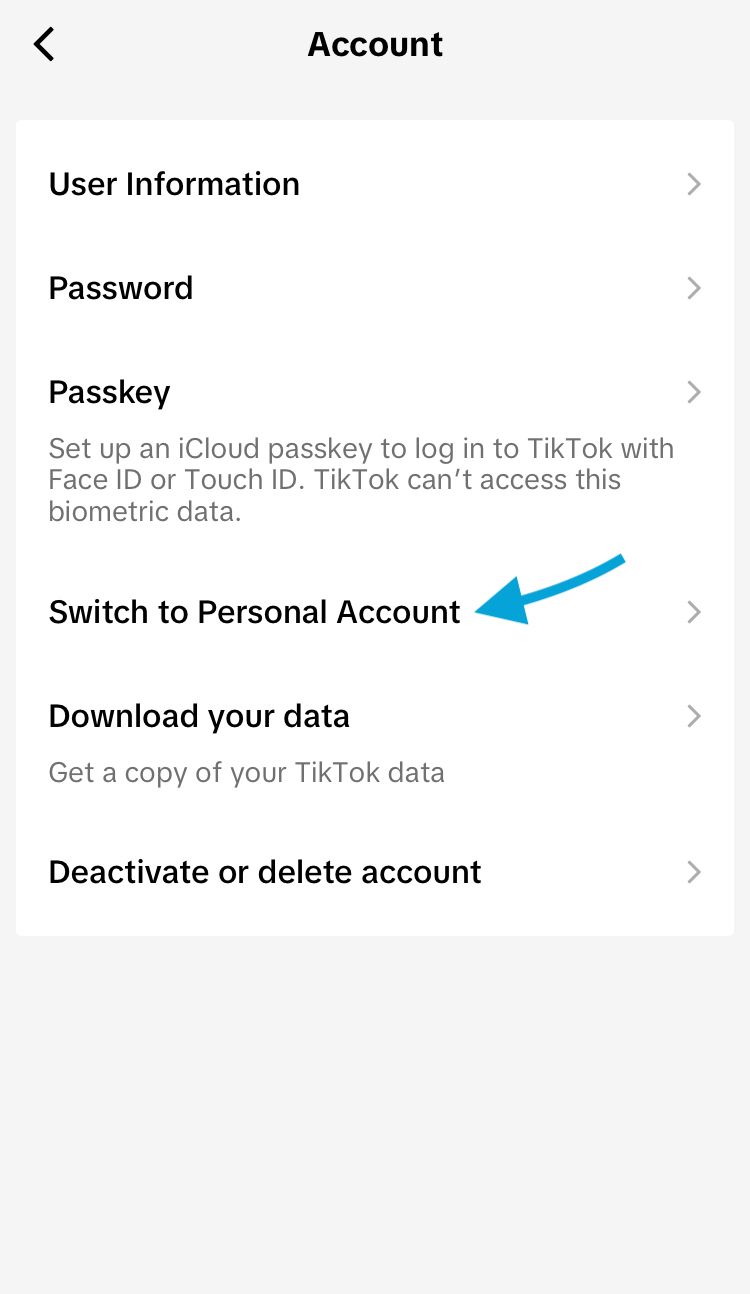 Unlock features with a business account
Switching to a business account grants you access to several features which aren't available with a TikTok personal account. These features are designed to help you grow your business, connect with your audience and create freely on the platform.
Here's a peek into business account features you won't want to miss out on…
Business suite
The business suite hosts a number of powerful tools to enhance your presence on TikTok. From a creative hub of inspiration to ad management, you can fulfil a lot of your business needs from here.
To access it:
Go to your profile.
Tap the 3 bar menu in the top right-hand corner of the screen.
Choose 'Business suite'.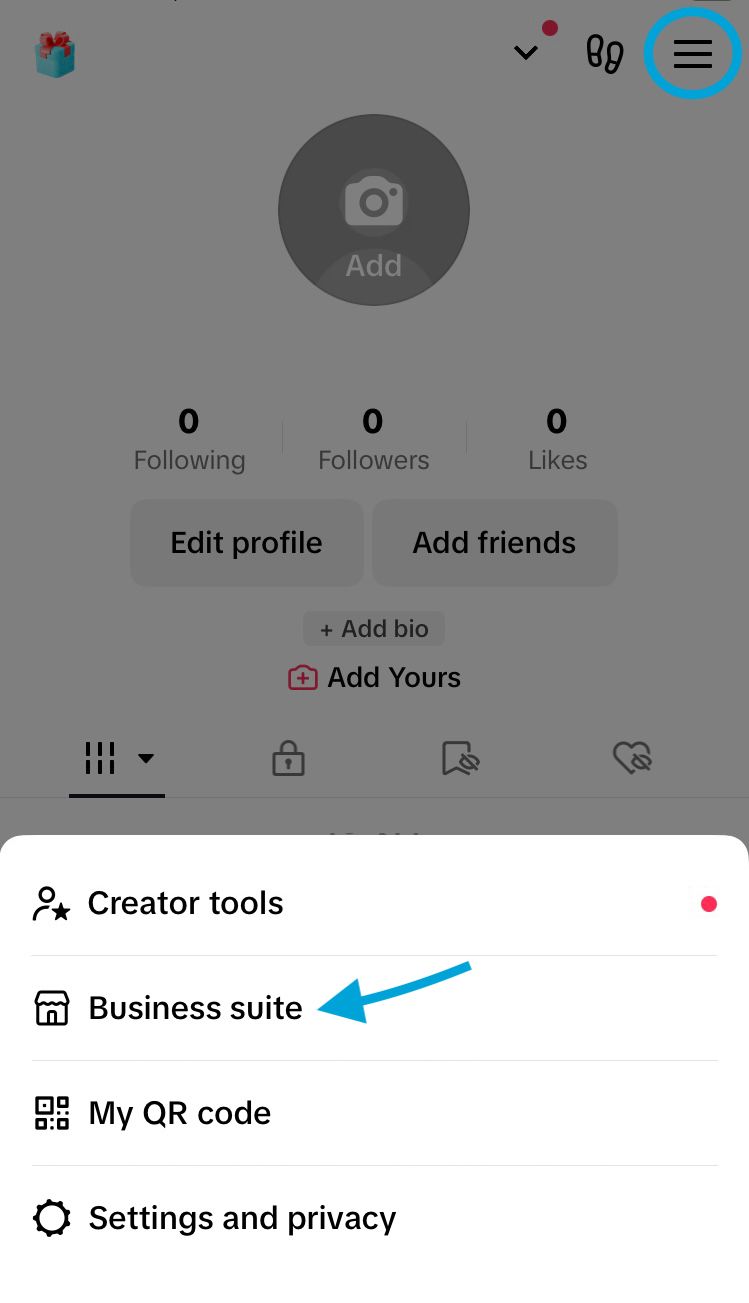 Now you have a whole host of tools at your disposal. Let's explore them…
Analytics
View analytics for your TikTok videos, audience and live videos. This gives you insight into how viewers interact with your profile and your content. It illuminates the demographic(s) your content appeals to and which content performs the best.
When it comes to analytics, the more data you have to hand, the more you can craft content that makes a difference to your business. Get even more analytics, over a longer time period, with additional optimisation graphs (such as most effective hashtags) from Minter.io - the social media analytics tool for your business online.
Creative Hub
The Creative Hub is your playground for scooping up heaps of inspiration. Scroll through trending accounts, hashtags and music to spark ideas from content that's performing brilliantly on the platform. TikTok automatically aims to show you content that's relevant to your business category, however you can filter content by any category to find different ideas to replicate for your own brand.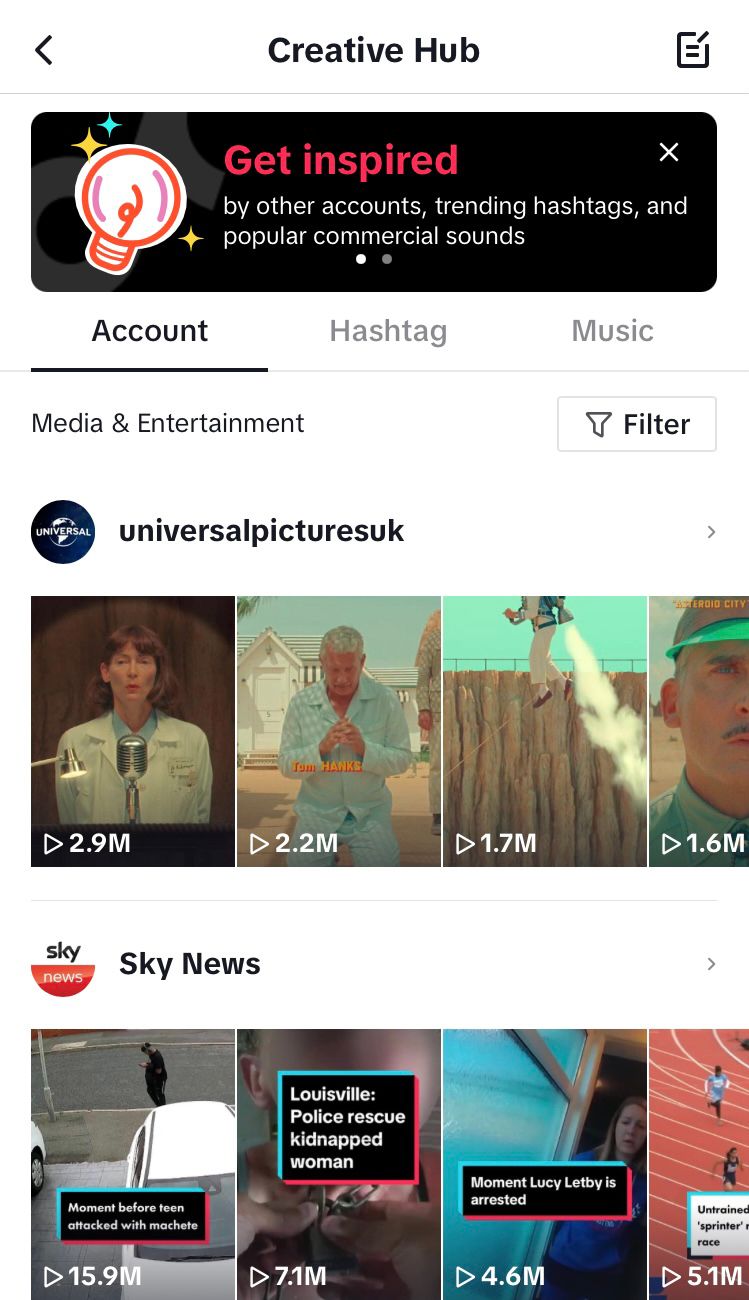 Business content
The business content section groups together collaborations made with other creators on TikTok. Here you can approve partners (so they can tag your account in branded content), view insights and even create spark ads (posts made by other creators that you can use with their permission).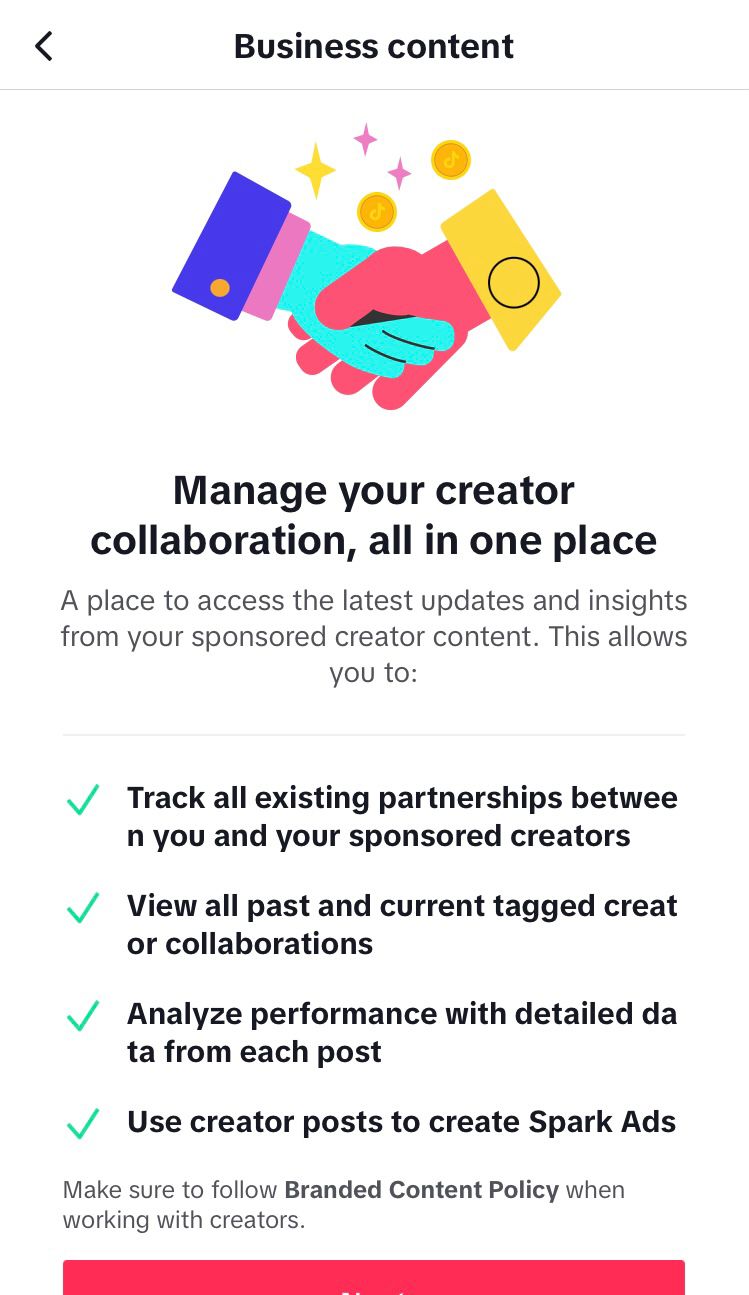 Auto message
As your presence grows on TikTok, setting up auto-replies and shortcuts to frequently asked questions could be a good idea. This simple and effective tool aims to save you a shedload of time and energy, while helping your audience find accurate information quickly.
Choose to enable or disable a welcome message, keyword-auto replies and suggested questions by toggling the buttons beside them.
Customise your welcome message with up to 250 characters to play with, or stick with the auto-generated welcome message applied instantly by TikTok.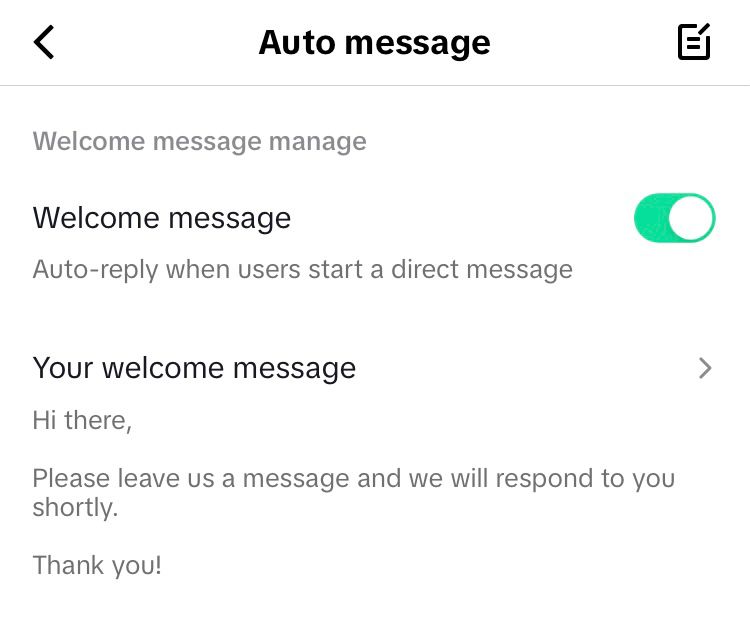 You can add up to 4 keywords and customise each response with up to 500 characters. Note: Your keywords and response messages must be submitted for review.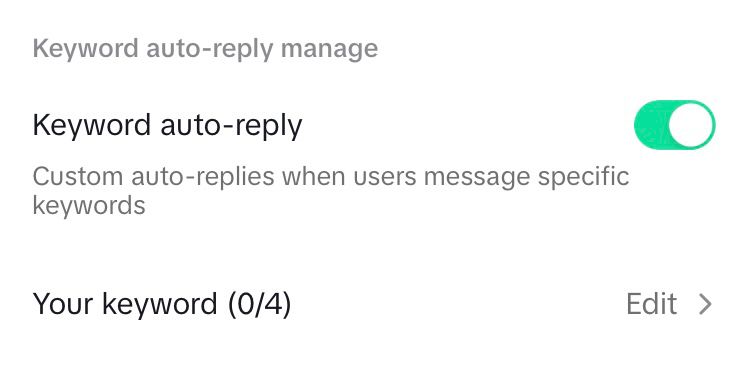 You can add up to 3 questions. Either choose a question from the suggested questions or add your own. Each question can be up to 80 characters long and each answer can be up to 200 characters.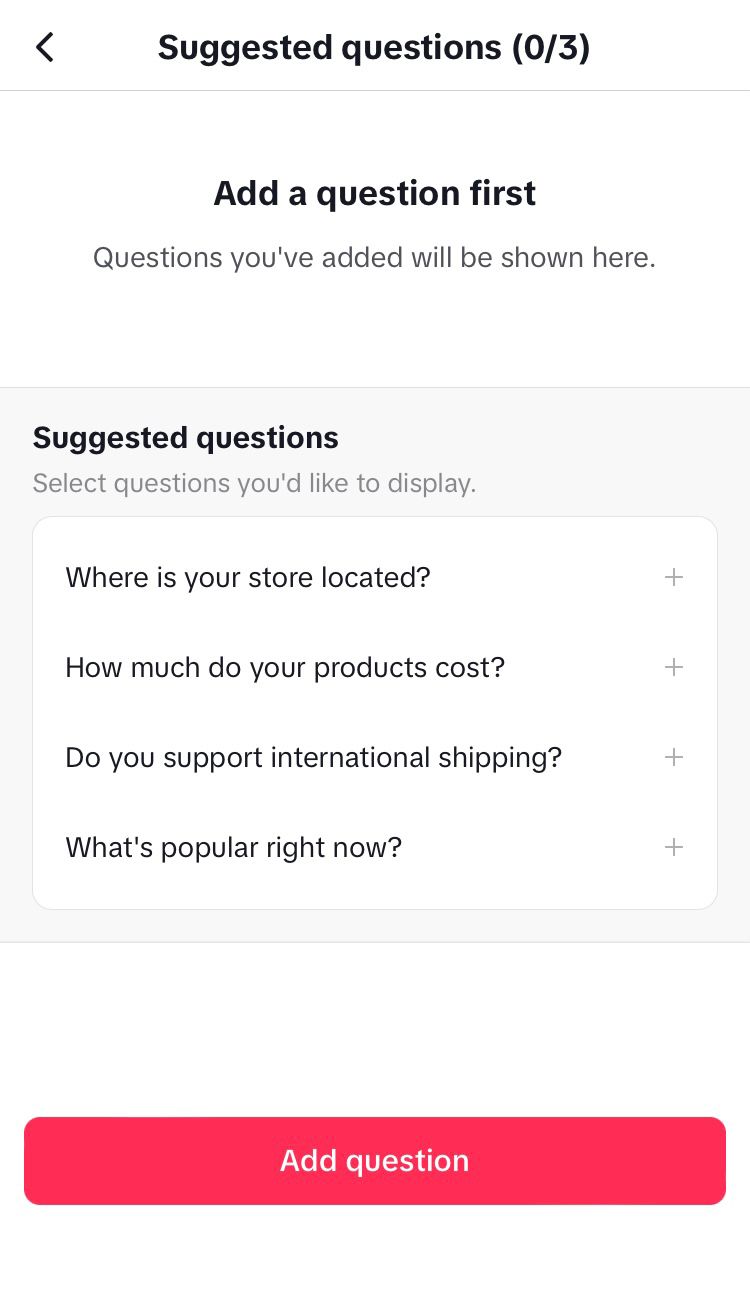 Get leads
With a leads form, you can collect customer information so you can get in touch with potential customers directly. This is great for guiding customers down a sales funnel, aiming to turn interested audience members into customers and beyond. Create a customisable form that can be displayed on your profile, the videos you publish and TikTok live videos.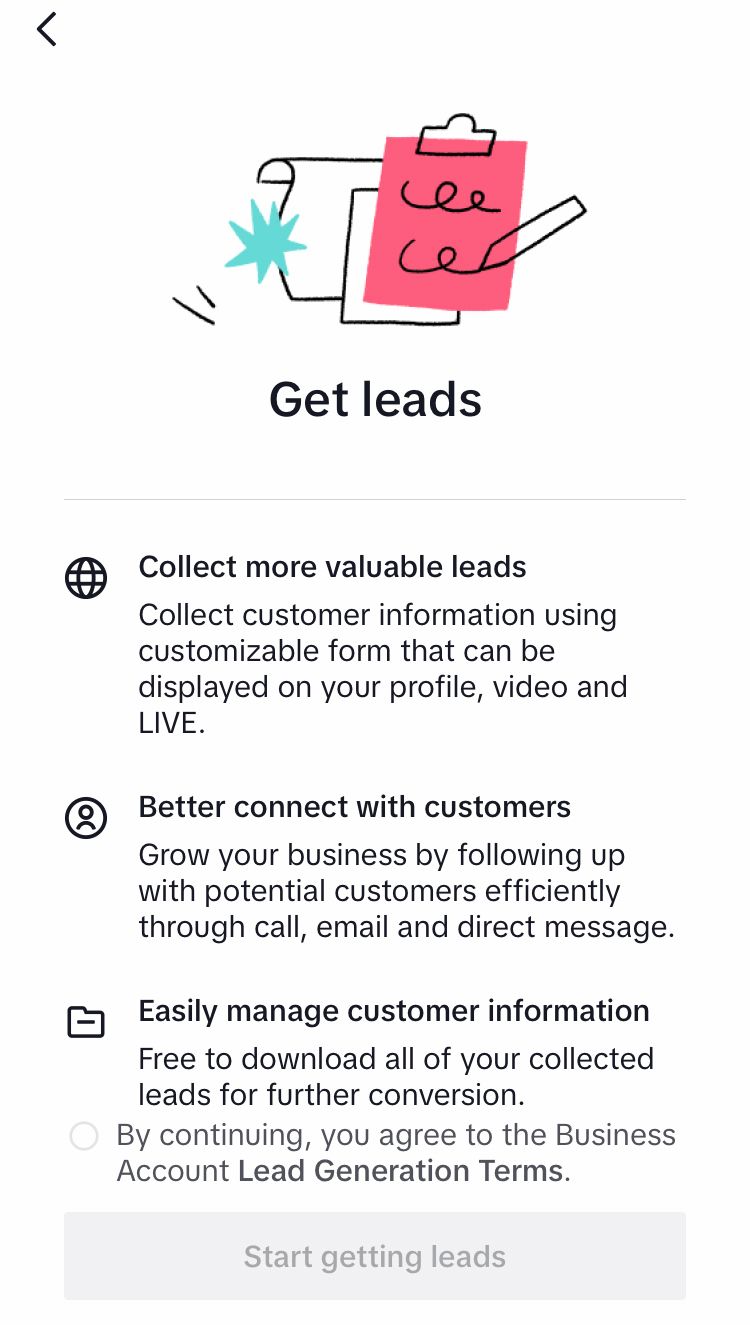 Promote
It wouldn't be a business account without a way to advertise. Promote is the place to do this in-app by paying to put your published content in more content feeds. Think of it as the equivalent of Meta's boost post function.
You can promote posts using a ready-to-use promotion pack or by customising your promotions for other goals. Goals include boosting your account, getting more website visits or aiming for more messages.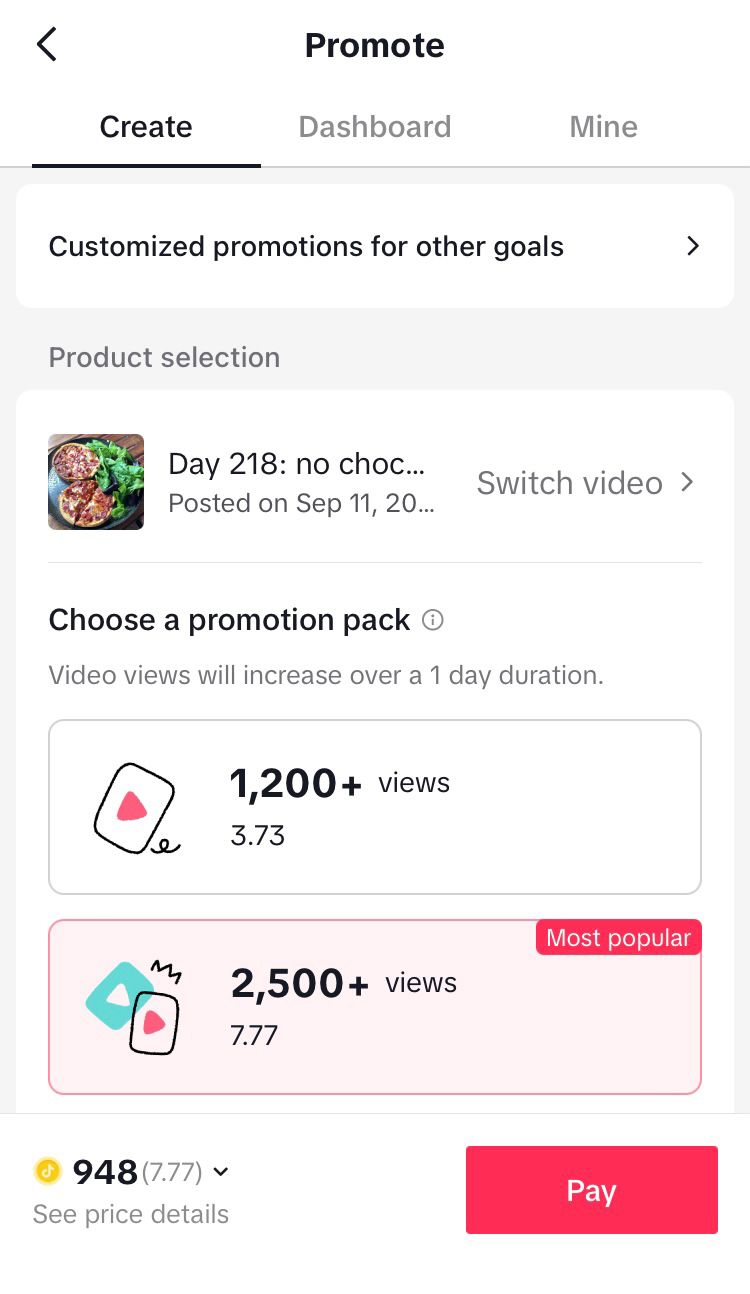 You can choose which content to boost and set a budget and the duration of the promotion. Choose between a default audience that TikTok chooses for you or create your own audience by selecting the gender, age bracket, locations (limited to the country you're posting in) and interests of your target audience.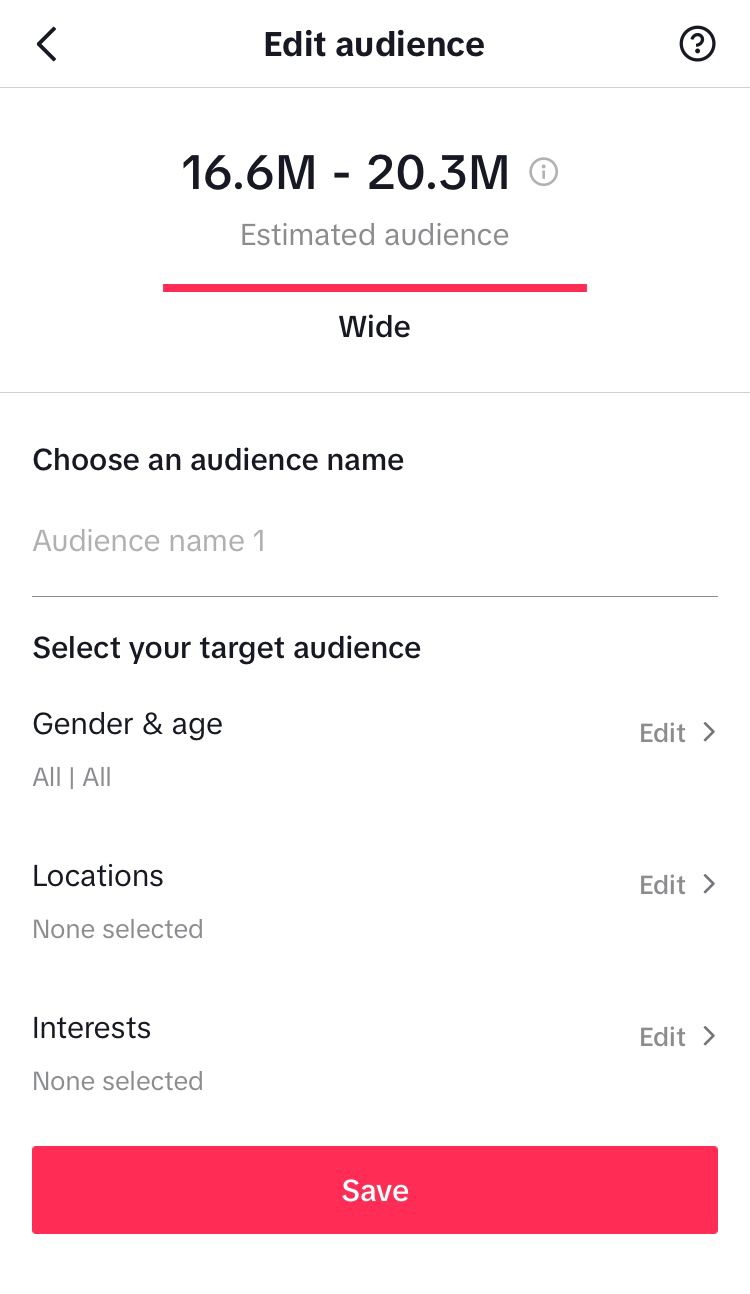 Keep track of your promotions in the dashboard and find more resources in the tab labelled 'Mine'.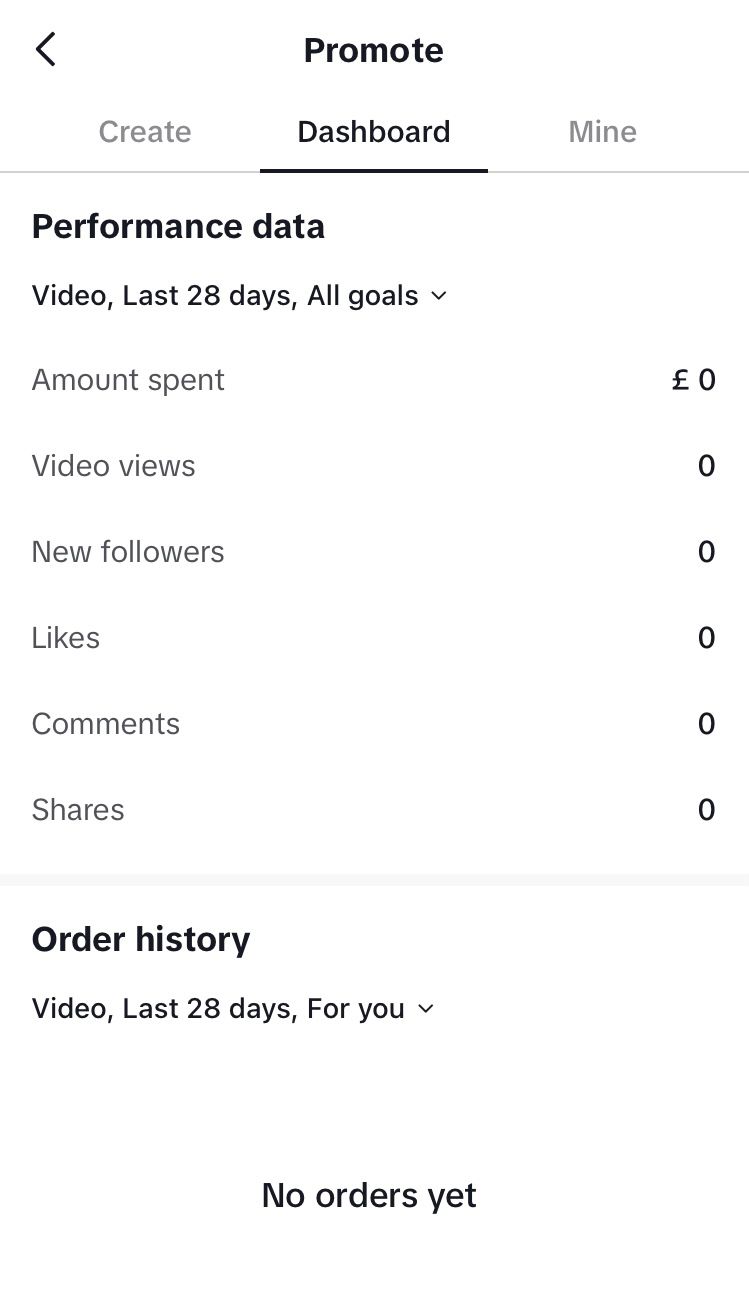 Business registration
Register your business to unlock more features for your TikTok profile. Get access to conversions tools on your profile including a website link, phone number and a leads form for gathering customer information.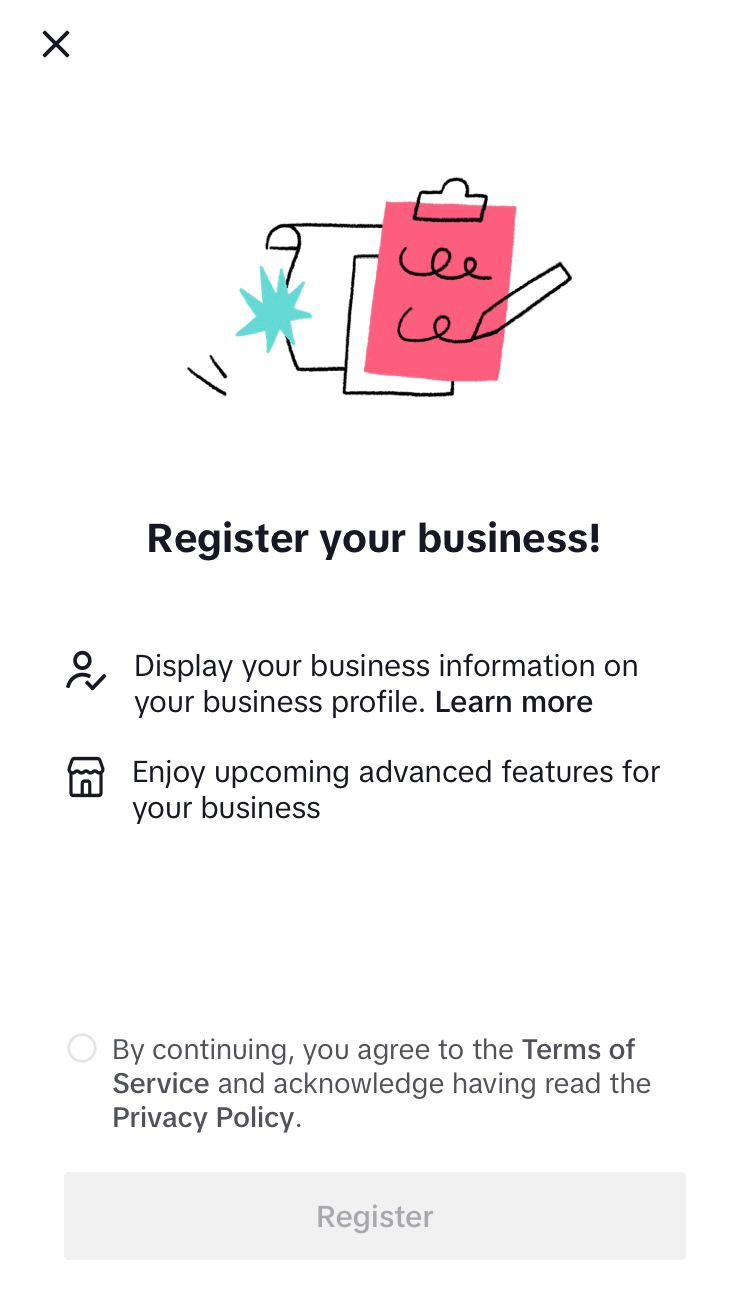 Business information
To add and change business information on your account:
Go to your profile.
Tap 'Edit profile'.
Scroll to the 'Business information' section.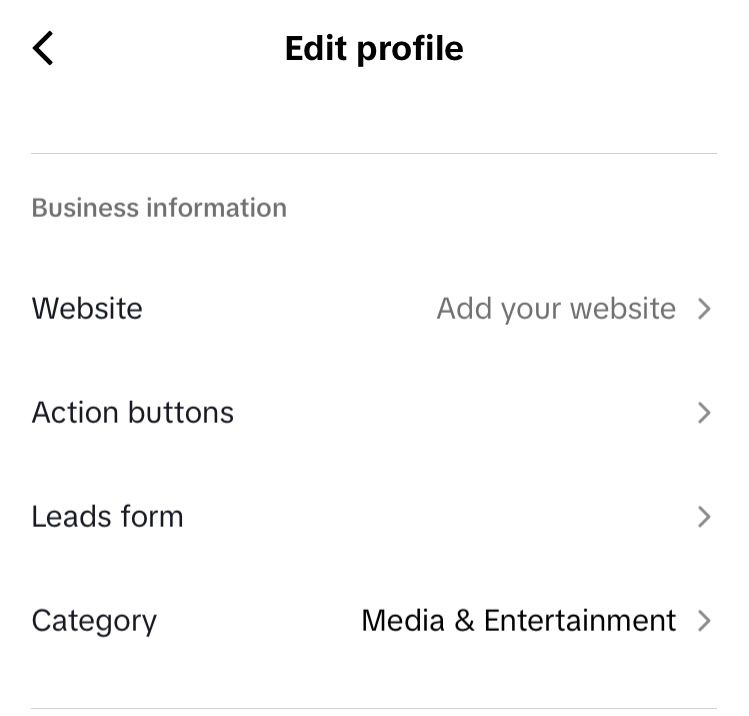 Here's a little insight into the business information you can add…
Website
Adding a website to your profile enables you to drive traffic to your website. This can lead to more sales and business growth. This option is only available to registered business accounts or to accounts that meet a follower count threshold (reportedly 1000 followers).
Action buttons
Action buttons help your audience and potential customers get in touch with your business directly.
Action buttons include:
Email
Phone number
Address
App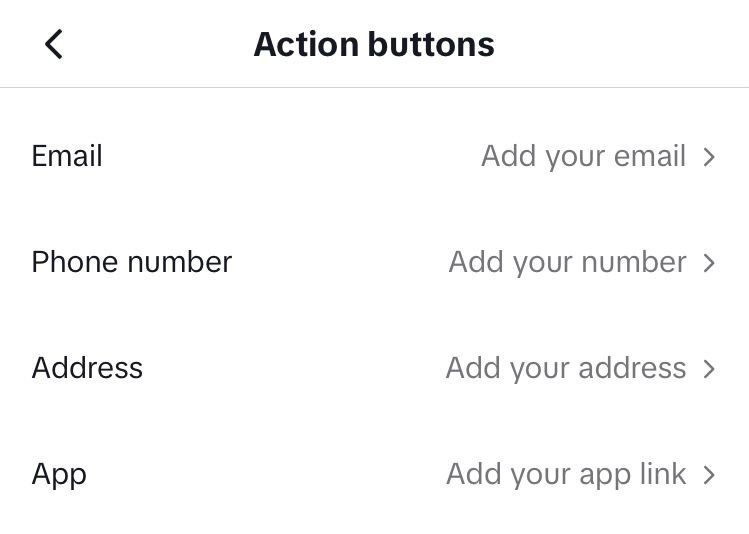 The app action button is only available to registered business accounts.
Leads form
This is another way to access 'Get leads' as found in the business suite.
Category
Businesses can change over time. In this section of your business information, you can change the category of your business to the one that suits you best.
Commercial Music Library
With a TikTok business account, you'll gain access to the Commercial Music Library. This is a collection of over a million songs and sounds that are pre-cleared for commercial use, meaning you can use them in TikTok ads and trends without having to license the material.
Discover playlists, themes, genres and moods. Scroll through the TikTok music charts, trends and your favourites. Alternatively, search for something specific using the search bar at the top of the screen.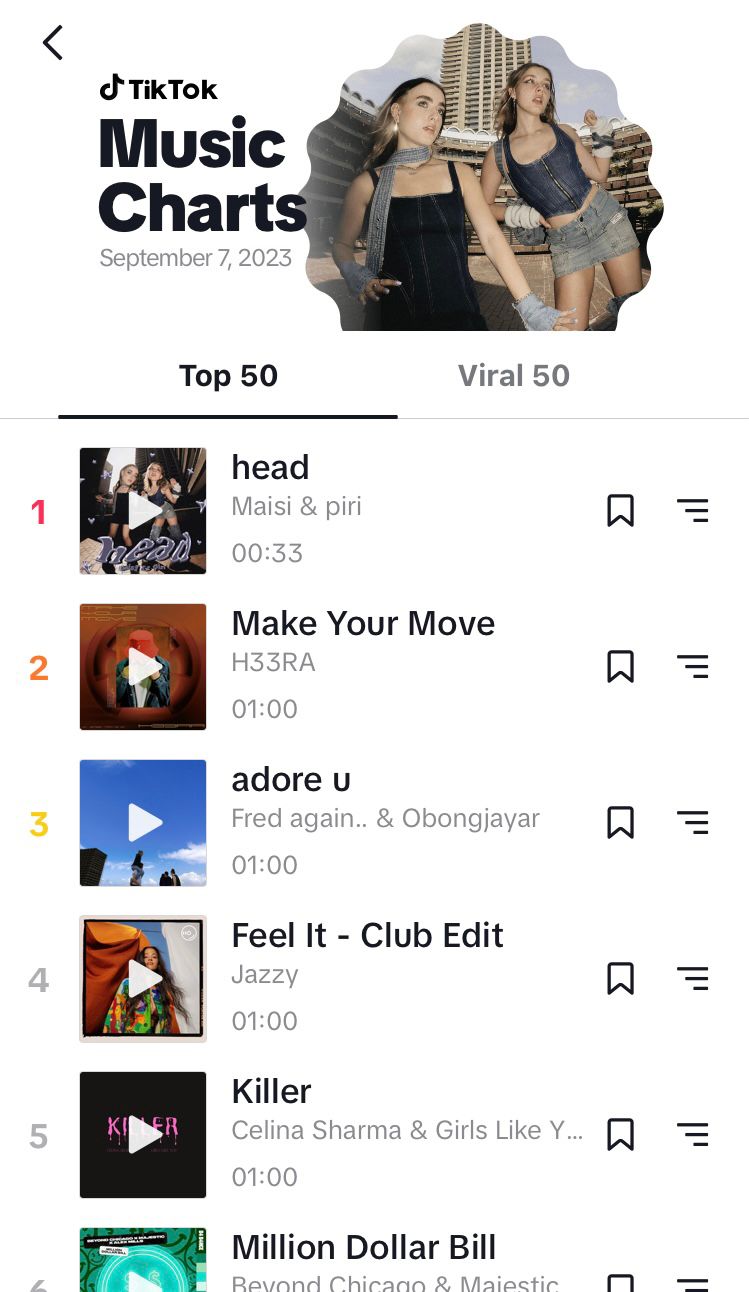 Note: Business accounts don't have access to the general music library that is available with a personal account.
Unlocking more features with a TikTok business account is only the beginning. Grow your business with in-depth analytics from Minter.io - the social media analytics tool for businesses online. Use the optimisation features to craft better content for your audience and compare data over a significantly long time period. Try it today!
---
TikTok analytics for your business success.
Try Minter.io now!→