Love your Instagram stories highlights with @loveraw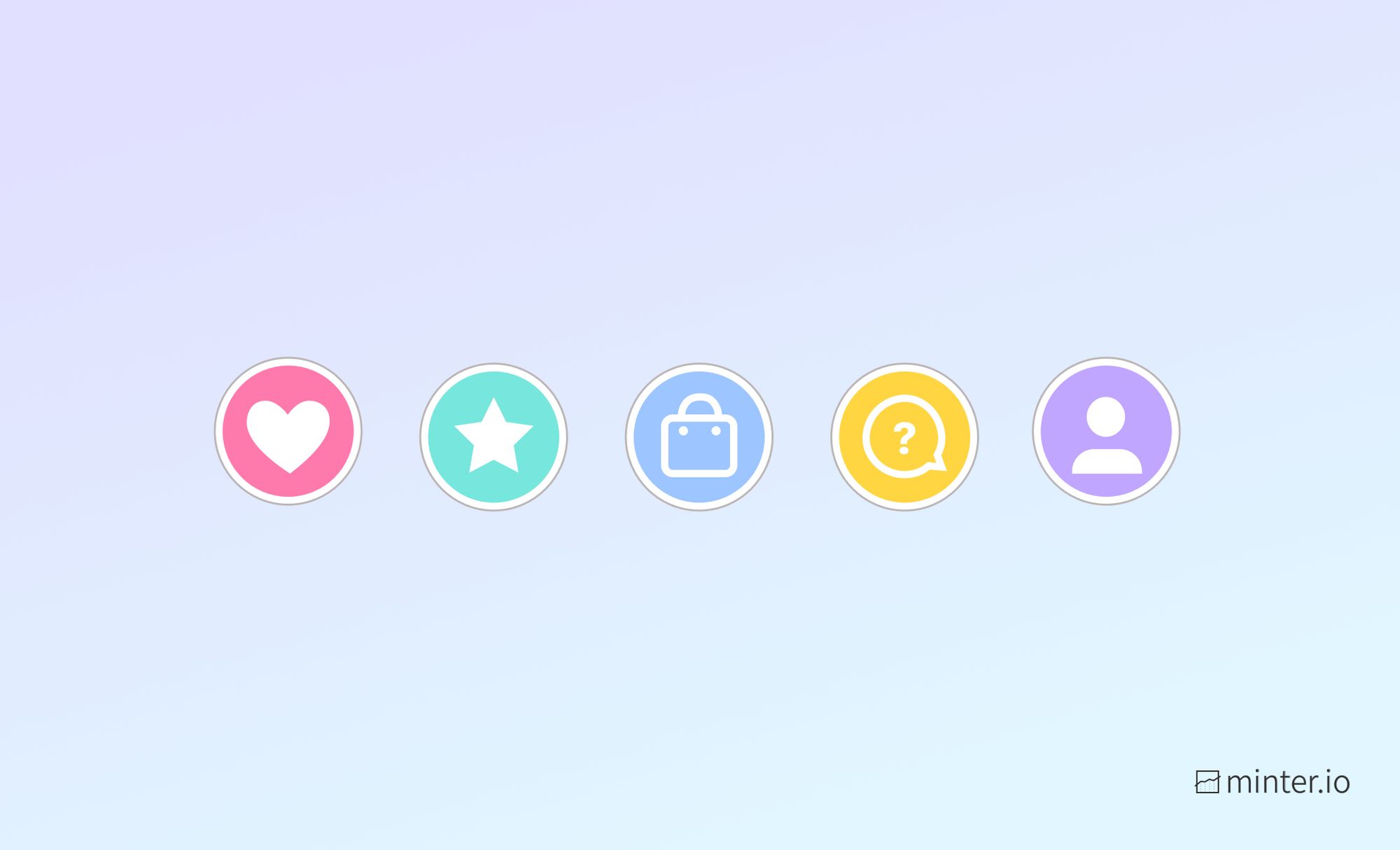 Your Instagram stories highlights are one of the most easily accessible permanent fixtures on your Instagram profile. Directly underneath your bio and above your main grid content, stories highlights can be packed with a significant amount of information, direct swipe up links and creativity. What's more, you get to decide what to include, how long to display the stories and which order a viewer can see them.

If you're struggling with Instagram highlight ideas, or the execution of your brilliant brainwaves, read on… and feel free to steal these examples for your own brand. We're going to be looking at the stories highlights of @loveraw, picking apart what makes them truly terrific. If you haven't checked out our blog about the @loveraw Instagram bio, make sure you check that out after reading this.


Firstly, check out the initial look of the highlights. Notice the quantity of highlights (there's a lot!) and how cohesive they are across the board. Notice the cover images, the branding (fonts, colour shades, style) and how the cover image colours separate them enough to make it easy to find what you're looking for. Without having to sift through the grid, reels or IGTV, stories highlights provide a simple way for the viewer to find the information they're looking for.

Now let's look at the content of the stories highlights.
Recipes

Perfect for a food-based brand, @loveraw kick off their stories highlights with recipes. This is a genius move for multiple reasons:
It provides a multitude of ways for customers to use products, which encourages sales.
The mouth-watering imagery makes you want to see more and encourages the viewer to make the treats on offer.
'Swipe Up' links get potential customers onto the website.
It provides content that viewers may want to share, which encourages word of mouth marketing.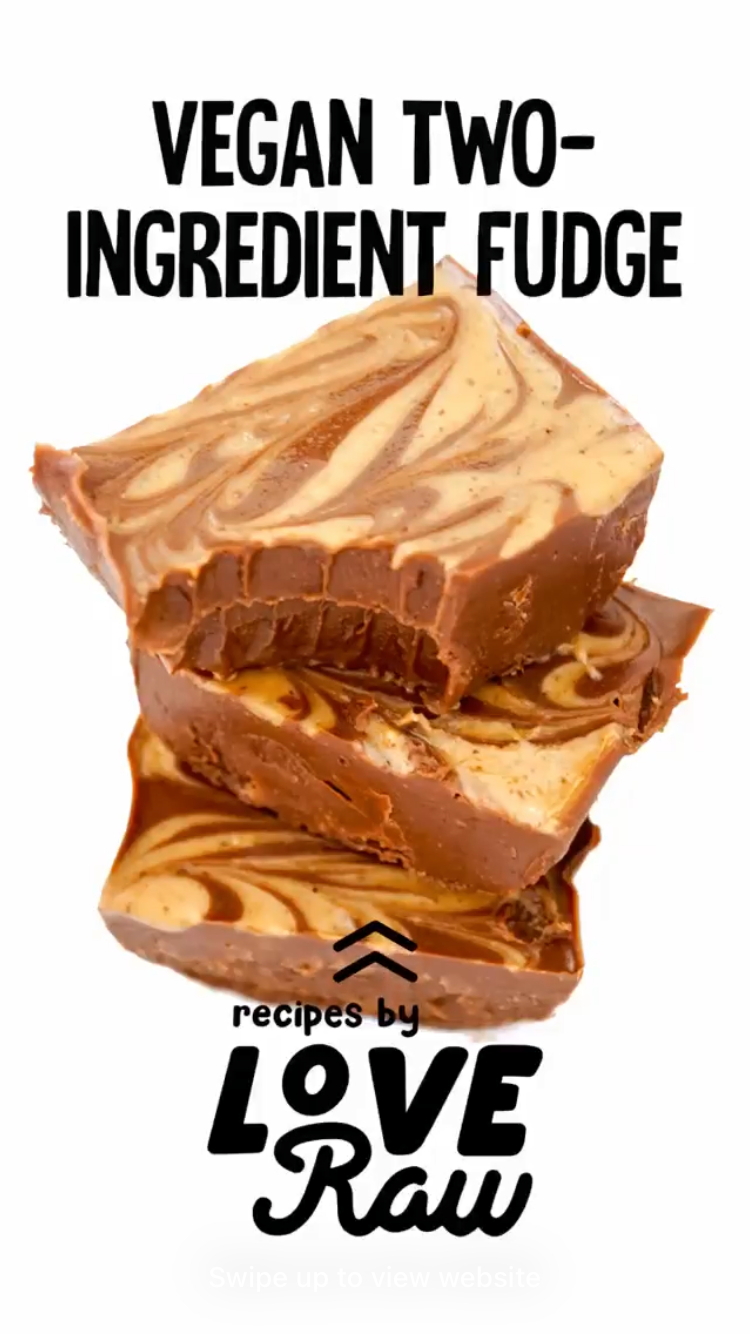 The format of these stories posts remain the same throughout, with a solid structure that includes a tantalising image and minimal text, and it makes the most of the 'Swipe up' function - leading customers to the website to browse and buy!

The style of the images in this highlight has changed a little over time. More recent imagery includes @loveraw products and company branding over the Instagram-own fonts. Both of these updates are incredibly smart moves by the company. A lot of the GIF stickers used are company-specific. This makes the stories appear more professional and classy. You can make your own branded GIF stickers by following this guide.

Unfortunately, some of the older stories in this highlight no longer link to the desired recipe, so this needs to be updated… but the ones that do, do not disappoint. We love a good batch of blondies.
Careers

This short, but sweet, stories highlight is used as an opportunity to advertise job openings. Using their signature bold imagery and font, a cute illustration of the founders, and the titles of the specific job roles on offer, it's super clear what is being advertised.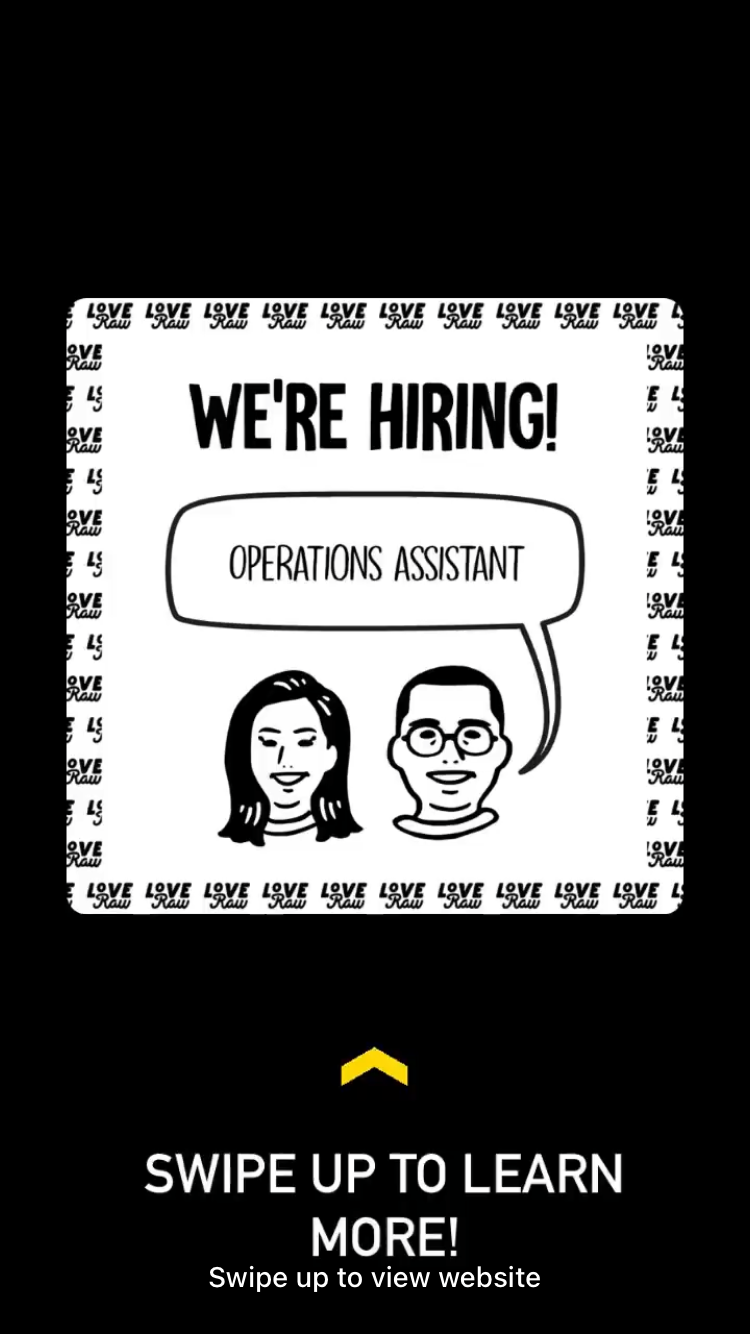 Behind The Scenes

This is a highlight that @loveraw have been a bit creative with which has given them a space to experiment. Honestly, it's very important to test and try out different styles of content to see what your followers connect with the most. From sharing the faces behind the chocolate, to pouring chocolate on different foods (including an egg and a kiwi fruit!) these guys have tried it all! We particularly like their BTS posts for Mother's Day, sharing a little bit about the people who make the company work and their families. A sort of meet the team… and their mums.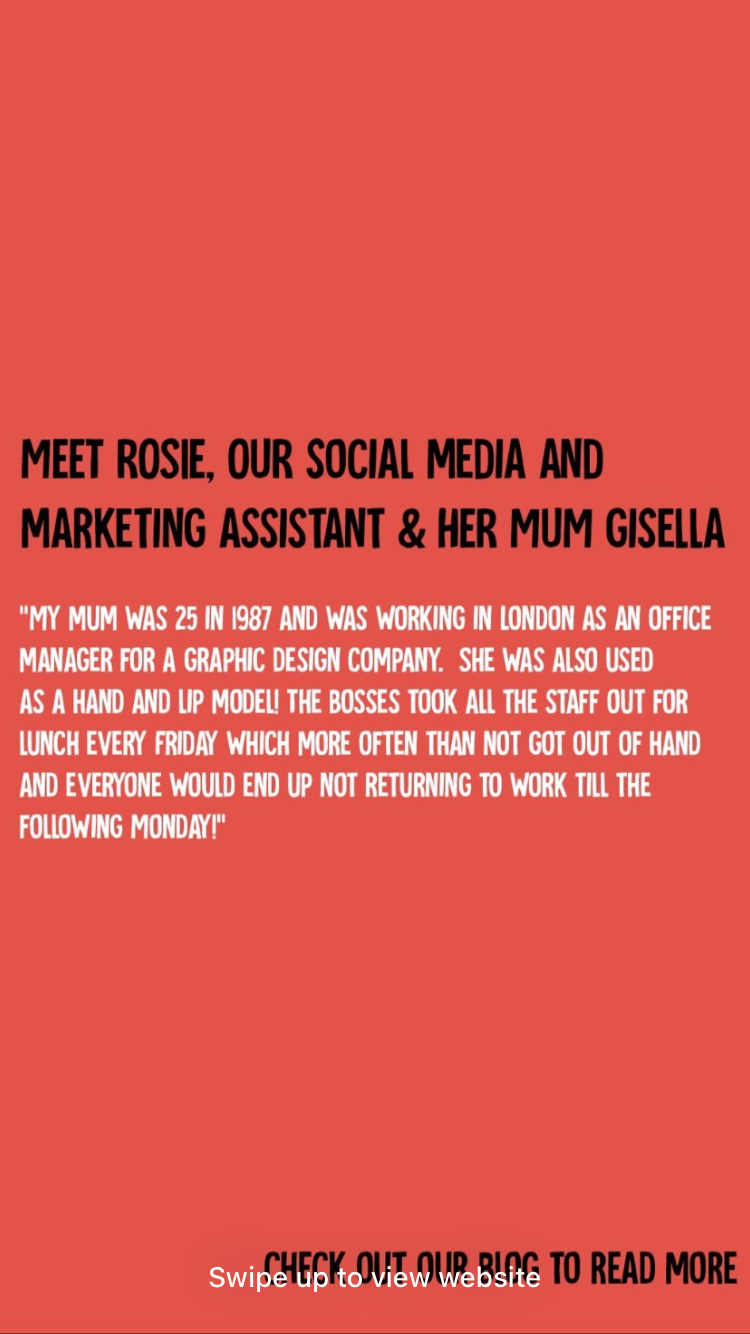 Creating a behind the scenes highlight is a great way to humanise your brand. After all, people connect with people. Companies are more than just products; they're the services you receive, the way a customer is looked after, the way a brand makes you feel and the ethos built into every aspect of the business.
Q+A

A questions and answers themed stories highlight is an opportunity to flood the highlight with loads of information. It can be used as an extension of an FAQs highlight (@loveraw have one of these too which we will dive into soon), and it shows that you care about engaging with your community.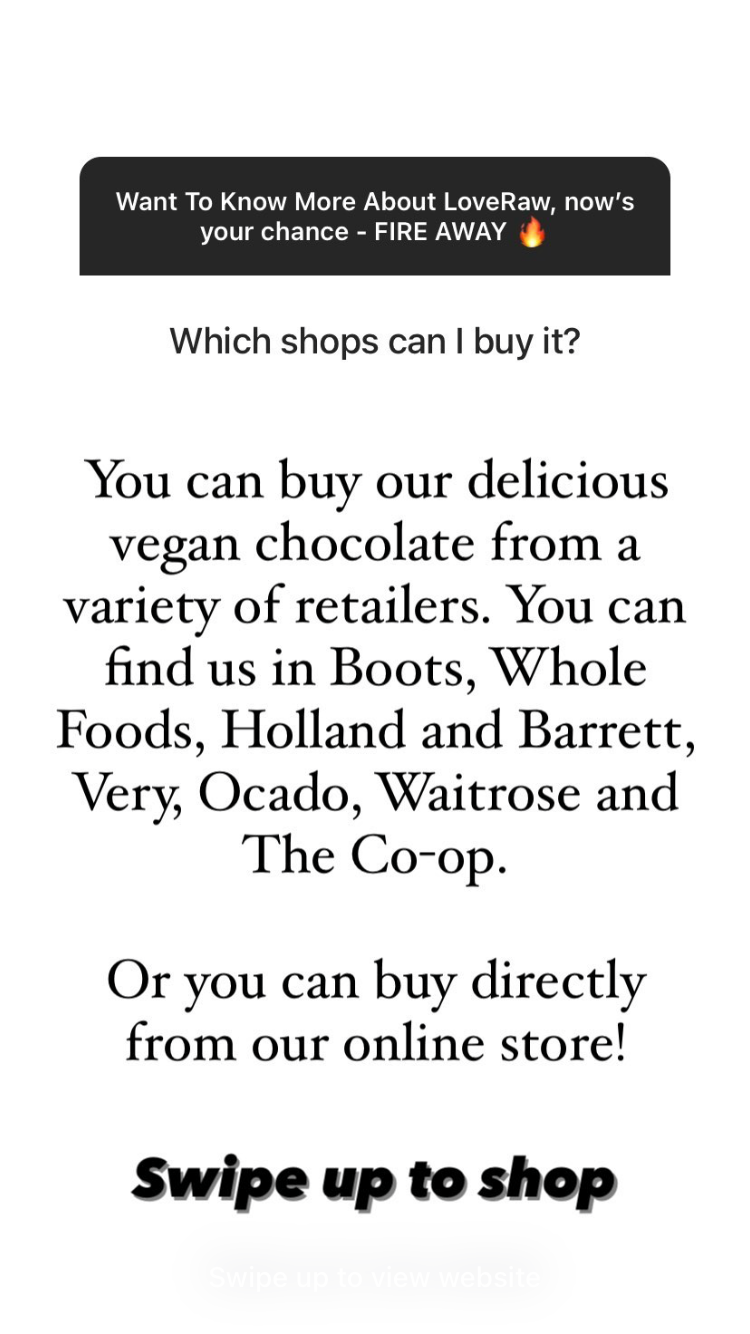 Here are the ways @loveraw have used their Q+A highlight.

They have:
Built trust through sharing the validity of their vegan status
Showcased that their business has won multiple awards
Answered FAQs, providing an additional place to find this information
Answered obscure questions, which adds a personal touch
Provided viewers with CTAs such as links to their website without dismissing the question
Answered questions fully while providing opportunities for the viewer to explore more

Something I see a lot on social media is businesses dismissing questions in favour of pointing the reader to another place, whether that be their own website or email. Pointing a reader to click somewhere else without answering the question can be infuriating for someone just wanting an honest, straight-up answer to a simple question. I was very happy to see that @loveraw have struck the right balance by answering the question fully and providing an opportunity for the reader to find out more. This is great customer service, which builds trust, and is better for business in the long run.

Wallpapers

Unleash your creativity by creating a wallpaper stories highlight. @loveraw have their brand colours, brand font, product pictures, cheeky copy and punchy prints in their highlight of wallpapers.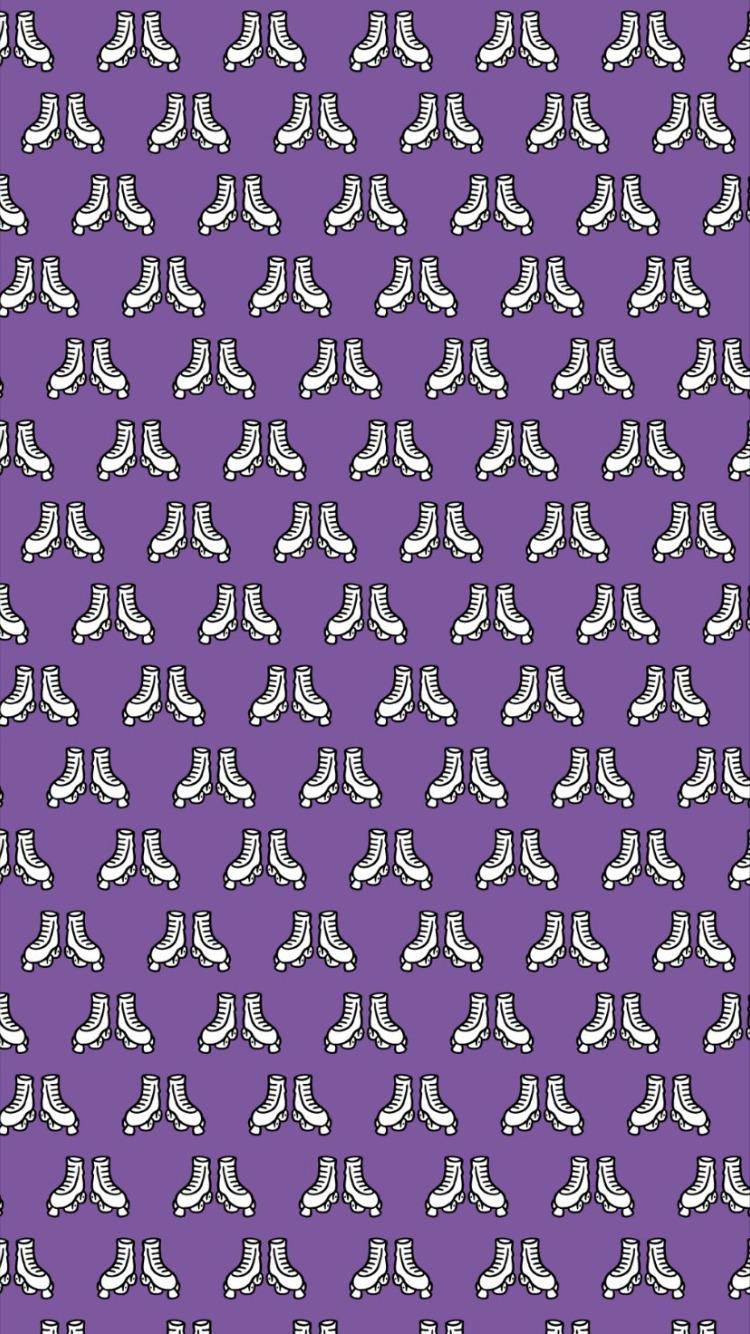 We love wallpapers so much that we wrote a blog with a whole bunch of ideas and reasons why sharing wallpapers increases the likelihood of your brand being spread through word of mouth.

One genius addition to this wallpaper highlight is that @loveraw have added an instructional video, showing you how to save and apply the wallpaper to your own phone screen!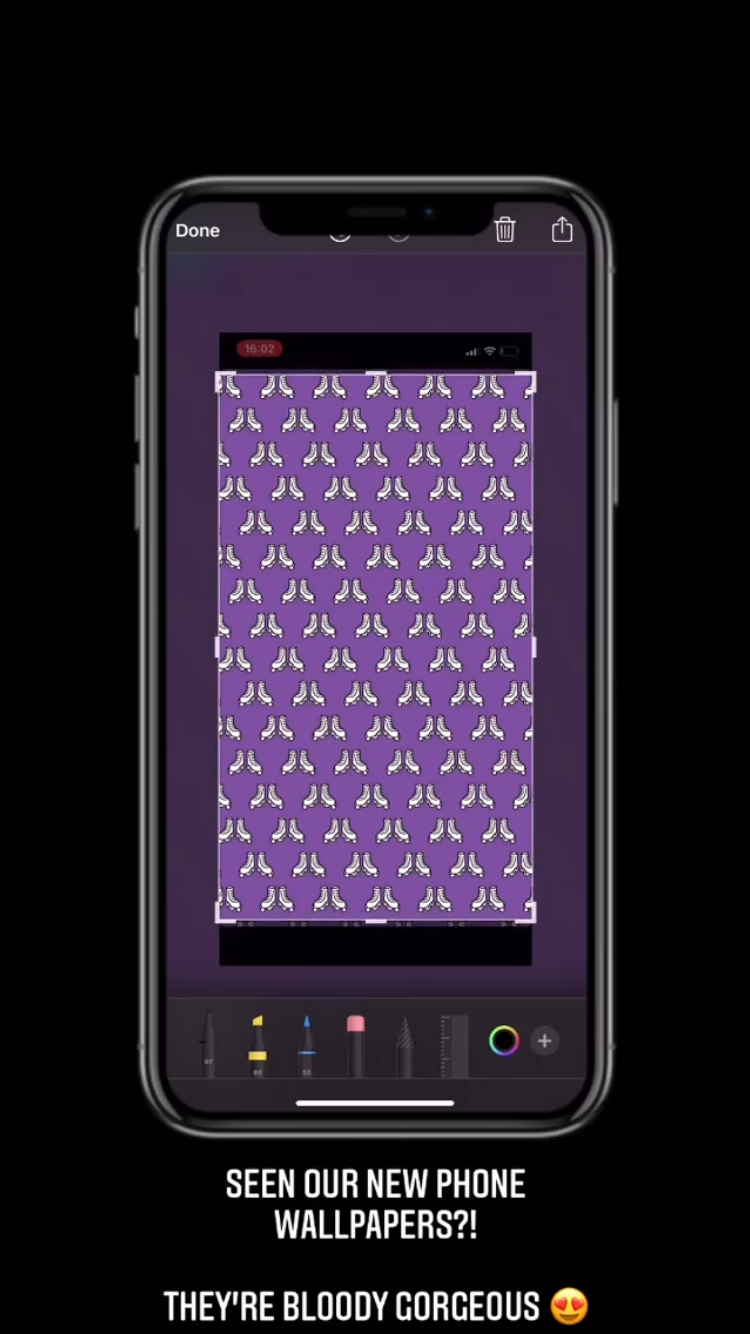 FAQs

It's a great idea to have some sort of FAQ highlight as it's easy for viewers to find. This should stop your inbox getting clogged with the same queries - but no promises!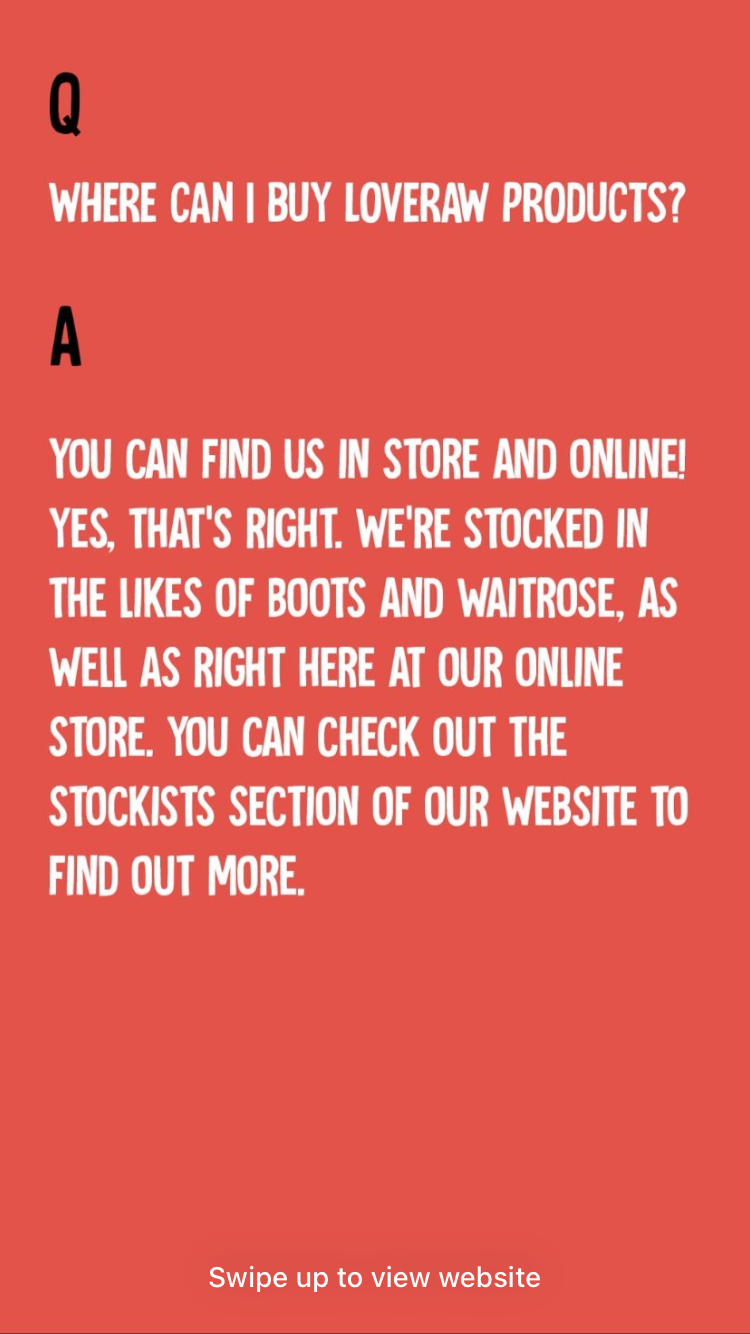 Find Us

The stockist highlight is like an extension of the FAQ and a celebration of the growing brand. It makes it easy for potential customers to locate their soon-to-be new favourite chocolate bar. Also, how cute are the cartoons of the founders? Nice touch!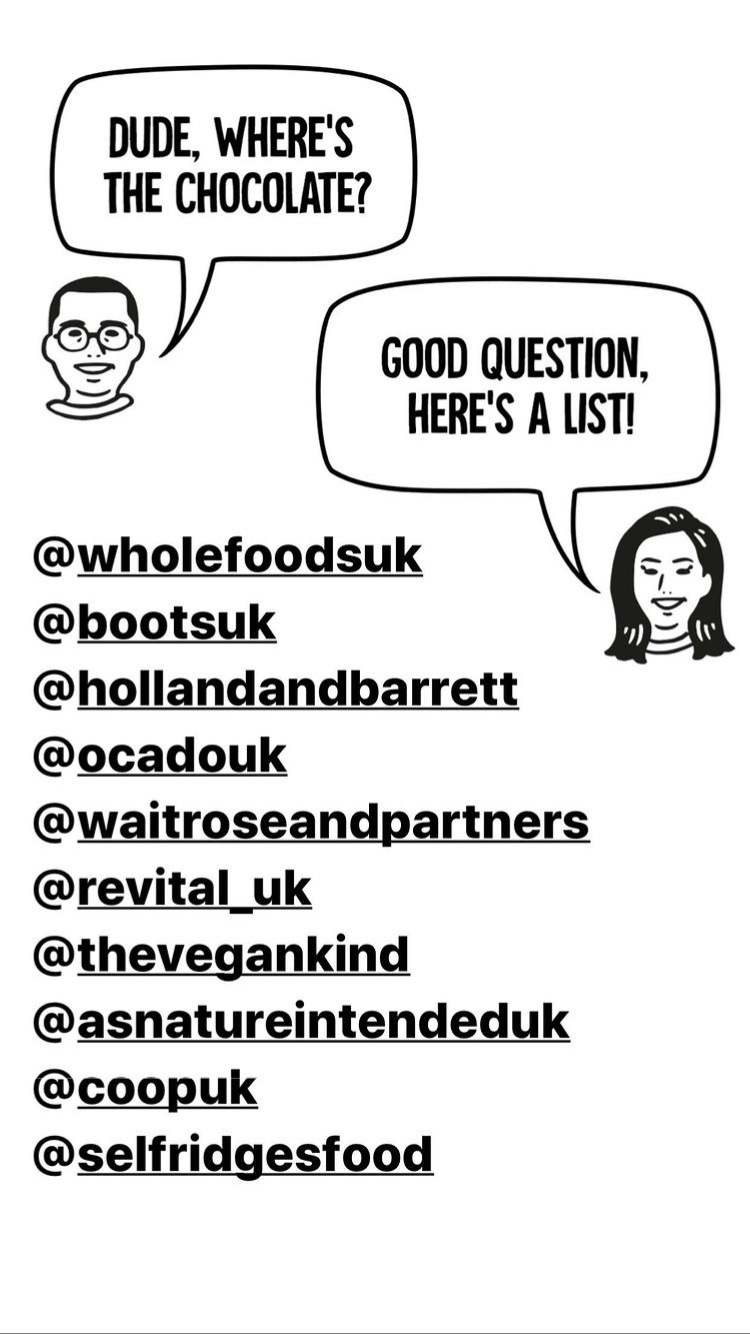 If your business operates in multiple locations but isn't nation-wide/worldwide, if your products are stocked in particular shops or venues, or if you just want to make it easy for people to connect with your business, consider putting this information in a clear, convenient stories highlight.
Press

The press stories highlight is one of the ways @loveraw are social proofing their brand. It makes the viewer trust the brand more to see the founders sharing openly with various forms of press. Also, through connecting with other businesses and Instagram profiles @loveraw are building good relationships. This can open the door for further future collaborations.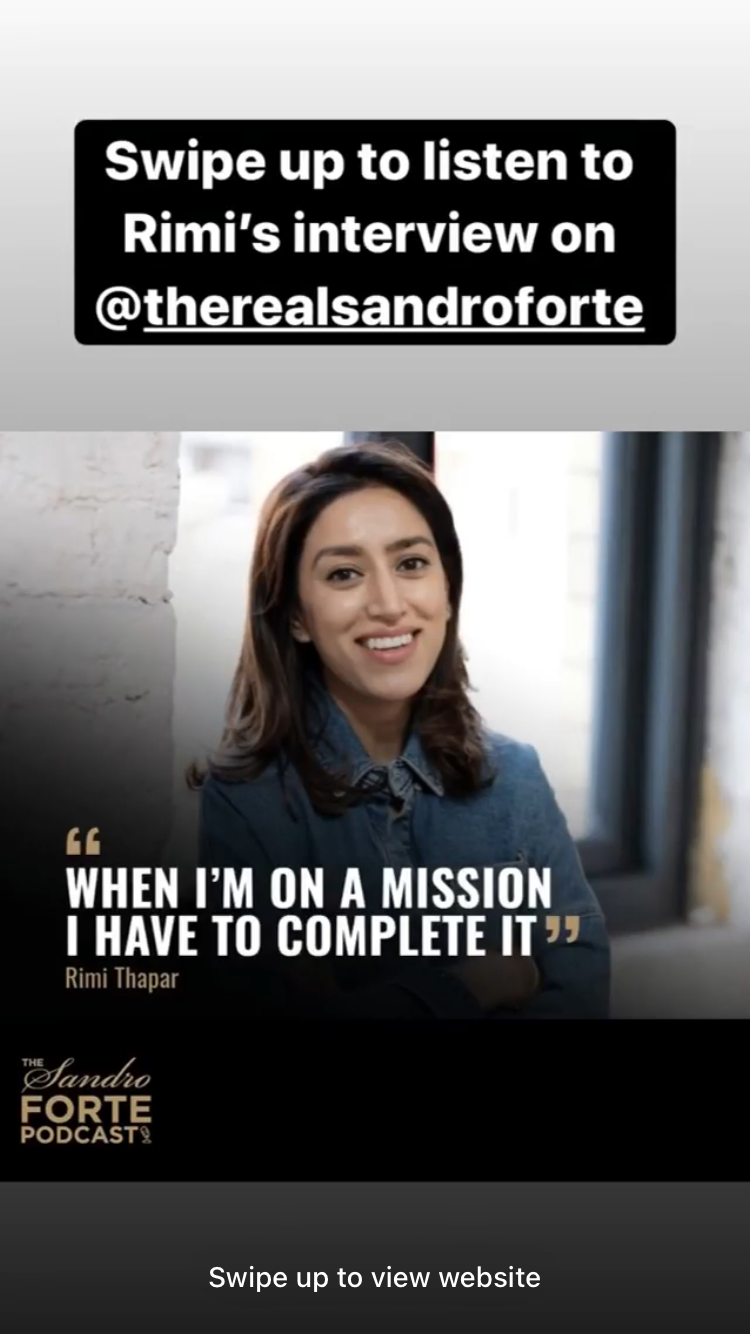 N.B. What a great role model for other women looking to get into business.
User-Generated Content and Reviews

The final 4 highlights are 3 of the brand's products: BUTTER CUPS, M:LK CHOC BARS, and CRE&M WAFER, and the final highlight is 'Reviews'. These all centre around user-generated content - customers sharing and shouting about the brand and the chocolate they love! This is another huge way to social proof on social media.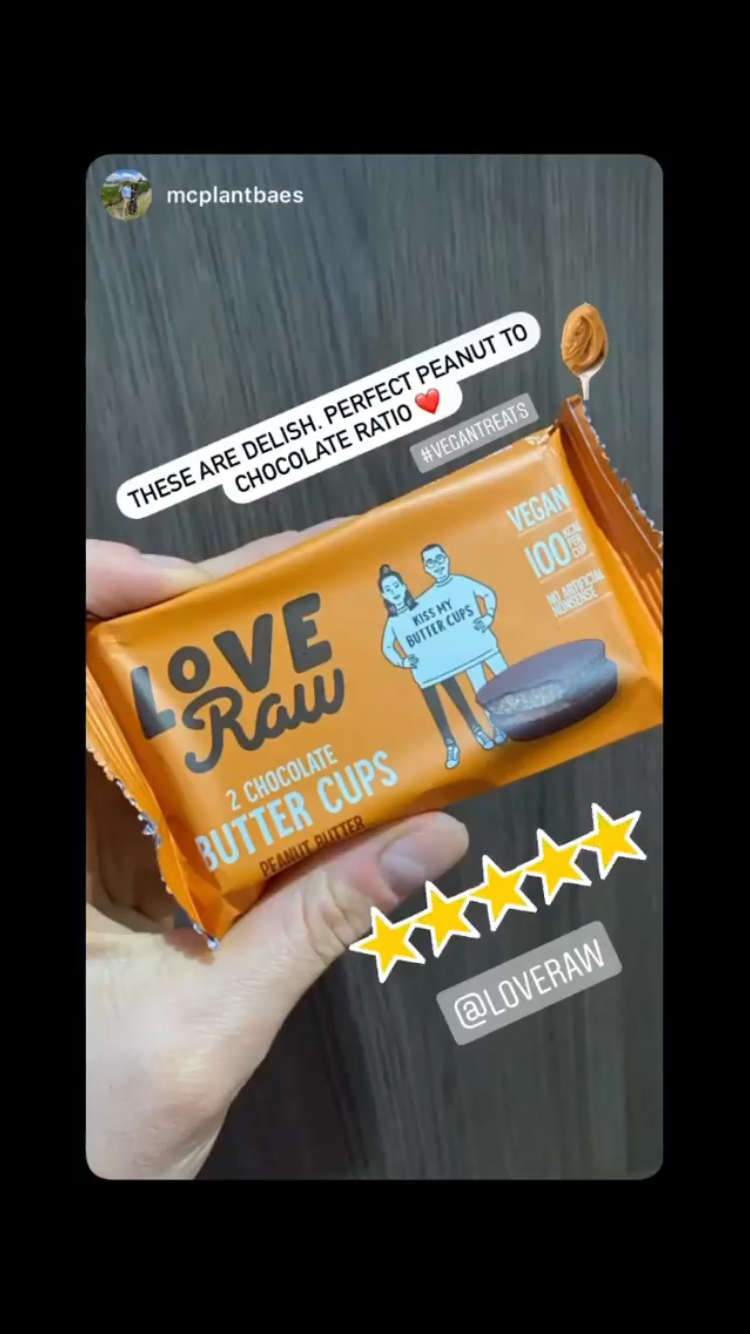 How can you encourage users to share their experience of your brand? It starts with having a product or service to shout about. Once you have that right, encourage feedback. When feedback is shared, share it to your audience as your brand. This is great for your company as it is a positive review on your profile, but it also makes customers feel heard and appreciated which builds loyalty. This is a positive loop that has a knock on effect. User-generated content essentially acts as word of mouth marketing for your brand, which is believed to be 92% more effective than any other method of marketing. The more positive user-generated content is created, the better for business.

We hope you enjoy these tasty tips. If you haven't already, check out our breakdown of the highly effective Instagram bio by @loveraw.
---
Grow your Instagram business with Minter.io Analytics.
Try Minter.io now →