3 High End Italian Fashion Brands That Are Smashing It On Instagram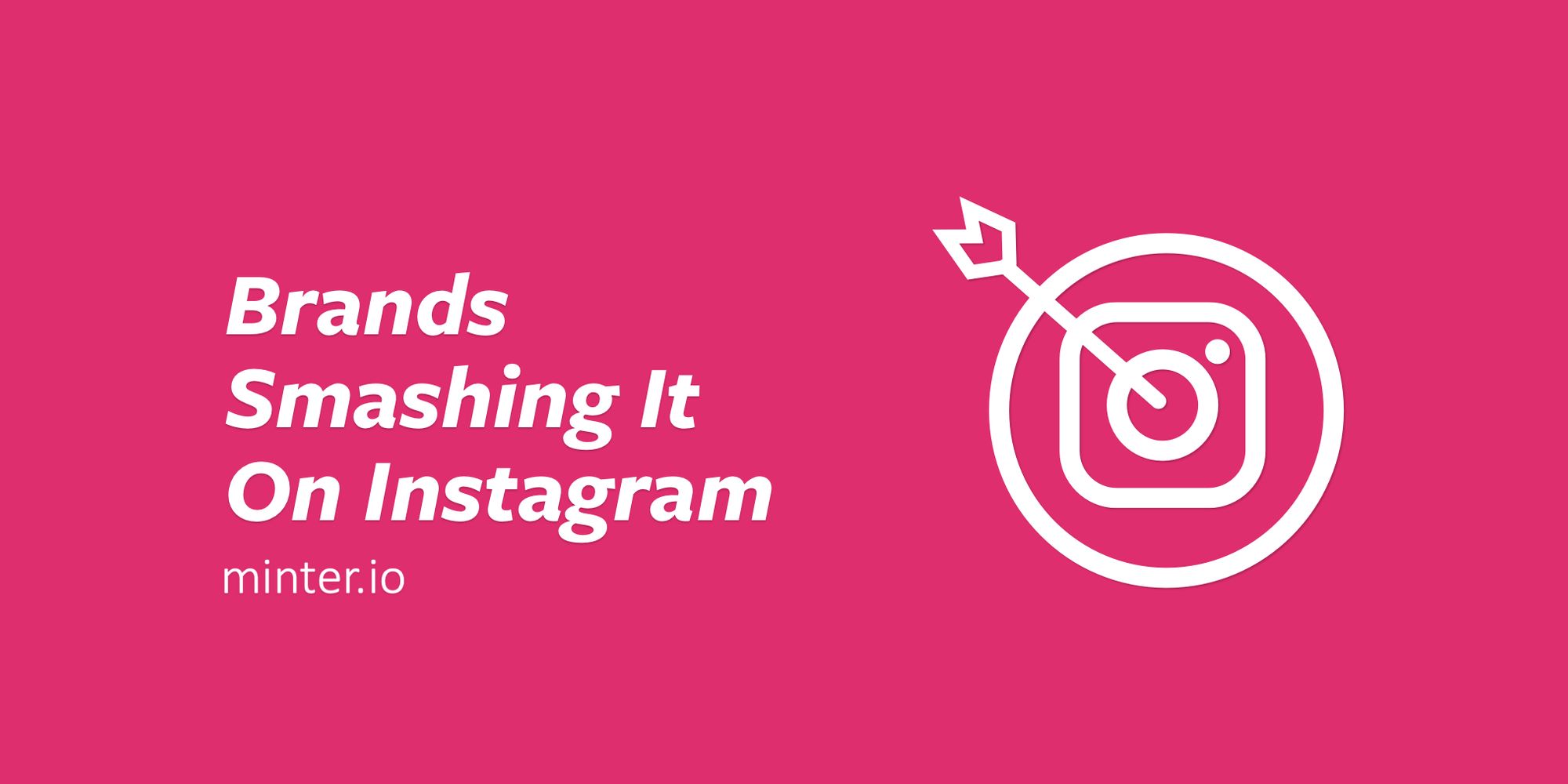 High end fashion is known for its luxury, desirability and attention to detail. Alongside its longstanding reputation for excellence, Italian fashion adorns red carpets, A-list shoulders and the world's most revered fashion events. However, this quality and excellence doesn't halt there. Excellence and expertise of the following brands seeps into every aspect of their businesses, including their print, television and social media marketing.
Gucci
Gucci's website states, 'Influential, innovative and progressive, Gucci is reinventing a wholly modern approach to fashion. Under the new vision of creative director Alessandro Michele, the House has redefined luxury for the 21st century, further reinforcing its position as one of the world's most desirable fashion houses. Eclectic, contemporary, romantic — Gucci products represent the pinnacle of Italian craftsmanship and are unsurpassed for their quality and attention to detail.'
Gucci has an Instagram following 35.1 million strong: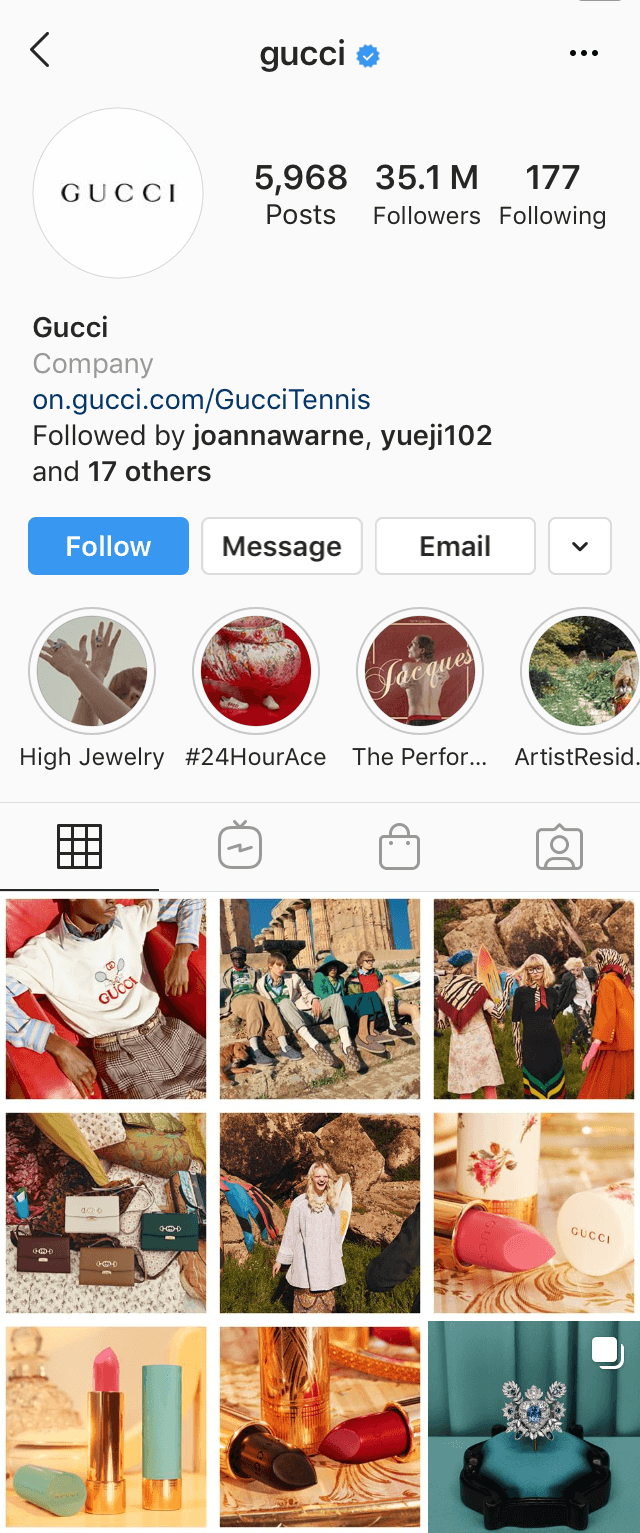 Prada
Prada Group (which houses 5 brands including Prada) notes, 'Since 1913, Prada has been synonymous with cutting-edge style.' Prada is internationally recognised as a leader in high end fashion, and is embraced as an experimental brand which transcends trends, drawing from art, film and photography to display a unique take on fashion.
Prada has an Instagram following 20 million strong:

Versace
According to its website, Versace is 'one of the leading international fashion design houses and a symbol of Italian luxury world-wide.'
The company profile continues to state, 'Today, Versace represents its heritage through its strong and fearless designs, while addressing a new global audience which continues to strengthen Versace's position in contemporary culture.'
Versace has an Instagram following 18.6 million strong: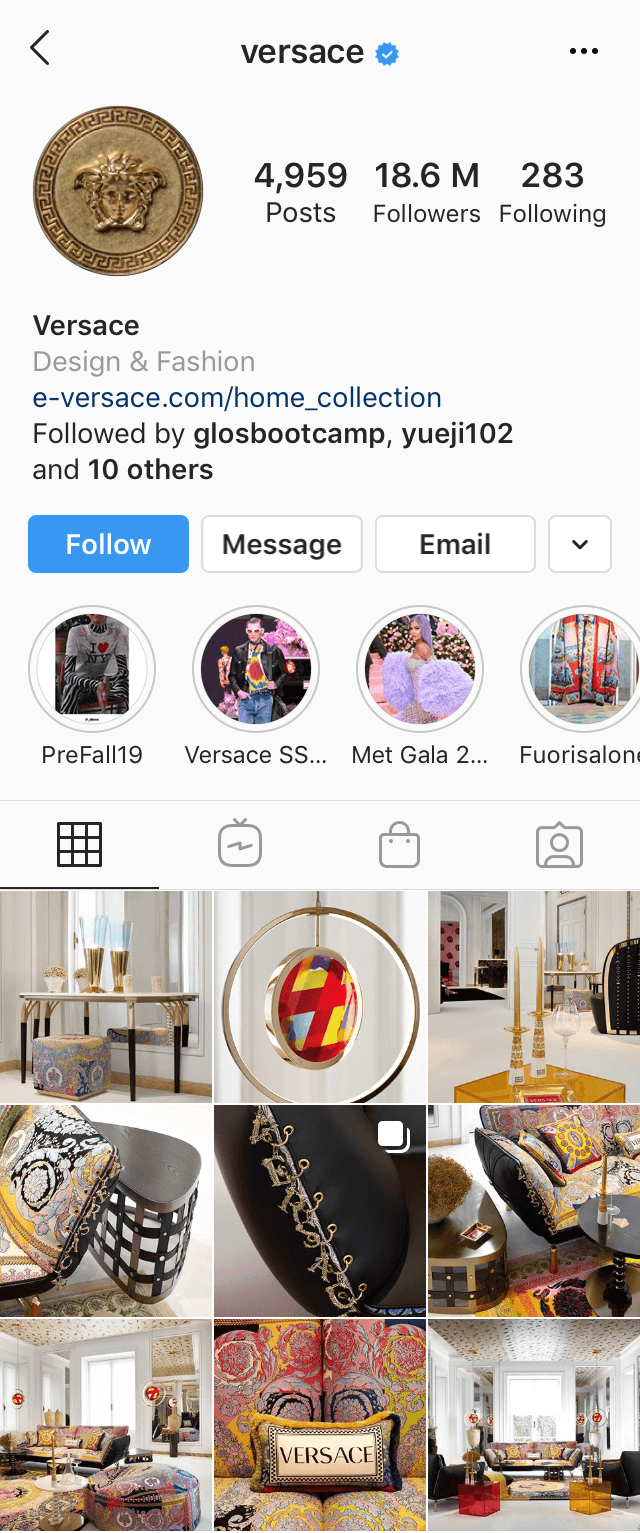 Every business can learn from the high standards these 3 fashion brands bring to their Instagram presence. Here are the key points these 3 brands all have in common, ensuring their Instagram efforts are playing to their advantage:
Making use of all Instagram's features
All 3 brands use IGTV and the shopping functions on Instagram, resulting in links to their IGTV videos and products directly from their profiles. Not only is it easy to explore more about the brands and shop their products, this also allows their profiles to show up in more places on Instagram.

Check out this recent photo from Prada which includes a 'View Products' link, making it very easy for a potential customer to enter the purchasing funnel once their interest is peaked.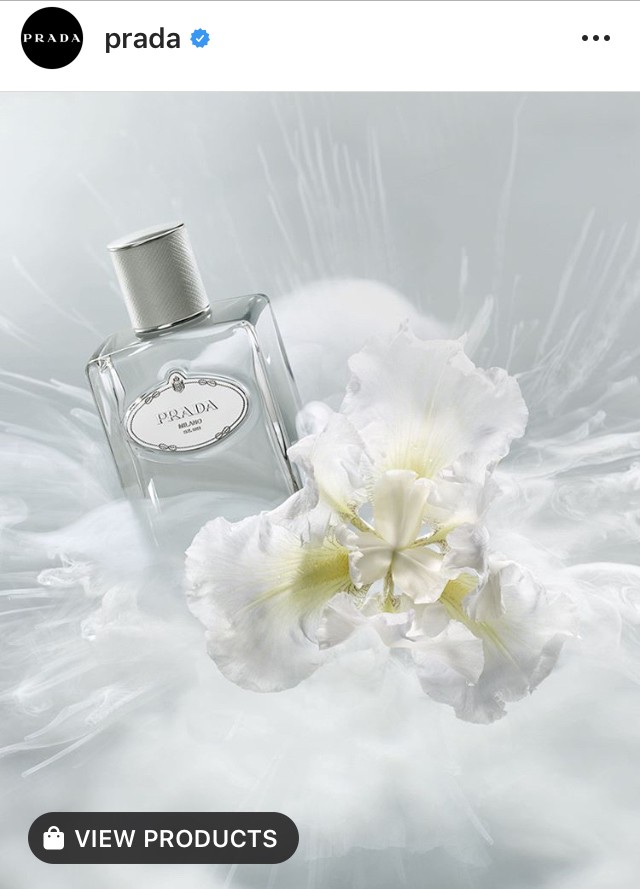 Everything points towards what the brand wants you to do — buy their products
Taking a look at all 3 brands, it's clear that their main objective is to showcase their products and get potential customers onto their website to make a purchase. This may seem pretty obvious, but amongst the sea of Instagram profiles keeping up with trends and internet challenges, the clarity of these brands really stands out.
Bio
Check out the simple bios they share, each with 1 clear website link and call to action — go to the website.



Product Orientated Posts
All 3 brands create content which is product orientated, showcasing the items in their current collections or for a particular campaign. This keeps their Instagram profiles relevant, while reinforcing the call to action to their audience.
Check out Versace's post, which showcases their product while encouraging the viewer to go to their website. The post description includes a hashtag to their current campaign, giving the viewer the option to explore more items.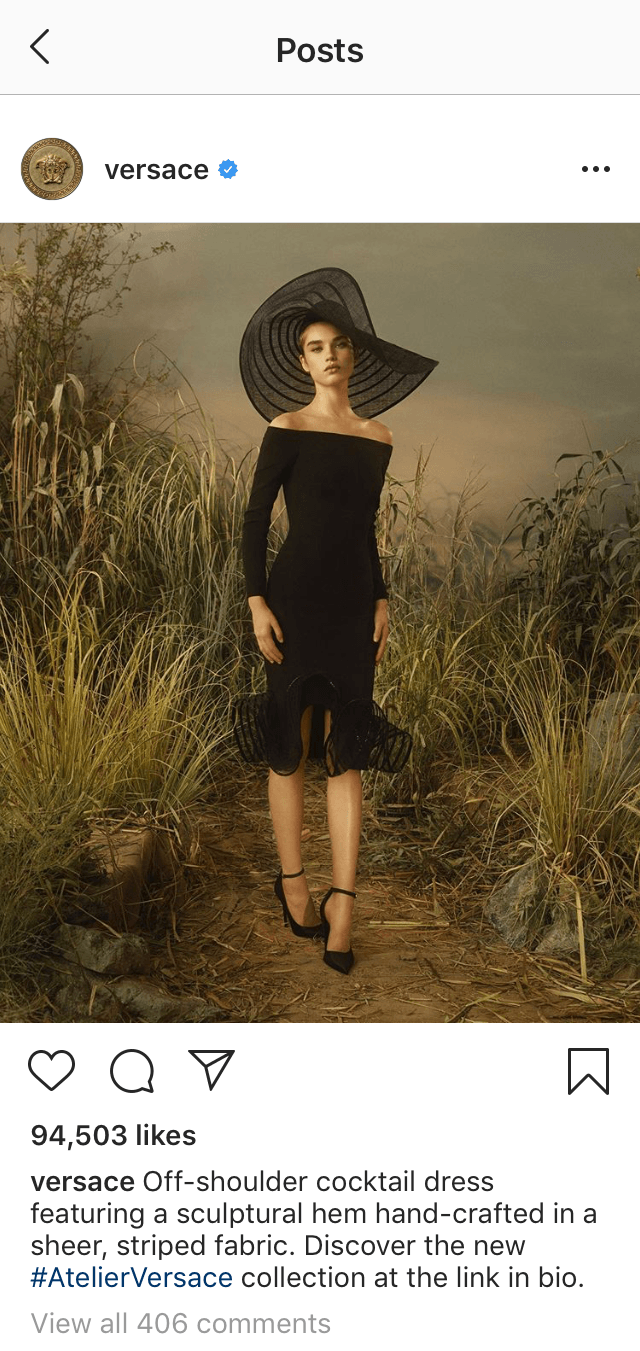 Stories Highlights
All 3 brands have several highlighted stories, grouped into highly relevant collections. This space has been used by the brands to showcase products, share campaigns (including hashtag campaigns) and make use of the 'Swipe Up' function to direct viewers to their websites.
The below stories post was published by Gucci as part of their #24HoursAce campaign. The image includes their product alongside 'Swipe up to view website'. This again reinforces the action the brands want their viewers to take.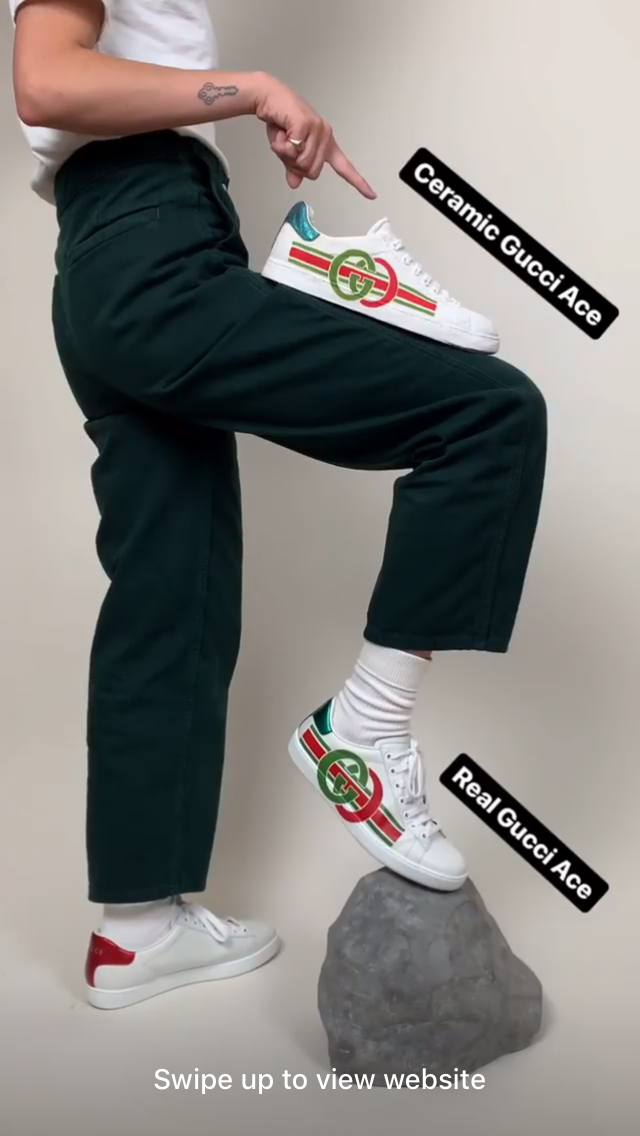 Quality, quantity and consistency
It almost goes without saying that these brands only post quality images. Due to the high end fashion circle they are a part of, it makes sense that their content is just as high end as their products. However in any field of business, quality, quantity and consistency are a huge part of building a loyal customer base.
Using Minter.io we can see that Gucci posts on average 3.06 times a day, whereas Versace averages 3.03 posts per day and Prada comes in at 2.35.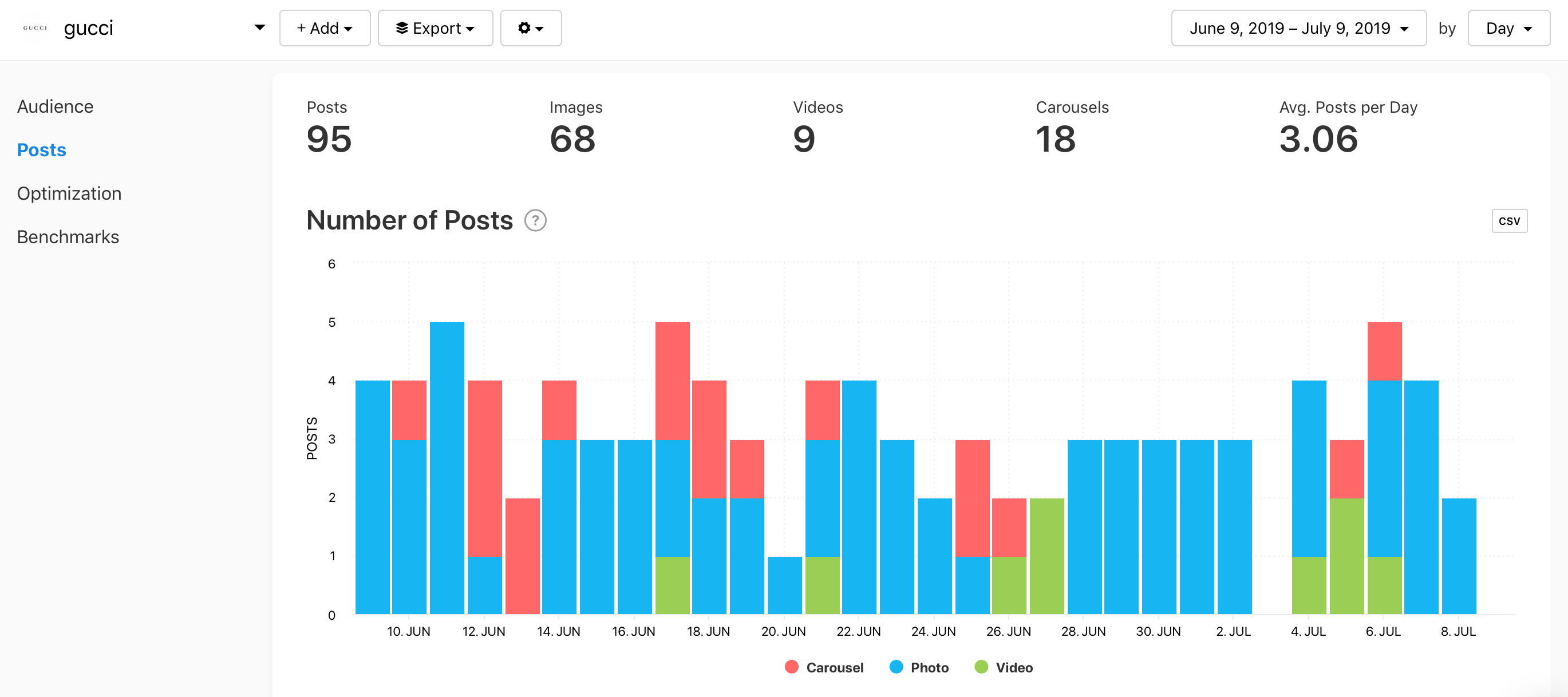 Being reliable, not only in the type and quality of posts but in the regularity of posting, allows their audience to look forward to seeing more posts and become emotionally invested in the brand and its products.
Whether you are building a fashion business or not, I hope you found some gems to implement into your own Instagram strategy. Find out how Minter.io can help you improve with in-depth analytics for your business' Instagram. Try it free today!