How to create an IGTV series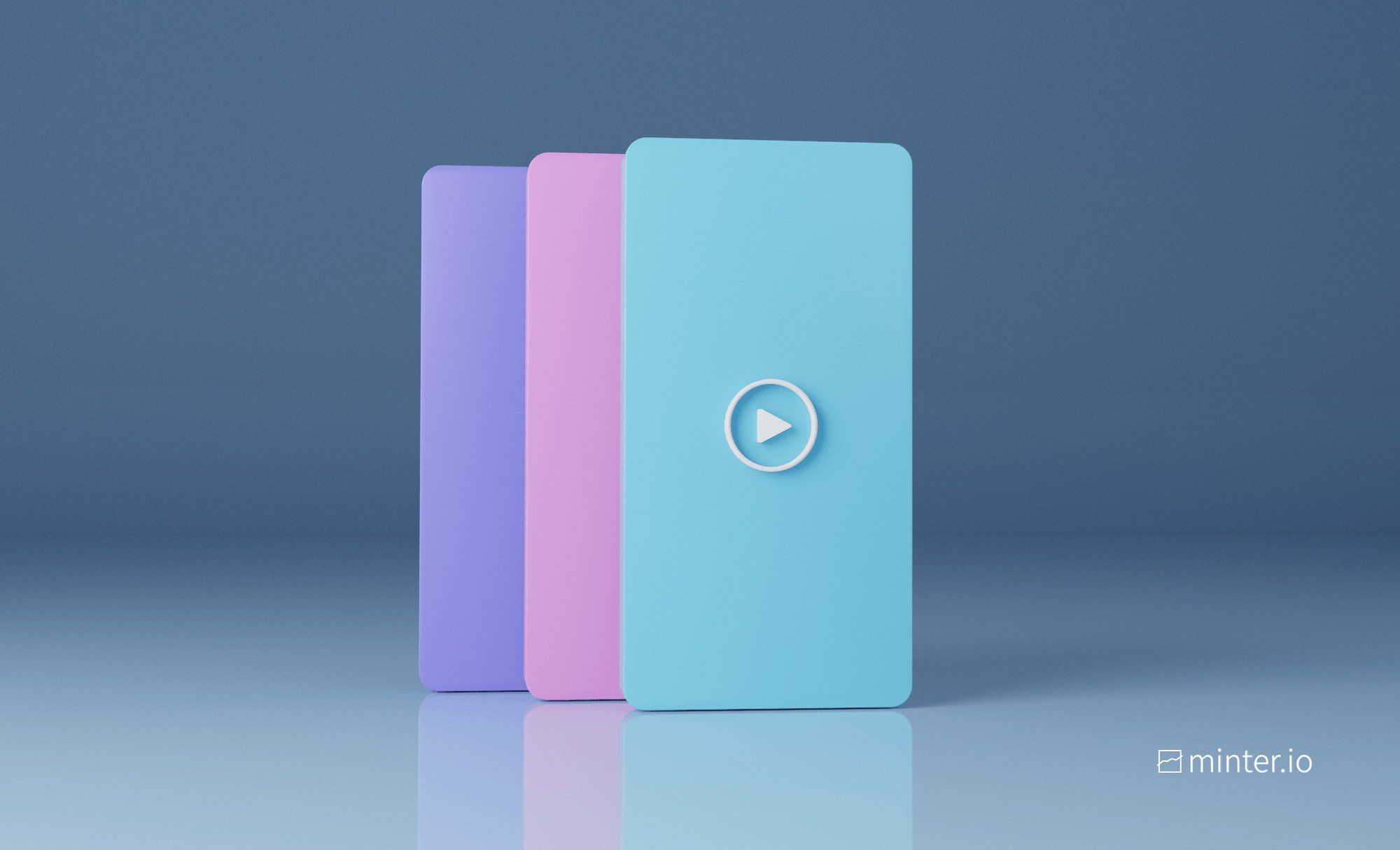 IGTV series creation is a way of grouping long-form Instagram videos into bingeable playlists. They are not only a great way to organise content on your profile; they give viewers a reason to return to your page to watch new episodes. It's easy to watch several videos from a series in one hit because when a viewer taps onto a series, Instagram automatically plays the next episode when the video comes to an end. The next video in the series also plays when you swipe left on the screen, and you can flick through the series episodes after selecting the 'Up Next' button. All in all, IGTV series encourage your viewers to watch more of the content they love from your brand.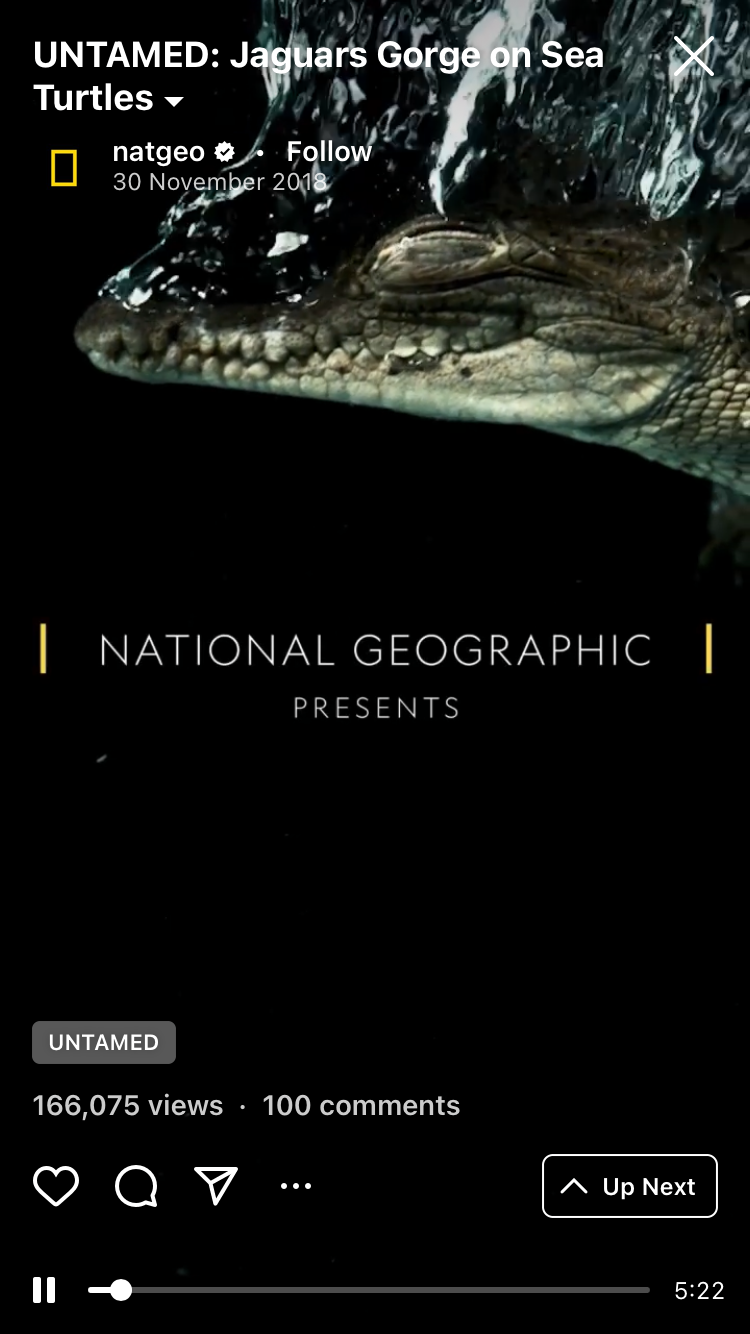 In this blog we will be showing you how easy it is to create your very own IGTV series and give you some examples of brands that are using series to their advantage.

How To Create An IGTV Series
Tap the create (+) button at the top of the screen on your Instagram feed or profile page.
Select 'IGTV video' from the list.
Choose a video from your camera roll for IGTV upload. Preview it and then press 'Next'. Note: your video must be longer than 60 seconds to be uploaded to IGTV.
Choose a cover image for your IGTV video. Use the slider over the bar at the bottom of the screen to select a still from your video or upload a different image by selecting the 'Add From Camera Roll' option beneath it.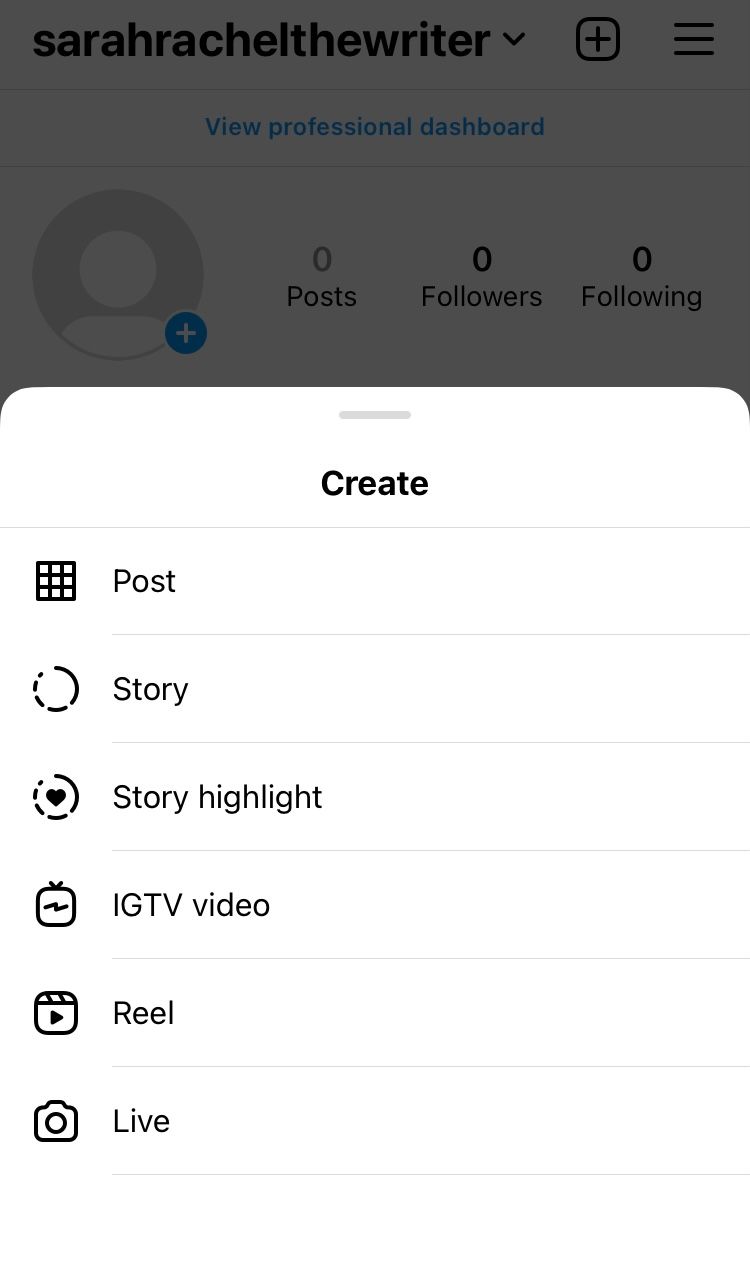 5. When you are happy with your video and cover image, select 'Next'.
6. On the following screen you can add a title and description and toggle other options such as 'Post a preview' and 'Make visible on Facebook'.
7. Select 'Add to series'.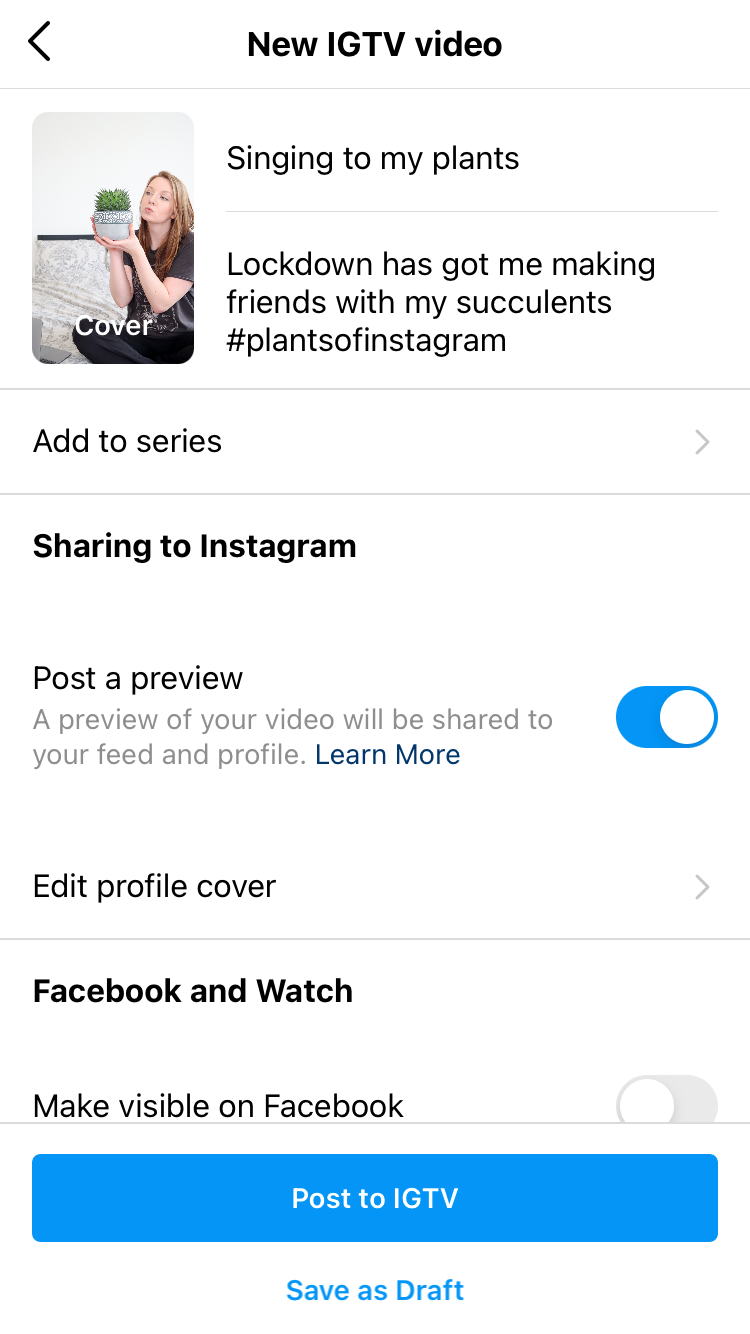 8. If this is the first series you've created you will be prompted to 'Create Your First Series'. If not, you can select an existing series or create a new one.
9. Choose a series name and a description (which is optional).
10. Then select 'Create' in the top right-hand corner.
11. This will take you to a screen which shows your new series as being selected by a blue tick next to it. Select 'Done' in the top right-hand corner.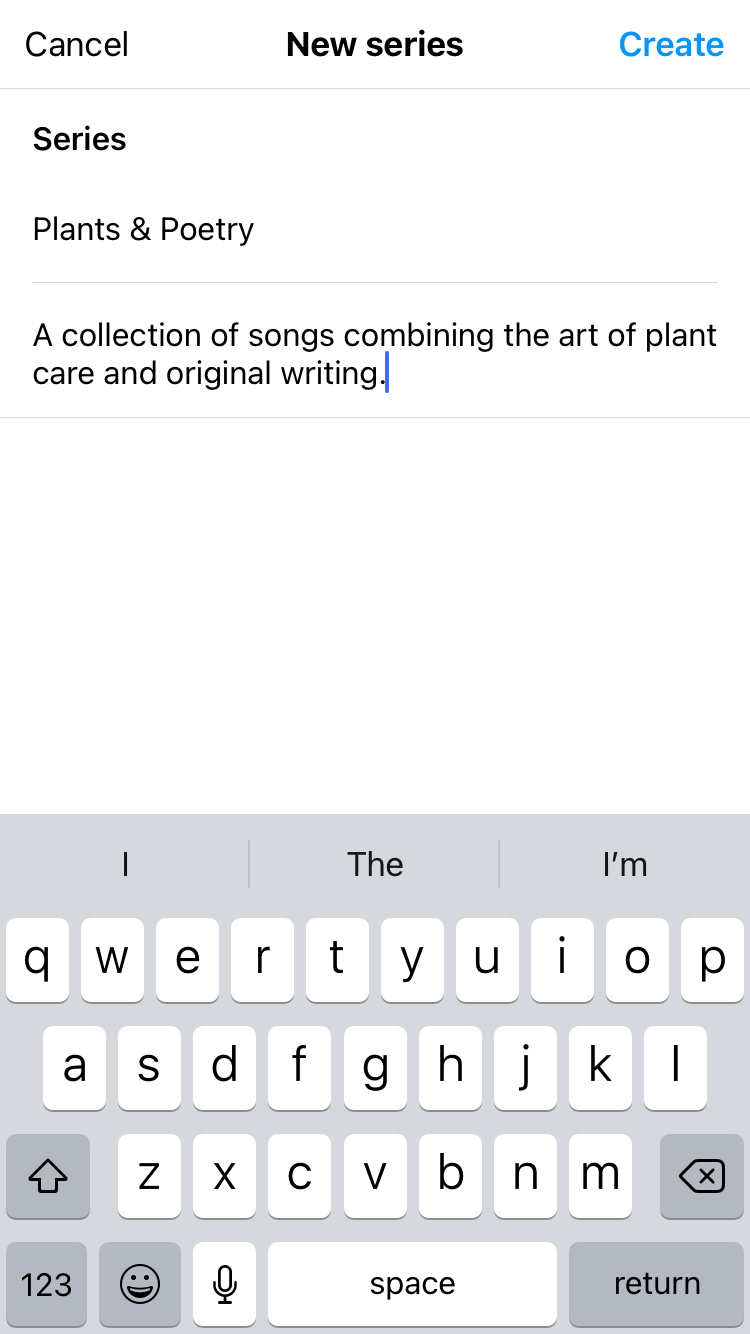 12. You will be navigated back to your IGTV video creation. Note that under 'Add to series' your new series has been selected and the episode number is automatically added to the data.
13. When you are happy with your settings, select the blue 'Post to IGTV' button at the bottom of the screen.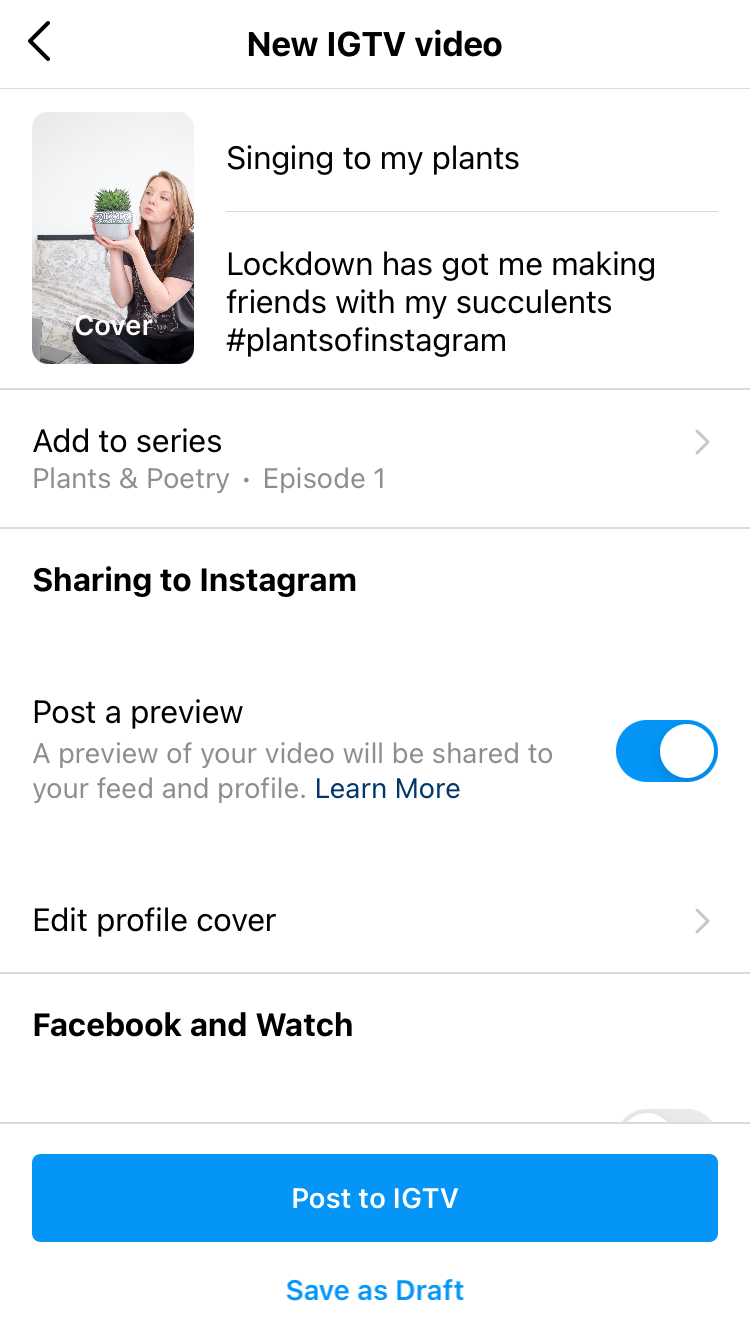 How To View An IGTV Series
Navigate to the IGTV tab by selecting the IGTV icon under the bio of an Instagram profile.
If the profile has created any series, these will be accessible from the top left-hand corner, above the first video. Selecting this will display a series pop-up on the bottom of the screen.
To view all available series you will have to swipe up on this pop-up. Initially you will only see three series options, but there may be more waiting to be discovered.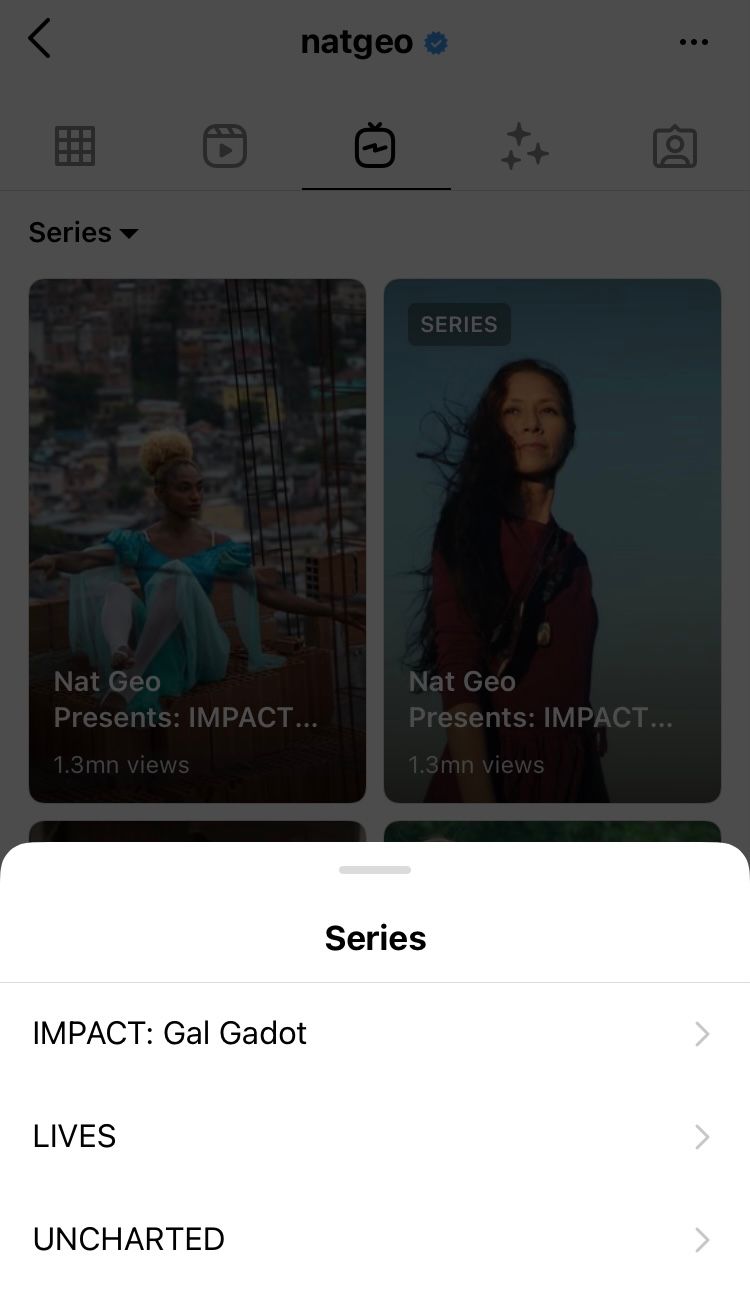 Examples Of IGTV Series

Here are 3 examples of companies using series in different ways.

National Geographic

Using striking imagery from the animal kingdom @natgeo chooses cover images that spark a first impression that's hard to ignore. Notice the animated language used in the titles, with words such as 'gorge' and 'battleground' painting dynamic, tactile scenes in the mind.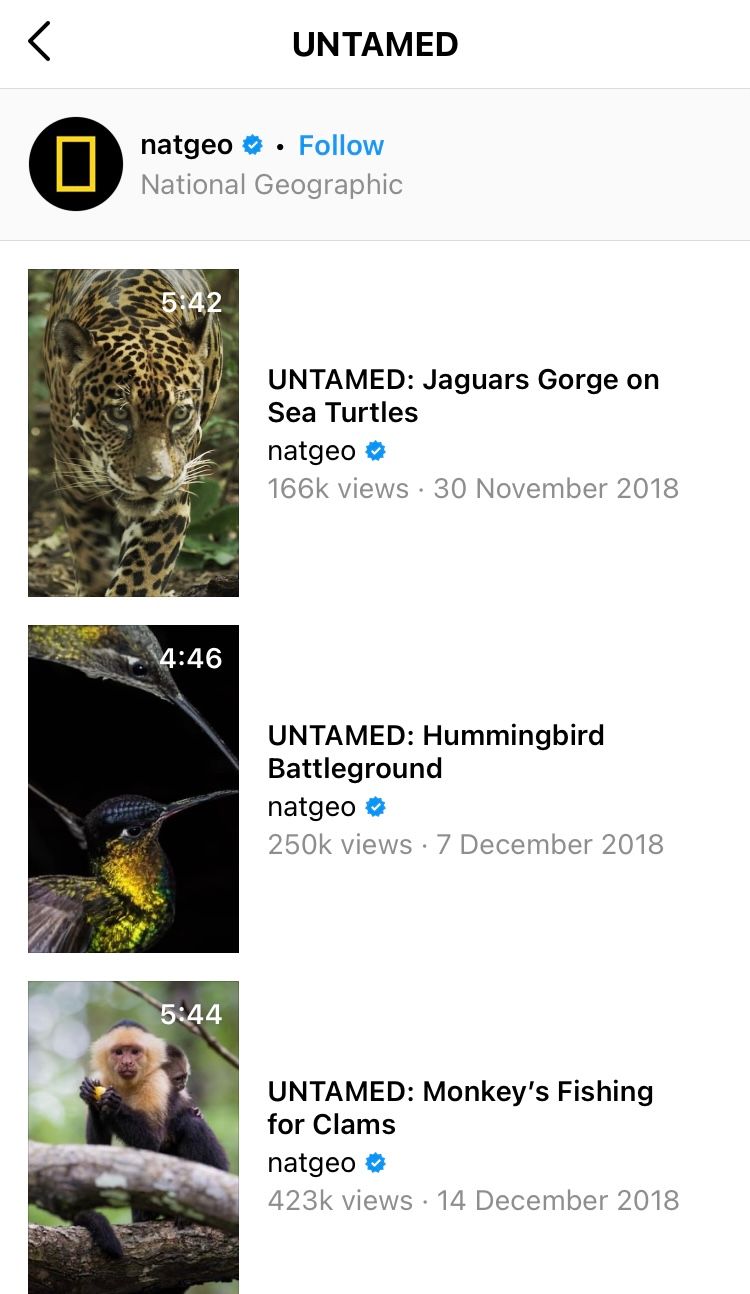 2. The Olympic Games

You can't go wrong with cover images of dogs on the internet, and with half the cover images including them here, @olympics seeks to strike a chord with the pet-loving nations. Just as @natgeo has done, @olympics starts every title with the name of the series they belong to, making it easy for a viewer to find the videos they are interested in.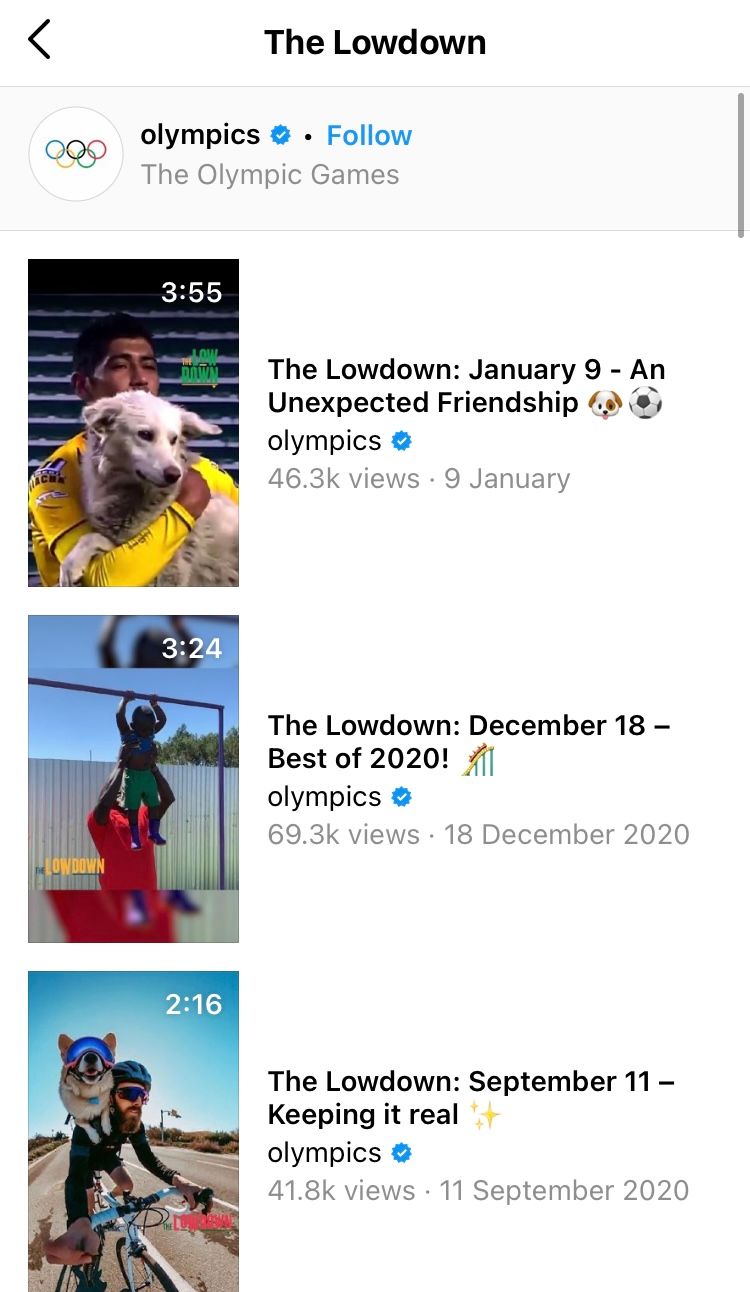 3. Nando's UK and Ireland

With an entirely different take on series aesthetics, @nandosuk groups series by using similar cover images, and minimal changes to each title. This takes organisation to a whole new level, including branding that fits the restaurant's colours and fonts, making it impossible to mistake the content for anyone else's. Notice now in the series 'Booth Truths' @nandosuk includes a description of the series. If a viewer was browsing, this would tell them exactly what to expect from the series, and might be enough to get them to click… before bingeing the lot.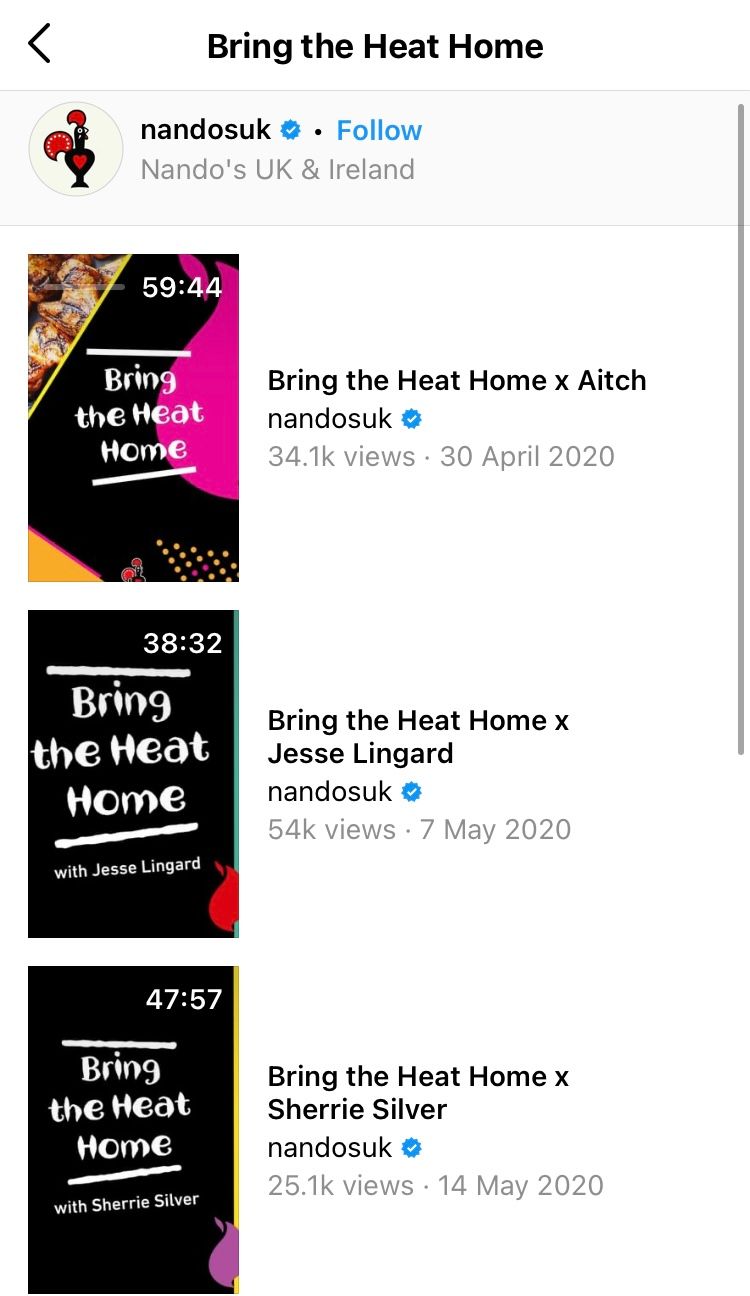 You can track your IGTV content with Minter.io, compare how IGTV posts performs against other types of content, as well as get access to a breakdown of engagement purely for IGTV. Learn more here and then check out everything else Minter.io can do for your brand on social media.
---
Get access to your IGTV metrics today!
Try Minter.io now →