Meta launches new subscription-based verification system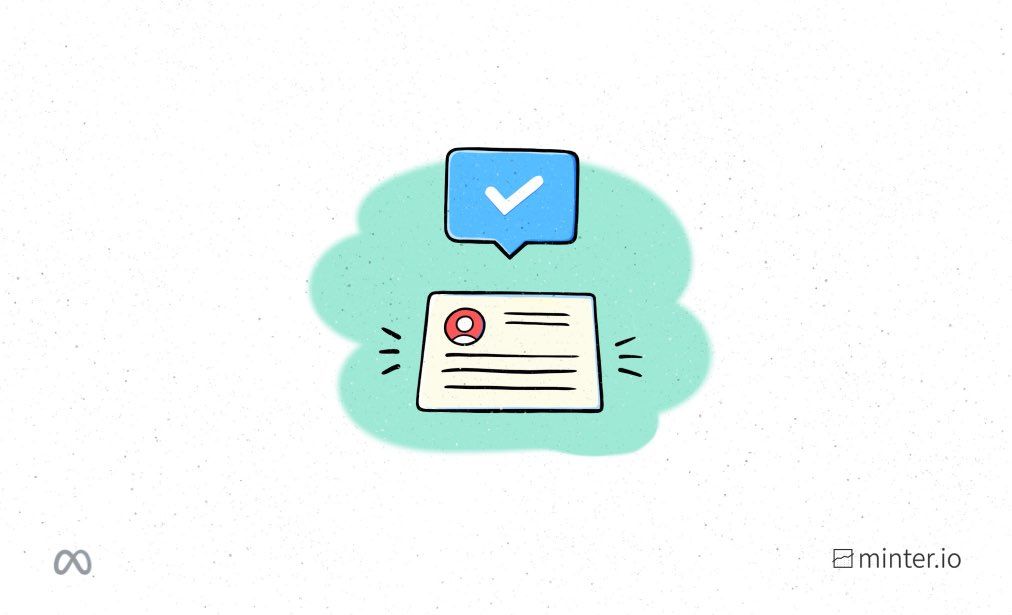 Social media platforms have a long-standing history of adopting features from each other. When it comes to Meta, Stories and its filters look a lot like Snapchat, the Reels feature mirrors the TikTok app and now Meta's new subscription-based verification system appears to be inspired by Twitter Blue. Some might argue that social media platforms should stay in their own unique lanes, while others explain that borrowing the best features of other apps fuels the natural evolution and success of social media as a whole. All we know is that it's better to be in the know than to be left behind.
Meta verification is coming; it's being tested around the world as I type. In this article, we're going to let you in on what you can expect from this new way to get verified on Instagram and Facebook.
What is Meta Verified?
Meta Verified is the new way to get verified on Instagram and Facebook. It mirrors Twitter Blue in that it's a paid-for subscription service which provides verification alongside exclusive features for being signed up to the program.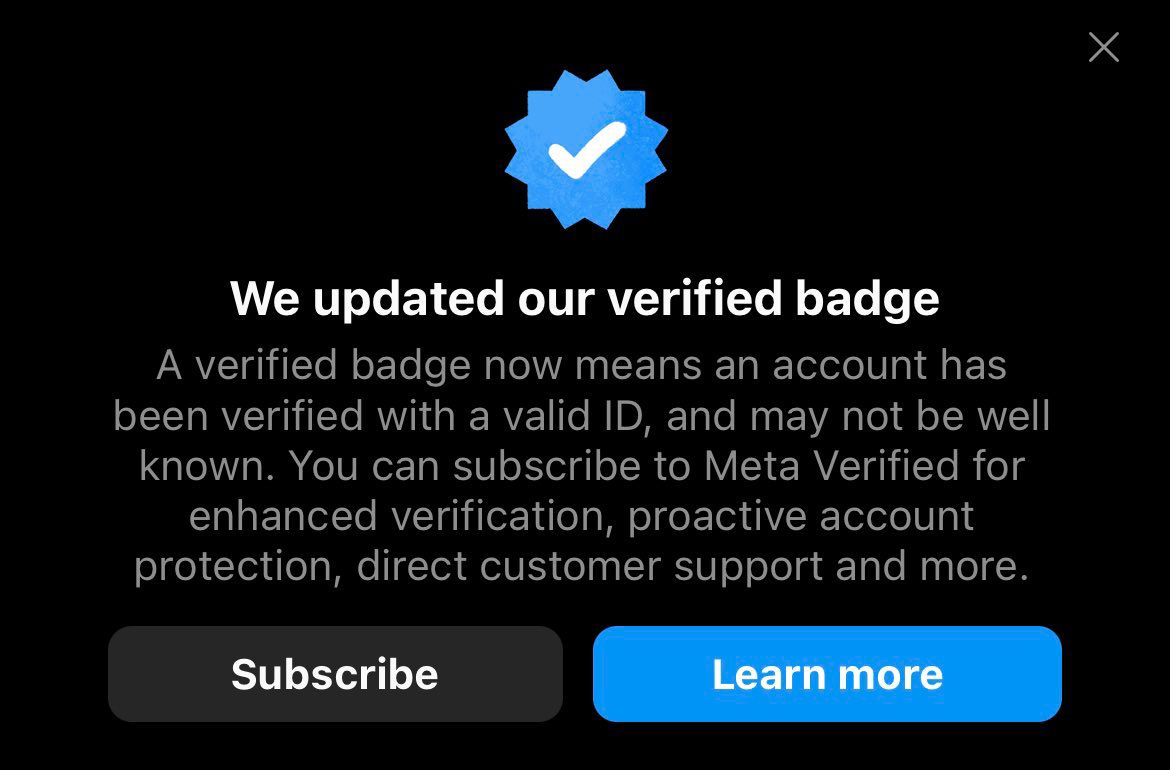 What do you get with Meta Verified?
Social media has been free for the average user since its inception. For businesses, the main costs incurred have been for advertising and boosting posts. With several social media platforms now adopting subscription models and verification costing cash on a rolling monthly basis across multiple platforms, you'll want to know you're getting a good deal.
Here's what you get with Meta Verified…
Verification
An obvious starting point, but an important one none-the-less, is that you'll be verified as an authentic person. This requires government ID to establish your account's authenticity, allowing users to put their faith in the system.
Proactive account protection
Bots, fakes and phonies have plagued social media for decades. Meta Verification fights back against impersonators with proactive account monitoring. This is a huge step forward in safeguarding authentic accounts. You're also required to set up two-factor authentication with verification, which also helps ward against imposters.
Direct account support
Is it just me or is it unbelievably better when you can speak to an actual person to help answer your questions and solve your issues? Meta Verification does just this. By becoming verified, you'll be able to get help from a real person when issues arise.
Additional ways to interact
It's always good to have more ways to interact with the community, and with exclusive stickers to use on Facebook and Instagram Stories and Facebook Reels, you can do just that. You'll also get 100 Stars a month, which is a new way to interact with content. Similarly to donations on streaming platforms such as Twitch and YouTube live, Stars is a way to financially give back to creators and show support on the accounts you interact with.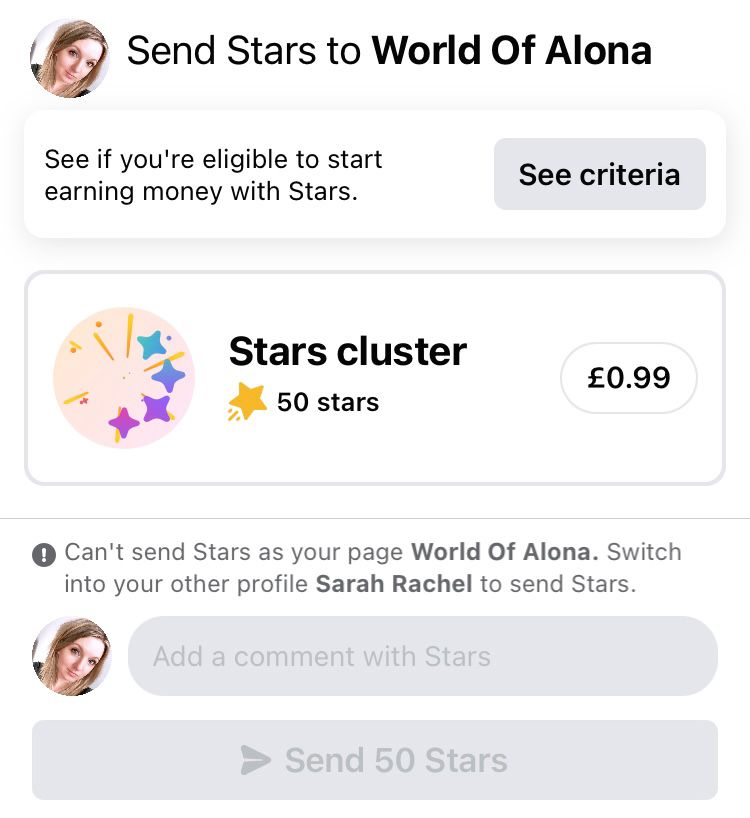 How to get Meta Verified
Meta is currently testing and learning with Meta Verified. It is currently only available in certain countries including the United States, Australia and New Zealand. It's currently not available in all regions and it's not available for businesses at this time. To become verified on Facebook and Instagram, you have to apply for each account separately.
To be eligible to qualify for Meta Verified, you must:
Be 18 years or older.
Have a public or private profile associated with your full name.
Have a profile picture that includes your face and matches your government ID.
Meet minimum activity requirements, such as prior posting history.
Have two-factor authentication enabled.
Comply with the terms of service and company guidelines.
If you meet the necessary criteria and are in a region currently supporting Meta Verified, here's how you can sign up:
Go to 'Settings' on Instagram or Facebook.
Select 'Accounts Center'.
Select 'Meta Verified'. If it's available, you will see 'Meta Verified available' under your name and profile photo.
Choose a payment method.
Add a government-issued ID photo to confirm your identity.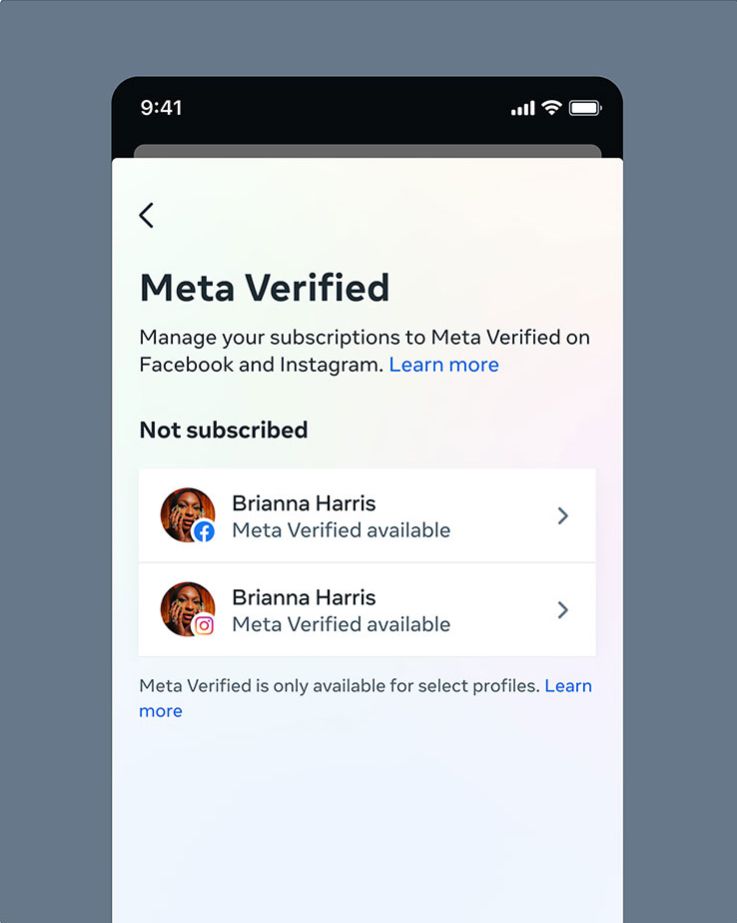 Once your profile is verified, you will lose that verification if you change your profile name, username, date of birth or your profile picture. If you make changes to any of these, you will have to apply for verification again.
If Meta Verified isn't currently available in your area, you can join the waitlist.
Pricing
It costs $14.99 USD/month (iOS/Android) or $11.99 USD/month on the web (Facebook only) to gain access to Meta Verified.
What happens to previously verified accounts?
While Meta Verified is being tested, accounts that were verified under the previous requirements will remain verified. If you're already verified, you can still apply for a Meta Verified subscription to unlock the extra features.
Backlash over Meta Verified
Meta Verified brings new features to the table, but not everyone is happy about the changes. Some users who have spent a significant amount of time striving to hit the previous verification thresholds feel cheated, while others see Meta Verified as one big money grab from a giant corporation.

Some people object to uploading legal information to access new features. Up until now, many people have enjoyed using nicknames and unofficial brand names to express themselves on social media. While some argue that using legal names could stamp out trolls hiding behind fake personas, others claim using legal names could also put people at risk. By sharing information such as a full legal name publicly, people could be at higher risk of being located by stalkers. Transgender people who haven't legally changed their names are also excluded from verification. Plus artists, musicians and creators often go by other names and have no interest in showing up on social media as their legal name.
Ellery Roberts Biddle made an excellent point about a writer in southern India who didn't want to use her legal surname as it was an indicator of her social caste, but she was subject to other problems without account verification. This part of Meta Verification is likely to alienate a lot of people who are not doing anything untoward online.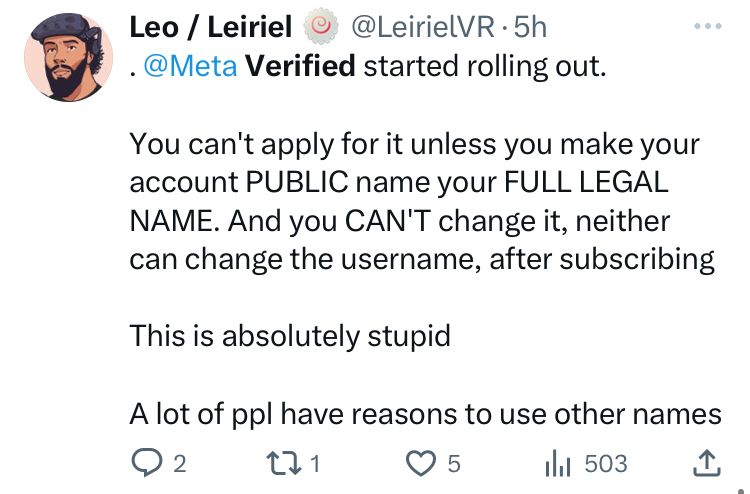 Not being able to change features, such as your profile picture, without losing your verification is another area some object to. Isn't social media about being creative? Changing up your profile picture with the seasons of life is a huge way of being creative online, but if you want to stay verified you'll need to re-apply after every change. You also won't be eligible to Meta Verified without your face in the image. That cute angle of you staring out over a gorgeous view with the sunset glistening off your back? Sorry, not valid.
In a nutshell, Meta Verified forces participants to show up as who they are legally,  as opposed to showing up how they want to show up. This places limits on creativity while pushing aside genuine reasons it might be important for some people not to share their legal information online.
Positives of Meta Verified
There has been talk about ways to verify identities and stamp out bullying, harassment and predatory behaviour online for years. Meta Verified seems to be an attempt to do this without booting everyone who doesn't want to share government ID totally off the platform.
When we look at the features, there is a lot of good stuff on offer. If you have a large following, being signed up for Meta Verified means Meta will proactively shut down imposter accounts. Fake accounts have been a huge problem online, often leaving the legitimate account owners feeling powerless to stop consumers falling into scams under something that looks to be under their own name. Meta Verified addresses this.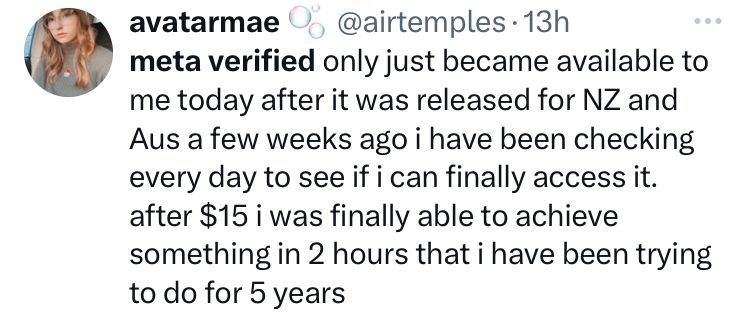 Additionally, a direct line of communication with the help team is another huge reason people might want to jump on board. When there's a problem, the simple act of actually getting a human instead of a robot to help you out shouldn't be revolutionary, however in today's society sometimes it is.
While you might be shackled by not being able to change your name and profile picture, there are a number of different ways you can express yourself when verified - one of these being a monthly allocation of Stars. Stars is a monetisation feature which allows users to show appreciation for the content they love by financially gifting Stars on a piece of content.
A big shift in meaning
Being verified on Facebook and Instagram is no longer about being notable enough to have to ward off fakes. It's now about proving who you are online, no matter the size of your account. This is a huge change in the global perception of the blue tick. While it does provide legitimacy to verified accounts in a new way, it isn't only for large accounts with a big enough following to expect impersonators.
Meta Verified isn't currently available to businesses. Will Meta follow in the footsteps of Twitter and provide different coloured badges to distinguish between different types of accounts? Will professional accounts no longer seamlessly slide into content feeds? There are a lot of questions over the future of verification online and we'll be keeping our eye on it to give you the info you need as it becomes available.
Don't forget: to get access to all the metrics you need to help your business grow online, head to Minter.io today. This is your opportunity to build your social media presence with the analytics tool every business needs. Try it here.

---
Unlock better performance on social media with analytics!
Try Minter.io →