5 ways to get more user-generated Instagram content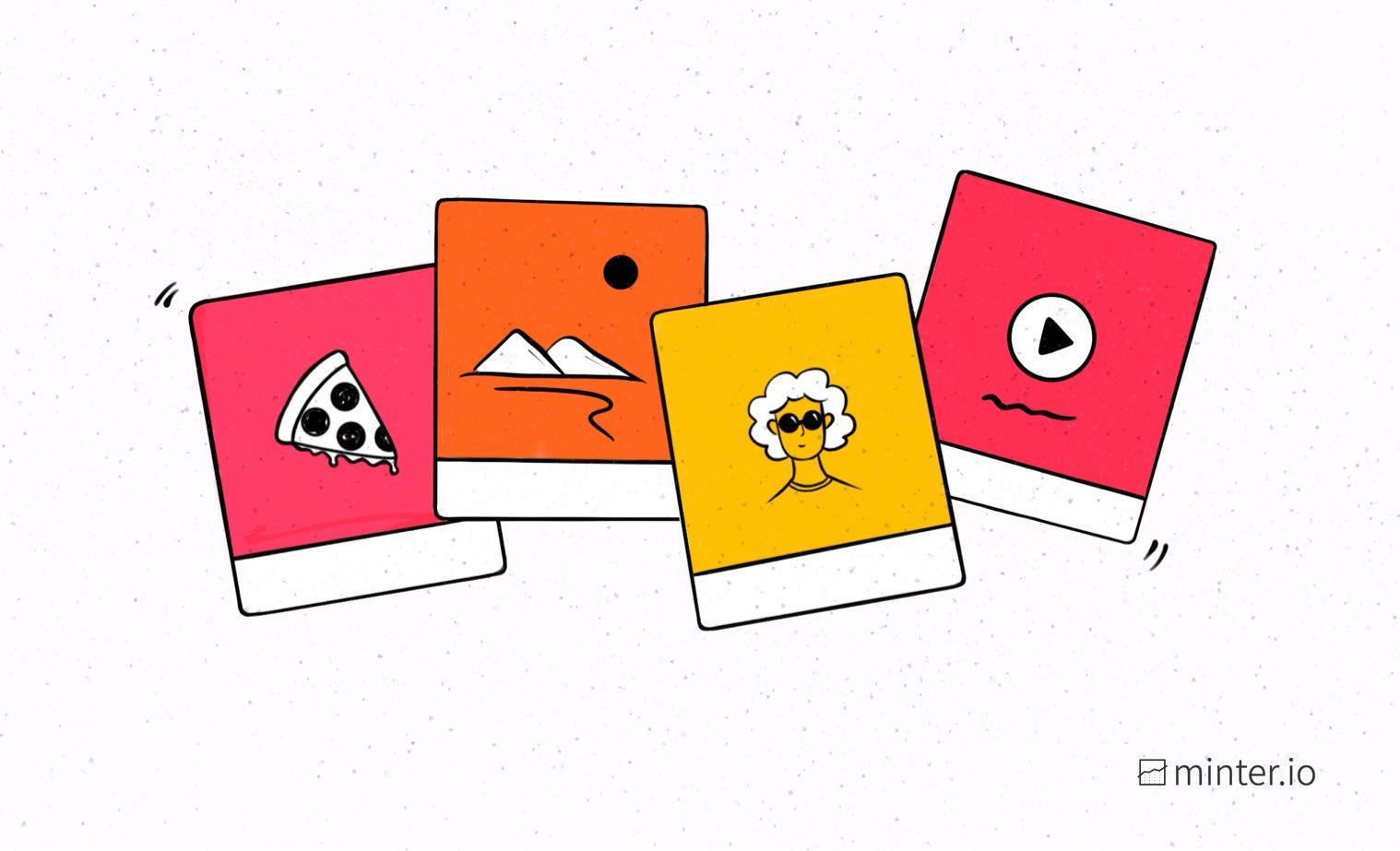 User-generated content is one of the most powerful tools in marketing, responsible for building trust and growing business in a way that no other technique can. Social media is the perfect vehicle for supercharging its use because people can share instantly to large volumes of people, as many times as they wish. In this article, we're looking at how you can encourage more user-generated content by creating opportunities specifically catered to this dynamic marketing technique.
1. Make things worth snapping
User-generated content truth: people share because they want to be associated with something.
Let's start with this simple fact - people will only create and share user-generated content if they think something is worth sharing. It all starts with creating things people want to share, recommend and be associated with. Keep this in mind as we look through some ways you can make your brand worth snapping and sharing.
Products
When it comes to the world of marketing, appearances do matter. Creating products people want to share with their friends and family should be at the heart of your user-generated content strategy. When a customer opens a delivery from your business, or buys from your brand, are they likely to snap a pic and share it on their socials? If not, why not? How could you change this? Remember that the things people share on social media are an extension of how they want to be seen.
Look at how Instagrammable these products from @bullfrogbottles are. From classic and chic to totally unique, these products stand out from the crowd and look great in aesthetic customer posts, while each design acts as a reflection of the purchaser's personality. You can tell customers love them by the sheer amount of posts in this stories highlight.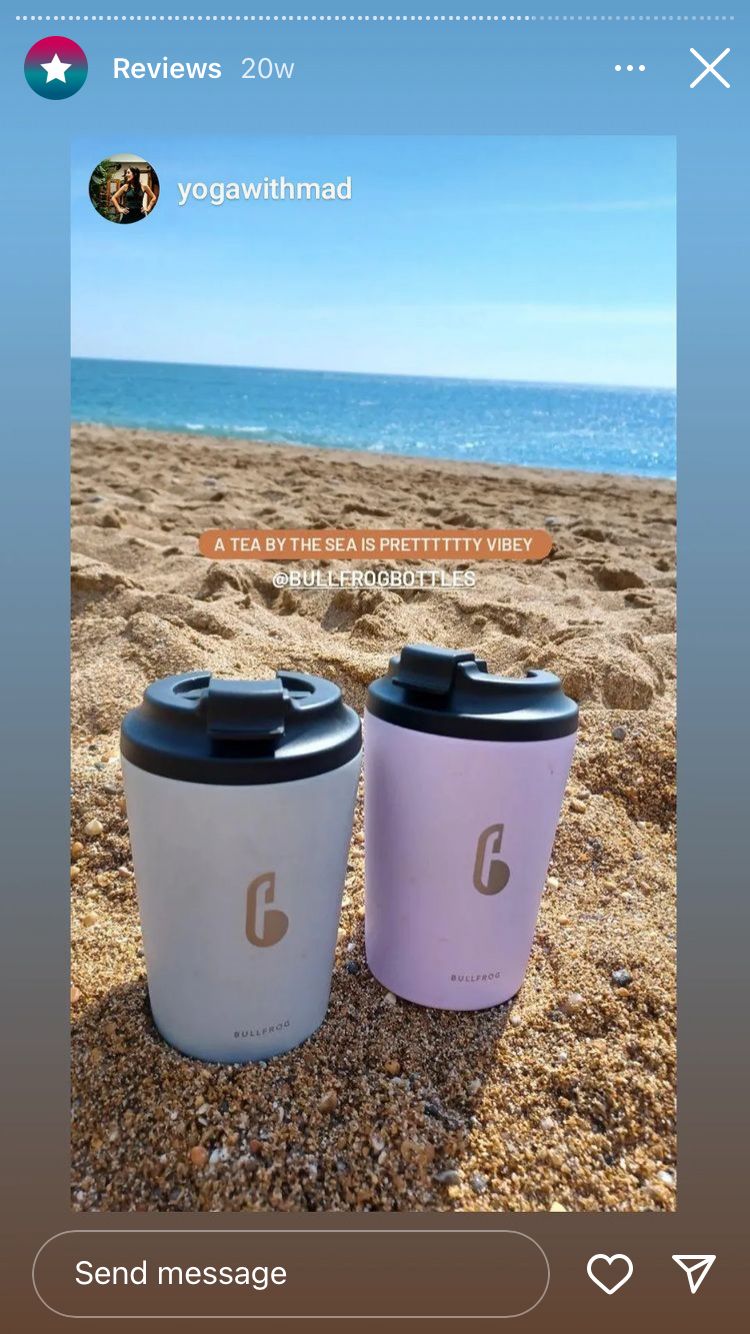 Packaging
While the product should be the star of the show, never underestimate the power of great packaging. From unique boxes to quirky quotes, there are plenty of ways to make your packaging worth shouting about.
Check out the examples below and if you're in the mood for more inspiration, check out this recent blog that knocks packaging out of the park.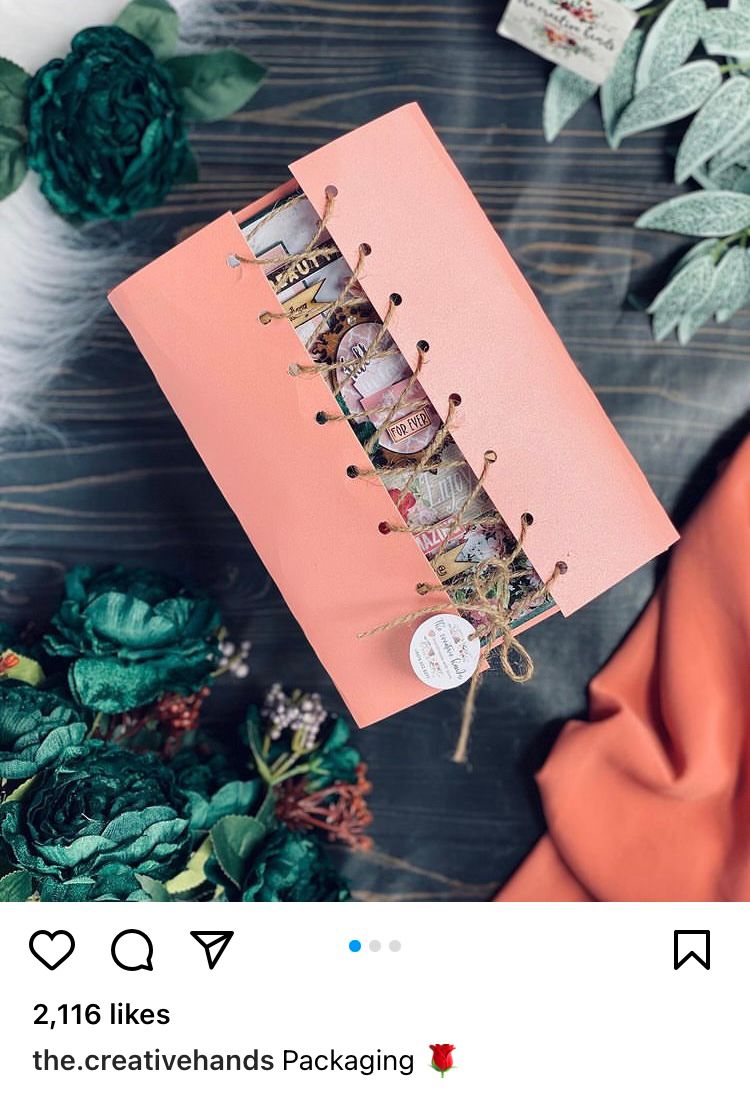 Stores & Offices
Do you have offices, stores, venues or other places customers can visit? Make it difficult for your customers not to share your business on social media. Whether you opt for transforming your environment into your dream aesthetic, add quirky features or inspirational quotes on the wall, there are so many inventive ways to implement elements that are almost impossible to ignore.
Here are two very different examples of share-worthy features. The gym @pantheonplymouth features large-scale wall art so unique that it invites a share without even the need for a selfie. The store @bullfrogbottles implements a beautiful store layout alongside quirky, cute features such as placing the writing 'YOU LOOK GOOD' on the mirror.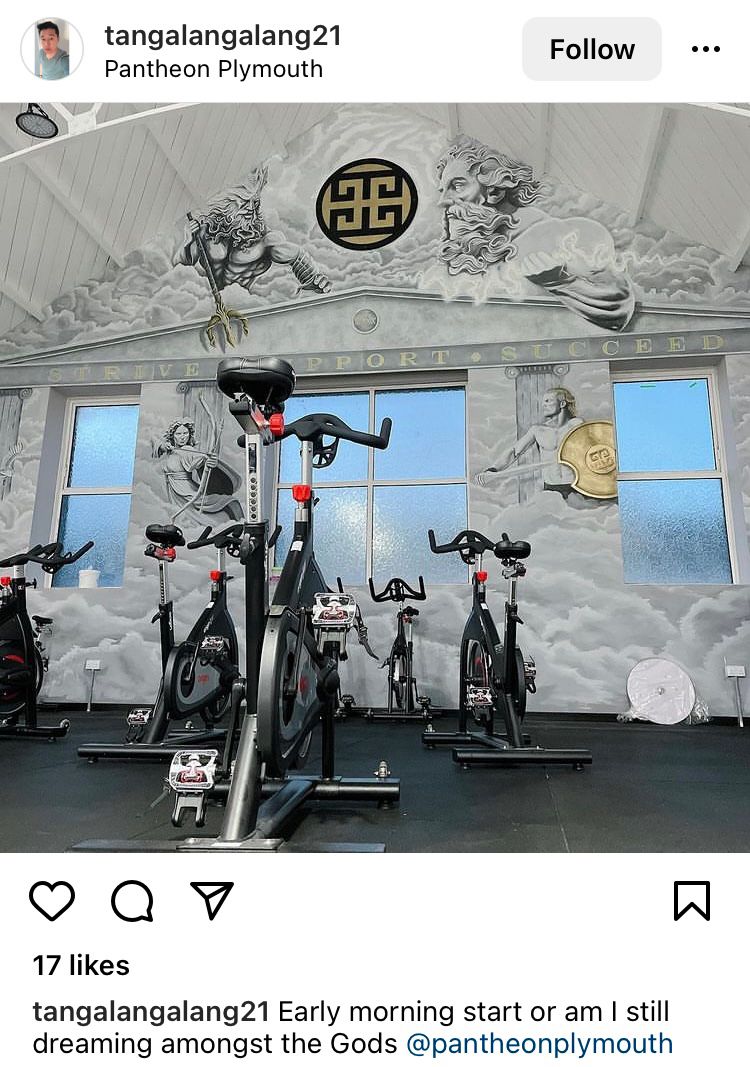 Selfie Walls
Talking of wall art, selfie walls are all the rage these days. This creates a dedicated space for customers to take a photo of themselves to share on social media. Trends include foliage walls and neon words as well as hashtags and quirky quotes.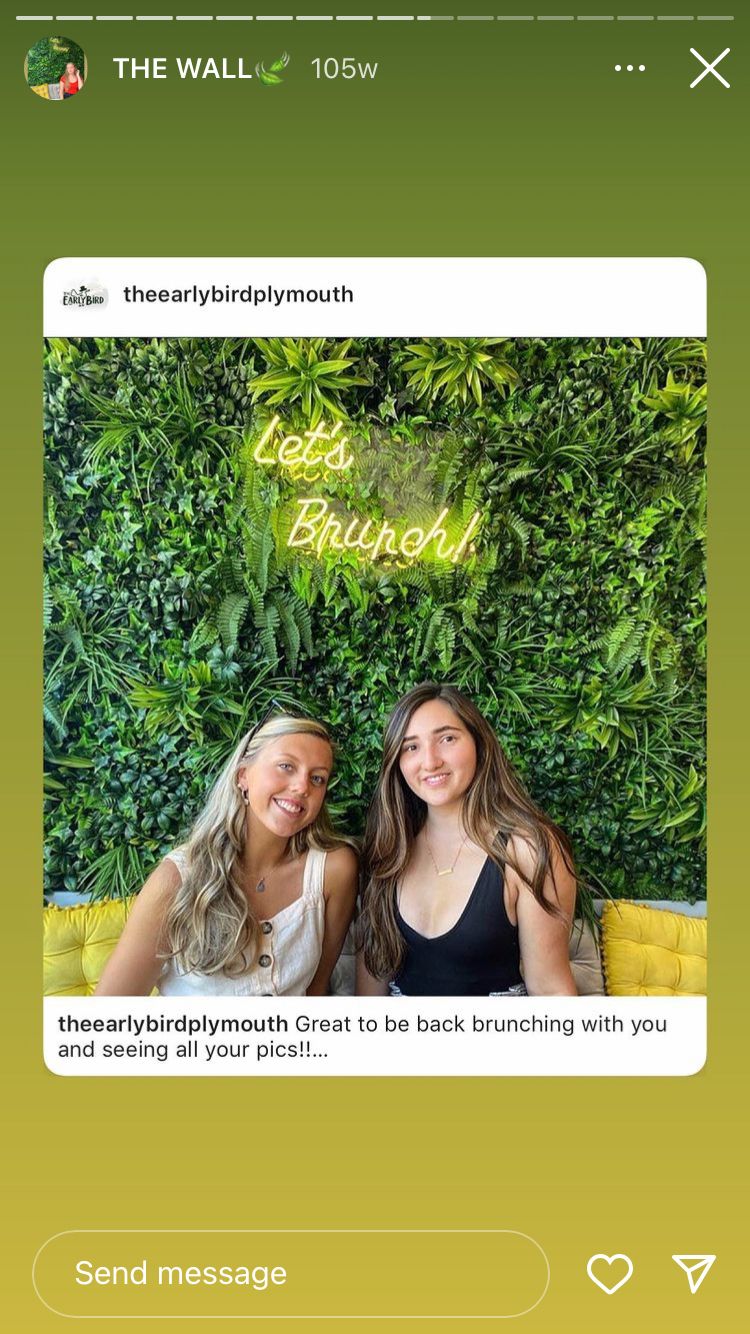 2. Host a dedicated highlight
User-generated content truth: people share to be part of a community.
A popular way to share and encourage more user-generated content is to create a dedicated stories highlight. By displaying these stories prominently on your Instagram account, featured viewers feel they are a valued part of the community. When customers feel valued and seen, it encourages them to repeat this action and the more people share, the more others want to be involved.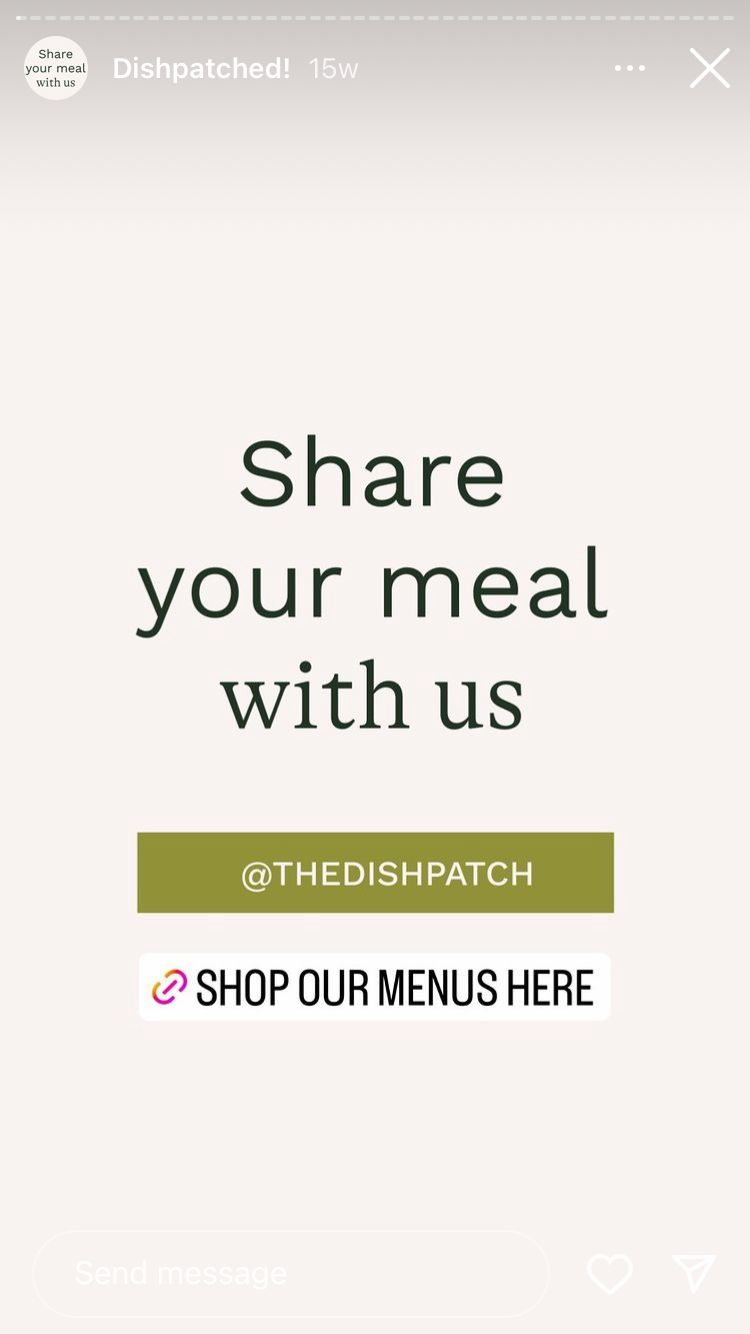 Catering company @thedishpatch has the call-to-action 'Share your meal with us' as the stories highlight cover image and as the first post in the highlight.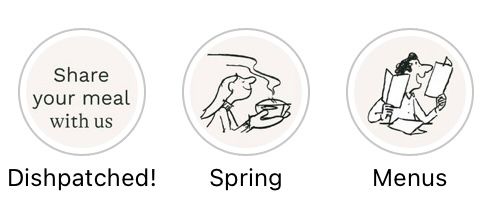 3. Start a competition
User-generated content truth: people share to get something in return.
Starting a competition which requires participants to share images is a sure-fire way to encourage more user-generated content to pour in. Make sure you keep it relevant to your business and provide a prize customers will want to receive and share online. New potential customers who see the user-generated content will be introduced to your brand and might want to be involved, increasing the chances of higher levels of content created.
This example by pet brand @natusan_uk gets it so, so right. The competition post is clear, the terms of entry are stated, the competition is highly relevant to their business, the prize is something their customers want and the winner is congratulated. Furthermore, this competition is a monthly affair, inviting a continuous stream of new user-generated content.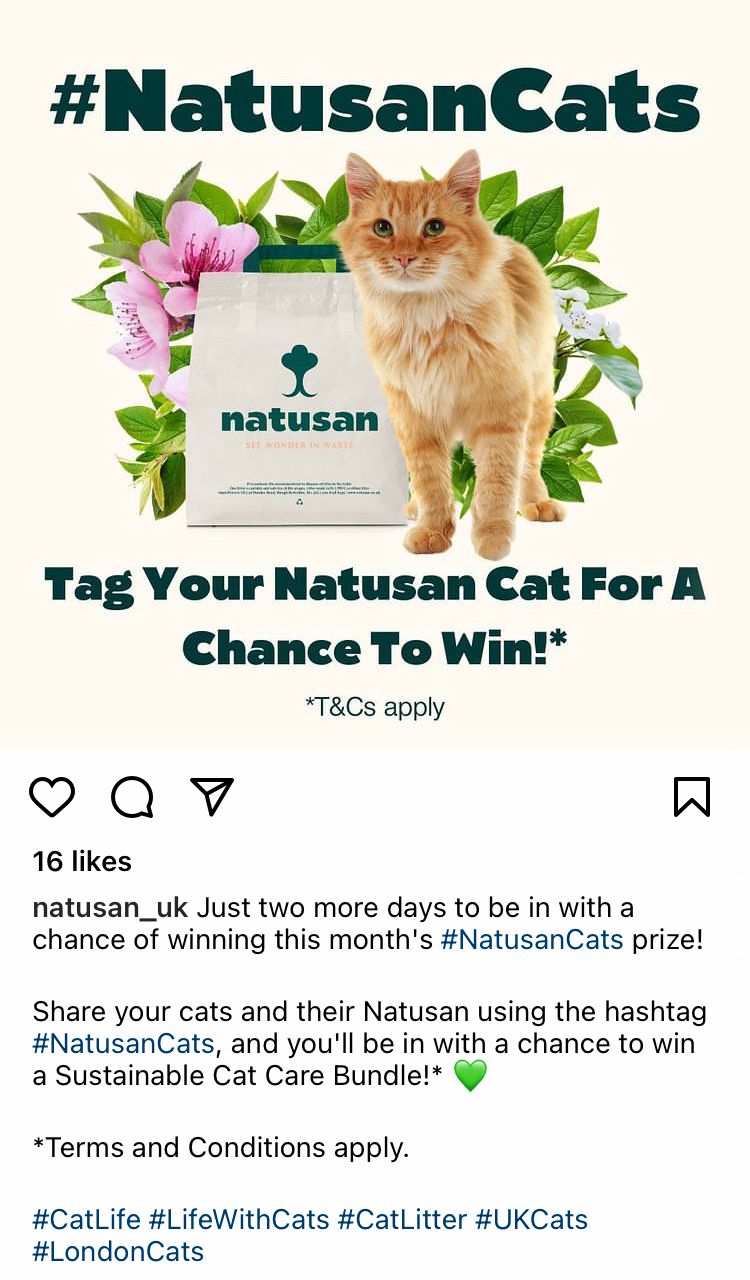 4. Make user-generated content a regular feature
User-generated content truth: people share to get noticed.
No prizes? No problem. Invite your audience to share content with you and pepper your profile with user-generated content, giving credit to the original creator. Not only does this show your public appreciation to the audience member but it helps them get noticed. Doing this regularly encourages more people to get involved as it indicates that their content may be shared at some point.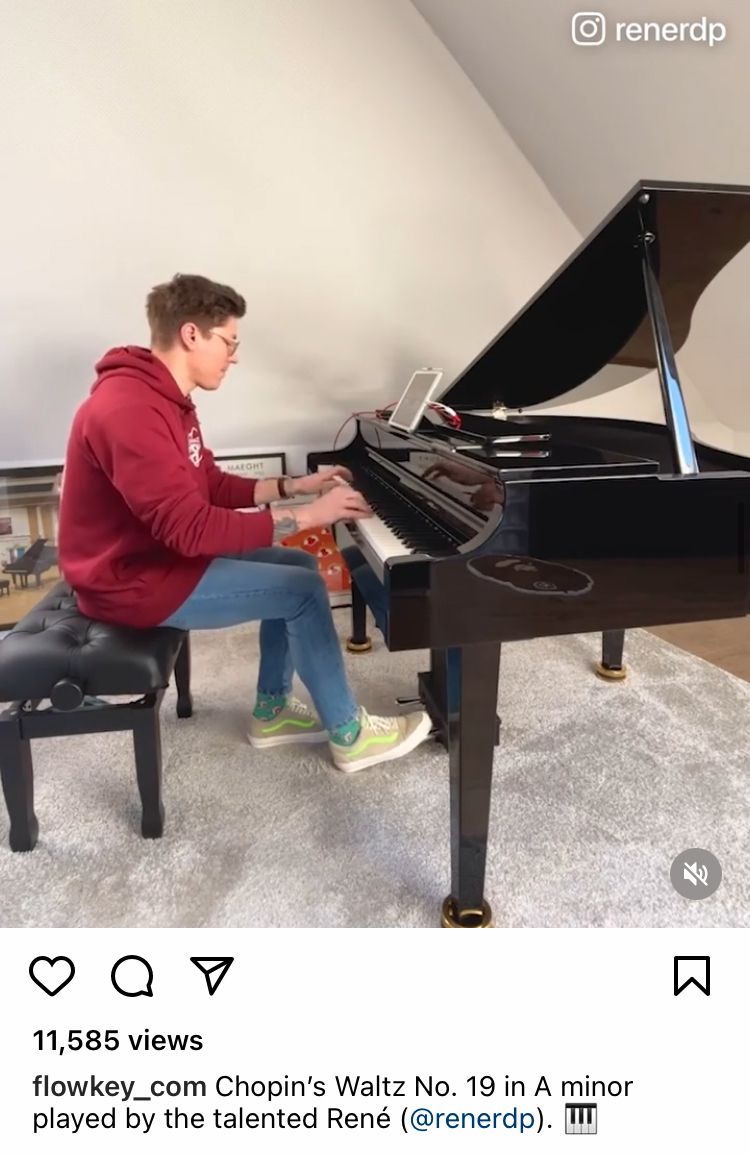 5. Add a helpful hashtag
User-generated content truth: people share because it's easy.
Don't get user-generated content muddled up with other content online. Create a specific hashtag for sharing. This makes it easy for your audience to share and feel seen, while it also makes content simple for you to sort through. Did you know: you can track specific hashtags on Minter.io which allows you to group content from that hashtag and see how well it is performing over time.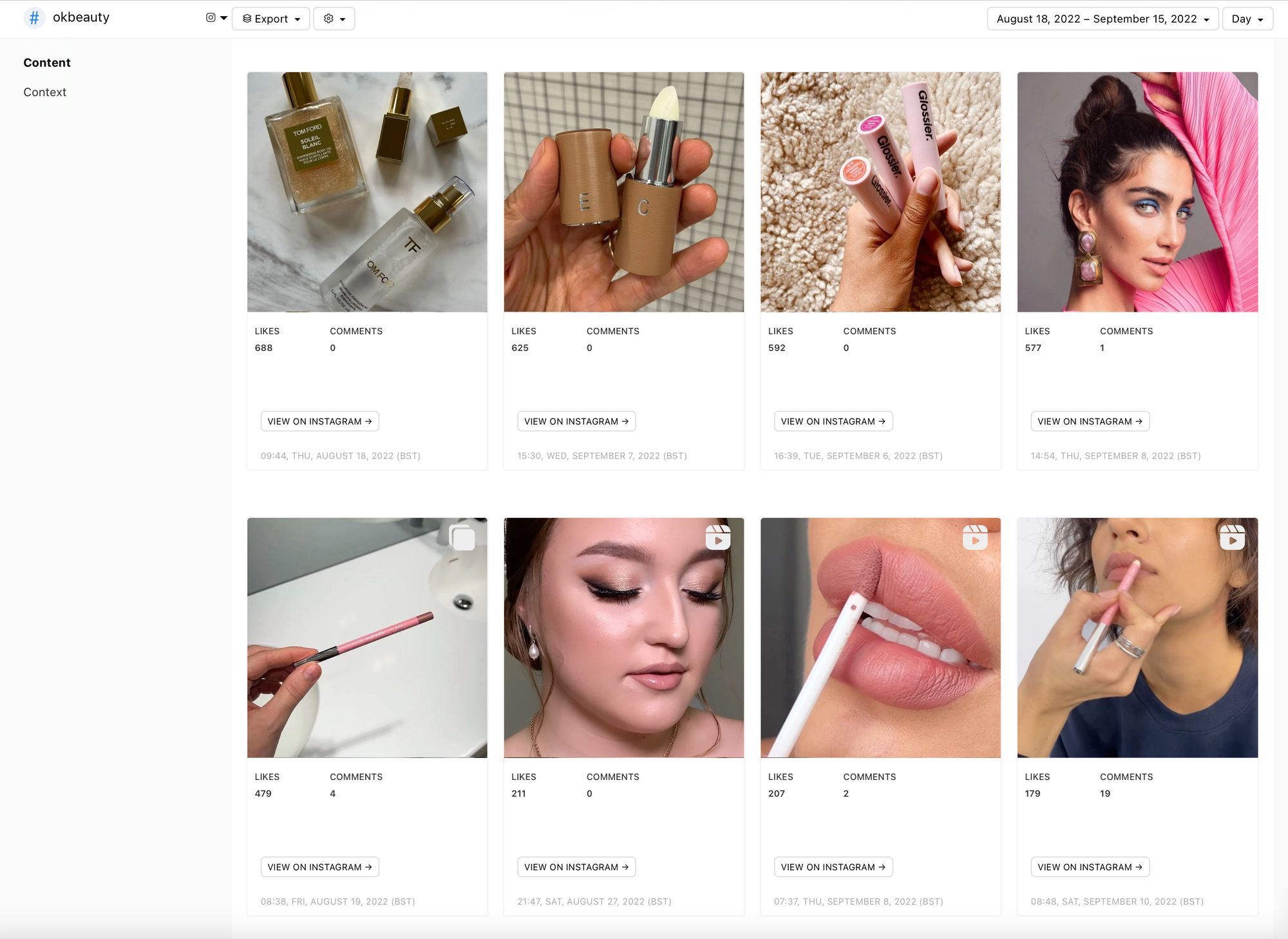 Let's look at one of the previous examples to see how they embrace hashtags in this way.
The hashtag #NatusanCats is specifically used for user-generated content. This hashtag is clearly displayed in the imagery and twice in the description as part of the call to action.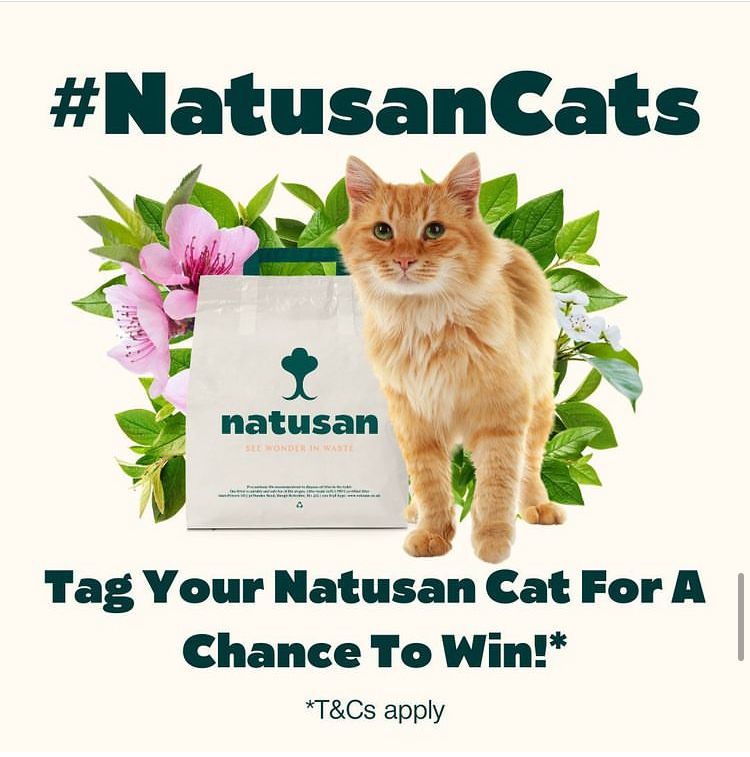 You can add your hashtag to packaging, thank-you notes with deliveries, products, user-generated content you share, advertising, in your bio and as a call to action. You might even name a stories highlight using your hashtag.

There are some super ways to supercharge your user-generated content. Don't forget to group content together with Minter.io and check out so many more social media metrics to help your business grow while you're there.


---
Take your social media presence to the next level with analytics.
Try Minter.io!→