How to get more TikTok views with Minter.io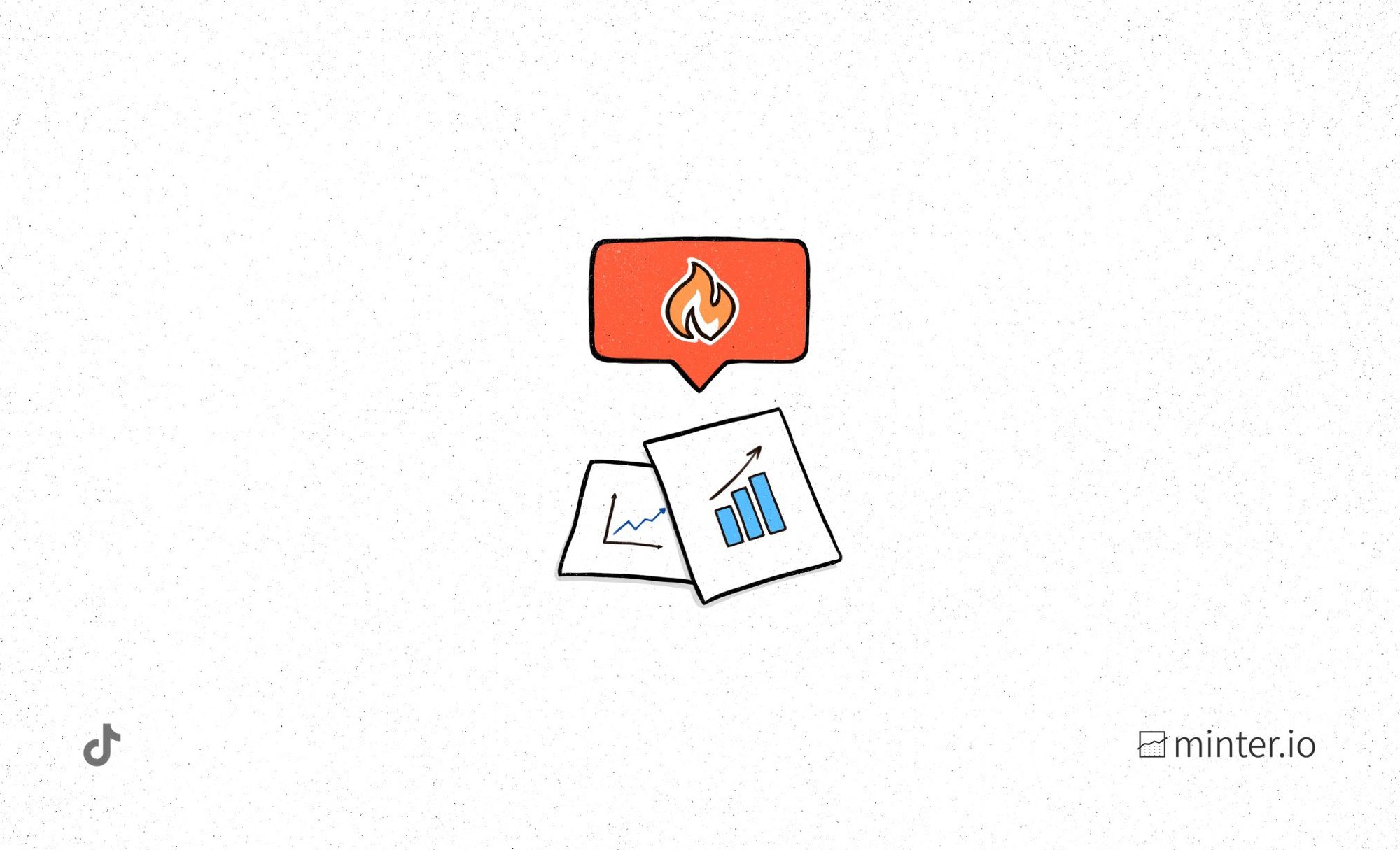 The potential to blow up on TikTok is massive. TikTok's superior algorithm has made stars out of ordinary people, given new traction to businesses and prompted pretty much every major social media platform to embrace short-form video content.
If you're struggling to get off the starting blocks or simply want more views on TikTok, look no further. Here's a step-by-step strategy that uses analytical data to shape a clever social media content plan which could gain you significantly more views.
Step 1: Post content
Before you can analyse data, you need to gather it. If you're new to TikTok or haven't posted a lot, there are many ways to get inspiration and build your skills along the way.
Get started by:
If you've tried all the above and are still struggling to figure out how to gain traction, it's time to look at the content that is currently working best for you.
Step 2: Find the days that gained the most views
With Minter.io you can view a substantial amount of social media metrics over a significant amount of time. This makes it easy to find the information that means the most to you. We're going to be looking at TikTok content analytics on Minter.io to get a better picture of the content that's driving the most views.
Use the date picker to select a time frame to analyse. You can select an option from the drop-down menu or fully customise the dates to suit your needs. Choose an option that gives you a large set of data to look through such as 'Year to date' or 'All Time'.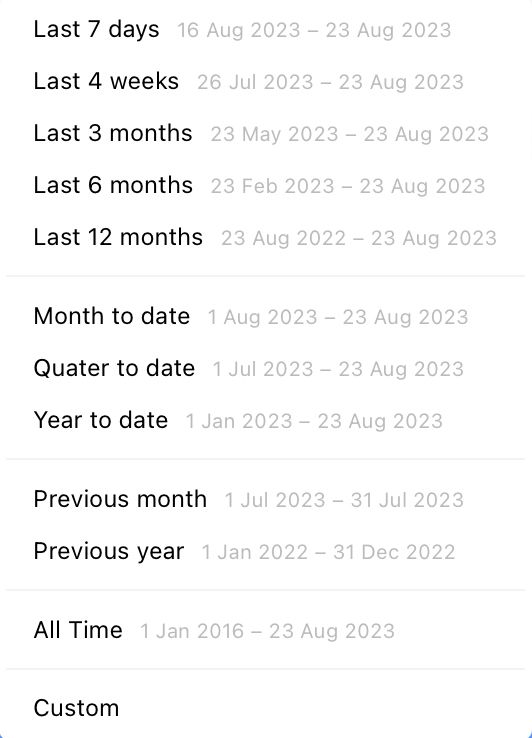 You can view data by day, week or month. Select 'Month'. This will allow you to pinpoint the month that got the highest amount of views for further investigation.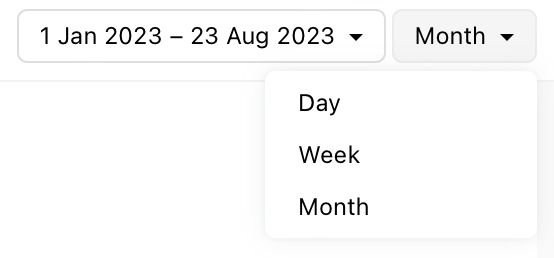 Now you have a time frame selected, it's time to find out when your content gained the most views. Select 'Content' from the panel on the left-hand side and scroll down to the Views graph.

In this example, we can clearly see that the highest amount of views were gained in July. Let's dive into July for more information.
Head back to the date picker and select 'Custom'. Insert the 1st to the 31st of July. Choose to view the data by day. Scroll down to find the Views graph again.

In this example, we can clearly see that one day in particular gained a significant amount of views, but with this graph alone we can't determine why.
Step 3: Find the reason for the spike in views
We still need to answer questions such as:
How much content was posted and did that affect the view count?
Was there a standalone piece of content that drove views?
Was there anything different about the day that gained the spike in views (e.g. a seasonal event)?
Were external influences contributing to the view count (e.g. a share from a big account)?
The first thing to determine is whether more content than usual was posted. If this was the case, boosting views could be as simple as posting more often. Scroll up to see the Videos graph.

In this example, it's clear that there was no increase in content published on the date of the highest view count.
The next thing to determine is whether there are spikes in other graphs on the same date. Reach and impressions often go hand-in-hand with engagement as engagement activates the algorithm to push the content to more people. This could be an area to explore.

In this example, there is a correlated spike in the amount likes, however there isn't a significant amount of increase in the other engagement metrics such as comments and shares. You may also want to view the Follower Change graph in the Audience tab to see whether there was an increase in followers around this time.
We have now determined the views weren't gained by an increase in content being published. We've also found out that the number of likes on the content increased in correlation with the views.
Now it's time to look at the content itself…
Step 4: Find the content with the highest view count
Scroll down to the bottom of the page to view your content. Use the drop-down menu next to 'Videos' to sort the content by views.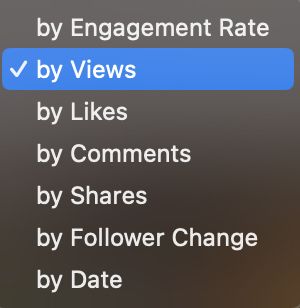 From here, you can see all your published content within the select time frame, sorted from the highest amount of views to the lowest.
The first post is the piece of content that gained the highest amount of views. The date written underneath the content data lines up with the other graphs. We can see that this TikTok video has the highest amount of views, likes, comments, shares and follower change among the top content sorted by views. These high engagement data points likely triggered the algorithm to push this video to more viewers.
Step 5: Analyse top-performing content
Select 'View Video' to find more data. Here you will find data metrics alongside the TikTok video. Scroll down to view 24 hour data.
24 hour data shows you how a post performed in the first 24 hours of publication. This information is valuable because how a post performs early on can dictate how it is served in the algorithm.

In the Views 24h graph, we can see the run up to the big push in views by the algorithm. Notice how in the run up, this post is consistently getting views instead of gradually dropping off.
It's a good idea to look at the Likes 24h graph too as the Likes graph correlated closely with the original Views graph.

In this example, we can see that the likes are fairly consistent with the Views 24h graph. These two metrics working in tandem could have been the catalyst for the surge in views.
Step 6: Replicate the best-performing content
Now that we know what is happening, let's turn to the content to see how we can replicate it. Experiment with the key elements within the content to inspire fresh content with the aim to gain similarly high views in the process.

Look at the cover image, the description and hashtags used. What makes these stand out among your other content. Was there anything you did differently?
Look at the cover image. What is the subject and focus of the image? How is it framed? Is there anything specific that stands out? What are the colours? Does it spark an emotion? Is there a text overlay and if so, what words were used? Each of these questions could help you find out why this was an eye-catching video people were drawn to.
Look at the description and hashtags. Is the caption long or short? What is the opening phrase that the viewer will see first? Does it capture attention? Are emojis used and if so, which ones and how many were used? Did you use different hashtags than usual? You can view your most effective hashtags using the optimisation features in Minter.io to craft future copy that reaches more people.
At the bottom of the content, select 'View on TikTok'.
By viewing your content with an analytical eye, you can determine why it captured and held attention. Pay close attention to the first couple of seconds of your video. When a TikTok video is shown in a feed, it is the first few seconds that either hooks your viewer in to watch more or loses the viewer as they scroll onto the next one.
Look carefully at the:
Opening image
Pace
Editing
Music or sound
Topic
Colours
Overlays and text
Experiment with replicating these elements to find your formula for higher views.
If you have comments, read and respond to them. The simple act of listening to what your audience members are responding to and commenting on, could give you some very good pointers for including similar things in future posts.
Get more data with Minter.io
If you have a TikTok business account, you may be wondering what you can get with Minter.io that you can't get on TikTok. Well, it turns out, a lot. With TikTok, you can only view up to 12 weeks of audience and overview performance data. Minter.io holds onto metric data so you can view it for as long as you're signed up. This means you can compare data over significant periods of time, making it easy to compare and craft content that stands the test of time.
24 hour data isn't available with TikTok's in-built analytics, making it difficult to pinpoint exactly where your content went right. Minter.io provides several 24 hour metrics including views, likes, comments, shares and follower change.
TikTok only has 2 filters when choosing how to view your content: most recent and most number of video views. Minter.io provides several metrics to sort your content by. These include: engagement rate, views, likes, comments, shares, follower change and date.
On top of all this, Minter.io provides optimisation graphs to help grow your channel and help you understand what is working for your brand. Find the best times to post and the hashtags that are working most effectively for you.
Take the guesswork out of social media. Sign up to Minter.io today.
---
In-depth analytics for your business on TikTok.
Start your free trial!→