3 Ways Gymshark Is Smashing It On Instagram
Gymshark is a fitness apparel and accessories brand, manufacturer and online retailer based in the United Kingdom, supported by millions of highly engaged social media followers and customers in 131 countries. If you've been anywhere near a gym since the rise of Instagram, you'll have most likely seen or heard of Gymshark's products.
Taking a quick peep at its marketing efforts, it's clear to see why Gymshark has gravitated towards Instagram as a leading form of social media marketing. The aesthetic nature of Instagram as a platform is the perfect match for the visual emphasis on Gymshark's products, its clientele and its customer's desired fitness-related results.
Looking at Gymshark's follower statistics, the fitness giant's Instagram following on their main account comes out on top with a whopping 3.2 million followers. This is double its facebook following of 1.6 million, and well above the 435 thousand Pinterest, 218 thousand Twitter and 212 thousand YouTube followers Gymshark has accumulated. Not to mention, the tycoon is also gracing the airwaves of Spotify, with playlists for every kind of workout.
So, how has Gymshark grown from a teenager screen printing in a garage, to a worldwide phenomenon? Gymshark conclude, "this growth comes from a devotion to producing innovative, effective performance wear, an ever-expanding social presence, and above all a commitment to the Gymshark vision."
Here are 3 ways Gymshark is utilising Instagram to accelerate its business growth:
1. Making Use Of All Instagram's Available Features
Have a look at Gymshark's main account. It's clear, professional, with strong branding, and it makes use of several of Instagram's features.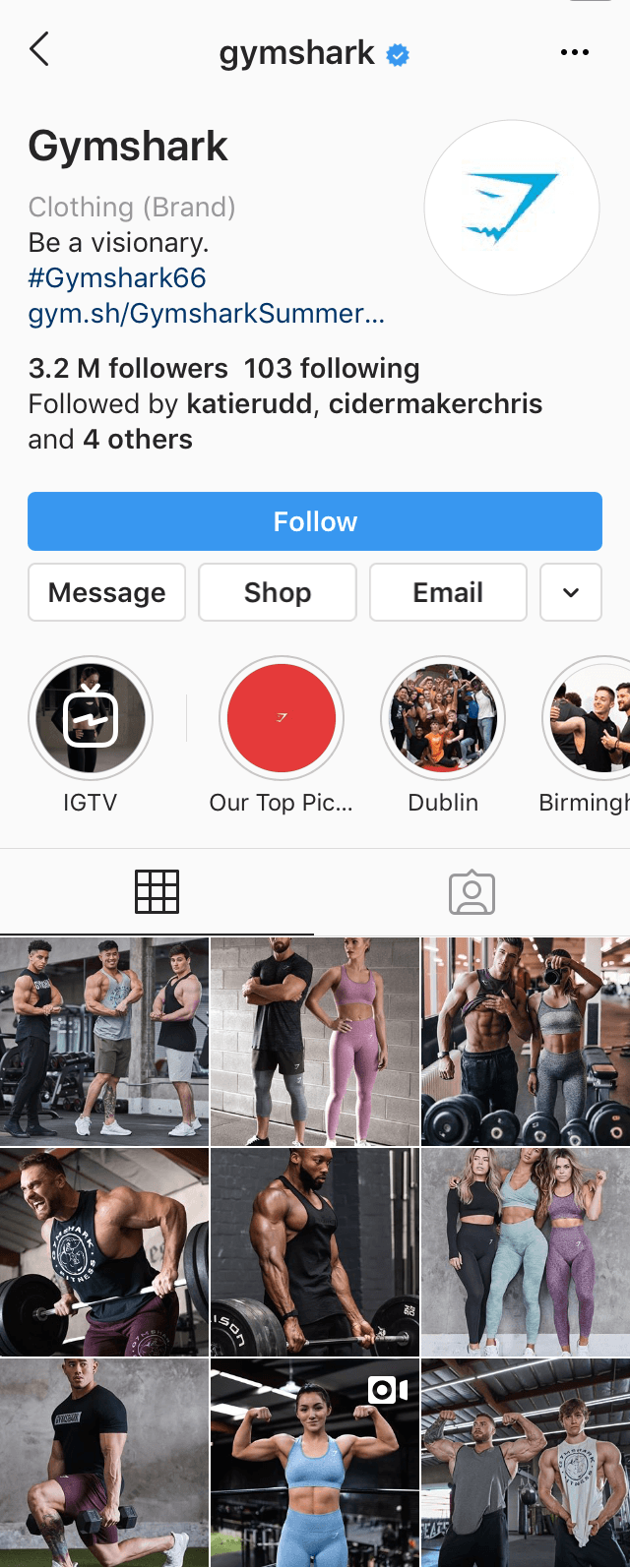 In the bio:
Link to website
Featured hashtag
Buttons to message, shop and email
Additional easy to click features:
Making use of the bio area, highlights and IGTV gives Gymshark the edge. It is easy for a follower to contact and connect with the brand and browse its products, which improves the customer experience and builds trust.
2. Quality And Quantity Of Content
Let's have a look at the top posts (by engagement rate) that Gymshark has published over the last year, as shown by Minter.io.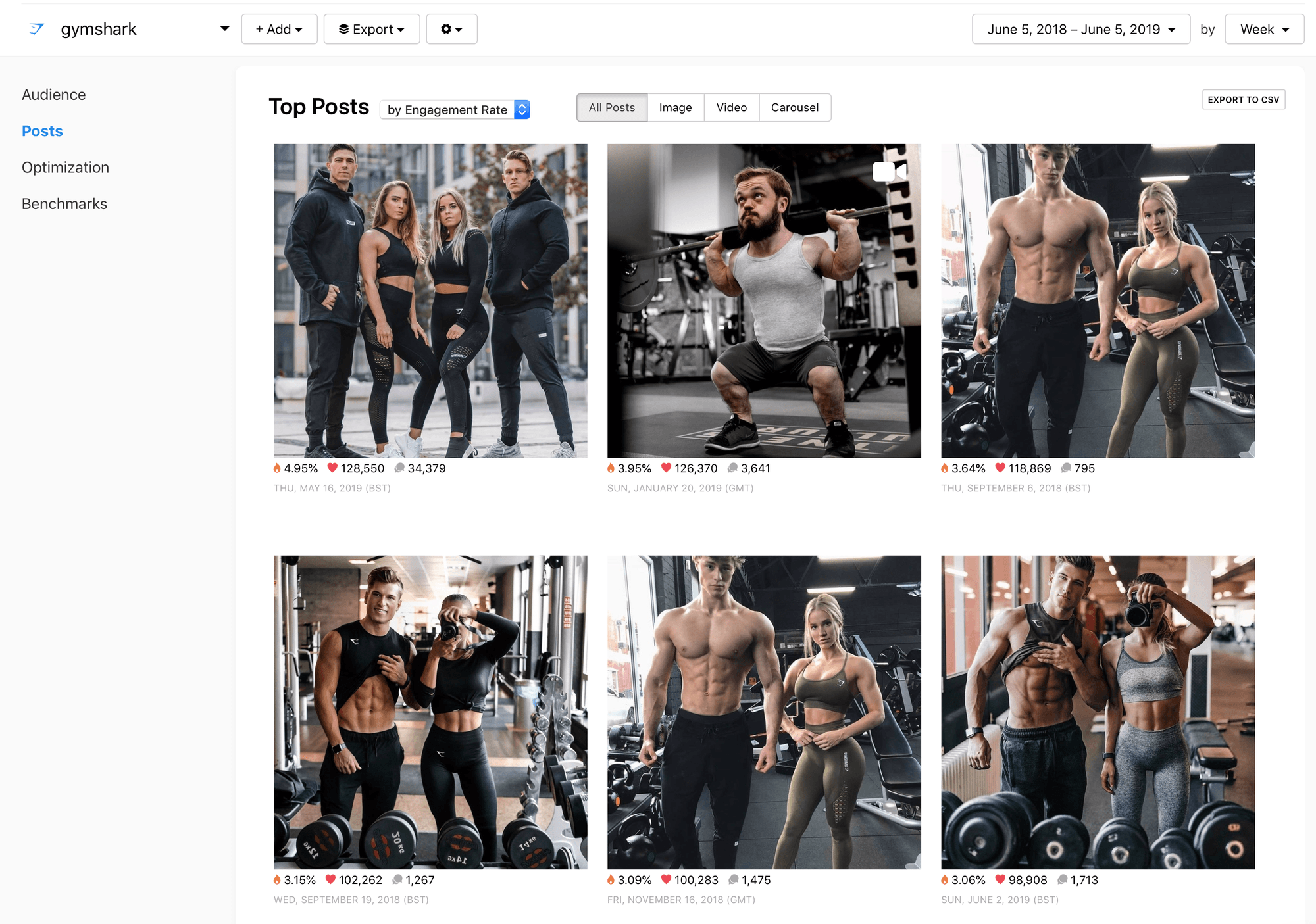 Professionalism
The quality of Gymshark's most engaged with posts is exceptional, which builds faith in the audience that the brand is professional and therefore their products could be assumed to be of a similar standard.
Branding
There is a similar vibe across all Gymshark's imagery. The consistent grey theme in the background of all top and recent posts lends to keeping the branding strong, as this is a recognisable trend of the brand. The dark edits, with the shadows enhanced, accentuates muscle definition. This is perfect for the clientele Gymshark is looking to attract and maintain.
Relevancy
Gymshark's posts are highly relevant to its target audience, with the majority of imagery captured in a gym environment and with gym equipment or weights. Gymshark also consciously include a balance of men and women in its posts, and showcases the inclusive nature of the business by featuring varied athletes and diverse groups of people.
Using Minter.io, let's have a look at the consistency of Gymshark's publishing.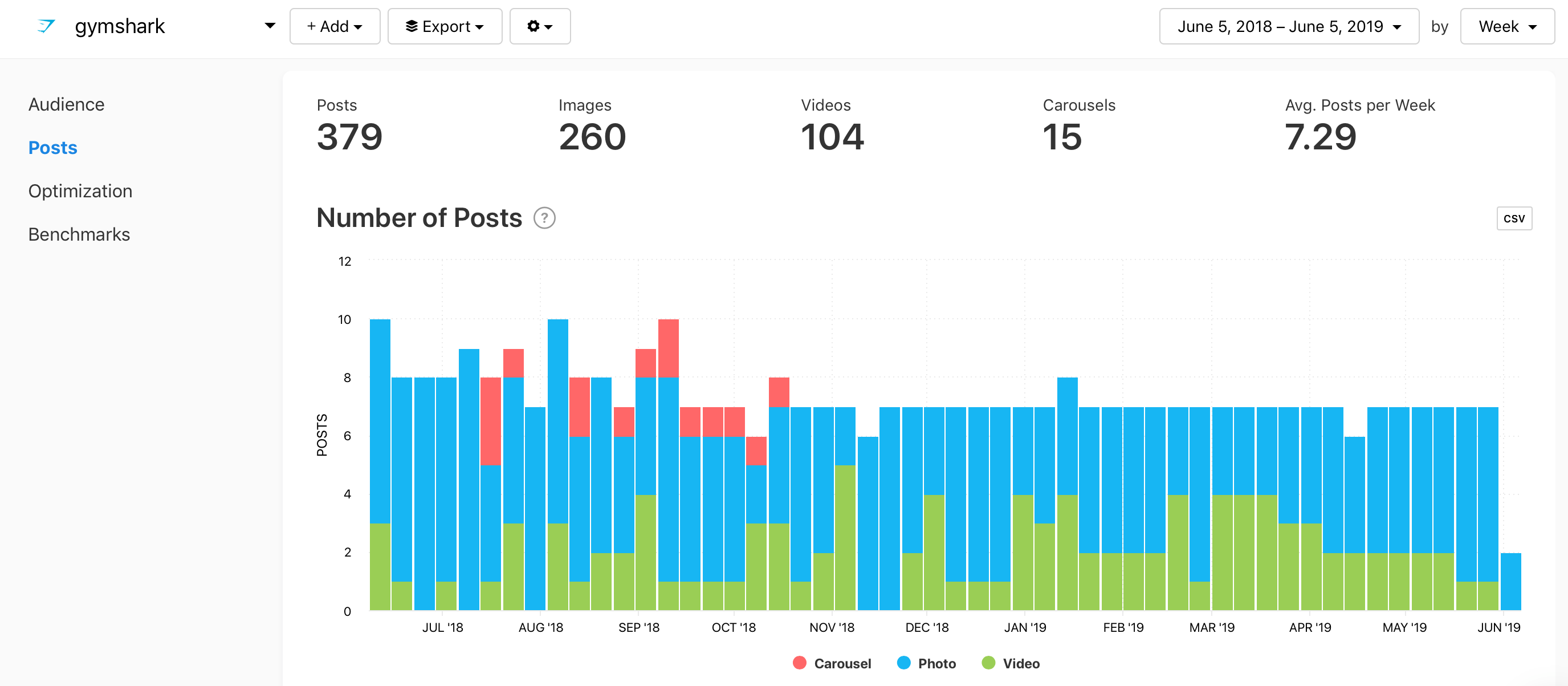 Gymshark has a high volume of posts, published consistently, averaging 1 post per day. The majority of its posts are photos, with a few video posts published almost every week. It is evident to see that Gymshark has experiemented with carousel posts but has continued its strategy without their use. This is a typical case of testing and adjusting. If a business tests a type of post and it doesn't perform as well as other media types, it would be in its interest to stick with what works for the business and its audience. An Instagram analytic tool like Minter.io is a perfect way of keeping track of metrics and adjusting to what works for your brand.
3. Establishing An Online Community
The community aspect of the platform plays to Gymshark's strengths. Gymshark has cleverly improved its reach and brand awareness by linking to models, influencers and developing hashtags for fitness fanatics. Simply tagging models and Gymshark's additional profiles in published posts, allows Gymshark to build community and trust.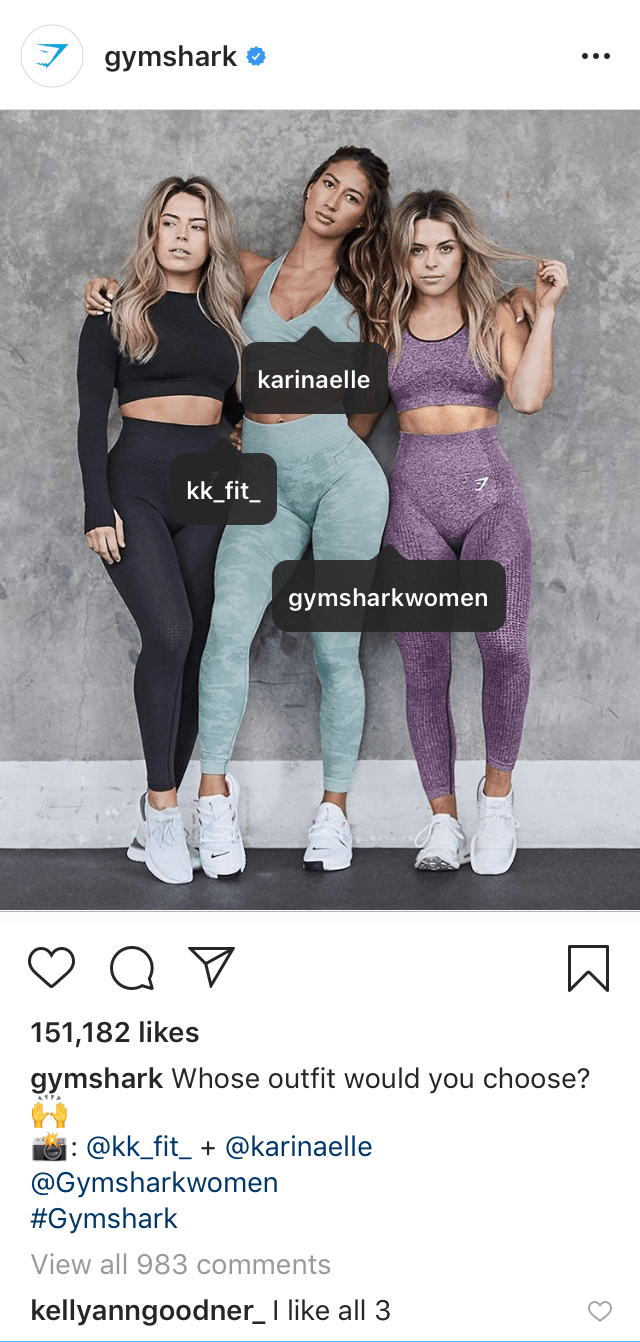 Integration With Influencers
When inserting 'gymshark instagram' into Google, multiple Instagram models and influencers make the first search page, with varying follower sizes (from thousands to millions) all boasting Gymshark affiliation. Having Gymshark's models and influencers link to Gymshark's main account in their bio, or linking directly to Gymshark's website, is an easy way to promote the brand to multiple audiences, at first glance of the influencer's Instagram profile.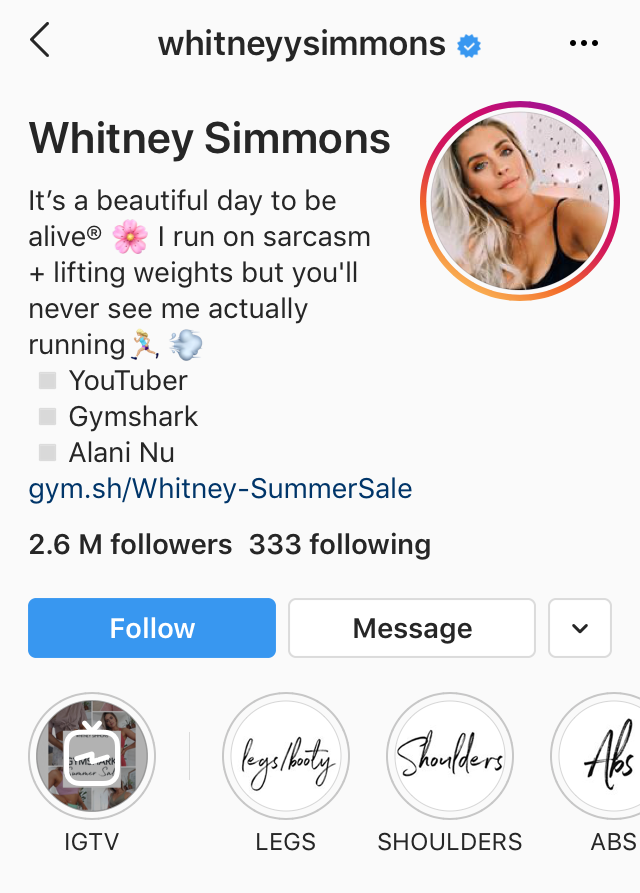 Multiple Accounts
Alongside the main Gymshark account, the brand has welcomed 2.2 million followers on its women-focused account @gymsharkwomen and 561 thousand on its gym training Instagram account @gymsharktrain.

Some may argue that this method could split Gymshark's following and dilute its marketing efforts. However, as Gymshark has a significant following and the manpower to create and distribute a significant amount of high quality content, this choice is a move towards making its social media presence more relevant to its audience. Gymshark is building a gym-lovers empire. In not sticking to the rules and developing multiple pages, it is able to spread influence further and reach a wider audience, with pages tailored to different types of gym-goers.
Run Away With These Points
Building an Instagram audience is a marathon, not a sprint. It takes time, effort, consistent quality and quantity to develop a dedicated audience of potential customers. However, it all boils down to this: providing value to your audience. This means relevant content, consistently posted at a high quality.
Make the most of your chosen platform. If your business lends itself to visual content, it's highly likely that Instagram will work as the preferred social media platform to grow your customer base. Make sure you are taking full advantage of all the features the platform has to offer. Don't neglect stories, highlights and IGTV. Use each angle to re-enforce your ethos, show off your products or services in a great light and develop community spirit.
Don't get swept up in vanity metrics. Check out how you can optimise your posting, track your key performance indicators, and see your top performing posts with Minter.io.