5 types of social media posts every business should be making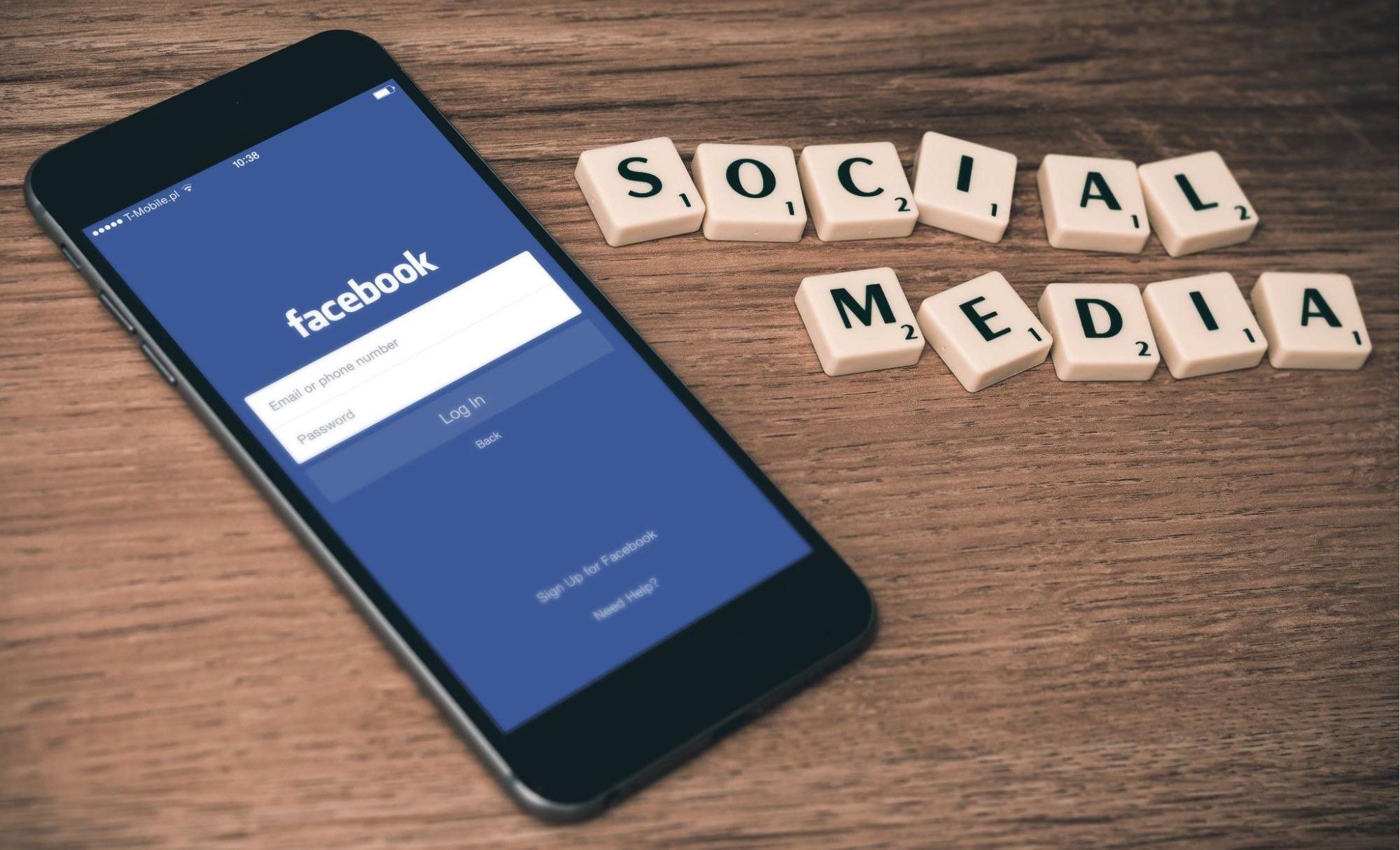 As a business owner, you cannot underestimate the power of social media. It is one of the most valuable tools that you can use to reach your ideal clients and introduce them to your business.
However, there are lots of different types of social media posts you can create, so you'll need to know which ones will work well for your brand. In this article, we're going to take a look at some of the best and how you can use them to reach your ideal customers and make more sales.
Posts that share expert website content your audience needs.
Social media is the perfect tool for sharing the blog posts or knowledge base content that you've published on your website. This will help you to reach your target customers and build trust with the people in your audience.
Also, doing this could help drive more quality traffic to your website from Instagram, Twitter, or other social media platforms, and it allows you to show off what you do without being too salesy. To use this technique well, you'll need to figure out exactly what kinds of expert content you should be publishing and sharing on social media.
There are a lot of options to choose from. You could repurpose a blog post by creating an infographic that summarizes a few of the important points, for instance. Or you could make short videos to highlight some of the learnings from your on-site content. You could also share short expert quotes or advice from your blog and this could be anything from a hack, a tip, or an industry statistic that can provide value for your audience. Just remember to also include a link to the original content so people who want to learn more are directed to your website.
Let's take a look at an example of a business that consistently shares expert content that their audience needs.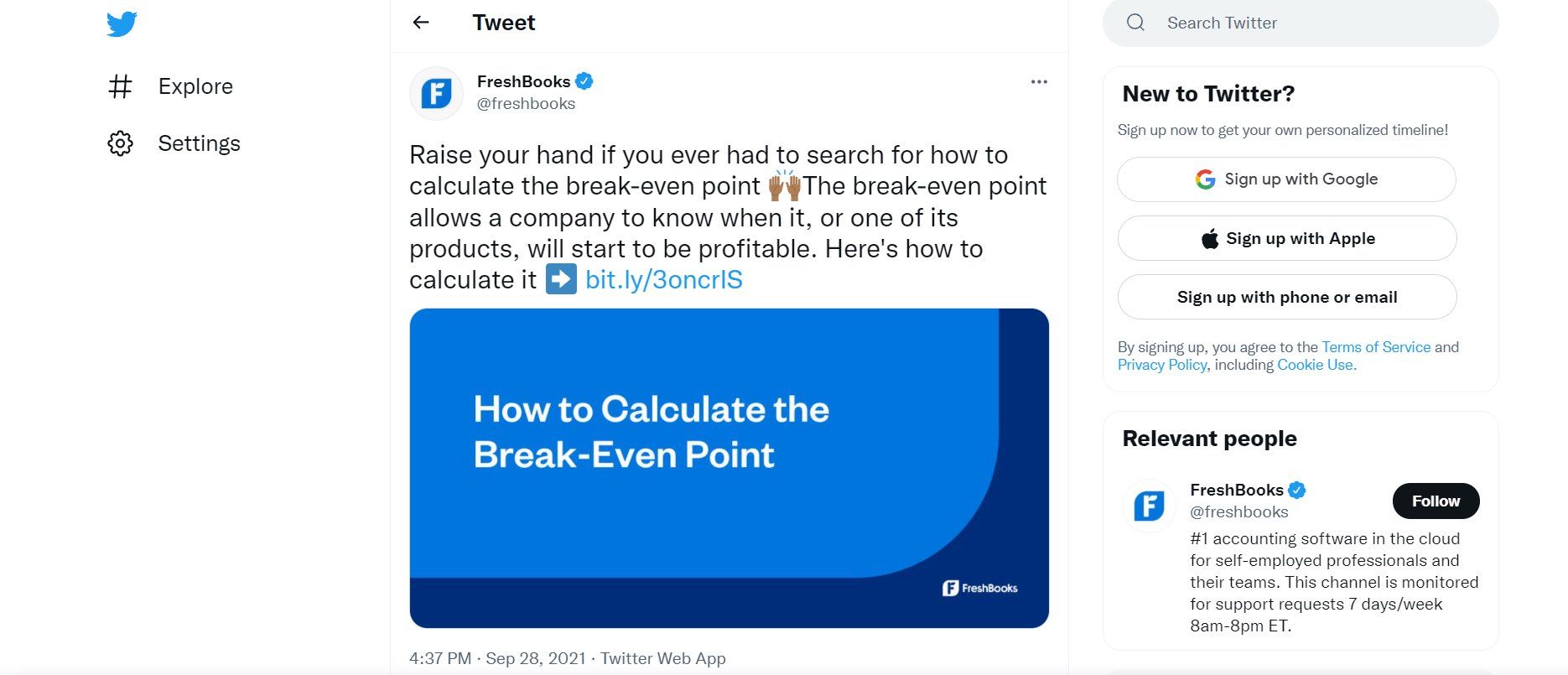 FreshBooks is a company that provides accounting software for small and medium-sized businesses. And, if you visit their Twitter page, you'll see that they regularly share a lot of expert content with their audience. Take, for example, this post where they talk about how to calculate the break-even point of a company.
You'll see that they explain what a break-even point is and why it's necessary for companies to calculate it. Plus, they've included a link to a blog post they've published on this topic. It's very informative and it provides a lot of value for the people who follow them on social media.
You can use a similar strategy to send qualified traffic to your website by publishing expert content on your blog and regularly posting about it on social media. The more eyes you get on your content the better!
Posts that feature examples of your best work
Ultimately, you'll want to use your social media profiles to make more sales. To do this, you'll want to share regular posts that show people what you're capable of doing. This could also help your business make an impact on your social media followers who will get a better idea of how great your products or services are.
But you need to find the right balance. Ideally, you should have a mix of promotional and informational posts as, if you make all of them promotional, then it's likely your followers will get bored and unfollow.
One way you can demonstrate that you're great at what you do is by sharing statistics that show the results you've gotten for past clients. And, if your work is quite visual — for example, if you're a makeup artist or interior designer — you could share photos of your best work. You can also show off positive reviews or testimonials that you've received from past customers so prospects can see what others think about your work.
Now, let's take a look at some examples of businesses that have used this technique to show off some of their best work.
Venngage is an online design tool that helps people create infographics, reports, or other visual content.
To show what their infographic maker can do, they've used it to create all of their Instagram posts, like this one in the image above. Not only is this a great way to demonstrate how good the tool is, but it also provides information that can be of value to their audience.
You can also do something similar for your business by posting content that shows your followers examples of how they can use your products or services.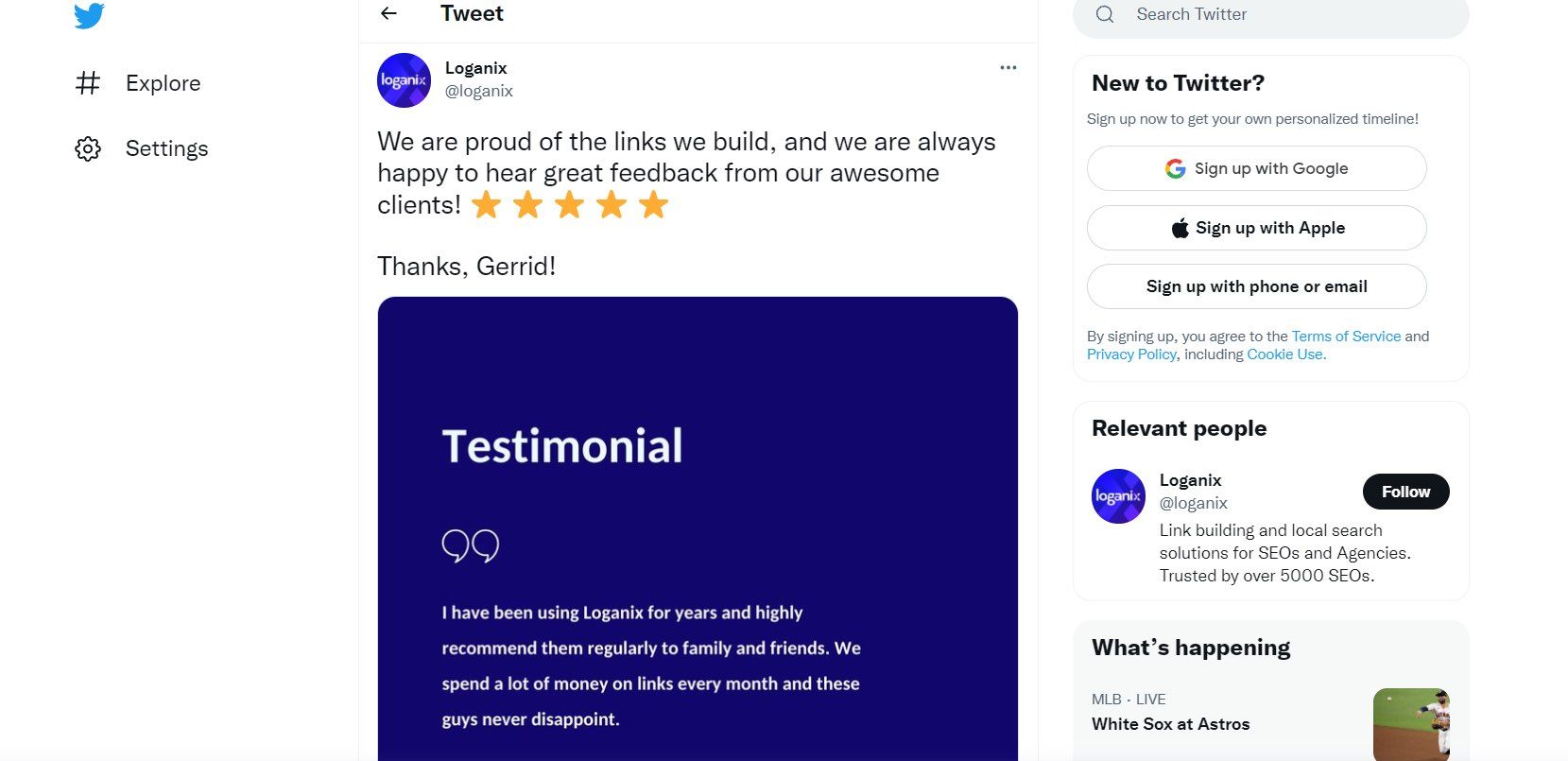 On the other hand, over at Loganix, they offer marketing services like SEO copywriting, link building, and content marketing. One of the ways they show their followers that they're great at what they do is by sharing some of the positive reviews they've received from existing clients.
For instance, take a look at this post on their Twitter page where they highlight a review from a previous client who talks about their link building services and how they would recommend the company to their family and friends.
This is the kind of testimonial that shows their audience that they offer excellent services and it could also help them to secure more customers who will be motivated to use their service after seeing this review.
Do you have any positive reviews or testimonials from past clients? If so, post them on your social media platforms, as it helps show your audience that you're good at what you do.
Posts that help to humanize your business
If you're able to humanize your business, you'll help people to feel a stronger connection to your brand. This is a really effective tactic because it allows you to build a relationship with your followers and it could also help to boost your sales.
One of the ways you can humanize your business is by showing behind-the-scenes content or by introducing your team to the followers of your social media pages. You could also create videos that give people a glimpse into the backstory of your brand so they can get familiar with your business.
To give you some inspiration on how to humanize your brand through social media, let's look at a business that already does this well.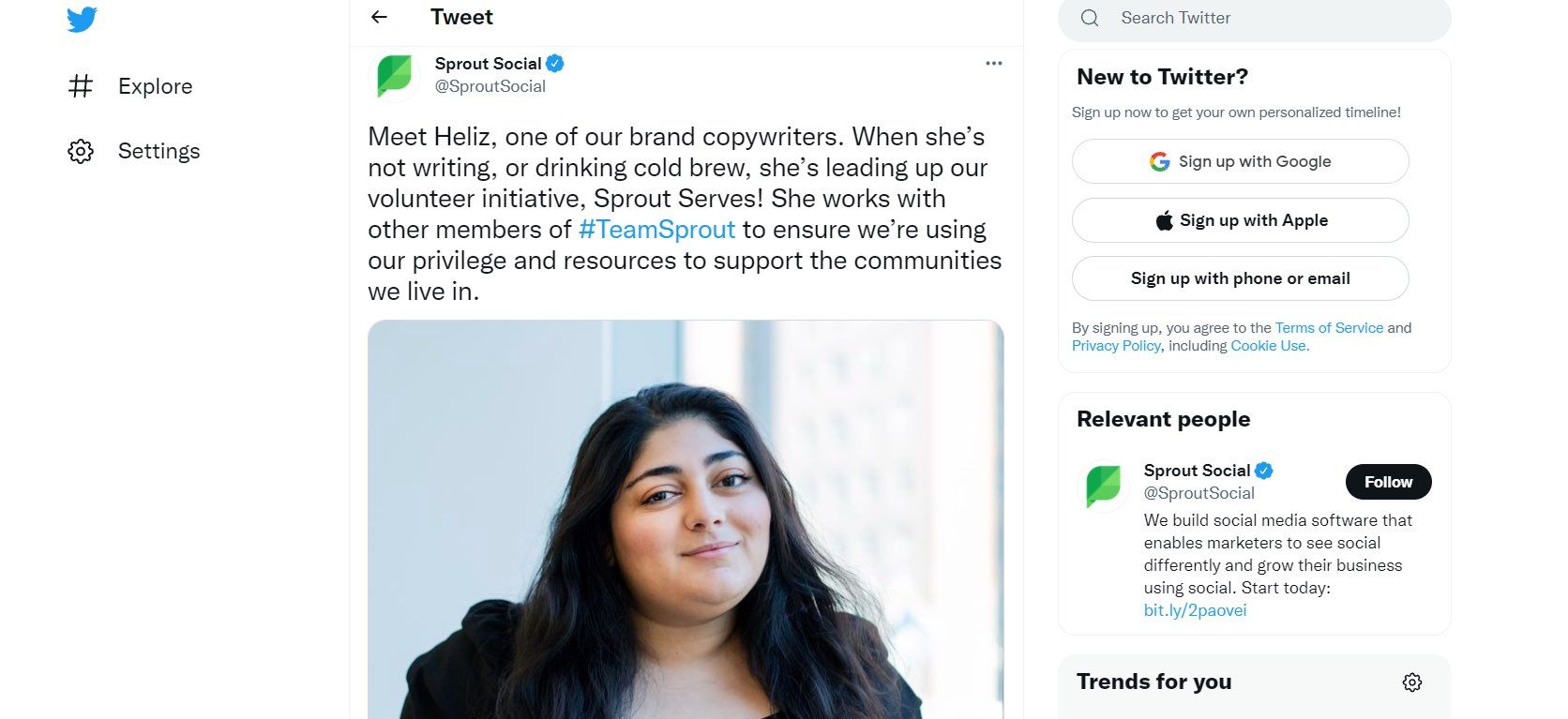 Sprout Social, a social media management tool, shows us how they humanize their brand with this post where they introduce one of their team members to their audience. You'll see that they do a great job of talking about the extra-curricular activities that the employee is engaged in, which is a great way to help their audience connect with her and the brand as well.
They also talk about the volunteer work that she's involved in, along with the rest of the Sprout Social team, and this also helps their followers to connect with the brand's humanitarian side. This is also something you can do for your brand by making posts that introduce the audience to your team members so they can feel close to your company and might be more inclined to buy from you.
Video-based posts that address a question or pain point
Video content is becoming increasingly popular and it tends to get a lot of engagement. This means it's a good idea to start creating video content for different platforms if you aren't already doing so.
However, you don't just want to start making videos for the sake of it. To ensure that they'll be genuinely helpful for your audience, you should try to address common customer questions or pain points. For instance, an accounting company could make a video that answers the question of how to create invoices for clients, or a social media management company could provide a video that teaches their audience how to recycle content for Instagram reels.
To get this right, you'll want to figure out what questions your ideal customers are already asking. One way to do this is by looking through the comments people leave on your social media posts or checking the messages they send to your customer service team. You could also try joining social media forums like Reddit or Quora and looking out for discussions in your niche so you can identify the pain points or problems that your target audience is currently dealing with.
Now, let's take a look at a brand that creates video content to address customer pain points and queries.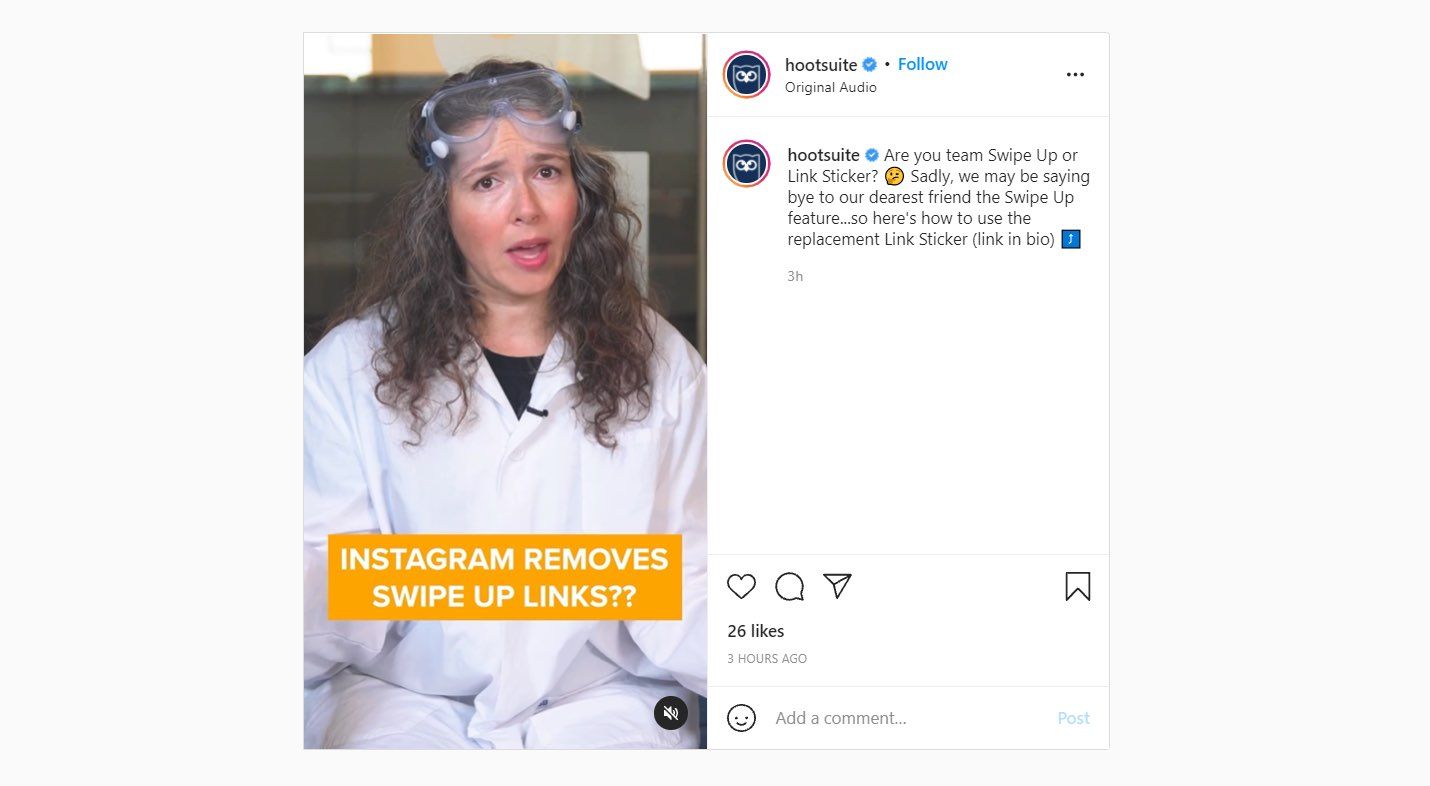 Hootsuite is a social media management platform. And, if you visit their Instagram page, you'll see different videos where they explain some of the best practices for using Instagram. Take, for example, this video that shows people how to use the new link stickers that Instagram introduced in their latest update.
This is a very helpful post that addresses a common pain point many people in their audience would have. Are there any common queries or concerns that bother people in your target audience? Try to create engaging videos that can help solve some of these issues, as this is something your audience will really appreciate.
Posts that aim to provide inspiration for your audience
There are many people who come to social media to be inspired. They might be looking out for new DIY ideas, recipes, or maybe a new direction to take their business in. So, if you can create social media content that will provide inspiration for your ideal customers, you'll be able to increase your following and grow your customer base.
Depending on the kind of business you have, there are different ways you can inspire your ideal clients with social media. For instance, a clothing brand could provide tips on how to style their clothes or a furniture store could provide interior design ideas.
Let's take a look at an example of a business that does well in providing inspiration for its audience on social media.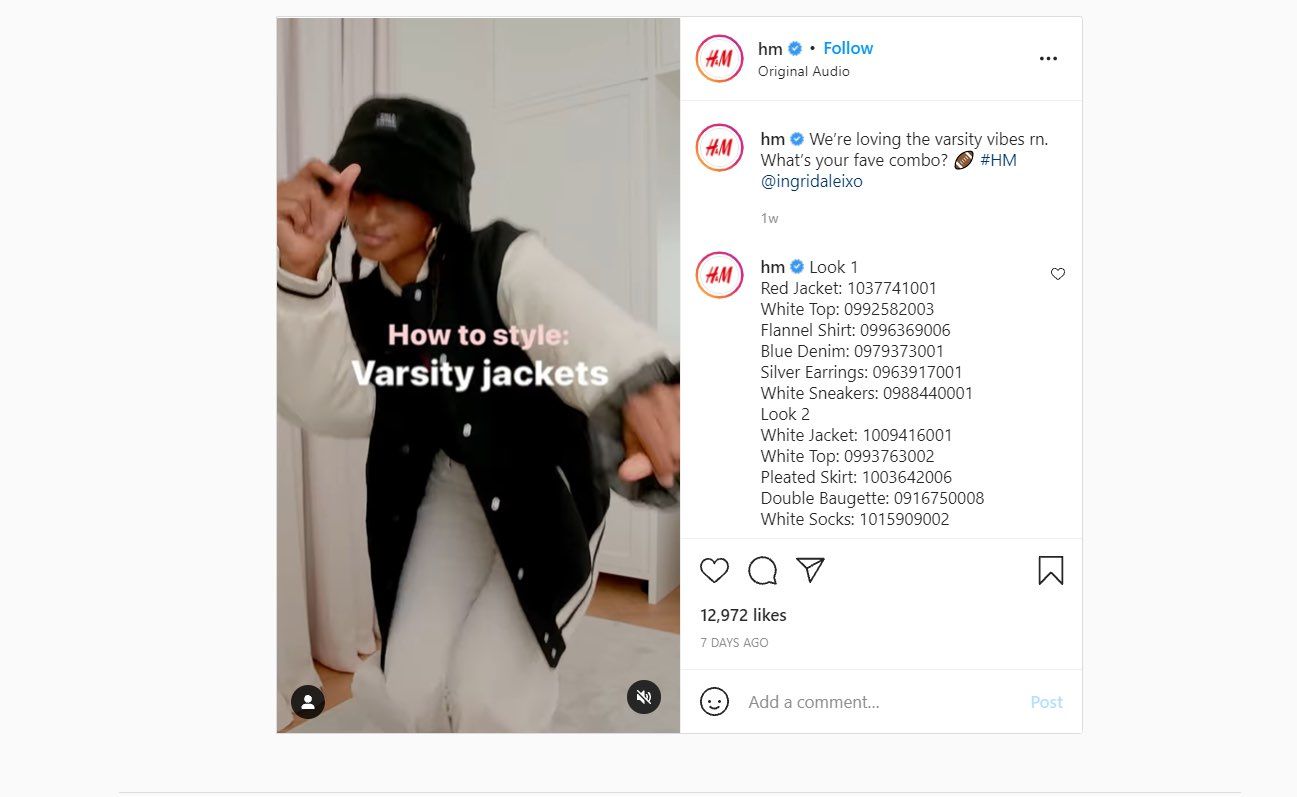 H&M, an online fashion brand, provides inspiration for their followers through Instagram. For instance, they have a post that shows their audience different ways to style a varsity jacket. The video is very engaging and it gives their followers great ideas on how to style the brand's range of varsity jackets as streetwear, grunge, preppy wear, or using only monochrome colors.
It's really great for inspiring their target audience and the video is very on-brand with the kind of content their followers would want to see from the company.
You should also try creating content like this that gives your followers ideas on how to use your products, as it could inspire existing customers and encourage other prospects to make a purchase.
Social media is a very important tool that should not be overlooked, as it can greatly benefit your business. However, you will need to know the best kind of content to post on social media if you want to utilize its power well.
And, in this article, we've outlined five different types of posts that can help you get started. From posts that show your best work to ones that humanize your business, they're all very effective and you should start incorporating them into your strategy straight away.
Want to get more useful tips and strategies that will help you use social media effectively? Check out the Minter.io blog for more helpful information.
---
Grow your brand on social media.
Try Minter.io →