10 Incredible thread examples to boost your brand on Twitter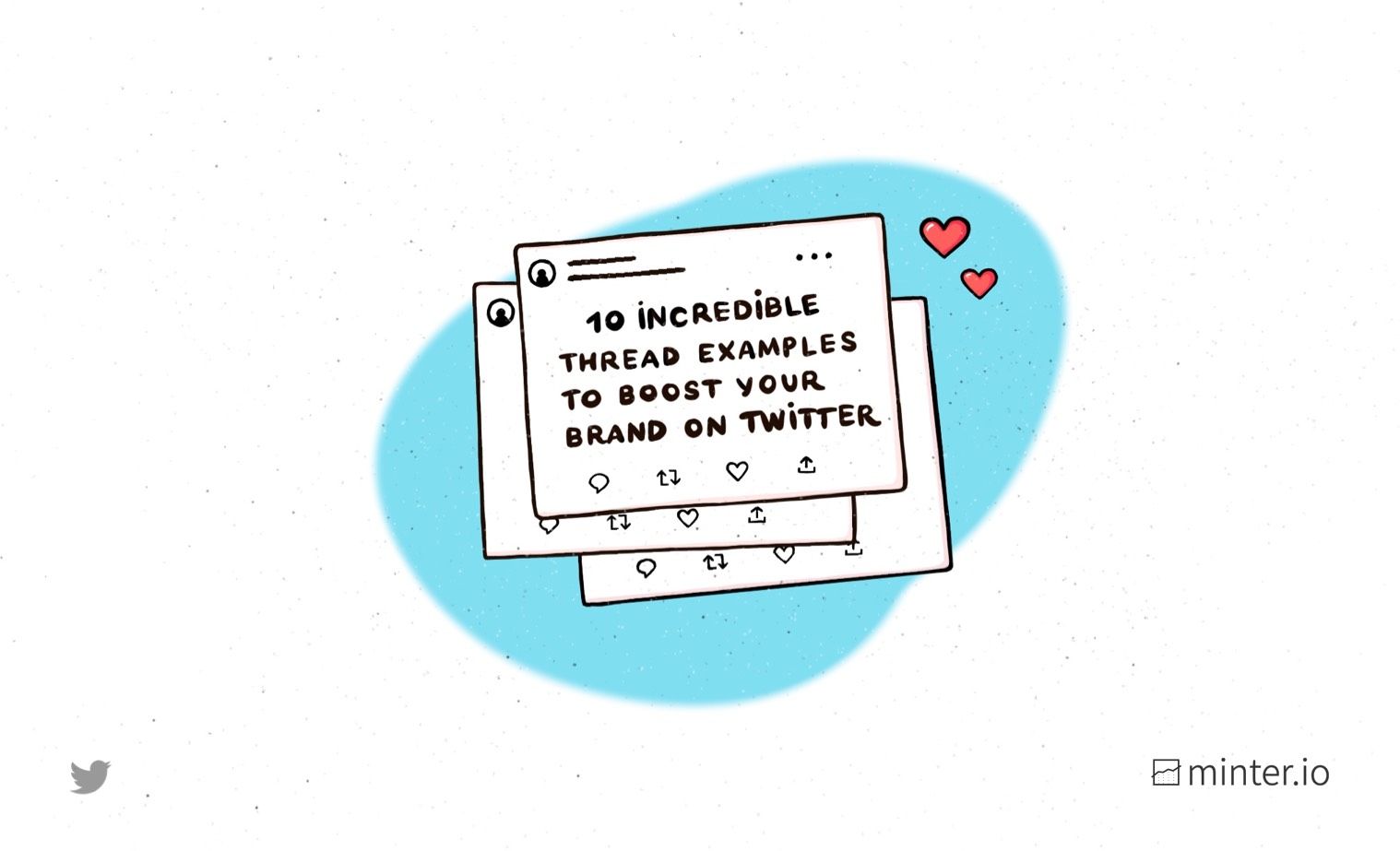 A Twitter thread is a series of tweets linked together, giving you more space for more thoughts on a topic. We recently showed you how to create a Twitter thread - now it's time to see it in action. By the end of this article, we aim to have you inspired with inventive, imaginative ways to use this feature.
Let's look at 10 ways @NatlParkService creates threads to engage, educate and entertain…
1. Pin a punchy thread
The simplicity of this pinned thread brings me joy. The initial tweet is short and sweet and smothered in humour, while the follow-up tweet unravels to reveal the final destination. Notice that there are several questions followed by a call-to-action and an attached link.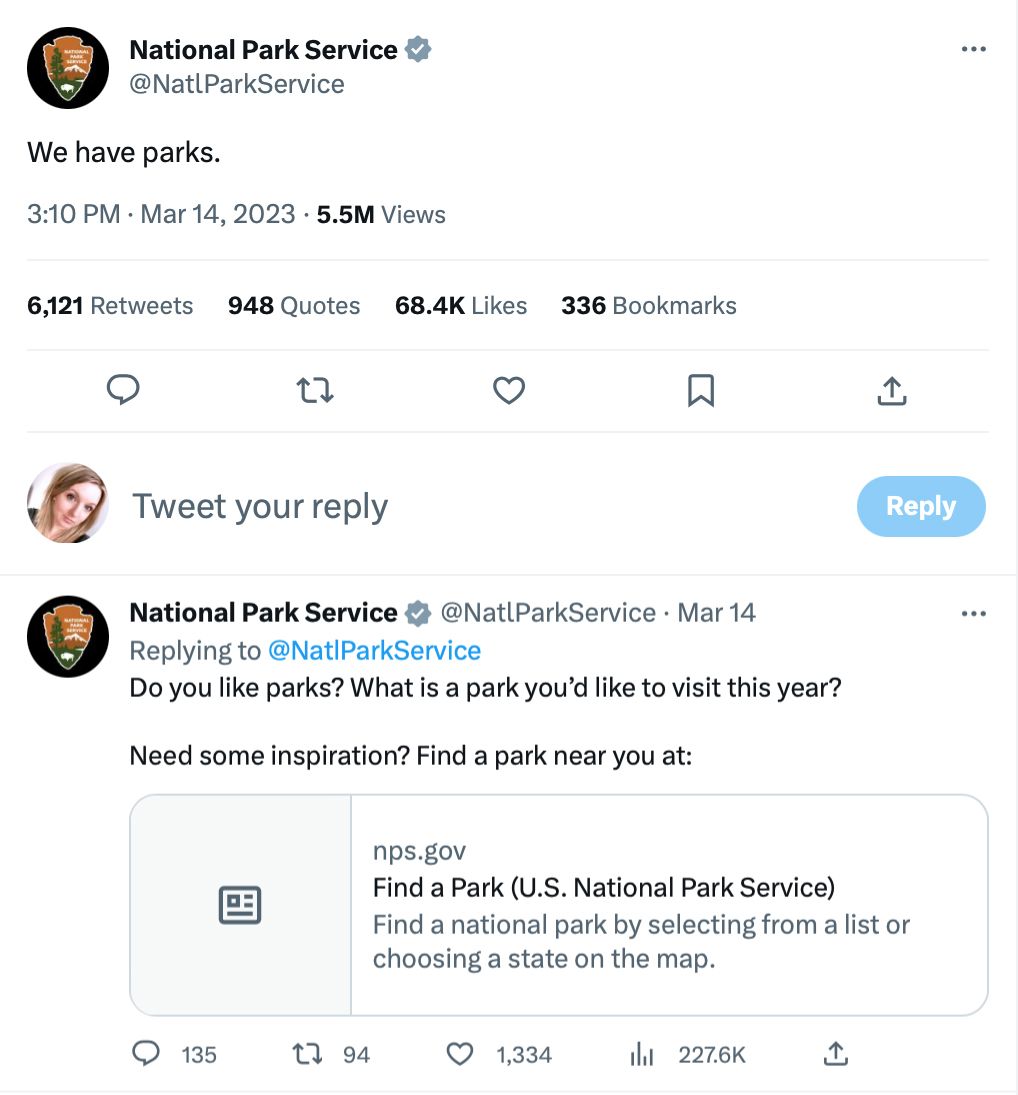 When you pin a thread, pack a punch with the initial tweet. Give the reader a reason to look for more info and explore the thread further. You can add more information, a link and a call-to-action once you've already captured the attention of your audience.
2. Lead with laughter
Who doesn't love a good laugh? When you're done with doomscrolling, @NatlParkService is the ideal account to come across for a good belly tickle. In the thread below, the initial snappy tweet is difficult not to smile at. The second tweet follows with more fun before the final tweet offers genuinely helpful advice on the same theme. If the initial tweet hooks you, the second reels you in and the third has gotcha!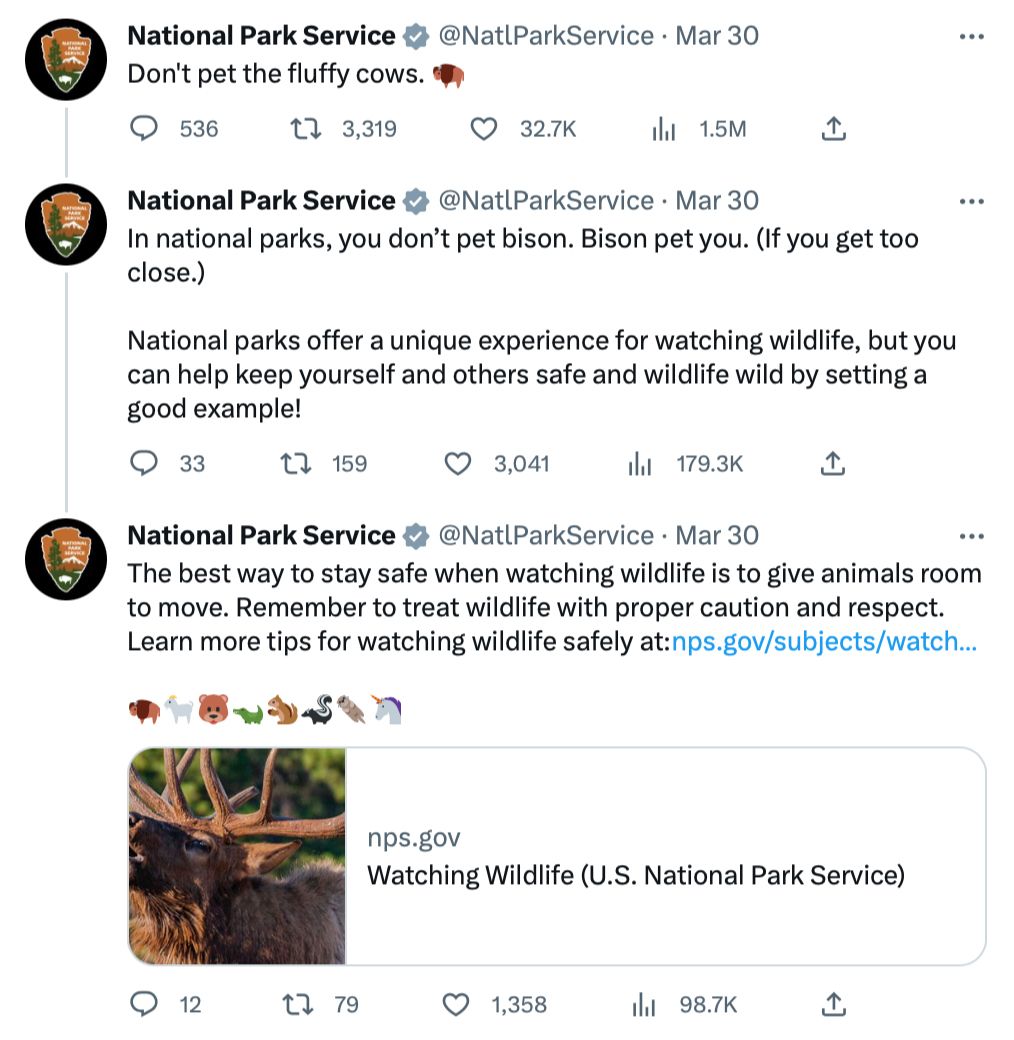 Notice that the second tweet follows up with additional humour before peaking curiosity with a statement that seeks a question. It begs the reader to ask, "How?" and then answers that question in the third and final tweet in the thread. This information is accompanied by a call-to-action and a link to a relevant webpage. This appears to be a winning formula for this Twitter profile.
3. Dish out the dad jokes
Whether you roll your eyes or crack a smile at dad jokes, puns are the pinnacle of social media humour. Funny tweets don't have to be good to grab attention, so pull out those Christmas crackers and start writing some Twitter bangers.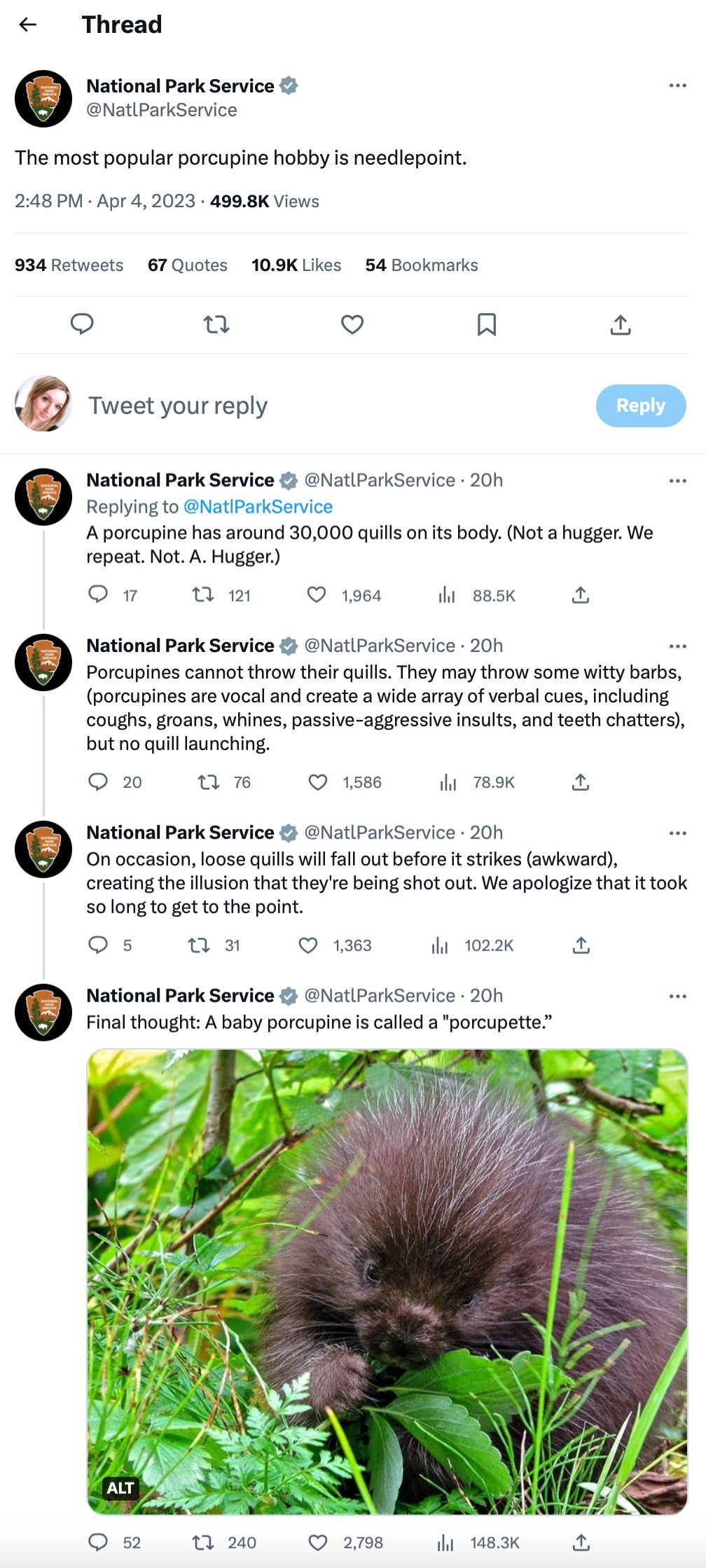 Another fabulous formula by @NatlParkService is to front-load threads with funnies. As the thread unfolds, the information increases while the laughs live on.
4. Poke for participation
A sure-fire way to get comments pouring in fast is to make statements begging to be corrected. After all, who doesn't like to feel like they're right? You little know-it-alls…
The thread below shows an incredibly clever way of eliciting a response. Firstly, it points in the direction of a specific, large and loyal fanbase while giving a massive nod to pop culture. Secondly, it corrects one mistake just to follow it up with an even bigger clanger. Thirdly, it's pretty clearly a joke so no egos should be harmed in the making of this light-hearted trolling moment.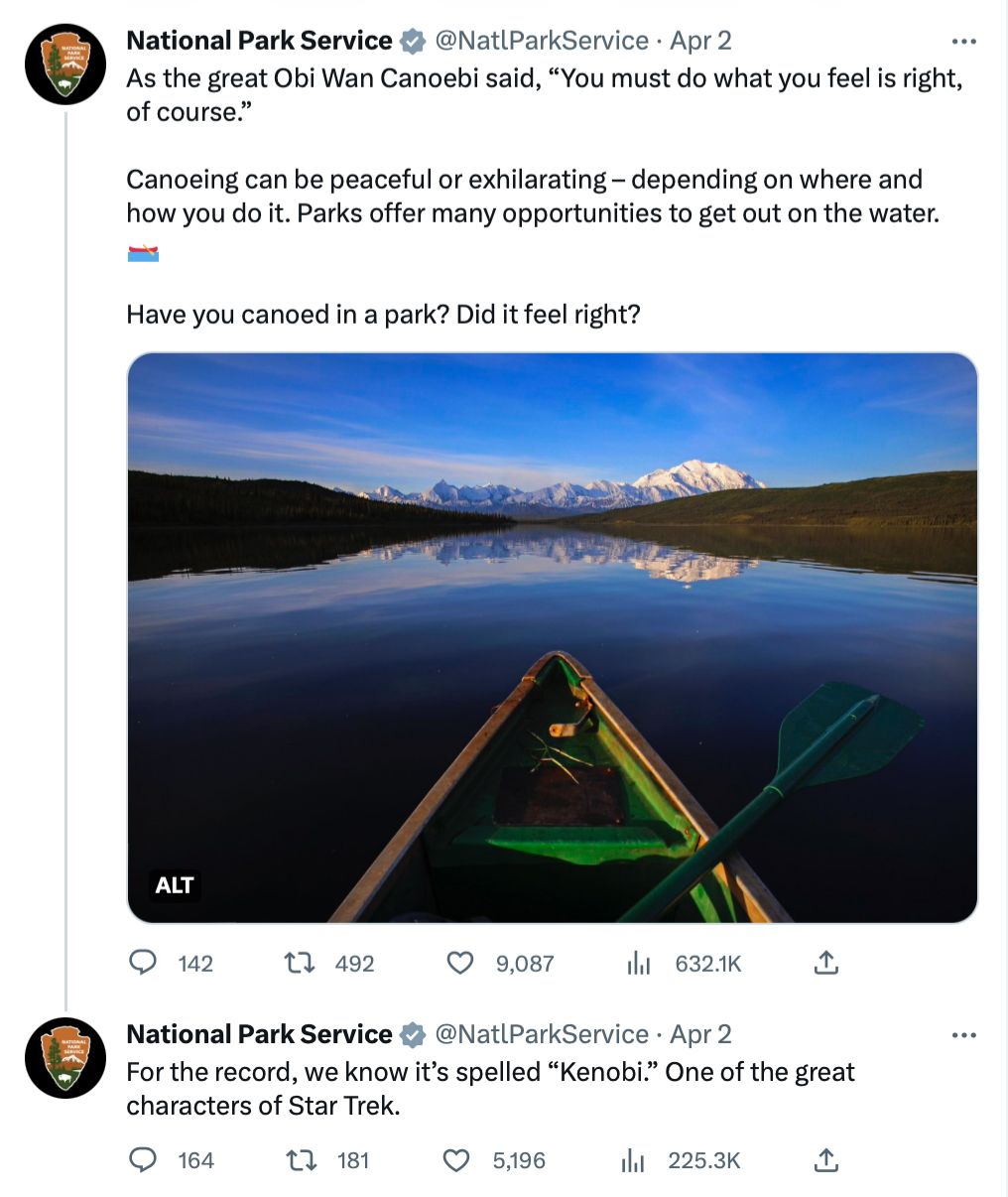 Alongside the cleverly crafted copy is a jaw-dropping image. Being the National Park Service lends itself well to social media because of its ties to scenic imagery, eye-catching creatures and breathtaking landscapes. This makes imagery the ideal addition to any tweet on this profile.
What strengths does your brand have which could set you apart on social media? Lean into what makes sense for your brand.
5. Hashtags are for heroes
Believe it or not, hashtags are still relevant in 2023. According to Twitter itself, connecting on Twitter through the use of hashtags can increase message association, brand awareness, and purchase intent.
This thread by @NatlParkService is playful, fun and sweet… but it's so much more than that. It connects with the audience through its remarks on the day of the week. We can all relate to that #FridayFeeling after a long week. The second tweet in this thread features the comedy we're now growing to expect, alongside a hashtag which connects with users across the globe celebrating the start of a relaxing weekend. This hashtag helps this thread show up in more places on Twitter.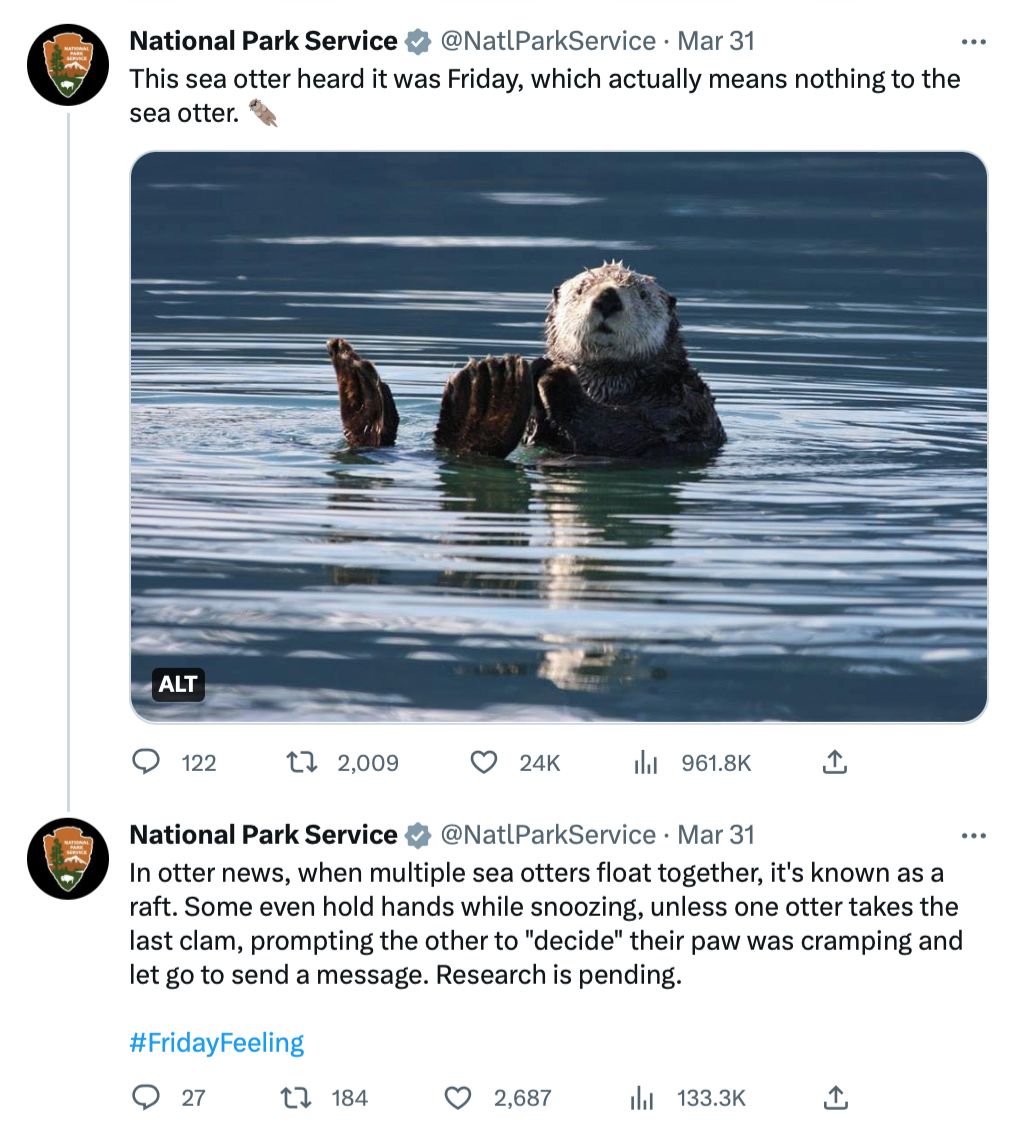 Check out how your hashtags are helping your brand with Minter.io - the analytics tool for brands and businesses on social media. With Minter.io you can track hashtag campaigns and view the top hashtags, most effective hashtags and number of hashtags you use on your tweets.
6. Be the Queen of popular music
Using references loved by vast amounts of people is a great way to get a good response on tweets. The trick is knowing how you can integrate pop culture references in a way that is relevant to your business. This thread by @NatlParkService shows us how it's done.
This inventive thread uses references from the Queen song Bohemian Rhapsody. It starts with an obvious one and continues the theme throughout the thread. There's a nod to dancing and the final tweet uses the phrase 'very, very frightening' which echoes lyrics from this epic song.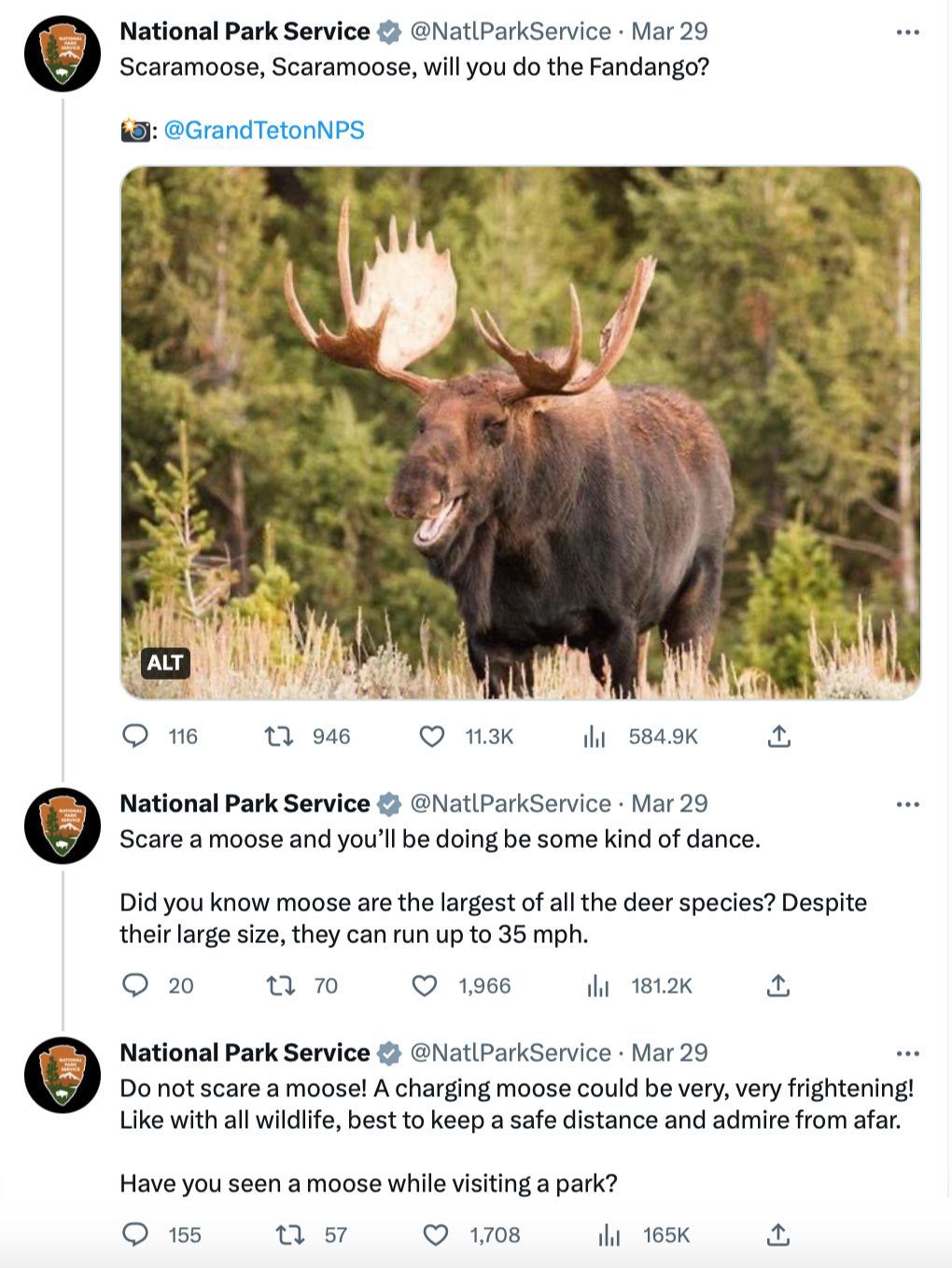 Once again, @NatlParkService integrates fun facts as well as useful advice throughout this thread. The final tweet in the thread invites viewers to share their experiences, which welcomes engagement on the tweet in the form of comments.
7. Share a recipe
A great thing about threads is they can be as long as you need them to be. Whether you want to link together 2 or 20 tweets, a thread is the place to do it. This lends itself well to how-to guides, tips and recipes as each tweet in a thread could be a different thought, step or instruction.
In this thread, @NatlParkService shares a s'mores recipe. These delightful sweet treats are a campfire staple, which perfectly ties into the outdoor vibe of this Twitter profile. The thread starts out with a lovely sentiment - something a lot of people can appreciate. This is followed by cooking tips and tricks, a hilarious caution, a call-to-action to the campfire page of the website and finally a positive image with a relevant hashtag.

This kind of layout works in a variety of different scenarios. Whatever the product or service, a thread is the perfect place to share step-by-step instructions, tips and guides.
8. Get really relatable
We've established that @NatlParkService is one of the funniest profiles on Twitter and we love seeing how these threads use several different techniques to capitalise on attention and build upon the feel-good vibe. This thread is super relatable and features funny but practical advice. The initial tweet poses a question which invites response, while the final tweet has a call-to-action and features a relevant website link.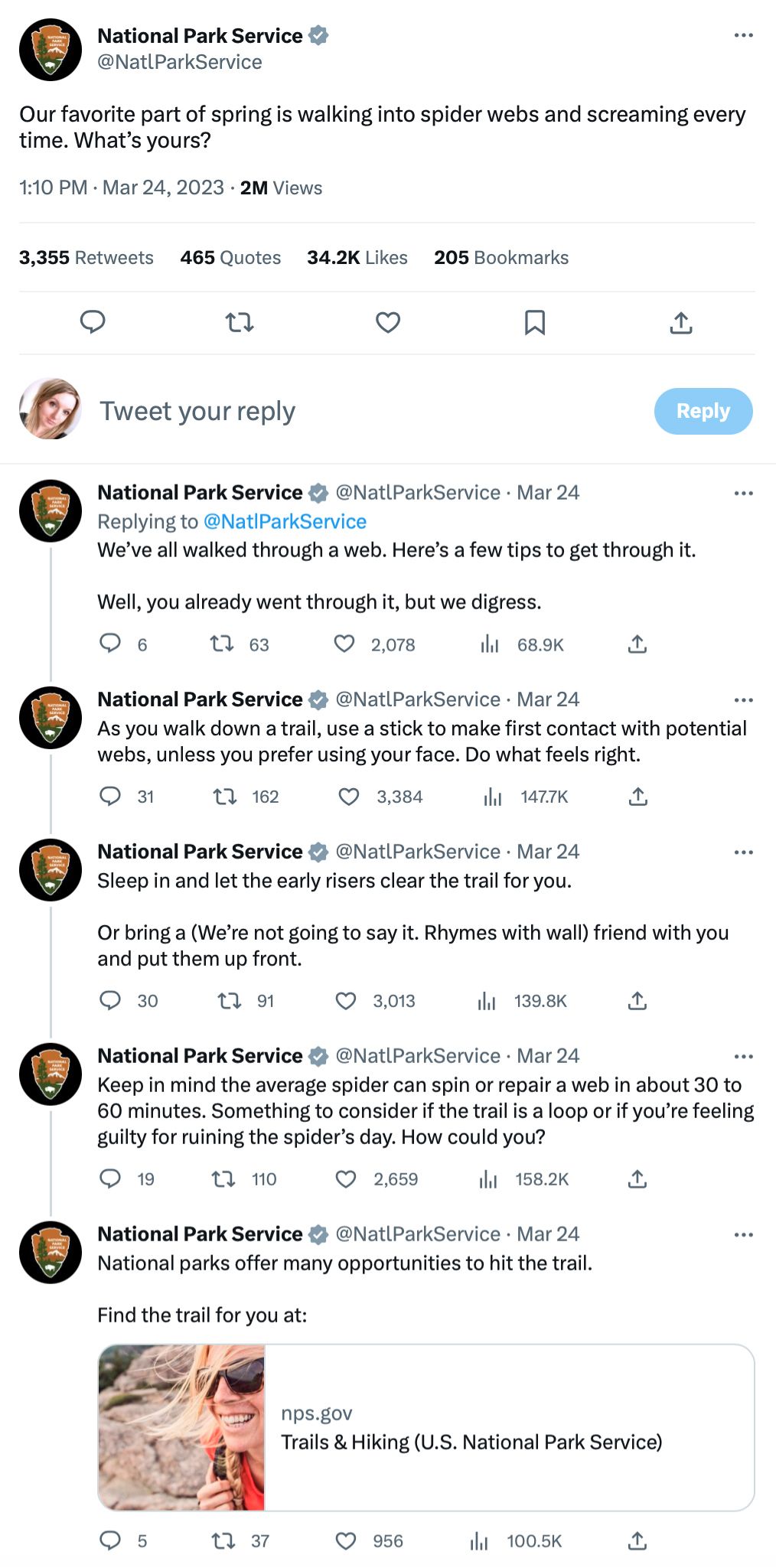 Notice that so many of these threads have a call-to-action which points the viewer to a relevant website page. Whether or not the viewer is funnelled through to the end, there are so many opportunities within a thread to engage and interact with the content. The link is a prize for those who made it to the end.
9. GIFs are great!
Adding a GIF to a tweet is a great way to instantly relate to your audience. GIFs cover a huge amount of popular themes, movies, series, celebrities, notable figures, funny moments and so much more. GIFs can convey emotion in a more tangible way than words or emojis and they can help you better connect with people.
GIFs aren't meant just for the comments - threads can also pose as the perfect place to use them. Whether you opt to add one to grab attention from the start, or follow up a thread with a suitable GIF like the example below, don't forget how powerful a GIF really can be.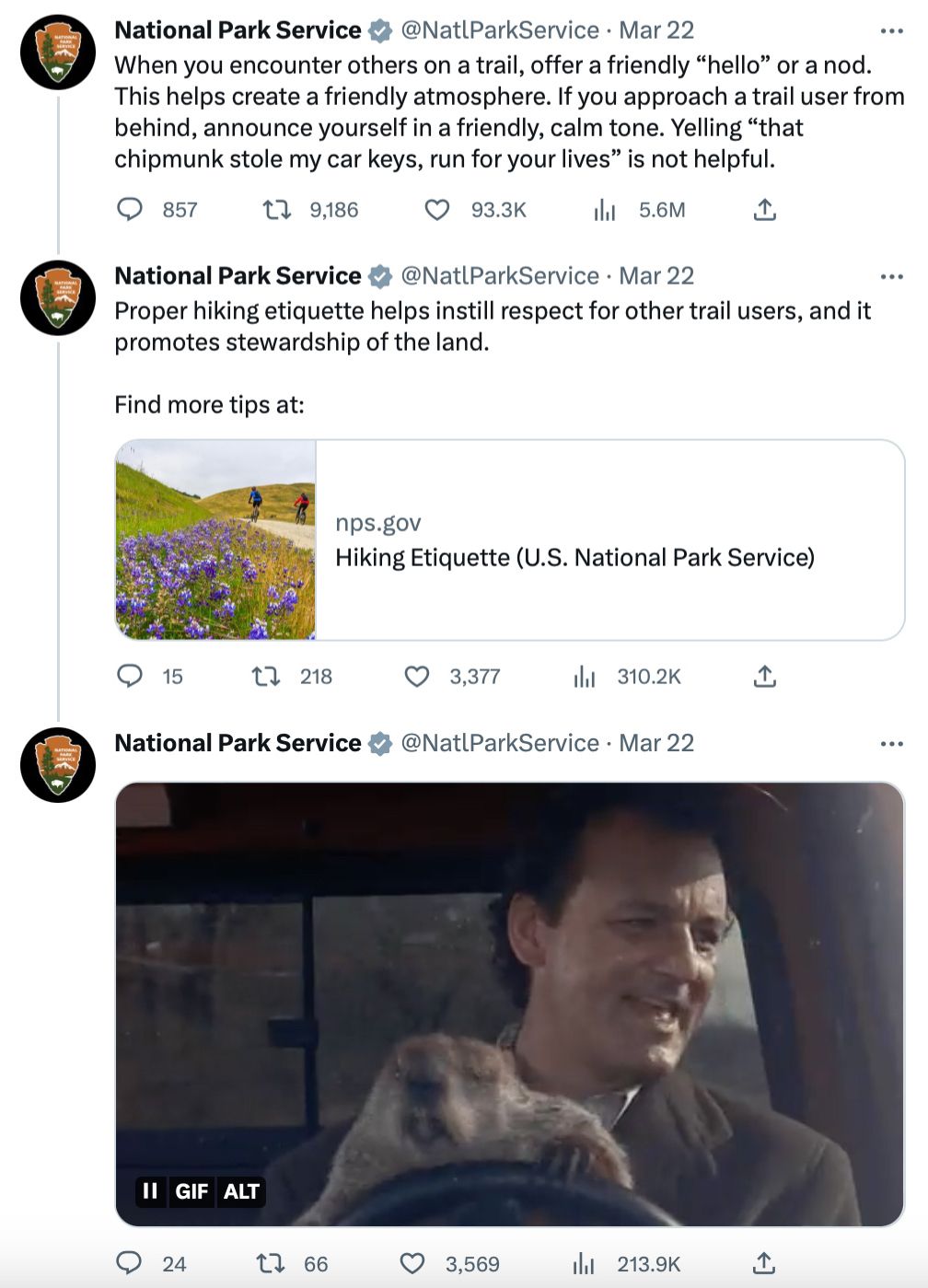 Notice that the GIF got a similar (slightly higher) amount of likes as the tweet before it!
10. Be victorious with videos
Videos can really pop off on social media because they can convey a lot of information in a short amount of time. Unlike text or still images, videos can share music, sound effects, overlays, speech and visual effects simultaneously. This makes it the perfect medium for catching and holding attention.
According to Vidyard, videos can increase revenue, influence buying decisions, increase web traffic, boost conversions, rack up shares, create memorable experiences and so much more. That's why starting a thread with a video might be an exquisite choice for grabbing attention and boosting your business goals.
Similarly to so many threads by @NatlParkService the first tweet in this thread serves to grab attention, while the second tweet expands on it. With this in mind, we can assume that the vast majority of people reading the second tweet in the thread will be interested in the topic, as they chose to click to see more on the thread.
Threads are in fashion and we can't wait to see how they look on you. Make sure you're tracking your Twitter threads with Minter.io and see how they stack up against your other content on social media. With in-depth insights, you can't go wrong. See your business grow with Minter.io today!
---
Track all the metrics you need for brand growth on Twitter.
Use Minter.io!